Are rotis and chapatis the same?
Is there any difference between these two flatbreads?
Many times people get confused when the waiter or waitress asks them about these two flatbreads for their meal.
And it mostly happens when you're not aware of what you want to order.
Well, if you are someone who doesn't know much about these flatbreads or just needs more information on this topic, you can check out the following guide.
In this guide, I have shared some insights on rotis and chapatis.
So, let's have a look at them below.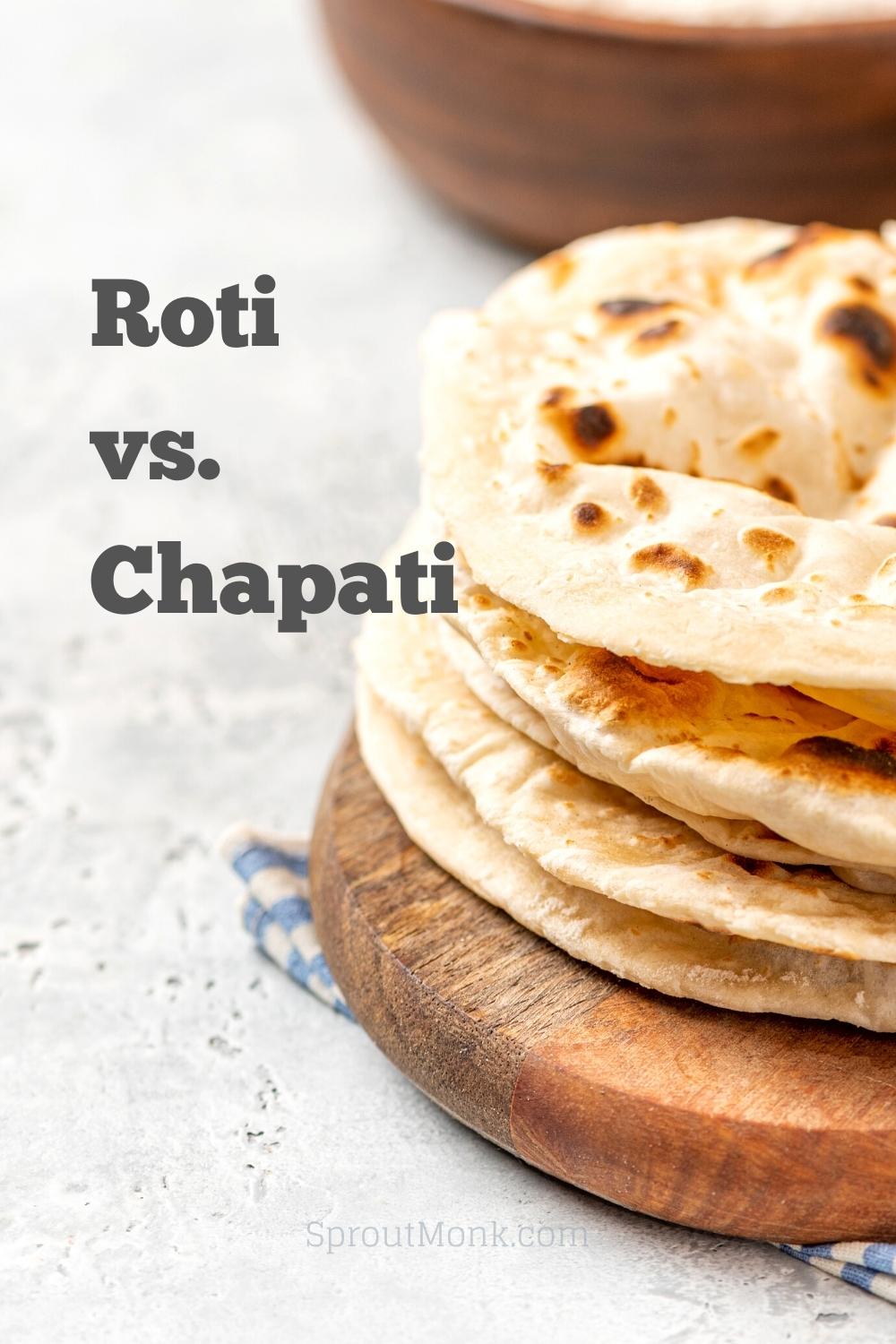 What Is Roti? 
Roti is an Indian flatbread, which is often prepared using wheat flour or all-purpose flour (maida).
Sometimes, it can also be made using the combination of these two flours.
Also, it doesn't require any leavening agent for the dough preparation.
You can pretty much make this flatbread instantly.
Rotis are also made in different forms and shapes.
It goes well with most Indian curries and starter dishes.
Rotis can be enjoyed for all the meals, but the tandoori and other stuffed varieties are usually served for lunch and dinner courses.
What Is Chapati?
Chapati is another interesting and very common type of flatbread in India.
It is quite popular in almost all parts of the country, but it's a staple food in Maharashtrian and Gujarati households.
In Gujarati communities, they also make another variation of chapati called Phulka.
Its preparation style is pretty similar to chapatis, and it's often smaller in size.
Coming back to chapatis, it is made using wheat flour, water, oil/ghee, and salt.
This flatbread is never made using maida or any other flour.
If you do, the chapatis turn hard and chewy.
Like rotis, you can have this flatbread for all meals throughout the day.
Important: Before we look at the following similarities and differences, it's important to note that sometimes chapatis are also called rotis and vice versa.
So, if you consider them from this perspective, there is no difference between them.
In this scenario, roti is just another name for chapati. 
For those who don't know, roti is a commonly used term in North-Indian communities, whereas chapati is a Maharashtrian/Gujarati term for the same flatbread.
Now, let's look at the similarities between roti and chapati.
Roti vs. Chapati – The Similarities
Here are some of the common factors between these two flatbreads – 
1. Wheat Flour
Wheat flour is the common ingredient that helps make these flatbreads.
It's also the main ingredient for these recipes, so you can't skip it or find an alternative for it.
If you do use other flours, you may end up making something that may not resemble the actual roti or chapati.
As for restaurant-style rotis, they do use maida in their preparations.
2. Kneading Technique
Since these flatbreads require similar ingredients, their kneading technique is the same. 
You have to prepare a soft dough with the help of water and some oil or ghee.
Once the dough is ready, you can rest it for 15-30 minutes.
This helps in gluten formation in the dough, which eventually makes the dough soft.
So, it's an important step, and you need to follow it each time you prepare such dough.
If you find the traditional kneading process difficult, you can also use dough makers or food processors to prepare the dough at home.
3. Rolling Technique
Both roti and chapati are made in an oval shape, which can only be achieved with the help of a rolling pin.
Therefore, you will only have to roll the rotis and chapatis in a circular shape.
In some places, the rotis are prepared using hands instead of rolling pins.
But in general, you should use a rolling pin and board for the preparation of chapatis as well as rotis.
4. Preparation Time
Both these flatbreads require the same preparation time. 
If you are a pro at making flatbreads, you can easily make them in 20-30 minutes.
And that too from scratch!
From kneading to serving, it only takes about half an hour to prepare these flatbreads.
This is also the reason why they are so popular among Indian households.
5. Learning Difficulty
Even though the whole process seems easier, it's quite difficult to make them at home.
You will need to practice a lot to be able to make perfect rotis or chapatis at home.
If you need some assistance in learning this art, you can check out this guide that I'd shared earlier on the blog.
It should help you learn the nuances of this process.
Roti vs. Chapati – The Differences
Here are some of the differences between these two flatbreads – 
1. Names
Pretty obvious!
The names of these flatbreads are different.
As mentioned earlier, roti is a common word in the Northern part of the country.
On the other hand, chapati is famous in India's Western and Southern regions.
2. Thickness 
Rotis are often made with a bit of thickness, whereas chapatis are absolutely flat and thin.
Chapatis get their softness from the thin layer of dough.
So, it's quite essential to make them in this fashion.
As for the rotis, the thickness may vary in each household, but they are slightly thicker than chapatis.
3. Other Preparation Methods
The traditional method of making chapati and roti is just the same.
But if you look at the tandoor style preparation of rotis, you will notice a huge difference between the two methods.
The tandoori rotis have different textures and taste altogether.
The smokey flavor from clay pot ovens makes these flatbreads even more delicious.
However, you can't say the same thing about the rotis or chapatis made on tawa or any such surface.
You will not get to experience the same flavor and taste in such preparations.
So, that's a big difference between these two styles of methods.
4. Price
If you make these flatbreads at home, you won't notice much difference in their preparation cost.
The ingredients we use for them are the same, so there won't be a difference in the cost.
But when it comes to the restaurants and cafes, you will definitely notice a difference in their prices.
In general, roti costs more than chapati in such places.
This is because of the preparation method and taste/flavor of these flatbreads.
Roti (tandoori) tastes a lot better with Punjabi-style curries than chapatis. 
5. Availability
Availability is another interesting differentiating factor between chapati and roti.
Since roti has a bit of glamor around it, you will always see it being offered in restaurants.
Also, it complements well with the rich Indian gravies.
Chapatis are often considered home food, so they don't get featured in most restaurants' menus.
So, that's a major difference between chapati and roti.
I hope you enjoyed the above similarities and differences between these two Indian flatbreads.
In the following section, I have shared some FAQs related to this topic.
Do check it out if you have any similar queries in mind.
FAQs
1. Which Is Better Roti Or Chapati?

It really depends on the personal choice.

I prefer chapatis over rotis, especially tandoori rotis.

The rotis often contain maida, which doesn't add much value to your meal.

However, the rotis do taste better when you have them with Punjabi curries like Tikka Masala, Butter Chicken, etc.

You can have chapati with these curries, but you will not enjoy the experience as much for sure.

Still, if you're looking for a flatbread for daily consumption, you should certainly go for chapatis.
2. Is Chapati A Tortilla?

No, they are different. 

Chapati is an Indian flatbread made out of wheat flour, whereas Tortilla is a Mexican flatbread made out of cornflour.

Tortillas can be made using wheat flour as well, but it's more of a recent variation.

The traditional ones are only prepared using cornflour.

They may look similar, but the process and ingredients that need for preparation are quite different.
3. Can I Use Chapati Instead Of Tortilla?

Yes, you can use chapati instead of a tortilla.

But don't expect the same taste for your final preparation.

Since chapatis are prepared using wheat flour, you will notice a difference in their taste.

So, you can use it as an alternative, especially when the readymade tortillas are not available, or you don't find the ingredients to make them at home. 
4. What Is All-Purpose Flour Called In India?

All-purpose flour is called Maida in India.
5. Is Atta And Maida Same?

No, these are two different ingredients, but they are byproducts of wheat grains.

If you want to know more about the difference between these two ingredients, you can check out this detailed guide.

It will help you understand a few more interesting things about atta and maida. 
Over To You
Well, I hope you liked this guide!
There aren't many differences between these two Indian flatbreads.
But if you try and explore them more deeply, you will surely come across a few distinct points that will help differentiate these flatbreads.
In case you want to know more about them or have any questions in your mind, please let me know in the comments below.
If you found this guide useful, do share it with your friends and family.