Schezwan Chutney is a typical Indo-Chinese Chutney, which goes along with numerous Indian as well as Chinese dishes.
From hot Samosas to soft Momos, this Chutney is all you need to enjoy your snacks.
In recent times, Chings' Schezwan Chutney has become an instant hit among Indian food lovers.
I have also tried it a couple of times, and I have to say the company has done a great job with this new product.
And it's a convenient option as well for many of us who just LOVE the restaurant-style Schezwan Chutney.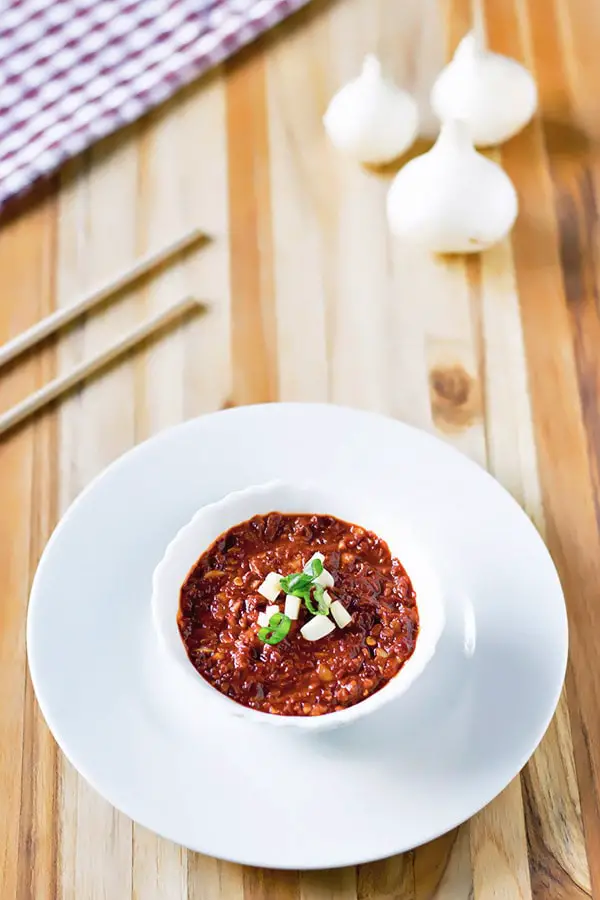 But did you know you can make this Chutney at home?
That's right!
It can be made at home.
You don't have to go to a Chinese restaurant to try this Chutney.
Many restaurants also use MSG and other harmful preservatives in this type of accompaniment.
So, it's better to make such Chutneys and Pickles at home with freshly available ingredients.
Now, let's take a look at the following recipe.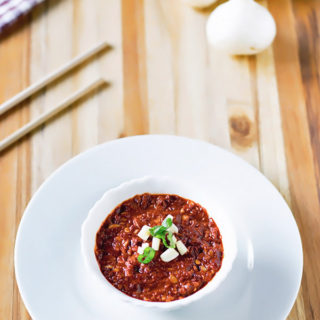 Schezwan Chutney Recipe
Schezwan Chutney is an Indo-Chinese Chutney, and it is prepared using different Indian as well as Chinese ingredients. You can serve this Chutney with snacks or use it as a base to make several Asian dishes.
Ingredients  
20

Byadgi Red Chilies (Byadgi Lal Mirch)

5

tbsp

Garlic (Lahsun)

finely chopped

2

tbsp

Ginger (Adrak)

finely chopped

2

tsp

Soy Sauce

1

tbsp

Vinegar (Sirka)

1

tsp

Sichuan Pepper (Teppal/Triphal) Powder or Black Pepper Powder

Salt

as per taste

1

tbsp

Sugar

2

cups

Water

boiled; for soaking the Chilies

1

cup

Water

for Chutney preparation

Oil
Instructions 
Heat some Water in a pan and let it boil for a few minutes.

Meanwhile, get the Red Chilies in a bowl.

Now, add the Water into this bowl and keep it aside for 30 minutes.

Once the Chilies turn soft, remove Water from the bowl.

Grind the soaked Chilies into a coarse paste and keep aside.

Heat a pan on medium flame.

As the pan turns hot, add Oil to it and increase the flame.

In hot Oil, add the chopped Garlic and chopped Ginger pieces. Sauté them for a minute or two on medium-high flame.

Add the Chili paste, Salt, and Sugar to it. Cook this mixture for 2-3 minutes more.

Add Water to this mixture and cook it for 5 minutes on medium flame.

Once the Oil starts separating from edges, add the Soy Sauce, Vinegar, and Sichuan Pepper Powder (or Black Pepper Powder) to it and mix well. 

Cook it further till you get the desired Chutney consistency.

Remove the Schezwan Chutney from pan and serve it with your favorite Chinese snacks. You can also store this Chutney in an air-tight container.
Notes
If you can't find Sichuan Peppers, use Black Pepper powder for this recipe.
You can also use Celery to get more flavor to the Chutney.
Although it's not required, you can also add some Tomato Ketchup while preparing this Chutney.
Always use more Garlic in this Chutney.
You can also use Kashmiri Red Chilies for this recipe.
Difference Between Schezwan Chutney and Schezwan Sauce
| | Chutney | Sauce |
| --- | --- | --- |
| Tomato Ketchup | Optional | Required to enhance the taste of main dish. |
| Consistency/Texture | Thick and Coarse | Thin and Smooth |
| Color | Dark Red | Light Red |
| Uses | Can be used as an accompaniment as well as a base ingredient for Indo-Chinese dishes | Can only be used as a base ingredient due to its slightly sour taste |
| Taste | Spicy | Spicy and sour |
How To Preserve Schezwan Chutney For 1-2 Months
Just like Pickles, you will need to use an excessive amount of Oil for this Chutney.
When you add some extra Oil to the dish, it helps in creating a protective layer around food particles.
Apart from Oil, you can make use of Citric Acid in this recipe.
It also helps in preserving Schezwan Chutney for long durations.
Note – If you've used Vinegar in this recipe, make sure you check the taste before adding Citric Acid powder.
Otherwise, the Chutney might turn too sour to taste.
How To Use Schezwan Chutney
Unlike traditional Indian Chutneys, this Chutney can be used to make several other dishes.
Here are some of my favorite ways to use Schezwan Chutney in different recipes –
Schezwan Dosa or Schezwan Masala Dosa
Coming from the streets of Mumbai, it is one of the most popular snacks among Chinese food lovers.
This Dosa variation is prepared using the same Chutney, which I have shared in this post.
And to make it even more authentic, you can add some chopped Green Onions, Sprouts, and Herbs to your Dosas.
Schezwan Samosa
Although this spicy Samosa is not as popular as Schezwan Dosas, it's still a great option if you're bored with Punjabi Samosa.
Schezwan Samosa tastes completely different than regular Aloo stuffed Samosa.
So, if you're hosting a party at home, you can certainly consider this Samosa variation for evening snacks.
Schezwan Fritters
Whether it's Kanda Bhaji or Dal Pakoda, you can transform any of your favorite fritters with homemade Schezwan Chutney.
For this type of fritters, you don't need a lot of Chutney.
Just a spoon or two would be enough to get the typical Chinese flavor to your recipe.
Do try making this Chutney at home and let me know how it turns out in the comments below.