Want to fix your sticky Sabudana Khichdi?
The best thing about Khichdi is it tastes amazing when you make it with the right amount of stickiness.
If you make it too sticky, it doesn't taste great and somewhat ruins the experience.
So, how do you fix such Khichdi?
Let's find out more about it in this guide today.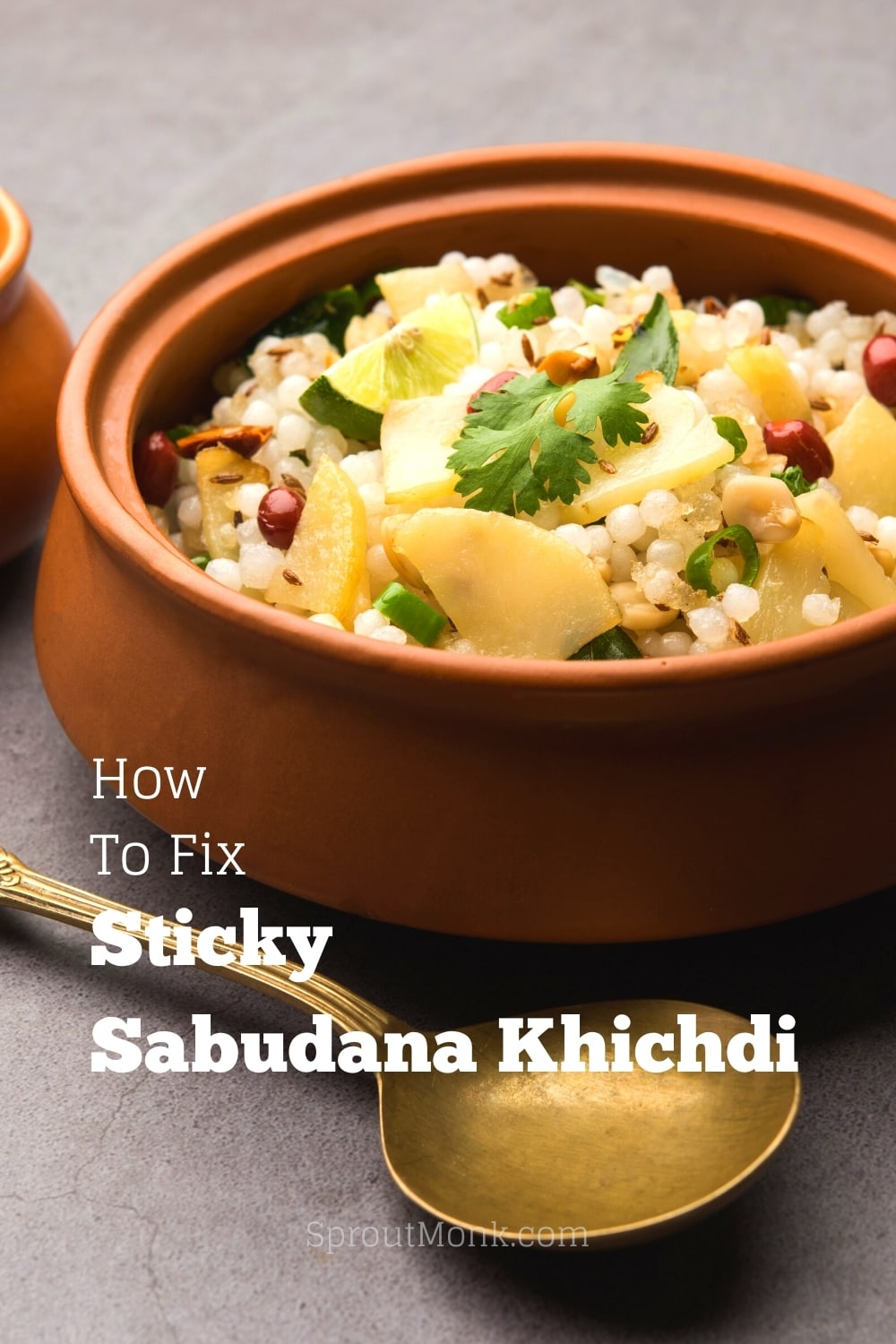 Why Does Sabudana Khichdi Turn Sticky?
Well, it turns sticky because of the starch content in the Sabudana pearls.
When you cook these pearls along with other ingredients, they release starch during this process.
Since starch is sticky in nature, the Sabudana pearls stick to each other.
Having said that, you shouldn't be too worried about it.
Your sticky Khichdi can be fixed, as you just need to work on a few techniques.
In the next section, I have talked more about it.
So, let's check it out quickly.
How To Fix Sticky Sabudana Khichdi
Technically, there isn't much you can do to fix the stickiness in your Sabudana Khichdi.
The sticky nature is permanent, and it's not going to go away magically.
This scenario resembles overcooked rice, which is also a difficult thing to fix after cooking.
Still, there is one thing that you should try out while fixing your sticky Sabudana Khichdi, i.e., adding more oil to it.
Since the stickiness comes from the starch content in your Khichdi, the oil will add a thin layer of coating on top of the pearls.
As a result, the pearls will get a glossy texture, and they won't stick to each other anymore.
This is a simple and easy trick to fix such Khichdi in your kitchen.
So, do try it out.
Here are the steps you need to follow – 
Get your Khichdi in a new Kadai or non-stick Pan.
Turn on the flame and keep it on a medium-high.
Let the Khichdi heat up for a few minutes.
Now, drizzle some oil on top of it. 
Gently mix the Khichdi with a spoon. You may also use a fork here, which will help retain the texture of Sabudana pearls.
Cover it with a lid and let it cook for a couple of minutes.
Serve immediately.
Now, this is how you can deal with the sticky Khichdi.
But make sure you don't put too much oil into it, as it will ruin the overall experience of enjoying a homemade Khichdi.
Note: If your Khichdi is too sticky and there are many bigger lumps of cooked Sabudana pearls, you can't fix it with the oil.
In fact, there is no other way to bring back the right texture to your dish.
This generally happens because of too much water content in the pearls as well as constant stirring during the preparation.
These two reasons are the main cause for such sticky and overcooked Khichdi.
The only thing you can do with such Khichid is to repurpose it.
You can make vadas and other deep-fried items using this mixture.
In the following section, let's learn more about how you can avoid this situation in the first place.
6 Tips To Make Sabudana Khichdi Less Sticky
As you know, it's always better to get things right initially than fixing them later.
Khichdi is one such preparation in Indian cooking that can really make things difficult in the end.
So, you need to be perfect when it comes to preparing this dish at home.
Because you won't get many opportunities to fix it later.
Although you can't remove the stickiness entirely, there are a few things you can do to get the perfect texture for your Khichdi.
1. Rinse The Sabudana Pearls Well
This is the first step in this process, and you will need to perform it correctly.
If you don't rinse it well, the pearls will retain excess starch in them.
And this will essentially turn into a sticky Khichdi.
While rinsing, you need to ensure that all the starch is removed from the pearls.
The water in the pot should appear clear before you move on to the next step.
2. Soak Your Sabudana Correctly
Like rinsing, soaking is another important step in this process that can decide the fate of your Khichdi.
If you soak them in less water, the pearls won't swell enough.
On the other hand, they will absorb more water and become soggy if you put them in excess water.
So, what's the right proportion for soaking these pearls?
Well, you should soak them in the water with 1:1 proportion, but make sure the pearls are submerged in the water completely.
Once you do that, keep them aside and let them soak overnight or 5-6 hours at least.
3. Drain The Remaining Water Completely
Yes, you need to drain the water remaining in the pot.
When you soak them overnight, you may see a little water accumulating at the bottom of the pot.
This water is not so useful for making Khichdi, as you don't want to make mushy Khichdi later.
So, remove it from the pot.
Rinse the pearls again using a colander and let them dry out for a few minutes.
Do not put wet pearls immediately in the preparation.
4. Do Not Overcook The Sabudana Pearls
When you follow the above steps, you will have no issues making a perfect Khichdi at home.
The top 3 steps are pretty essential, and they will pretty much decide how your Khichdi turns out in the end.
But that's not just about it.
You will also need to take a look at the cooking technique.
Since the pearls have already soaked up enough water, you don't have to cook them for too long.
Just cook them till they become translucent.
Also, it's important for you to avoid stirring them continuously.
If you stir the preparation heavily, it will break the pearls into small pieces.
And these pieces will add more to the stickiness!
So, be careful and follow these steps. 
5. Do Not Use Too Much Potato
Even though adding more potato pieces to your Khichdi feels tempting, you should resist this temptation.
The potatoes are starchy in general.
So, they will add more sticky texture to your preparation.
To avoid this issue, you should reduce the potatoes that go into making this delicacy.
6. Fry The Potato Pieces Before Adding Them To Khichdi
Yes, fry them if possible!
Most of the time, we just use the boiled potatoes while making homemade Khichdi.
Instead, you can either deep fry the raw potato pieces or shallow-fry the boiled ones in a pan.
This way, you will be able to get a light crust around these pieces, which will not only add to the taste but will also reduce the stickiness in your Khichdi.
If you haven't tried it out yet, you should definitely give it a try. 
I'm sure it will help in making a perfect Khichdi.
Meanwhile, I've shared some FAQs related to this topic below.
Let's check them out now.
FAQs
1. How Do You Keep Sago From Sticking Together?

Firstly, you will need to rinse the pearls thoroughly.

This will help remove the excess starch from them.

Later, you will also have to work on the cooking technique.

You shouldn't cook them for long, as they will get dissolved and turn sticky in the end.

If you can follow these two tips, you will not have any issue with the sticky sago.
2. How Many Hours Should I Soak Sabudana For?

Ideally, you should soak Sabudana overnight.

But if you don't have that much time, you should at least soak it for 5-6 hours.

This will help achieve the right texture for your Sabudana pearls.
3. Can I Soak Sabudana For 1 Hour?

If you are using regular Sabudana pearls, you will need to soak them for much more than an hour.

You may experiment with keeping them in hot water for an hour or so.

However, the result won't be the same as the ones that are soaked overnight.
4. Can We Store Soaked Sabudana In The Fridge?

Yes, you can store the soaked pearls in the fridge for a couple of days.

But it's important to drain out excess water from their pot.

Otherwise, they may acquire a different taste after a few days.
5. Do You Soak Sago In Hot Or Cold Water?

You should soak the Sago pearls in normal water, i.e., at room temperature.

Do not soak them in hot or color water, though.

It won't give you the right results.
Over To You
Well, as you can see, it's quite difficult to fix the sticky Khichdi.
So, you should work on the prevention techniques and suggestions mentioned in the guide above.
If you have any queries or want to suggest more tips related to this topic, do let me know in the comments below.
Do share this guide with your friends and family if you found it helpful.