Bhel Puri is one of the most popular snacks in India.
In Mumbai, we get two types of Bhel Puris – Sukha Bhel (Dry Bhel) and Geela Bhel (Wet Bhel).
Sukha Bhel, as the name suggests, doesn't require any special Chutneys or other ingredients.
For Geela Bhel, you will need to use Tamarind Chutney, Garlic Chutney, and Coriander Chutney to get those typical Chaat-like flavors and taste.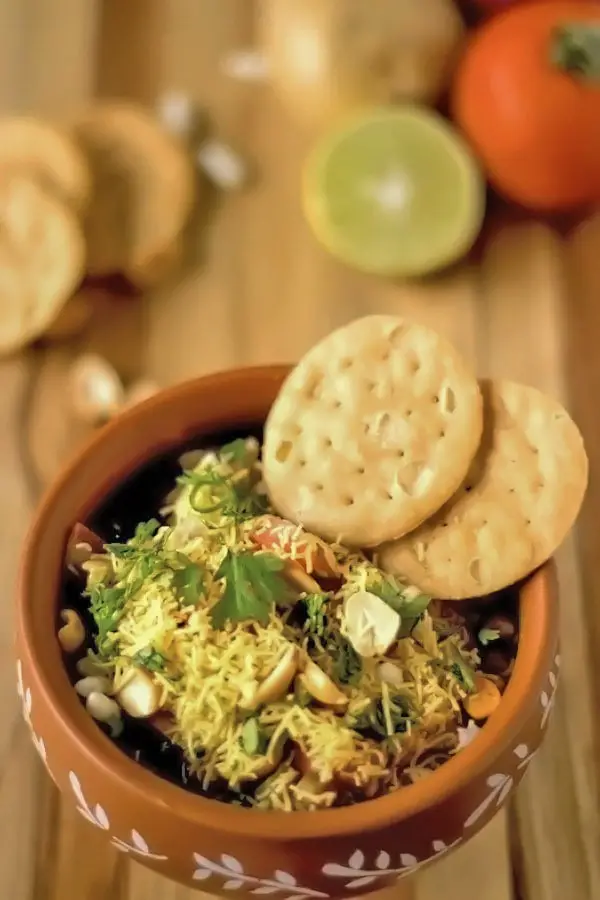 So, in the following post, I have shared a simple and easy to make Sukha Bhel Puri recipe.
And I'm sure you will love this recipe, as most of the ingredients are generally available in all grocery shops. You don't have to prepare anything extra in advance for this recipe.
Now, let's begin with the recipe –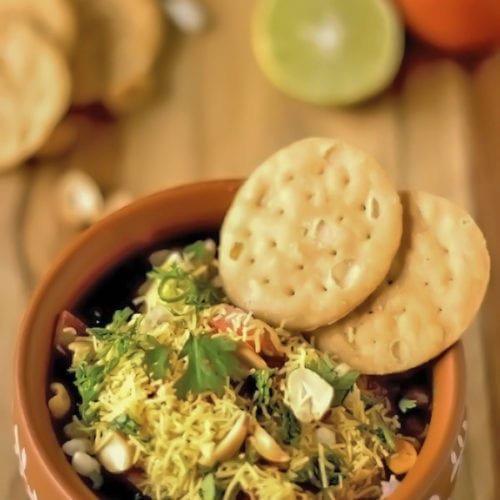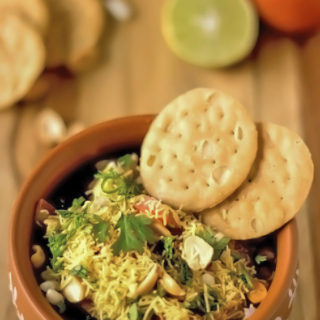 Sukha Bhel Recipe
Sukha Bhel Puri is a lighter version of popular Geela Bhel (Wet Bhel). You can make this Bhel at home with Puffed Rice, Onions, Tomatoes, Peanuts, Green Chilies, and Sev.
Ingredients  
25

gm

Murmura (Salted Puffed Rice)

1/2

Potato

boiled and peeled

3-4

tbsp

Peanuts

roasted

1/2

Tomato

finely chopped

1/2

Onion

finely chopped

1

Green Chili

finely chopped

5

gm

Coriander Leaves

finely chopped

2

tsp

Lemon Juice

5-6

Puris

deep fried Papdis

1

tbsp

Masala Chana Dal

1

tsp

Chaat Masala

2

tsp

Red Chili Powder

4

tbsp

Sev

Salt
Instructions 
Boil a Potato in a pressure cooker. Peel and chop it into pieces once cooled down.

Now, get a Mixing Bowl and add the Murmuras, Chopped Onions, Chopped Tomatoes, Boiled Potato Pieces, Chopped Green Chilies, Roasted Peanuts, Masala Chana Dal, Crushed Puris, Red Chili Powder, Chopped Coriander Leaves, Sev, and Salt into it.

Mix all these ingredients well.

Add the Chaat Masala and Lemon Juice to it.

Get a serving bowl or plate, and add the prepared Bhel into it.

Garnish your Sukha Bhel with Sev, Coriander Leaves, and a couple of Puris. You can also sprinkle some Chaat Masala if you like.
Notes
You can also add raw Mango pieces (Kaccha Aam) and Pineapple pieces to give an interesting touch to this recipe.
Variations
Sukha Bhel Puri recipe can be modified in as many ways as possible.
Here are a couple of must-try variations for you –
Sprout Bhel
In this variation, you can add any of your favorite boiled Sprouts like Moong and Chana.
Just make sure you completely remove the excess water from them.
Otherwise, the Murmuras will soak all the water from Onions, Tomatoes, and Sprouted Beans.
You can also have this Bhel for breakfast, as it gives you a good amount of Carbohydrates and Proteins.
Lemon Bhel
Lemon Bhel is a great variation for Sukha Bhel Puri.
For this recipe, you will need to prepare a Tadka with Turmeric Powder. Once the Tadka is ready, pour it on the Murmuras and mix it well.
Later, you can add the fried Peanuts, Sev, Masala Chana Dal (Optional), Lemon Juice, and Salt as per your taste.
Simple, isn't it?
So, do try this version of Sukha Bhel and let me know how it turns out.
This Bhel is also known as Surti Bhel in the Gujarati community of India.
Also Read: Bhadang Recipe