Thalipeeth is one of my favorite flatbreads in the world!
This Maharashtrian flatbread tastes so good that I think every household should include it in its breakfast menus.
As for the taste, it has its own peculiar taste.
It may look like a Gujarati Thepla, but I think it wouldn't be fair to compare this flatbread with any other regional flatbread.
It definitely tastes different than a Thepla or Paratha.
And if you are in Mumbai or traveling anywhere around Maharashtra, do visit a Maharashtrian restaurant that serves this flatbread for breakfast.
I'm sure you will fall in love with this traditional Indian flatbread.
Recently, I got an opportunity to visit a food festival (Global Konkan Festival) in Mumbai and I grabbed it with both hands.
It was a great event, as I got to explore many new things about Konkan and the coastal culture of Maharashtra.
I also brought some Thalipeeth flour from this festival, which I have used in the following recipe.
If you are planning to make Thalipeeths at home, you can get this flour from any Indian grocery store.
It is also known as Thalipeeth Bhajani, so do check this name on the packet.
There is also a brand called Bedekar, which sells this Bhajani mix in offline as well as online stores.
What Is Thalipeeth Bhajani
For those who don't know:
Bhajani is nothing but a mixture of different flours and spices.

Generally, it consists of Jowar (Sorghum) Flour, Rice Flour, Gram Flour, and Wheat Flour.

And traditionally, the locals dry-roast these grains and spices separately before grinding the Bhajani mixture.
You can check out the detailed Thalipeeth Bhajani recipe here.
Step By Step Recipe
Here's a quick step by step process that goes into making a Thalipeeth:
Note: In Step 4, you will need to mix all ingredients together. This includes chopped veggies, flour, spices, etc.
Tips To Make Thalipeeth
Don't forget to add finely chopped Onions to the flour mix. It helps get the essential crunch and slight sweetness to this flatbread.
Make a center hole in the flattened dough. You can add some Oil to this hole while roasting the Thalipeeth on Tawa.
Serve it hot, as it tends to change the consistency and texture as soon as it cools down. If you want to enjoy it after a couple of hours or so, you will need to roast it again with some Ghee or Butter.
For fasting, do not use regular Thalipeeth Bhajani. You can find a special Upvas Bhajani for your fasts.
How To Serve Thalipeeth
You can serve the hot Thalipeeth with plain Butter (Loni in Marathi), Yogurt/Curd, Pickle, Thecha, Raw Onion, and Green Chilies.
This is the traditional way of serving this tasty flatbread on a plate.
Other than that, you can also serve it with Mint Chutney and Tomato Ketchup.
It tastes equally good with these two accompaniments.
And yes, don't forget to have this flatbread with a hot cup of Masala chai.
It tastes AMAZING!
Alright now, let's take a look at the detailed recipe below.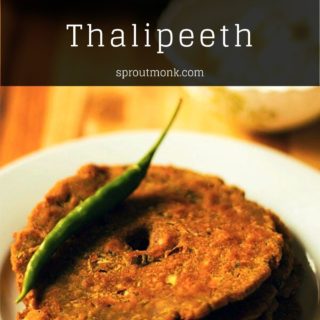 Thalipeeth Recipe
Thalipeeth is a traditional Maharashtrian flatbread, which can be enjoyed as breakfast as well as high tea snack. You can make this tasty and crispy flatbread at home using Thalipeeth Bhajani. 
Ingredients  
150

gm

Thalipeeth Bhajani (Flour Mix)

1/2

Onion

roughly chopped

5

gm

Coriander Leaves

finely chopped

1

tsp

Turmeric Powder

2

tsp

Red Chili Powder

Salt

as per taste

Oil

for roasting

Water

to prepare the Thalipeeth dough
Instructions 
Get a mixing bowl and add Thalipeeth flour, chopped Onions, chopped Coriander Leaves, Turmeric Powder, Red Chili Powder, Salt, and Oil (1 tsp) to it.

Add Water to this mixture and prepare a Pizza-like dough.

Let it rest for 5 minutes.

Make some medium-sized balls out of this dough.

Flatten the dough ball on a flat surface using your fingers and give it a round shape like Roti or Bhakri.

Make a small hole in the center of flattened dough.

Now, heat a Tawa or Pan on medium flame and pour some Oil on it.

Once the Oil is hot enough, gently place the flattened Thalipeeth on Tawa.

Roast it nicely on both the sides until you get the crisp golden color. 
Notes
If you find it difficult to flatten the dough ball using fingers, use the rolling pin and board. 
For this technique, you may have to prepare a Chapati-like dough.
Do not add too much water while kneading the dough.
Do you make Thalipeeth at home?
Let me know your version of this recipe in the comments section below.