What do you do when there is too much water in rice?
Do you just throw it away?
Well, you don't have to do it now.
Because I'm going to share some useful tips that might help in fixing this rice problem completely.
So, let's get started.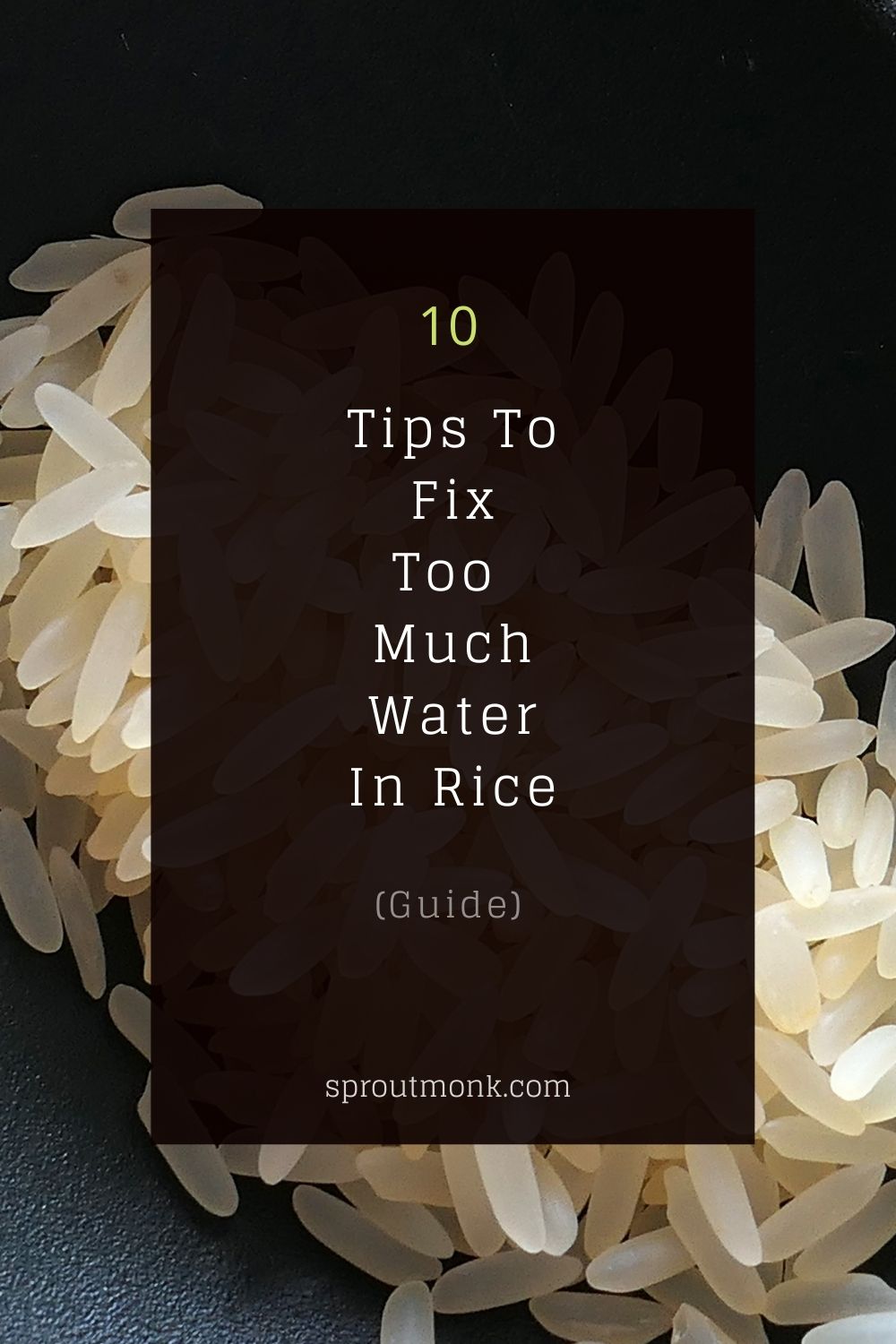 Things To Do When There Is Too Much Water In Rice 
When there is a lot of water content in your steamed rice, it means it's a classic rookie mistake.
But hey, don't worry, it happens with all of us.
And it can be fixed easily without too much work.
Here are the top 10 tips to fix this problem –
1. Sieve The Rice 
It is the best way to remove any excess water from the rice grains.
If the water quantity is too high in your cooked rice, you can simply use a general kitchen sieve and take out the rice from the cooking pot.
Once you remove the rice from the pot, make sure you follow step 2 or step 3 mentioned below.
These steps will help in extracting even more moisture content from the grains.
2. Spread The Rice On A Muslin Cloth
Muslin cloth works in two ways.
Firstly, it removes excess water from its pores.
And secondly, the cloth also absorbs the moisture present in the grains, which effectively solves this problem.
So, in order to perform this step, you can spread the soggy rice on a clean muslin cloth and allow it to be there for at least 10-15 minutes.
This time duration is more than enough to remove the water from rice grains.
Note: You can also hang the muslin cloth somewhere in the kitchen so that gravity can play its role in extracting more water in less time.
3. Spread The Rice On A Kitchen Towel
Don't have a muslin cloth?
No worries!
Although muslin cloth works effectively, you can still use a kitchen towel as an alternative.
It should do the same job if there is too much water in rice.
And as for the steps, you will have to perform the steps here.
However, if there is too much water content in it, do remove it using a sieve or method no. 7 suggested in this guide.
Important: You should always use a good quality kitchen towel for this method.
Else, the paper pieces will stick to the rice grains, and you might have to throw everything away in the bin.
4. Cook The Rice For A Few More Minutes
Now, this method is only useful if the water content in rice is moderate to low.
If you feel it can be fixed with a bit of heat, you should go ahead and put it back on the flame.
For this to work, you will have to cook the rice for a few minutes depending on the consistency and texture of the rice grains.
If the grains look brittle and mushy, you should cook them in a heavy bottom pan or Kadai.
Or you can also repurpose it for some other dishes like fried rice or masala rice.
However, if the grains look undercooked, you should think of using the pressure cooker again.
It will not only cook the rice to perfection but will also help remove excess water from the grains.
5. Microwave The Steamed Rice
Microwave is another great tool to remove water from rice.
And it can be used as an alternative to the above pressure cooker method.
For the microwave method, you will need to heat the rice for a few minutes.
And that should be good to reduce the significant amount of water from rice.
6. Flip The Rice Pot Using A Plate
Yes, it's one of the most effective methods to get rid of too much water from rice.
And here's how you can use it –
Put the rice in a pot or container.
Place a plate on it.
Flip the pot and plate upside down, and remove as much water as you can.
That's it!
You can perform this step a couple of times more to remove even more water from rice.
And once it's done, you can spread the rice on a muslin cloth or kitchen towel for better results.
If you are using an Instant Pot for cooking the rice, you can remove the soggy rice in a separate pot and perform the same steps.
Once the excess water is removed, you can spread it on a flat surface and allow it to cool down further.
As the rice cools down, it should get more dry and firm.
7. Cook The Rice In A Kadai or Pot
If your rice contains significantly less water, you can put it in a Kadai or Pot and heat it for a few minutes.
This will allow the excess water to evaporate in the form of steam.
And if you want to make it even more interesting, you can also prepare Pulao, Fried Rice, Jeera Rice with this type of rice.
Or you can try out some of the other Asian rice delicacies if you want.
The only thing you need to remember here is not to stir the rice frequently.
Since there is already too much water in rice, the grains will not hold their shape for long.
And they might break into pieces if you keep mixing it with other ingredients.
So, be careful while repurposing such rice.
How To Avoid Too Much Water In Rice?
Rice is one of those ingredients that is slightly tricky to make at home.
And it's even more difficult to fix it if it doesn't turn out well.
And therefore, it becomes important to get the cooking method right.
So, here is a useful tip you can use to avoid too much water in your rice.
Put the rice in the steaming container.
Now, pour the water into it.
Once you pour enough water, stick your index into the water till it reaches the rice grains.
Now, take the finger out from the water and check whether it has reached the 1/2 inch mark.
If the water level is perfectly near the 1/2 inch mark, you can cook the rice in your pressure cooker.
If it's not, you either add or remove the water depending on the level.
Do try out this trick and see how it works magically!
Note: For Instant Pots and other steamers, you will need to read their manuals for perfect water to rice ratios.
Now, let's have a look at some of the commonly asked questions by the readers.
FAQs
1. What Can I Do With Soggy Rice?

You can do many things with soggy rice.

If you want to make something sweet, you can think of making porridge or kheer out of such rice.

It will taste amazing, and you won't regret making soggy rice at home.

Apart from that, you can also make Indian khichdi delicacy with this type of rice.

2. How Do You Fix Wet Rice With Bread?

The simplest way to fix wet rice using bread is to place the bread slices on top of the rice.

Just press them gently and allow them to soak up as much water as possible.

You may also place a plate on top of the bread slices, which will help in putting more firm pressure on them.

Once you have placed the slices, make sure you keep them for at least 10-15 minutes.

Note: If the rice is too wet, you won't be able to remove all moisture content using bread or similar ingredients.
For this, you will have to use any of the methods mentioned in the guide above.

3. How To Fix Mushy Fried Rice?

It is difficult to fix mushy fried rice, as it might break down into tiny pieces if you try to mix them further.

Therefore, if the rice has turned mushy, you can either put it in the microwave for a few minutes or put some more veggies or meat into it.

Both these options are great for soaking up extra water from such mushy fried rice.

However, you do need to understand there is no way to fix wet or soggy fried rice.
4. How To Fix Uncooked Rice In A Casserole?

Well, you can put the rice in another pot and cook it for a few more minutes.

Also, don't forget to sprinkle some water to it.

The excess water will help in cooking the rice grains fully.

If the grains are too undercooked, you will probably need to cook them in a pressure cooker or Instant Pot again.

And there is no other way to fix it properly.
Over To You
Did you enjoy this guide?
I think the above tips and tricks should help if there is too much water in rice.
And if you are still not sure about any of the above methods, please do let me know in the comments below.
I'd be glad to answer all of your queries.
In the meantime, please consider sharing this guide with your friends and family.
And yes, do subscribe to my weekly newsletter as well.