Is your Dosa not turning brown?
Are you struggling to make a perfect Udipi-style Dosa at home?
Well, don't worry!
It's one of the common issues in the Dosa-making process, and you can fix it easily too.
In the following guide, I have shared a few tips and suggestions that should help you fix this issue.
So, let's get started.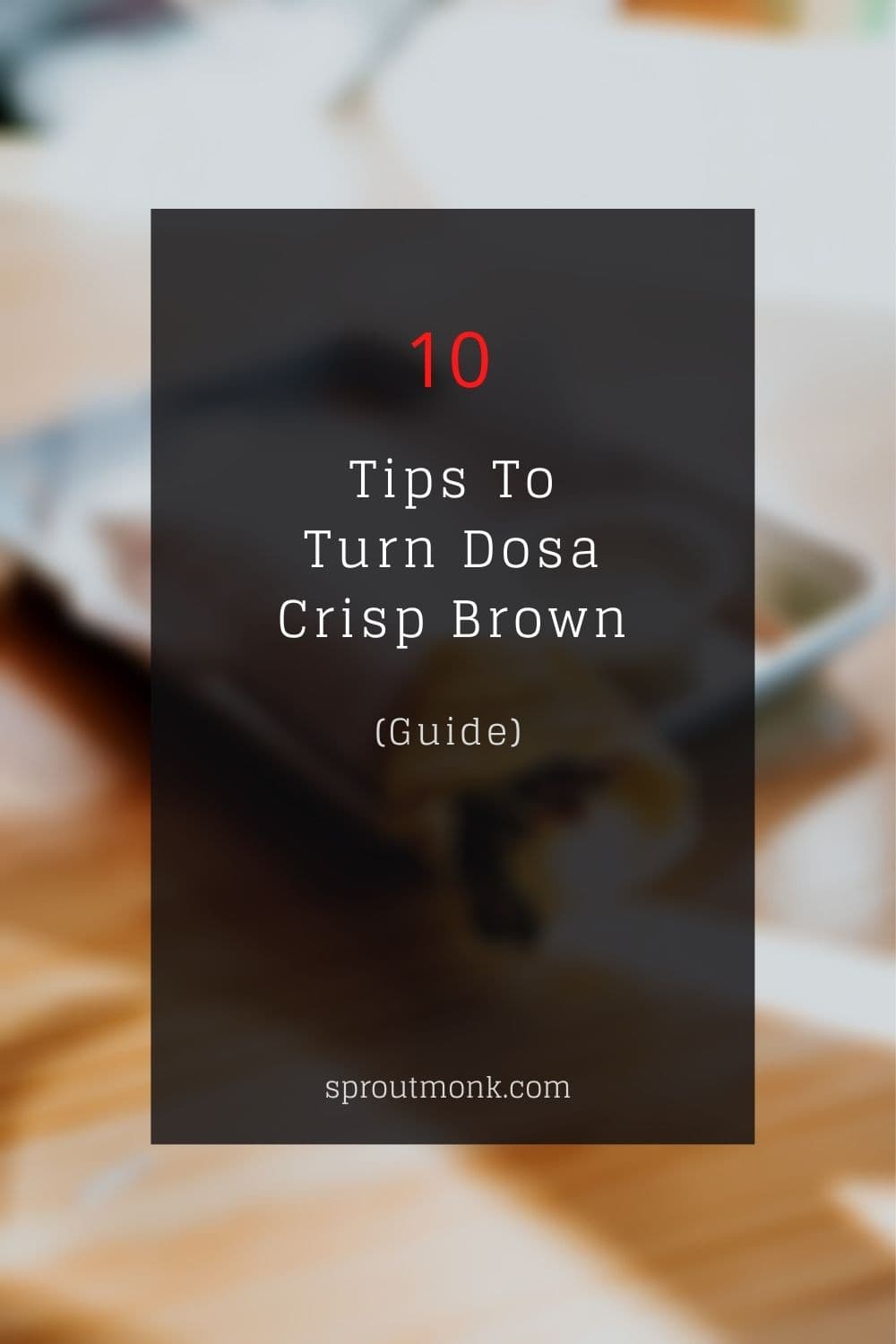 Here's Why Your Dosa Doesn't Turn Brown
Before we look at the tips, let's quickly understand why it doesn't change its color to a brown or golden brown shade.
Of course, there are many reasons for it, and we will look into them with precise details.
1. Dosa Batter
The first and the most important thing here is to get the Dosa batter right.
If your batter is not prepared with appropriate ingredients, you will find difficulties in making a perfect brown Dosa in the end.
Similarly, the proportion of these ingredients is equally essential in making restaurant-style Dosas at home.
So, you need to be mindful while preparing the batter.
In case you want to learn more about it, here's a detailed guide on how to prepare the Dosa batter.
I think the above guide will help in solving some of the common issues in this process.
2. Cooking Method
When you pour the batter on your tawa, it needs to be cooked on high heat.
There is also a secret technique to prepare a crispy Dosa, which we'll discuss in the tips section below.
But the cooking part is as crucial as the Dosa batter preparation.
If you go wrong here, it won't cook properly.
And as you know, the outcome won't be as great as desired.
So, these are the two fundamental things that can make or break your preparation.
In the next section, I have specifically shared some tips and secrets to make a crisp brown Dosa.
Do check them out below.
10 Tips To Get A Perfect Crisp Brown Color To Your Dosas
Here's the list of tips for you –
1. Ferment Your Batter Well
Fermentation is the most significant part of the Dosa making process.
It helps in getting the right texture to the batter, which is essential in preparing the crispy Dosas at home.
If the batter is not fermented well, the Dosas will not come out great.
In some cases, they will also turn white instead of getting the golden brown color.
Also, if the fermentation is not done correctly, you will have difficulties in spreading the batter on the pan. 
So, as you can see, there are quite a few issues that you will have to face if you don't allow it to rest for a considerable amount of time.
For those who live in cold environments, you will also need to extend the fermentation period by a few more hours.
This extension will provide the bacteria enough time to do the magic for your Dosa batter.
Quick Tip: If the surrounding environment is cold, you can keep the batter container near the cooking counter. 
It will help in expediting the fermentation process.
2. Add A Pinch Of Sugar To The Batter
Yes, the secret ingredient!
If you have tried everything and still have not managed to get the browning effect, do not worry.
You just have to add a pinch of sugar to the batter and prepare the Dosas as you regularly do.
When sugar caramelizes on high heat, it automatically browns the Dosa bottom.
With this secret trick, you don't have to worry too much about the batter proportion and consistency.
Here, the sugar crystals will do the job for you.
Note – You don't have to add a lot of sugar to get the browning effect. 
If you add more, it will change the overall taste of the Dosa.
So, please be wary of it.
Apart from this, sugar might also help in expediting the fermentation process.
3. Use Lentils In Your Dosa Batter
The second secret ingredient!
Well, it's not a secret per se because most of the Dosa recipes do recommend adding them to the batter mixture.
However, if your Dosa is not turning brown, it simply means you have added less amount of lentils to it.
To fix this issue, you need to increase the quantity of Urad Dal and Chana Dal in your batter mixture.
To be more specific, you will have to add more Urad Dal to this mixture.
Urad Dal is the one ingredient that helps in elevating the crispy brown texture of Dosa.
So, make sure you check the recipe again and change the quantity of Dals accordingly.
4. Use The Best Cast-Iron Tawa
Yes! 
Have you seen the traditional Dosa makers in their kitchens?
They never use non-stick pans to prepare their Dosas.
You will always find them using a solid cast iron tawa or stone plate (Pathiri Tawa) for such preparations.
But why do you need a cast-iron tawa?
As you know, Iron is a good conductor of heat.
When you cook food on such pans, they help in cooking the ingredients thoroughly.
The uniform distribution and retention of heat work great when you spread Dosas on them.
So, if you are in two minds on whether to get this tawa or not, I'd suggest you go for it.
As for the regular non-stick pans, they do work effectively until the coating comes off from their surface.
Therefore, even if you buy a new non-stick pan, the Dosas will start sticking to the bottom after a few months or so.
And then, the pan will not be much useful to make Dosas or Uttapams.
Hence, in this case, it's better to have a dedicated Dosa pan in the kitchen.
5. Season Your Pan With Some Oil Or Ghee
Whenever you're making Dosa, make sure you season it properly with some coconut oil.
You can also use any other cooking oil or Ghee for this step.
But it needs to be done irrespective of the coating quality of your Dosa tawa.
Once you season it properly, you may start making Dosas on this surface.
Similarly, you have to grease the tawa with some oil before pouring the batter.
It helps form a thin layer of coating on the pan, which eventually helps turn your Dosas crisp brown.
Quick Tip: Use a kitchen napkin or sliced onion to season the pan. 
You may also use cooking oil sprays for greasing if you're not comfortable with Ghee or other types of cooking oils.
6. Spread The Batter Evenly On Pan's Surface
If you want a uniform brown crisp texture to the Dosas, you need to spread it evenly on the hot tawa surface.
It may seem like a difficult task, but you can quickly learn it by watching some Dosa making videos on YouTube.
You only need to practice it a few times, and you will get the hang of it.
But do learn it!
It will make a lot of difference to the way you make Dosas at home.
Note – If you let the considerable amount of batter on the surface of Dosa, it won't help much in getting the quintessential crispy texture.
For the crispy layer, you need to spread it thin as the professional Dosa-makers do.
7. Cover It With A Lid After You Spread It On The Pan
Once you pour the batter on the pan, you need to cover it with a lid.
When you put the lid on, it helps in forming the hot steam inside.
It also assists in cooking the spread Dosa batter much faster.
So, if you've come across any issues of uncooked or undercooked Dosa, the lid will resolve it for you.
Now, you may ask how long do you need to put it on the pan?
You don't have to keep it for too long.
You can keep it on for a couple of minutes so that the uncooked batter gets enough time to cook in the heat.
However, as you know, it doesn't directly benefit the Dosa browning process.
It will expedite the cooking process, which allows you to cook the surface and bottom of Dosa evenly.
8. Cook It On A Steady Flame
Yes, you have to cook all Dosas on high flame.
Whether you are making a plain Dosa or Masala Dosa, it requires a generous amount of heat to form the crispy layer at the bottom.
On top of that, you will have to maintain a steady flame while cooking the Dosas.
If you keep on lowering or increasing the flame, it will result in uneven cooking.
And more importantly, you won't be able to achieve the crispy texture to it.
The Dosas may get browned from the bottom, but they will still be chewy and hard instead of crunchy.
And in the end, you will still wonder what went wrong despite following all steps correctly.
So, it's an essential step, and you need to remember it during the preparation.
9. Add Some Oil On The Top Surface While Cooking The Dosa
When you are making a Dosa, you have to add oil a couple of times.
For the first time, you have to grease the pan thoroughly.
And the next time, you will have to use it to get a more crisp brown texture to the bottom surface.
When you add oil for the second time, it slowly drips down to the bottom surface.
And when it reaches the hot tawa surface, it turns your Dosa brown.
For this step, you can use any oil or Ghee.
You can also add a cube of butter and gently smear it on the top of the Dosa surface.
But do not skip this step.
You need at least some sort of a greasing agent to acquire the right crispy texture to your Dosa.
10. Allow It To Cook On The Flame For A Bit Longer
Let the Dosa remain on the flame for a few seconds more.
These extra few seconds will make it even more crispy!
And yes, it will also get a nice golden brown color to it.
But make sure the Dosa is not cooked thoroughly.
If it's already cooked well, it will burn further and may not taste great if you keep it on the flame for long.
So, remove it at the right time before it turns dark brown or charred.
Well, these are some of the tips I use to make crispy brown textured Dosas in the kitchen.
And I'm sure you will find them useful too.
3 Quick Ways To Know Whether Your Dosa Is Browned or Not
If you do not have a lot of experience preparing Dosas, the following tips will help in understanding the browning effect on your Dosas.
But if you're a pro at making Dosas, you can skip the section altogether.
1. Look At The Net Formations.
This step is not very useful for regular Plain Dosa or Masala Dosa.
However, it's quite helpful when you are making a Neer Dosa or Rava Dosa.
When you pour a thin batter, it automatically forms a net-like structure on the pan's surface.
And as the Dosa cook further, the edges of these nets tend to turn slightly brown.
So, you have to keep a close eye on it.
Once these edges start to change their color, you can remove the Dosa from the flame.
2. Wait Till The Edges Release From The Surface
It's the one characteristic that lets you know whether Dosa is cooked or not.
Once the peripheral edges start to leave the pan, you can take it off the flame.
This process won't take place immediately, so you might need to be a little bit patient here.
However, if you want more browning effect, you should wait for a few more seconds, as mentioned earlier in the guide.
The above tip is useful for almost all types of Dosas except Uttapams and Set Dosas.
Since both these Dosas have a thicker layer, you'd possibly not see the edges leaving the surface as distinctively as other Dosas.
Important – Sometimes, the Plain Dosas don't leave the edges either. 
In this case, you should use the third method to know whether the Dosa is browned to its perfection or not.
3. Lift The Dosa And Check The Bottom Surface.
The ultimate method!
If you are unsure whether Dosa has turned crisp brown, you can try to lift it from the edges.
Once you lift it from the sides, you can take a quick look at its bottom surface.
If you see any orangish or brownish color on the surface, it means Dosa is ready.
And you can remove it from the flame and serve it with Coconut Chutney and Sambar.
However, if it has not changed color, you should wait for some time.
Like I mentioned above, the extra cooking time allows it to attain a beautiful texture to your Dosas.
So, you can wait for a few more minutes and lift it again afterward.
Note: Dosas take at least 3-4 minutes to cook on each side.
With that said, I hope these tips and suggestions help you in getting the right color and texture to your Dosas.
In the following section, I have shared the answers to some of the commonly asked questions by readers.
Do check out this FAQ section if you have any related questions to this topic.
FAQs
1. Why Is My Dosa Not Brown?
As explained in the guide, there are three reasons why the Dosa doesn't turn brown.

1. Improper fermentation 
2. No lentils in the batter
3. Incorrect cooking technique

If you work on these issues, I am sure you will be able to make crispy brown Dosa at home.

Note – Lentils are not very important in this process, but they do lend color to the Dosa.
2. Why Are My Dosas White?
There are two reasons for this issue.

The first one is less fermentation of batter.

As I discussed in the guide, if the batter is not fermented well, Dosas will turn white.

Also, sometimes, it affects the batter's consistency too.

And with such batter, you won't be able to spread your Dosa like a Plain Dosa or Masala Dosa.

Mostly, the above problem arises during the winter season.

So, to fix this issue, you only have to extend the fermentation period by a few hours.

The second reason is the batter ingredients.

If you're only using Boiled Rice or Dosa Rice for the batter preparation, you will likely get white Dosas in most cases.

To balance the proportions, you should consider adding some lentils to it.

And it will fix the issue entirely.
3. Why Is My Dosa Not Crispy?
The crispy texture depends on various factors.

But here's a list of main reasons why your Dosa doesn't turn crispy – 

1. Your batter consistency is not right. You may have added too much water to it.
2. You are not spreading it correctly on the pan. It needs to be spread evenly from all sides.
3. You are not cooking it on high flame. Yes, Dosas require high flame cooking, which helps form the crispy layer to its bottom surface.
4. You are not adding oil after spreading Dosa on the pan. 
5. You are not serving and enjoying it at the right time. If you let the Dosas sit on the plate for a long time, they will cool down quickly and lose some of the crispiness.

Well, these are some of the reasons for the non-crispy Dosa issue.

But the good thing is you can fix them without any advanced level of skills.

So, do try out these suggestions and see if they work for you.
4. What Happens If Urad Dal Is More In Dosa Batter?
If you add a lot of Urad Dal to the batter, Dosas will turn dark brown.

The lentils are often used to get the crispy texture and golden brown color to the Dosas and similar dishes.

As for the taste, it will have a bit of impact on the taste as well. 

When you increase the quantity of lentils in the batter, they usually lend an earthy taste to the palate.

Quick Tip: If you have added more lentils to the batter, don't make Plain Dosas. 

Instead, it would be perfect for making a Vegetable Uttapam or Pizza Dosa or traditional Masala Dosa.

These additions will somewhat help in toning down the effect of lentils in your Dosa.
5. Why Is My Dosa Not Cooking From Inside?
Well, you don't have to cook Dosas from inside.

They are generally meant to be cooked on one side only.

But yes, there are some exceptional varieties too.

Having said that, if you like fully cooked Dosas, you can put a lid on the pan at the time of cooking.

It will allow the upper surface of the Dosas to cook in the steam.

But what if you're placing the lid and they still remain uncooked?

In that case, you have two problems to fix here.

The first one is the flame.

Always remember, Dosas need to be cooked on high flame.

If you cook them on low-medium, medium, or medium-high flame, it won't help much.

The flame should be relatively high so that the heat can reach the batter uniformly.

And the second issue is the spreading technique.

You have to spread the batter thin.

Once you do these two things, I'm sure your Dosas will come out perfectly.

Alternatively, you can also flip the Dosas and cook it on the other side if you like.

It will eliminate the problem of undercooked Dosas.
Over To You
Alright, I hope you enjoyed this guide.
Do try out some of the tips mentioned in the above post.
If you are still facing issues, I am always there for your help.
You can leave your queries below, and I'll surely do my best to resolve them for you.
Also, if you use any other technique to brown the Dosas, please share it in the comments below.
It will help a lot of beginners.
Meanwhile, if you found this guide useful, please share it with your friends and family.
And oh, I also have a weekly newsletter, where I share regular updates with my subscribers.
So, do consider subscribing to it as well.