How do they make perfect Upma at restaurants?
And that too, each time?!
I often used to get this question during my early days of cooking.
It is a pretty simple South Indian delicacy, but you need to know some secrets to get the same restaurant like taste and consistency for Upma.
I'll talk about these secrets in the post below, but now let's learn more about this popular dish.
Upma is a traditional Indian breakfast snack, which is made using Semolina (Rava/Sooji).
You can find this dish in most of the restaurants that serve South Indian delicacies like Idli, Dosa, and Uttapam.
If you want to taste authentic Upma, I'd highly recommend you to visit Udipi restaurants or cafes.
They always serve really delicious Upma for breakfast.
However, this doesn't mean you can't make it at home.
In fact, you can prepare a much better version of Upma using your choice of ingredients.
In this recipe, you can add your favorite vegetables like Carrots, Green Peas, Corn, Ground Nuts, etc.
These vegetables will bring an interesting character and texture to the bland taste of Semolina.
But don't use too many veggies for this recipe!
It shouldn't taste like a Vegetable Pulao. So, just be careful.
I only add one or two veggies while making Upma at home.
You can also add roasted Cashew Nuts and Raisins to it. The dry fruits will make it even more rich and tasty.
If Cashews are not available, you can replace them with slivered Almonds.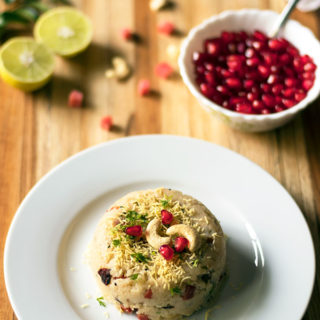 Upma Recipe
Upma is a popular Indian snack, which can be enjoyed as breakfast and tea time snack. It is generally served with tempered Coconut Chutney.
Ingredients  
100

gm

Semolina (Rava/Sooji)

roasted

Carrots (Gajar)

finely chopped

Onion

finely chopped

Green Peas (Matar)

5-6

Cashew Nuts (Kaju)

roughly chopped, roasted

1-2

Green Chilies

roughly chopped

1/2

tsp

Ginger

finely chopped

6-8

Curry Leaves

2

tsp

Mustard Seeds (Rai Dana)

1/2

tsp

Asafoetida (Hing)

Salt

2

tsp

Sugar

300

ml

Water

hot

4

tbsp

Oil

5

gm

Coriander Leaves (Dhaniya Patta)

finely chopped

Nylon Sev

as needed
Instructions 
Dry roast the Cashew Nuts on medium flame and keep them aside.

Dry roast Semolina on low flame. Make sure it turns light brown in color. 

Now, place a Pan on the flame and heat some Oil in it.

When Oil turns hot, add the Mustard Seeds and let them crackle for a few seconds.

Add the Asafoetida, Green Chilies, Curry Leaves, Onions, and Salt to it.

Sauté them nicely until the Onions turn translucent. 

Add the Green Peas and chopped Carrots into the Pan. Put the lid on and let it cook for a few minutes. Don't forget to stir in between. Add some water if needed.

Once the veggies turn nice and soft, add Water (300 ml) into it. Boil it nicely.

Add the roasted Semolina to it and cook on low-medium flame. Put the lid on and stir in between as needed.

Add some Sugar and Coriander Leaves on the top and cook further.

Once the Upma is cooked, switch off the flame and take it out in a plate or serving bowl.

Garnish it with the finely chopped Coriander Leaves and Nylon Sev. 
Notes
Always use thick Semolina (Jada Rava) for this recipe.
If you want to save some time, you can roast the Semolina separately and store it in an air-tight container. 
For long-lasting crunch, make sure you fry the Cashew nuts till golden brown.
If Nylon Sev is not available, you may also use Teekha Sev for the garnish.
Secrets Of Making A Perfect Upma At Home
Always use the roasted Semolina for this recipe. Do not make Upma directly with store-bought Semolina.
As shown in the above video recipe, use hot water to cook the Semolina. If you use plain Water, the Upma might not cook properly.
Dice the veggies into very small cubes (brunoise) or your preferred shapes. It'll help in cooking them evenly. You may also use blanched vegetables, but you won't get the same stir-fried taste in the end. Therefore, I always prefer adding brunoise veggies to such dishes.
Don't forget to put the lid on while cooking this dish. It'll allow Semolina grains to cook in hot steam.
Finally, don't forget to add a pinch of Sugar in the end. It'll enhance the overall taste!
Well, these are some the secrets of making the perfect Upma at home.
Do follow these tips when you make this recipe next time and let me know how it turns out.