Pav Bhaji is one of those dishes that go well with pretty much anything.
But sometimes, we do get confused as to what needs to be served with this dish.
In today's guide, I have tried to share some suggestions on this topic.
Hopefully, the following suggestions will help in answering this question for you.
So, let's get started with the guide.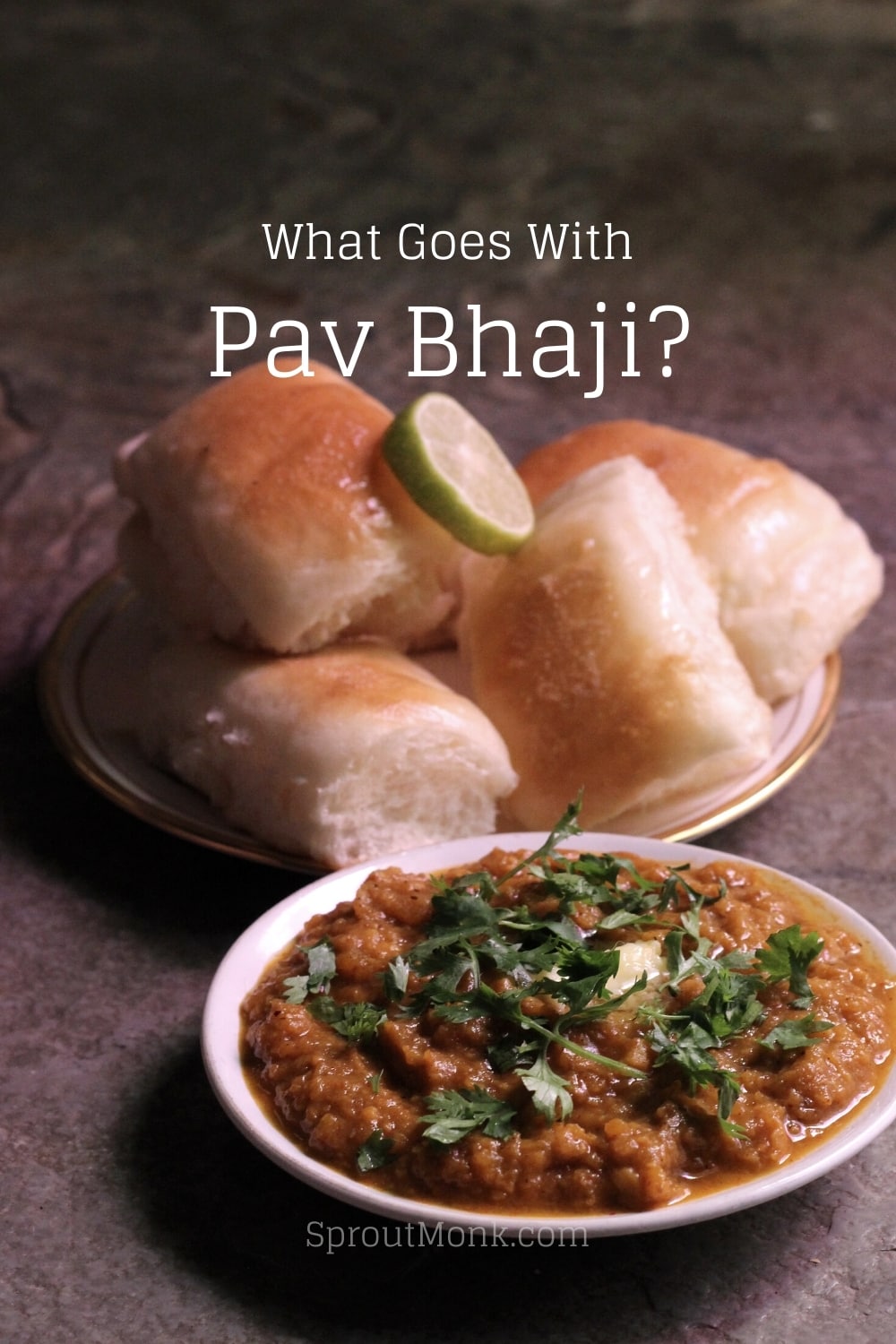 What Goes With Pav Bhaji?
Here's a list of things that go well with Pav Bhaji –
1. Tawa Pulao
It's the classic combination for Pav Bhaji, and you will find it being served at many parties and events.
The street food vendors also serve Tawa Pulao, as it's easier to prepare this rice preparation with base masala from available Pav Bhaji.
So, do consider making or ordering Tawa Pulao if you want to have something more with this vegetable preparation.
2. Aloo Tikkis
Aloo Tikki is another popular dish that you can serve with Pav Bhaji.
The tikkis are easy to make at home, and they don't require many ingredients either.
The preparation time is also not a major factor here if you've already boiled the potatoes.
If you feel Aloo Tikkis are too boring, you can obviously go for Indo-Chinese starters.
You can also try out traditional Pakoras that can add to the taste of this preparation.
3. Gulab Jamun
Gulab Jamun is a must-have dessert if you are serving Pav Bhaji at home or at an event.
It is a perfect dessert option for this dish.
Since they don't take up a lot of space in the plate, you can serve a couple of Gulab Jamuns in a bowl.
And they do complement well to the taste as well as presentation of the dish.
If you want more options, you can also offer Rasgulla or Kala Jamun to your guests.
These two preparations are quite similar to Gulab Jamun, and they taste equally good.
4. Samosa
Samosa is a good combination option for Pav Bhaji.
Its crunchy texture and scrumptious filling make it a perfect snack for the evening.
However, it may not be a good option if you are serving Pav Bhaji for dinner.
In that case, you should avoid serving Samosas because not many people would want to have them for the evening meal.
So, do think of something else if you're sure about serving Pav Bhaji late in the day.
5. Paneer Tikka
Do you want to keep things simple for the dinner party?
You can try serving Paneer Tikkas with Pav Bhaji.
It's definitely not the best combination, but it's surely better than nothing.
Paneer Tikka needs to be served hot. 
If you serve them cold, it ruins the fun of having them in the end.
So, you should avoid them if you're hosting a party for a large group.
It will only be a good option for small house parties where you can prepare them quickly on a tawa or oven and serve them hot. 
Overall, it's a great dish, which doesn't even require a lot of preparation time.
6. Non-Veg. Starters
Well, if your guests are non-veg. lovers, they'd definitely look for something interesting in this category of food. 
 In such a case, you should consider some of the best non-veg. starters along with vegetarian ones.
Here's a list of things that generally go well with Pav Bhaji –
Chicken Lolipop
Chicken Manchurian Dry
Chicken Chilli
Chicken Kebabs
Prawns Fry
You can pick any of the above starters and serve them along with Pav Bhaji.
I haven't mentioned mutton dishes above, as they turn hard if not served quickly.
The same goes with the kebabs. 
They may turn hard eventually as well.
7. Fried Rice
Fried Rice is something I prefer whenever I order Pav Bhaji from a restaurant.
I don't like Pulao dishes with Pav Bhaji a lot, so the fried rice becomes a great alternative to satisfy the taste buds.
Moreover, it's a great option for house parties and events too.
If you want to make it yourself, you can prepare the rice a few hours before the event and keep the vegetables and other things ready for preparation.
You can prepare this rice half an hour or an hour before the event. 
It stays fresh and warm for a good period, and you can reheat it as well.
Similarly, there are many variations to this rice preparation, which you can make as per your liking.
8. Lassi
It's not a conventional drink to serve with Pav Bhaji. 
Generally, we see cold drinks and other refreshments being served during such events.
These drinks are quite perfect for rich dishes like Pav Bhaji.
But Lassi is not a bad option either.
It will be something different from regular servings, and I'm sure your guests would love it as well.
To give it a more interesting touch, you can prepare it in different flavors and serve it in small glasses.
9. Schezwan Noodles
Schezwan noodles can be an interesting option too, and they will be an instant among kids. 
If you don't want to make it too spicy, you can think of preparing Hakka noodles.
These noodles are easy to prepare as well and take less time than most other preparations.
You can boil them an hour before the preparation and toss them with veggies and sauces while serving.
It's a really quick dish to make if you have all things prepared beforehand.
10. Other Accompaniments
Apart from the above suggestions, you can think of serving regular accompaniments with Pav Bhaji.
These accompaniments include Pickles, Raitas, Chutneys, and Papad.
Now, depending on your preference, you can try out variations in these choices as well.
For e.g.,
You can serve sweet and tangy Amla Pickle instead of traditional Mango Pickle.
Similarly, you can serve Boondi Raita instead of regular Cucumber Raita.
So, there are many things you can try depending on the preparation time and available ingredients. 
FAQs
1. What Goes Well With Pav?

There are quite a few things that go well with Pav. 

Pav is just another type of bread, so you can serve something that offers slightly thicker gravy.

You can serve with Egg Bhurji too, which is another amazing combination for this bread.

Apart from that, it also tastes good with tea or coffee.

So, you can serve the toasted Pavs with a hot cup of tea/coffee in the evening.
2. Can Pav Bhaji Be Eaten For Breakfast?

It may not be the best breakfast option you can think of, but you can surely have it for brunch. 

For a better alternative, you can replace the bread with Chapati or any other type of flatbread you like.

It will be a much better option for you in the morning.
3. What Dessert Goes With Pav Bhaji?

For desserts, you can serve Gulab Jamun, Angoori Basundi, Sitaphal Basundi, Jalebi, Vermicelli Kheer, Ras Malai, Malai Sandwich, etc.

These are some of the best Indian desserts you can serve with Pav Bhaji.
4. Why Is Pav Bhaji Popular?

There are many reasons why Pav Bhaji is popular. 

Firstly, it tastes amazing due to unique flavors from Butter, Vegetables, Pav Bhaji Masala, and fresh Coriander Leaves. 

The color of this preparation is also very appetizing!

Along with this, it's quite easy to eat Pav Bhaji at any place.

You just have to break the bread and dip it into a thickish Pav Bhaji preparation.

This is why the popularity of this dish has grown so much over the years.
5. What Kind Of Rice Goes With Pav Bhaji?

You can serve any medium or long grain rice with Pav Bhaji.

But do season it with some whole spices like Cumin Seeds, Bay Leaf, Cinnamon, Cloves, etc.

These spices will elevate the overall flavors of the preparation. 
Over To You
As you can see above, the dishes mentioned in the above list are nothing but mouthwatering. 
So, I'm sure you will love these ideas for your Pav Bhaji party.
In case you want to know more about them or have any other feedback, please leave a comment below.
If you enjoyed this guide, do share it with your friends and family.