Mushrooms are one of my all-time favorite ingredients in the kitchen. They are so versatile that you can use them in many ways. 
But what about the mushroom water? Should you be using the leftover water? Or is it better to just throw it away?
If you have been cooking mushrooms for a long, I'm sure this thought might have crossed your mind.
So, let's learn more about it in the following guide.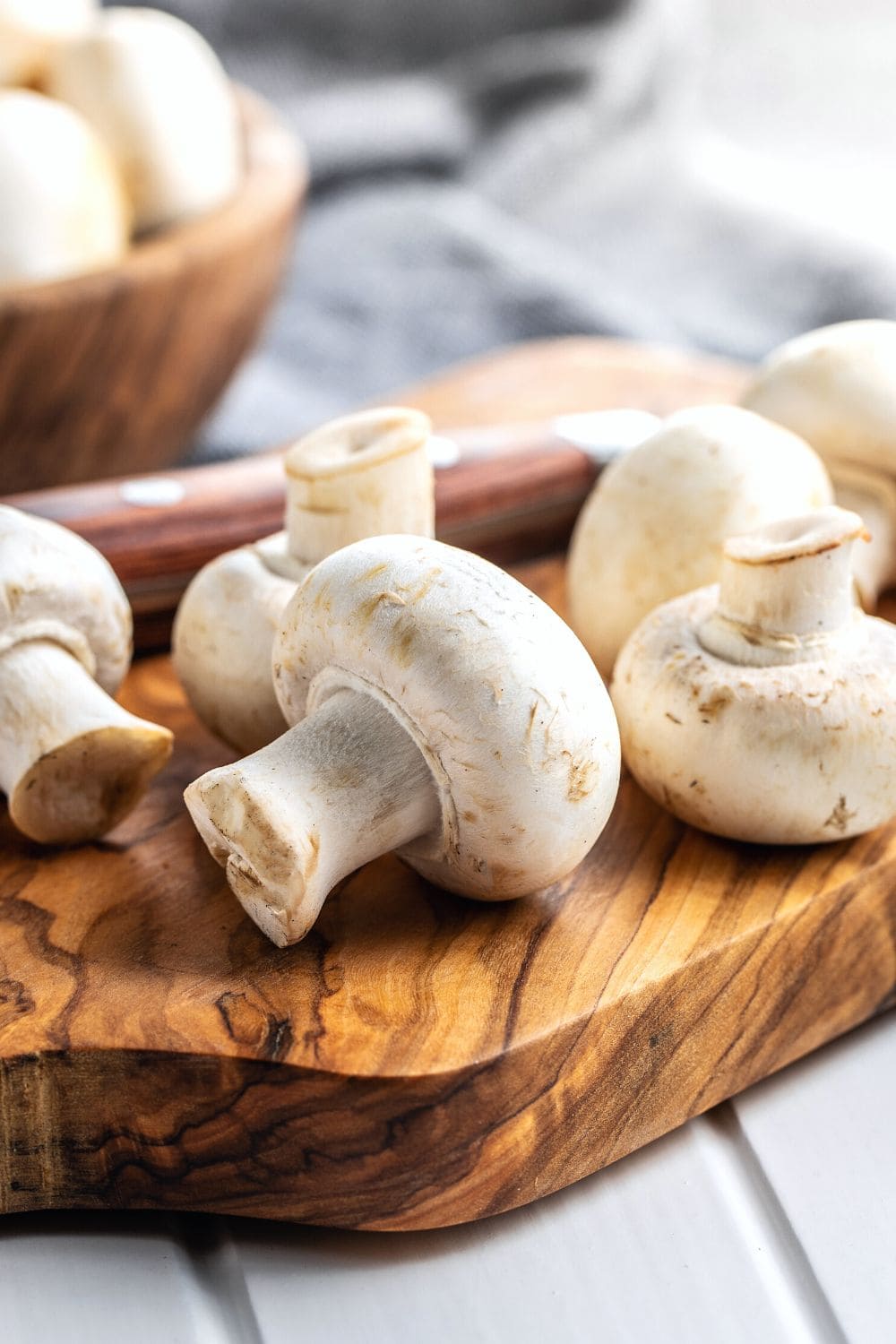 What To Do With Mushroom Water?
Many chefs recommend using mushroom water while making several dishes.
And that's quite true as well. You can and should use mushroom water in your daily preparations.
Here are some of the popular ways to reuse this water –
Soups
Curries
Sauces
Stews
Noodles Preparations
Rice Preparations
Vegetable Preparations
Indo-Chinese Preparations
Deglazing The Pan Or Tawa
So, these are the most effective ways to use your mushroom water.
Important – Never use the water you use to clean the mushrooms. It's not useful for cooking.
Now, let's understand more about them in the following section.
1. Soups
As you know, soups need a lot of water content.
So, there is no better way than to use mushroom water in your favorite soups. This leftover water goes really well with different vegetable soups, but you need to be careful while using it.
Sometimes, the mushroom water may have a slightly bitter taste, and you don't want to get that taste in your soup preparation.
Therefore, it makes sense to use it in less quantity. Instead, you can also mix some vegetable broth for more flavors.
2. Curries
Whether you want to get the right consistency to a curry or bring more flavors to it, you can use mushroom water.
Since it's just plain water with a bit of added mushroom flavor, it can be a great choice for such preparations. It will certainly add more flavors to your curries.
Having said that, you must pick the right curries to use this water. I generally prefer using mushroom water in curries with intense and earthy flavors. This combination is always safe and works well.
3. Sauces
There are many different types of sauces you can make at home.
As I said before, mushroom water can be a great choice to use in different sauces.
But again, don't use it in large quantities. Try to use it less and mix it with other liquids like vegetable broth, chicken broth, or plain water.
This should help dilute the mushroom flavor and make it more suitable for different sauces.
4. Stews
Stews are another great way to use your mushroom water.
They are pretty much like soups and curries, but with a little different consistency. So, if you feel like experimenting with your mushroom water, I'd suggest you try it for making stews.
The good thing about it is it won't affect the taste much. Stews are generally rich and flavorful, so the slight mushroom flavor in the water won't make any difference.
5. Noodles Preparations
Any noodles lovers here?
I'm sure there are many of you. And I'm also pretty sure that you'll love this idea of using mushroom water for making noodles.
But how do you use it?
There are two ways you can use it.
You can use it to boil the noodles. This will help add a bit of flavor to your noodles.
If you don't want to use it for boiling, you can also use it while cooking them in a wok. Just sprinkle a few tablespoons of this water on top of the noodles.
I like both these methods, as they give a nice flavoring to the noodles. So, you can try both of them and see which one you like better.
6. Rice Preparations
This is similar to the preparation of the noodles.
You can either use it for boiling rice or cooking it in a wok. Again, both these methods will help add the missing flavor to your rice.
But you should only use this method to make Pulao or Fried Rice. Don't use this flavored water to make Biryanis or other preparations that require plain rice. It will completely change the taste of those dishes.
Instead, use it in bland rice dishes that need extra flavoring.
7. Vegetable Preparations
This is perhaps the best way to use your mushroom water.
Now, you may wonder why I'm saying that.
Well, it's because most vegetable dishes lack flavors. So, using flavored water from mushrooms can help fix this problem.
However, don't rely on it too much. You will still need to add spices and other ingredients to make the dish more flavorful.
8. Indo-Chinese Preparations
I like using broth in Indo-Chinese dishes. It helps bring more flavors and make the dish tastier.
And what can be a better option than using mushroom water for this purpose?
So, consider using this water if you're planning to make something like a Manchurian soup or vegetable Hakka noodles. It will help intensify the flavors, and you will be able to notice the difference in taste.
9. Use It To Deglaze The Pan
If you don't want to use this water for the above ideas, you can also use it to deglaze the pan.
This is a very common cooking technique that involves adding liquid to a hot pan to dissolve the browned bits stuck to the bottom. It's generally used while making sauces or gravy. And as I said before, mushroom water can be used for this purpose.
So, if you're making any dish that requires deglazing, you should use this water and see how it works. Chances are you'll be surprised by the results.
Overall, these are the few ways through which you can make the best use of leftover mushroom water.
For better understanding, I have shared a table below. You can follow these guidelines to make the most of this flavored water.
How To Use Mushroom Water
Here are the instructions –
| Preparation | Instructions | Mushroom Water Quantity Required |
| --- | --- | --- |
| Soups | Use the flavored water while preparing the base of your soup. | Few cups; depending on the quantity of your soup |
| Curries | Use it in the beginning or while adjusting the consistency. | 2-3 cups |
| Sauces | Should be used in the beginning, as you will need to adjust the sauce consistency. | 1-2 cups |
| Stews | Same as soups | Few cups; depending on the consistency and quantity of your stew |
| Noodles Preparations | Can be used to boil the noodles or directly at the time of preparation. | 1-2 cups for boiling the noodles; few tablespoons while preparing the noodles. |
| Rice Preparations | Same as noodles | 1-2 cups for cooking the rice; few tablespoons while preparing the rice. |
| Vegetable Preparations | Use it as required; ideally should be used in the beginning or middle stages of cooking so that you can get the right consistency to the dish. | 1-2 cups |
| Indo-Chinese Preparations | Should be used in the beginning. | 1-2 cups; depending on the type of preparation |
| Deglazing The Pan Or Tawa | Use it whenever the food sticks to the pan. | Few tablespoons |
Things To Keep In Mind When Using Mushroom Water
Here are some quick tips –
Filter the water a couple of times using a fine mesh strainer. This will remove any small particles of mushrooms that may be present in the water. You should perform this task for both dried mushrooms as well as boiled mushrooms.
Don't store it for too long. It's better to use fresh water for the best results.
If you have to store it, do so in an airtight container. Keep the container in the refrigerator. Freezing can be another useful option for you if you want to store it for a longer period.
Just to be on the safer side, boil the water before using it for any preparation.
Mushroom water won't have enough flavors like vegetable or chicken broth. So, you must add more spices and herbs to elevate the flavors.
FAQs
1. Can You Drink Mushroom Water?

No, you shouldn't drink mushroom water.

As mentioned earlier, it contains dirt, grit, and other tiny particles that might be harmful to you. So, it's always a good idea to filter it a few times and boil or cook it with some other preparations.
2. How Long Can You Keep Mushroom Water?

You can keep it in the refrigerator for 4-5 days. But if you want to extend its shelf life, you can also put it inside the freezer.

Also, boil the water before storing it for later use.
3. Does Mushroom Go Bad?

Yes, mushrooms do go bad. The fresh mushrooms can only last a couple of days. So, you will have to use them as soon as possible.
4. Can You Soak Shitake Too Long?

Yes, you can soak Shitake mushrooms for 10 hours or more.
5. What Can You Do With Mushroom Stems?

You can discard them if you don't want to use them.

But if you don't want to throw them in the bin, you can clean them properly and prepare a nice broth with some additional ingredients.
Over To You
Using mushroom water for different purposes is a great way to make the most of it.
But the biggest concern is that it might have a slightly bitter taste. So, you need to be careful. Otherwise, the whole dish can get ruined.
Do you use mushroom water in your daily cooking? If yes, how do you use it? Or do you have any other suggestions to add to this guide? Please let me know.
You can also ask your queries in the comment section below. I'll be happy to help you out.
Do share this guide with your mushroom-loving friends. They might find it helpful as well.