Wondering what to serve with fritters for dinner?
Fritters are one of those things that can go well with pretty much everything.
But when you serve them with delicious chutneys or dips, they taste even better.
So, whether you are serving Indian Pakoras or American Zucchini Fritters for dinner, you need to serve them with an accompaniment.
In today's guide, I have shared a list of accompaniments that complement the tasty and crisp fritters.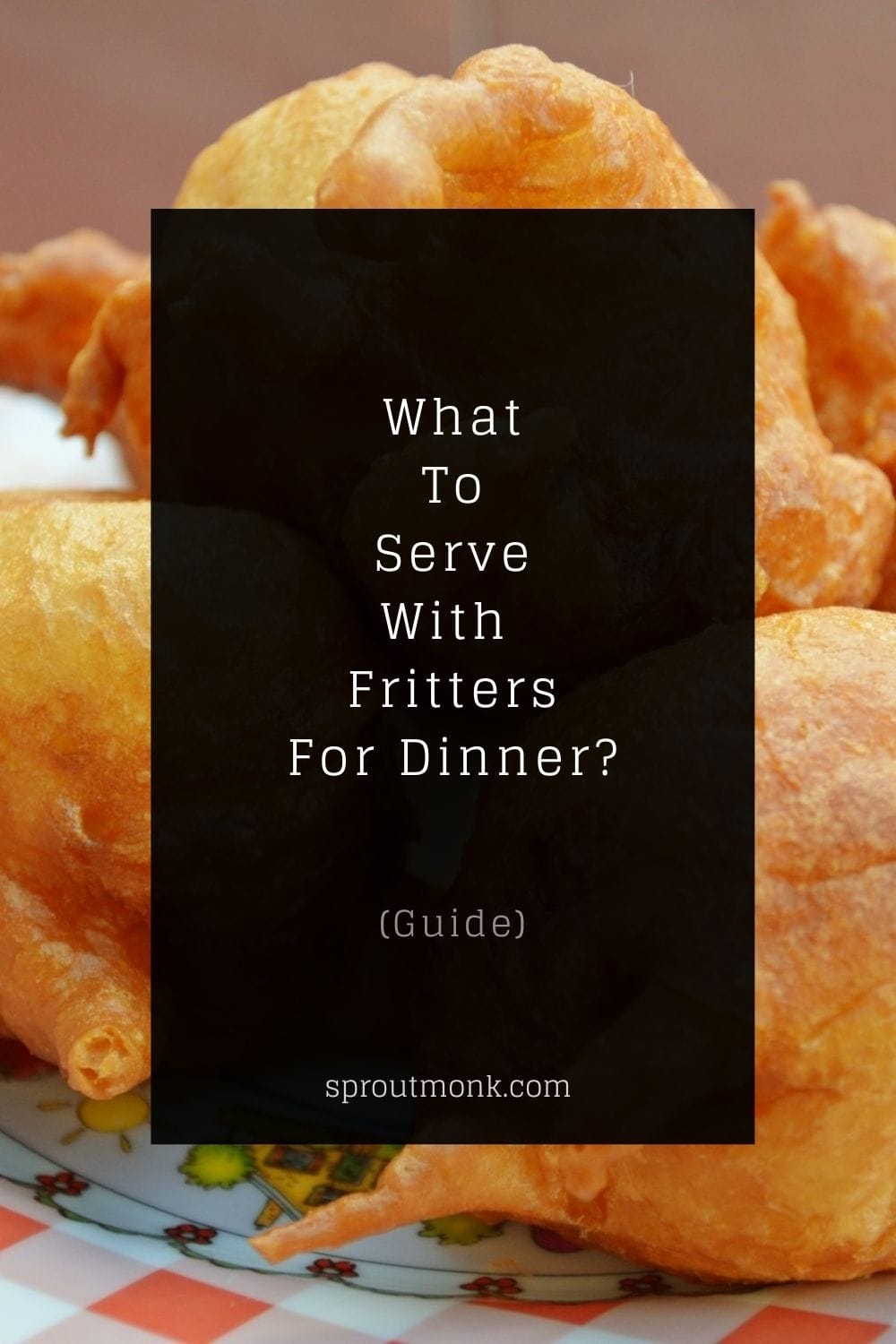 What To Serve With Fritters For Dinner?
Of course, if you are only looking at the main course items, you can consider making Salads, Fried Rice, Flatbreads, Eggs, etc.
All these delicacies work great when you want to serve them with fritters.
However, if you only want to go with the fritters for dinner, you should think of some of the easy-to-make accompaniments.
So, here are few interesting things you can serve with fritters.
1. Ketchup
Yes, quite obvious!
Ketchup is a hot favorite amongst all age groups in the house.
From kids to elders, it's the one thing that brings a smile to everyone's face in the family.
The tangy-sweet tomato taste of this accompaniment simply adds to the experience of enjoying pakoras or fritters.
This is also a better option for you if you don't have the time to make an exotic dip for dinner.
Just serve the ketchup with hot fritters, and that should do the job for you.
Quick Tip: If you want to add something more to the pakora-ketchup combination, you can also serve potato chips along with it.
The crunchy chips will instantly level up the whole experience.
You can also use this tip if the fritters have turned a bit soggy.
The crunchiness of potato chips should help balance the overall texture of your preparation, though you will still miss the fun of having crunchy fritters.
2. Schezwan Chutney Or Sauce
Schezwan Chutney can also be used as an accompaniment for many fritters.
It also tastes fantastic with chicken or fish fritters.
For those who don't know, this chutney requires a lot of Red Chilies, Garlic, Ginger, Black Pepper, and Oil.
The good thing about it is you can easily make this chutney at home. 
I have also shared a detailed recipe of Schezwan Chutney on the blog.
Do read it and let me know how you liked it.
Alternatively, you can use a store-bought Schezwan chutney or sauce to serve for your dinner menu.
Note: Schezwan chutney is a very spicy chutney.
So, you should use it accordingly.
If you wish to tone down the spice level, you can mix a little bit of ketchup or any other sweet chutneys into it.
This should offset the sharpness of this Indo-Chinese chutney.
3. Dry Coconut Chutney
Dry coconut chutney is another easy-to-make chutney from Indian households.
It also doesn't require a lot of time, especially when you have all the ingredients available in the kitchen.
Here's what you will need for this chutney –
Roasted Dry Coconut
Kashmiri Red Chillies 
Garlic
Ginger
Salt
If you can't find Kashmiri Red Chillies, you can use any other medium-spicy dry chilies from your pantry.
Once you have these ingredients, you can simply put them in the mixer and grind them till you get a slightly coarse consistency.
You can serve this chutney with Onion Fritters, Banana Fritters, or Potato Fritters.
It will also go well with sweet fritters like Pear Fritters and Apple Fritters, as the sweetness of these fruits will form a great combination with dry red chili and garlic flavors of this chutney.
4. Coriander Mint Chutney
Coriander mint chutney often serves as an accompaniment for Mughalai-style dishes like Kebabs and other Tandoori preparations.
However, you can use the same chutney for your fritters too.
The freshness and tanginess of coriander and mint make this chutney a great accompaniment for Onion and Corn fritters.
You can even try this chutney with Spinach Fritters.
Quick Tip: Don't forget to serve cucumber-tomato-based Koshmibir or Mexican salsa with this combination.
If you want some sweetness to this preparation, you can also opt for Mango or Pineapple salsa instead of traditional salsa.
5. Fresh Coconut Chutney
It's the ultimate savior for many of the pakoras and bhajiyas from India.
The best thing I like about this chutney is it goes well with almost all types of fritters.
The subtle taste of fresh coconut and the sharpness of green chilies complements the crispy fritters really well.
The other good thing about this chutney is that you can even serve it as an accompaniment for Pulaos and Biryanis as well.
So, it's not just about the pakoras or kebabs.
Now, here is the list of ingredients you'd need for this chutney –
Fresh coconut (desiccated)
Green Chilies
Ginger
Garlic
Coriander Leaves
Salt
If you like tadka-based chutney, you can prepare the tempering of Mustard Seeds, Urad Dal, Chana Dal, Fenugreek Seeds, Asafoetida, Curry Leaves, and Dry Red Chillies.
If you want to take it to the next level, you can also add a few chunks of raw mango to this recipe.
Quick Tip: There is another variation of this recipe where you can use the Dry Red chilies and tomatoes instead of Coriander Leaves.
This variation also tastes excellent with certain fritters like Medu Vada, Cutlets, Bread Pakoras, etc.
6. Yogurt Dip
Don't have time to make such elaborated recipes?
No worries!
Get the yogurt from your fridge and mix it with some of your traditional spices.
Add some salt.
And you're done!
Keep it in the fridge again and serve it whenever the fritters are ready.
You can also add some freshly grated garlic to this recipe.
Yes, don't forget the herbs as well.
You can make use of chives, mint, or parsley for this recipe.
7. Cucumber Raita
Cucumber raita is an extended version of simple yogurt dip.
For this preparation, you will have to add a few pieces of cucumber to yogurt, and your raita will be ready.
Of course, don't forget the salt. 
You can also add a pinch of sugar if you like.
Other than that, you can throw in some red chili flakes as a part of the garnish.
Generally, the cucumber raita is used as an accompaniment for spicy rice dishes, but it can also soothe your palate while enjoying the hot fritters.
8. Mayo Dip
Spicy Mayo is just like ketchup!
It can complement any of the pakoras, patties, cutlets, kebabs, and all sorts of fried delicacies.
So, how do you make a quick mayo dip at home?
Well, here's what you will need –
Mayonnaise
Cajun Spices
Hot Sauce
Lime Juice
Whisk all these ingredients together in a bowl and serve the dipping sauce with your fritters.
Note: You can easily customize this dip with any of your favorite ingredients.
For e.g., 
If you like mustard flavor, you can use Djon mustard and yellow mustard along with some herbs.
Store this dipping sauce in the refrigerator for later use.
9. Jalapeno Dip
Oh, the Jalapenos!
Jalapeno Dip is one of my personal favorites!
Its smooth texture and great taste make you want to forget all other dipping sauces in the world.
So, without wasting too much time, here are the ingredients for this dip –
Jalapenos
Sour Cream
Coriander Leaves
Lime Juice
Garlic
Salt
For more creaminess, you can add some mayonnaise to this recipe.
Blend these ingredients in a blender until you get a fine consistency.
You can serve this dipping sauce with any of your favorite fritters.
You may also use it as a spread for Tacos and Burgers.
10. Guacamole
When you're talking about the fritters and chips, you can't forget the traditional Guacamole.
It is a simple accompaniment for many of our dishes and can be used in many forms.
For fritters, though, you should try to get a smooth consistency to your Guacamole preparation.
It will help attain the right combination of the crunchy and crispy texture of fritters and the creamy texture of this accompaniment.
Now, here is a list of ingredients for the Guacamole recipe –
Avacado
Garlic
Coriander Leaves
Onion
Tomatoes
Lime Juice
Salt
For the preparation, you can simply blend the Avocadoes, Garlic, Coriander Leaves, and Salt in a blender.
Once the mixture is ready, put it in a serving bowl and add the chopped Onion and Tomatoes.
Squeeze the lime juice and give it a stir.
Your Guacamole is now ready to serve!
Storage Tip: Store the excess Guacamole in an airtight container and refrigerate it for a couple of days.
Don't miss out on the lime juice, as it helps in delaying the oxidization process.
11. Hummus Dip
Hummus is quite an interesting dip, and it definitely goes well with the fritters and pakoras.
It may not be as flavorful as some of the other accompaniments mentioned in this guide, but it will surely make for a great alternative to your regular dipping sauces.
So, here is what you require for the preparation –
Canned Chickpeas (or use Home-cooked if you can)
Garlic
Olive Oil
Cumin 
Black Pepper
Paprika
Salt
You may include Tahini if you prefer a zesty taste to this dipping sauce.
Once get the ingredients, you can put them in the food processor and blend them until you get a smooth consistency.
Quick Tip: Blend these ingredients at the slowest mode of your blender or food processor.
This will help achieve a really fine consistency and texture to your Hummus dip.
12. Pickles 
Finally, if you don't get anything, you can go ahead and serve your pakoras or fritters with pickles.
Yes, it may sound like an unusual option, but do try them out with your homemade pickles.
Some of the traditional Indian pickles like Raw mango pickle and Lemon pickle taste absolutely delicious with the pakoras.
If you are a non-vegetarian, you may also try the Goan-style Prawns pickle with chicken or meat patties.
There are some sweet pickles, too, if you are really want to experiment a bit further.
Things To Remember While Serving Fritters For Dinner
Alright, here is a list of some suggestions that might help you serve such appetizers –
1. Do Not Serve Them Cold
There is no point in serving these fritters cold because they will lose their texture in no time, and no one likes to eat the soggy ones.
So, try to serve them as starters before placing the main course on the table.
2. Prepare Your Chutneys & Dips Before Frying The Fritters
Yes, you should always make these accompaniments before frying the fritters and pakoras.
Generally, many of us make the mistake of preparing the dips after we're done with the fried items.
This results in cold and soggy fritters in the end.
So, try to avoid this mistake and prepare your chutneys and dips much before you want to serve them.
3. Do Not Store The Fritters In A Closed Container
When you store the fried food in such containers, the steam present in these food items fills the container.
Ultimately, these items lose their crispy texture and become chewy and hard.
If you want to avoid this natural process, you should put them in a bowl or an open container.
Do not put the lid on.
Eventually, the fried items might turn cold, but they will still retain their crispiness for much longer with this method.
4. Always Serve The Chutneys In A Dipping Bowl
When you serve chutneys and raitas as accompaniments, they leech out juices in the plate.
Therefore, it's always a good idea to serve them in a dipping bowl.
FAQs
1. What Goes Well With Breaded Zucchini?

You can serve fried or poached eggs with it.

If you want to have them for snacks, you can pair them with accompaniments like Jalapeno dip or Mango chutney.
2. How Do You Freeze Fritters?

Ideally, you shouldn't freeze fritters because they do lose their texture over the period.

If you still want to go ahead with it, you should try storing them in an airtight container or ziplock bag.
3. How Do You Reheat Vegetable Fritters?

You can reheat the vegetable fritters in a frying pan or microwave oven.

I prefer the frying pan method because it does a decent job of bringing back the crispy texture of these fritters.
4. Why Are My Fritters Soggy?

The fritters turn soggy when you keep them in the bowl or plate for too long.

The other reason is due to storing them in an enclosed environment, specifically in storage boxes.
5. How Do You Store Leftover Fritters?

You can freeze the fritters in airtight containers, but they won't retain their texture.

The best way to enjoy them is to have them right after the frying process.
Over To You
Well, that's it for this guide now!
I hope you try out some of the ideas I have shared in this guide.
If you have any doubts or queries, please ask them in the comments below.
I will surely try to resolve them for you.
If you liked the guide, do share it with your friends and family.