What do you serve with Indian lemon rice?
This is one of the most frequently asked questions, so I thought it deserved its own post!
Lemon rice is a pretty basic dish – rice cooked with lemon juice, turmeric, and sometimes green chilies.
So, it gives you a lot of room to get creative with what you serve it with.
Now, if you are interested in knowing more about it, take a look at the following guide.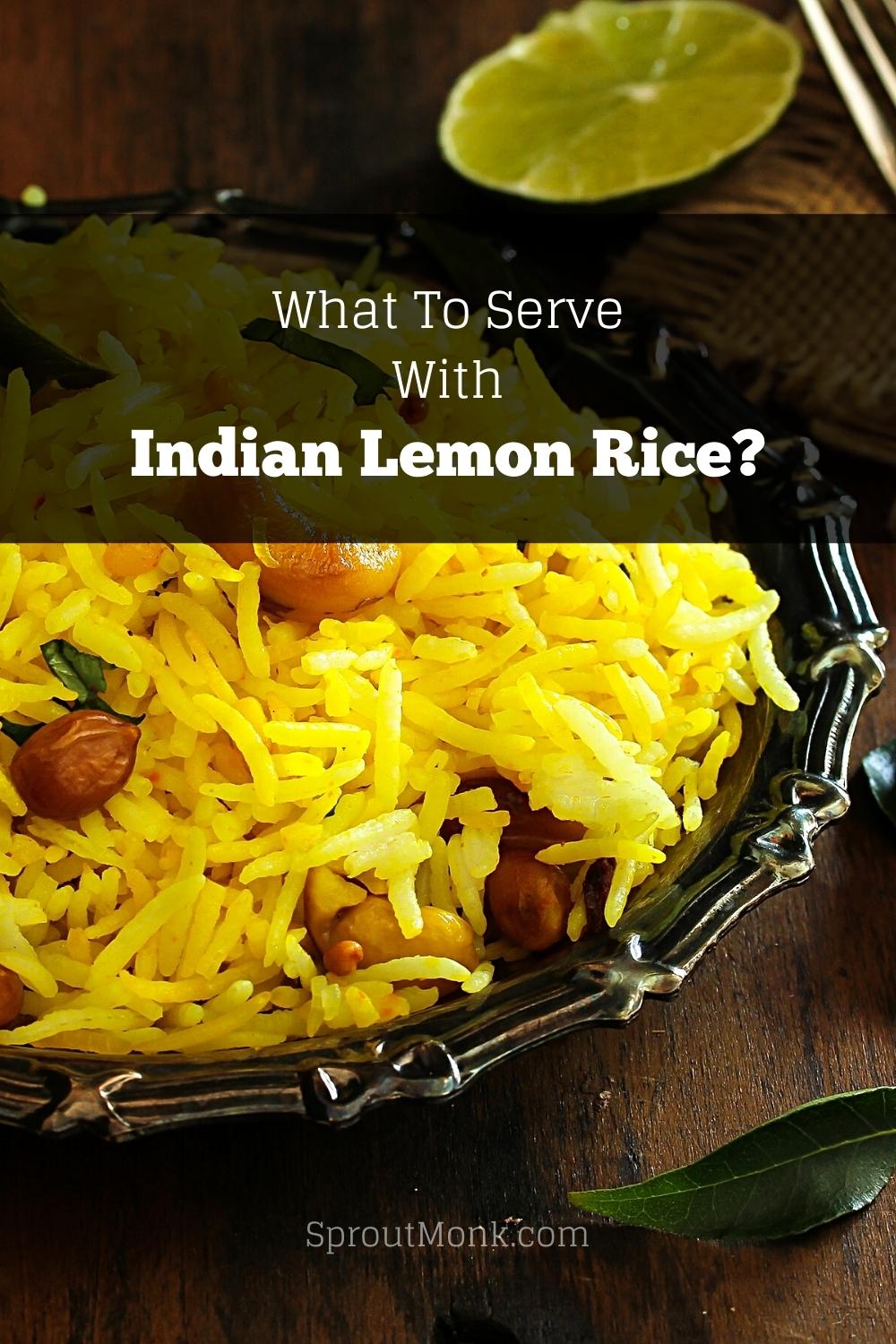 What To Serve With Indian Lemon Rice?
There are many different ways that you can enjoy Indian lemon rice.
This type of rice is perfect for those who want to enjoy a light and scrumptious meal.
Here are some ideas on what to serve with Indian lemon rice –
1. Cucumber Raita
Cucumber raita is a delicious and refreshing dish that goes well with Indian lemon rice.
It is made with cucumbers, yogurt, and spices.
The coolness of the cucumbers and the creaminess of the yogurt balance out the spice in the lemon rice perfectly.
If you want, you can also add some chopped tomatoes or onions to the raita.
It will still be delicious!
2. Salad
A salad is a great way to add some freshness and crunch to your Indian lemon rice dish.
You can use any type of salad you like.
A simple green salad with some onions, tomatoes, and cucumbers would be perfect.
Or you could try a more exotic salad with mangoes, avocado, and other tropical fruits.
Also, preparing a salad doesn't take too long, so it's a great option if you're short on time.
3. Dal
Well, dal-rice is a classic combination for a reason!
Dal is a delicious and hearty dish made with lentils, spices, and sometimes vegetables.
It goes so well with the lemon rice because the contrast in flavors is just amazing.
If you are going to serve dal with lemon rice, make it a little spicy.
It will balance out the sourness of the lemon juice in the rice.
Here's a list of dals you can try with lemon rice –
Panchmel Dal
Moong Dal
Maa ki Dal
Tadka Dal
Masoor Dal
4. Sambar
Sambar is another popular dish from South India that goes really well with lemon rice.
It is a soup-like dish made with vegetables, lentils, and spices.
The best part about sambar is that it is very versatile.
You can add any vegetables you like, such as eggplant, pumpkin, squash, or bhindi.
It will add more flavor to your meal.
5. Vegetable Curries
If you want to make your lemon rice more filling and satisfying, you can serve it with some vegetable curries.
Indian vegetable curries are usually made with potatoes, peas, carrots, and other vegetables.
They are lightly spiced and have a lot of flavors.
So, it's definitely a good option if you're looking for something more substantial.
And if you don't want gravy-based curries, you could always try dry subzis like bhindi fry, dry aloo matar, or mixed vegetable preparation.
If you prefer non-vegetarian curries, there are plenty of options for you as well.
6. Pakoras
Pakoras go well with pretty much any rice dish, and lemon rice is no exception.
These fried snacks are made with a batter of gram flour and spices.
They can be made with vegetables like potatoes, onions, spinach, or even paneer.
The best thing about them is that they are so easy to make.
And when served with lemon rice, they make for a great combination!
So, do consider making them at home and serve them hot with your rice preparation.
7. Papadums
Papadums are thin, crispy fried discs made from lentil or rice flour.
They are a common accompaniment in Indian meals and go really well with lemon rice.
You can have them plain or with some chopped onions, tomatoes, or chutney.
Papadums are best enjoyed fresh and hot, so make sure to fry them just before you serve the lemon rice.
8. Chutneys
Most of the above serving options are a bit time-consuming and require more effort from your side.
But chutneys are your best bet if you're looking for something quick and easy accompaniment.
There are so many different types of chutneys that you can make, such as coconut chutney, mango chutney, coriander chutney, or tamarind chutney.
You can even buy them ready-made from the store.
However, you should only make the chutney that complements well with the flavors of your lemon rice.
For example, if your lemon rice is already very sour, you might want to avoid tamarind chutney as it will make the dish even more tart.
9. Pickles
Pickles are another great accompaniment for lemon rice.
They add a nice crunch and zing to the dish.
And there are so many different types of pickles that you can try.
For example, you could have a mango pickle, garlic pickle, chili pickle, or even a mixed pickle.
You can also try sweet pickles or murabba with lemon rice, as they go really well with the sourness of the dish.
A pickle is also a good option if you're making this rice delicacy for travel.
Just pack some pickles in a separate container, and you're good to go.
10. Sweets
Finally, if you want to make your lemon rice even more special, you can serve it with some Indian sweets.
For example, you could have a payasam, kheer, rasmalai, or gulab jamun.
Or you could even keep it simple and just have some gajar ka halwa or moong dal halwa on the side.
Indian sweets are usually very sweet, so they will perfectly balance the sourness of the lemon rice.
So, do keep this in mind when you're planning your meal.
Apart from that, many of these sweet dishes can last for a few days in the fridge.
So, you can make them in advance and just reheat them before serving.
You can even prepare them for your long travel journey, as they are perfect for on-the-go eating.
Well, these are some of the best options that you can serve with Indian lemon rice.
And I'm sure your meal will be even more enjoyable and satisfying.
6 Tips To Make And Store Indian Lemon Rice For Travel
As you know, lemon rice is a popular Indian dish that is often made for travel.
And if you're planning to make it for your next trip, then here are some tips that you can follow.
1. Do Not Use Onions
Onions tend to get spoiled quickly, so it's best to avoid them when making lemon rice for travel.
Instead, you can use other ingredients like garlic, ginger, and mustard seeds.
These ingredients will still give your rice dish a nice flavor without the risk of spoilage.
You should also use fried peanuts to get the extra crunch to this dish.
2. Use Fresh Lemons
When making lemon rice, it's important to use fresh lemons.
As the name suggests, this dish is all about the lemon flavor.
So, using fresh lemons will ensure that your rice has a nice tart and tangy taste.
Plus, it will also prevent the rice from becoming too sour.
3. Use Basmati Rice
Although you can make this dish with any type of rice, basmati rice is the best option.
This is because it has a nice, fluffy texture that pairs well with the other ingredients.
It's also less likely to get mushy when cooked.
4. Cook The Rice In Advance
One of the best tips for making lemon rice is to cook the rice in advance.
This will prevent the rice from becoming too soggy or mushy.
And it will also make the dish easier to reheat later on.
5. Store The Rice In An Airtight Container
When storing the lemon rice, it's important to use an airtight container.
This will keep the rice fresh and prevent it from drying out.
It's also a good idea to store the rice in the fridge, as this will further extend its shelf life.
6. Store Your Accompaniments Separately
If you're planning to serve the lemon rice with accompaniments like chutney or pickles, you should store them separately.
This is because they can make the rice mushy or soggy if stored together.
It's best to pack them in separate containers and add them to the dish when you're ready to serve it.
This way, your lemon rice will stay fresh for longer.
So, do remember these suggestions, and you'll be able to make and store lemon rice for travel easily.
In the following section, let's check out the FAQs related to this topic.
FAQs
1. What Should I Eat For Dinner With Rice?

There are many different options that you can choose from when it comes to having rice for dinner.

Some popular choices include chicken curry, lentil soup, tomato salad, and papadums.

You can also enjoy it with gravy-based vegetable preparations.
2. How Long Will Lemon Rice Keep?

Ideally, lemon rice should be consumed within two hours of cooking.

However, it can be stored in an airtight container and refrigerated for up to two days.

If you don't add onions to it, it can be stored for a longer period of time.

But for the best flavors, it's best to consume it within the first day or two.
3. What Is The Most Popular Rice Dish In India?

There are many different types of rice dishes that are popular in India.

Some of the most common ones include Biryani, Pulao, and Fried Rice.

Each of these dishes has its own unique flavor and is enjoyed by people from all over the country.
4. What Can I Add To Rice To Give It More Flavor?


You can add a variety of different things to rice to give it more flavor.

This includes lemon juice, turmeric, green chilies, and various spices.

You can also add vegetables, meats, or fish to give it a more complete meal.
5. Why Do We Squeeze Lemon Juice On To Rice And Dal?

Lemon juice is added to rice and dal because it helps enhance the flavor of the dish.

It also prevents the rice from becoming sticky.

The acidity in the lemon juice also helps kill any bacteria that may be present in the rice.

So, there are multiple benefits of adding lemon juice to rice and dal.
Over To You
Lemon rice is a flavorsome and easy-to-make dish.
But you can always make it more interesting by serving a few side dishes with it.
So, the next time you make lemon rice, don't forget to try out some of these serving ideas!
If you have any queries or feedback, feel free to leave a comment below.
I would love to hear from you!
Meanwhile, do share this guide with your friends and family if you find it useful.