Why is Indian food so spicy?
This is the one question that you always get to hear from people who try Indian food for the first time or are generally averse to spicy food. So, what's the truth behind this myth?
Is Indian food really that spicy? Let's dive deep into this topic and find out more about it.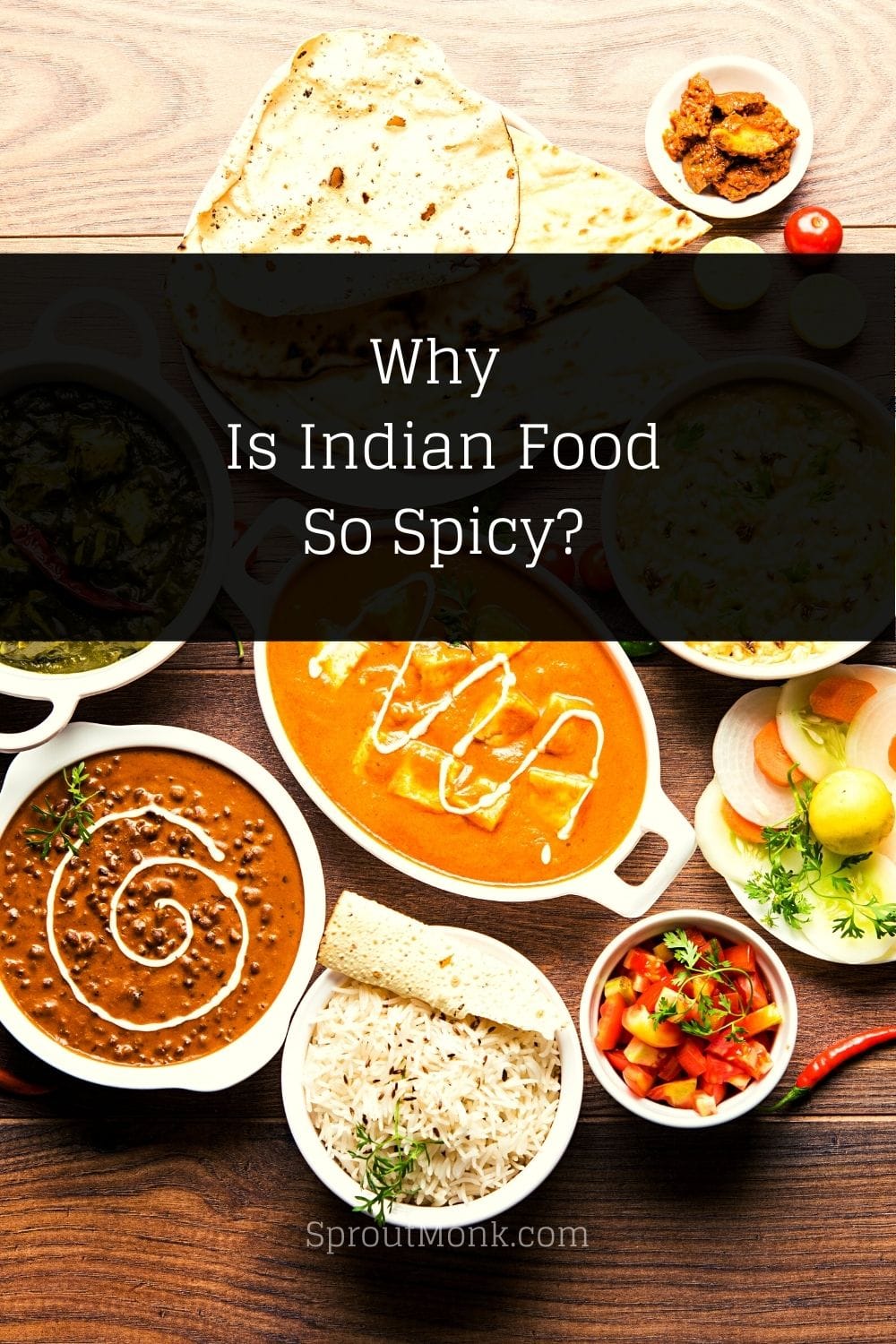 Is Indian Food Spicy?
It depends on the taste of each individual. If you ask someone like me who has grown up eating really spicy food, I'd say Indian food is not as spicy as it's known everywhere in the world.
But if you ask the same question to someone who may indulge in spicy food once or twice a month, you will probably get a different answer.
In general, however, Indian food does taste spicy because of the spices we use in our preparations. These spices are integral to our culture, and we can't really think of any other spice blend when it comes to making our traditional dishes. It also has more to do with the Mughalai influence on the food, as Mughals brought and popularized their techniques in this part of the world.
Having said that, there are numerous dishes in the country that don't taste spicy at all. This is true for the dishes that belong to some of the southern and northeastern states in the country. You won't find their traditional dishes as spicy as Punjabi curries or Rajasthani curries.
8 Reasons Why Indian Food Is So Spicy
Here is a list of things that play a huge role in adding sharpness to some of the Indian dishes – 
1. Red Onions
Yes, we use red onions!
And that too in pretty much every savory dish we make in the kitchen. Red onions have a contrasting taste as compared to white onions. White onions have a sweetish taste, and they are common in most western-style dishes.
On the other hand, red onions have a strong taste that translates into the dishes.
However, there are specific techniques that can help reduce the taste of these onions. This includes slow cooking and deep-frying (browning). Both these techniques can bring a slight sweetness to the onions, which can be used to tone down the sharpness of spices in some of the gravies.
2 Ginger-Garlic Paste
In recent times, ginger-garlic paste has become a go-to ingredient to accentuate the taste profile of several Indian dishes. This paste was not an integral part of ancient Indian cuisine, but it somehow gained popularity in the last few decades.
Again, it has more to do with the influence of Punjabi cuisine or Dhaba-style dishes. These dishes generally require the typical Onion-Tomato-Cashew paste base, and the fourth element of this combination is the ginger-garlic paste. That's how the base of most of these dishes is prepared.
But fortunately or unfortunately, you will get to see the same base masala in many of our home-style cooking as well. This often leads to a zesty flavor to such dishes.
3. Green Chillies
Similar to tomatoes, green chilies were not a significant part of Indian cuisine. The chilies came to India during Portuguese rule, which is roughly around 400-500 years back. However, it is quite fascinating to see how this ingredient has transformed Indian food in many ways.
As for the spicy taste, the chilies are well-known for their pungency. So, there is nothing much to add to it. More importantly, most Indian households and professional kitchens use them in some form or other. Hence, this addition lends its spicy taste to most of the savory dishes prepared in almost all parts of the country.
4. Red Chili Powder
In most western countries, Indian food is known for its bright red color.
Now, this is because of the popularity of dishes like Butter Chicken, Tikka Masala, Paneer Masala, etc. Most of these dishes have a fiery red color, which comes from a mildly spiced chili called Kashmiri chili powder.
But if you look at the traditional kitchens in India, each household has its own spice blends (tikha masala) made out of different varieties of red chilies. Most homemakers use regional red chilies to prepare this spice blend, which is considerably spicier than Kashmiri chili powder. It is the one spice blend that genuinely defines the pungency level of any curry or similar dish prepared in the kitchen.
Quick Tip: If you don't like too much spice in your Indian food, you may request the chefs to reduce the red chili powder. Similarly, you can follow the same principle if you prepare an Indian recipe in your kitchen. Reduce the quantity of red chili powder, and you will have a perfect dish for your palate. 
5. Black Pepper
Yes, the black gold! It was that one spice that made the Mughals and Europeans turn to India in the early centuries.
For those who don't know, the black peppercorns are quite spicy and earthy in taste. These seeds can be used in whole or in powdered form, depending on the requirement of the dishes. The use of Black Pepper seeds is now limited to certain dishes, as we mostly use them as a flavoring ingredient than anything else.
Since the chilies have become a quintessential part of Indian cuisine, peppercorns have lost their place as the primary ingredient to spice things up in different dishes, especially in curries. Still, these are equally relevant in most Indian spice blends.
6. Other Whole Spices
The whole spices can also make the dishes spicy. The spices like Black Cardamom, Cloves, Cinnamon, etc. have their unique aroma and taste that enhance the overall flavor of the dishes. However, most of these spices bring warmth to the dishes rather than the fiery and zesty taste that is associated with the chilies.
7. Garam Masala Powder
Garam Masala powder is another common ingredient in most Indian dishes. It is usually made with the help of different whole spices and is used as a flavoring ingredient.
It can also increase the spicy taste in various dishes, though it needs to be used along with red chili powder or green chilies. You cannot use this powder solely to increase the spice level in your Indian preparations.
8. Different Cooking Methods
In India, we prefer roasting and stir-frying our base ingredients and spices. These methods help get the most out of the spices used in the preparation.
Hence, you will always experience a bit of extra spicy taste when you relish some of the stir-fried dishes from India. In case you want to reduce the spicy taste in such dishes, you can add spice powders or chilies at later stages of cooking. You can simply prepare the base mixture without these elements.
Note: When you alter the addition of spices, it also changes the taste and flavor of the dish.
So, you need to understand the flavors of the dish well before making these adjustments as per your taste. Well, these are the prominent reasons why Indian food tastes so spicy. But thankfully, there are ways through which you can lower the spice levels in your dishes, and I will discuss them in some other guide.
FAQs
1. What Makes Indian Food So Spicy?
As discussed above, the spices and chilies used in various preparations make Indian dishes spicy. It's the combination of these two elements that gives the identity to different Indian food dishes.
2. What Is The Most Spicy Indian Food?

The chutneys like Thecha or dishes prepared with lots of green chilies and red chilies can be very spicy. However, it'd be difficult to name one particular dish here.

Still, here is a list of the dishes that are too hot for anyone's palate – Laal Maas, Kolhapuri Chicken/Mutton, Saoji Curries, Andhra Curries, Chettinad Curries, and Phal Curry.
3. Was Indian Food Always Spicy?
Yes, Indian food has always been relatively spicy. Since we live in hot and humid weather conditions, it is essential to use spices in the preparations. Apart from the taste, the spices do help a lot in keeping the harmful elements at bay.
4. Why South Indian Food Is So Spicy? 
It's mainly because of the use of green chilies and a blend of whole spices.
5. Why Is Indian Food So Expensive?
The main reason for the higher price is the number of spices and ingredients required for the dishes. The other thing is the relatively slow cooking process.

Since most dishes require you to prepare a base mixture, you need to put more effort and resources into Indian dishes. Overall, these things add up to the cost of making delicious Indian food. Hence, you will always find some of the popular Indian dishes priced at a premium rate, though you will mostly find this trend in top cities in India and abroad.