Ever wondered why your Basmati rice turns sticky and mushy?
It has happened to me as well.
But I have figured out the ways to avoid some of the common mistakes involved in the making of Basmati rice.
In the following post, I will be sharing these tips and tricks with you. 
So, let's get started.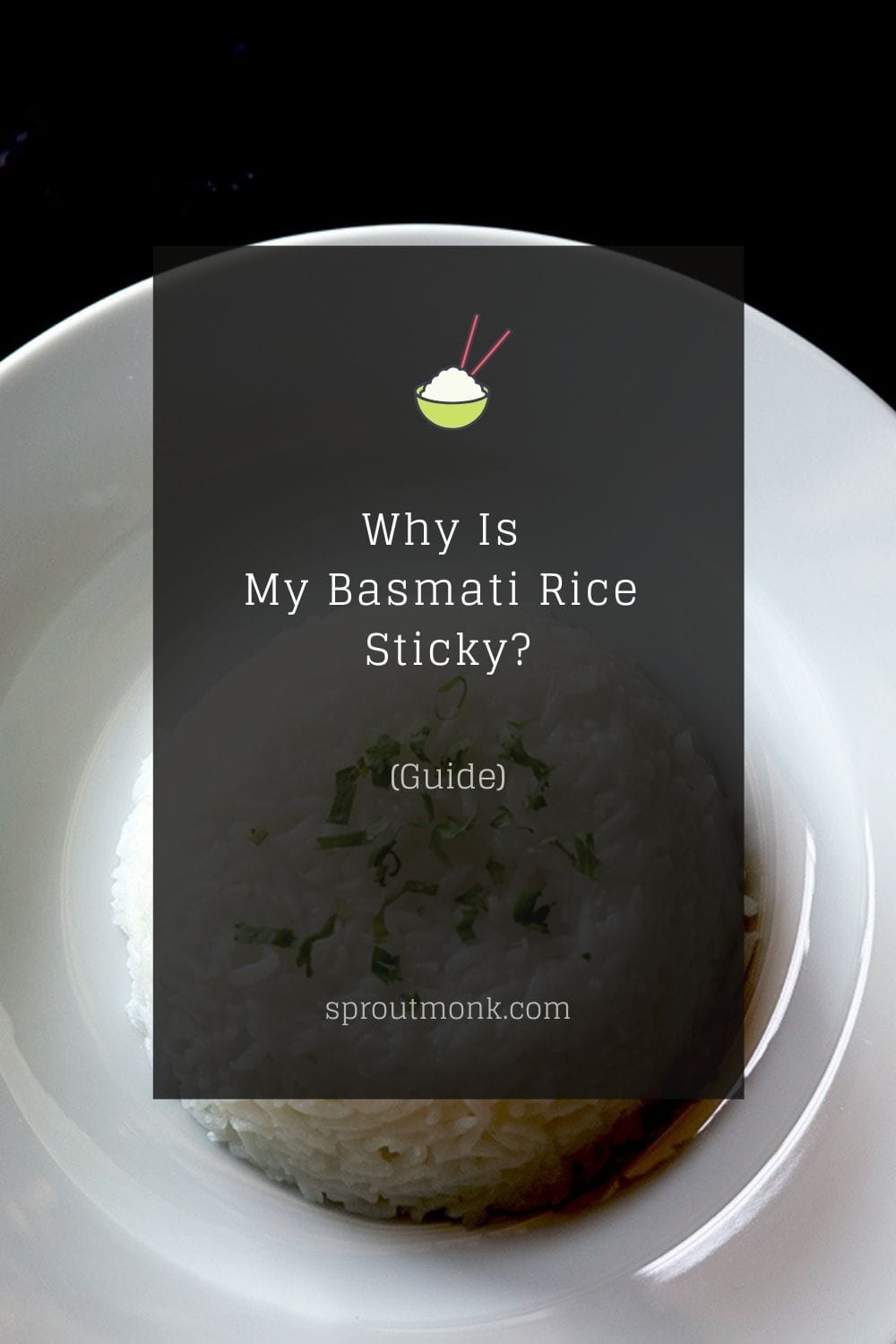 Why Is My Basmati Rice Sticky And Mushy?
If you are a beginner, I'm sure this question might have popped up in your mind too.
So, before we jump to the tips section, let's try and understand the reasons behind sticky Basmati rice.
1. You Add More Water Than Required
The first reason is you add too much water into the rice cooking pot or container.
It is a common mistake among beginners.
So, you don't have to worry about it at all.
Once you learn to use the appropriate amount of water, it'd be easy to prepare perfect Basmati rice at home.
2. You Use New Basmati Rice For Cooking
Well, there are two types of Basmati rice available in the market.
New Rice (Less than 1-year-old)
Aged Rice (1 to 2 years old)
So, now you may wonder what's wrong with using new rice, right?
The biggest problem with such rice is it already contains a lot of moisture content.
For those who don't know, the moisture content in the grains decreases over the period.
Hence, I'd suggest you use at least one-year aged Basmati rice for the preparation.
What happens when you use new rice for cooking?
Since the rice already contains more moisture, it cooks faster in the cooker.
Due to this quick-cooking process, the grains lose their characteristics and break down in no time.
Eventually, it results in sticky and mushy rice.
3. You Cook Rice For A Longer Duration
It is another common reason for sticky and mushy rice.
When you cook Basmati rice for long, it tends to break down into tiny pieces.
It also causes the rice to turn sticky in the end.
Similarly, in the case of Instant Pot, the rice can become sticky due to the Stay Warm feature.
When you use this feature, the steaming process continues to take place in the pot.
And the rice gets overcooked if there is a bit of extra moisture in it.
The same thing can happen when you use the boiling method.
If you keep the cooked rice in the same pot, it will continue to cook even further at a slow pace.
Therefore, it's necessary to follow the standard cooking time while cooking the Basmati rice.
4. Your Pressure Cooker Is Defective
It is one of the rarest possibilities, but you shouldn't rule it out completely.
If you have followed each step correctly, there is a slight possibility of some defect in the pressure cooker itself.
In such a case, you may contact the manufacturer for more help.
Else, you can go for a new pressure cooker model altogether, and it should do the job for you.
But before that, do check out the following section.
In this section, I have shared a few useful tips that might help you fix the sticky rice problem.
Note – If you are using any other variety of rice, you can check out this guide. 
10 Tips To Make Non-Sticky Basmati Rice 
Here's a list of top 10 tips to prepare Basmati rice fluffy and not sticky –
1. Rinse It Properly
First thing first, rinse the rice grains properly. 
When you are going to prepare Basmati rice or any other long-grain rice, make sure you rinse it under tap water.
You have to wash it a couple of times until the starchy water disappears from the grains.
Why is it so essential to rinse Basmati grains?
Well, Rice grains come with a lot of starch, which helps in making rice fluffy.
But if there is too much starch present in the grains, it increases the chance of getting sticky and mushy rice in the end.
And that's what you don't want to see after putting so much effort into its preparation.
Therefore, you should always rinse the rice before placing it in the container or pressure cooker pot.
2. Soak It Well
The next tip is to soak the rice in cold water.
That's right!
Do not use warm or hot water for this step.
You need to soak the rice in cold water so that grains can absorb adequate water during the soaking process.
But how long does it take to soak the rice?
If you ask this question to different chefs, you are likely to get mixed answers.
Many chefs suggest you should soak the rice in water for more than one hour.
And then, there are others who suggest 5-10 minutes of soaking time.
In my experience, though, it's perfectly alright to soak the rice for 15 minutes.
It is the minimum soaking time, but you can also soak it for a little longer, i.e., up to 30 minutes.
Still, don't soak it for less than 15 minutes in any case.
Note – The soaking process also helps in speeding up the rice cooking process. 
3. Use Ghee or Oil 
Have you seen any Rice advertisement where they show separate rice grains?
It looks so good, right?
Everyone loves the picture-perfect rice!
But how do they make this type of rice? 
What's the secret?
The secret lies in the preparation technique and ghee/oil.
If you get these two things right, you can also make the same rice at home.
Ghee or Oil helps in separating the grains from each other, as the thin layer of oil forms on each grain.
For the preparation, you will have to boil Basmati rice separately.
You can also make such rice with the absorption method, but it does need a bit of practice.
Also, the rice prepared with the pressure cooker method tastes different than the boiling process.
You can easily make out the difference between these two types of rice.
It happens due to the excess water/moisture present in the container and pressure cooker.
And unfortunately, you can't avoid it with this method.
4. Use Basmati Rice Ratio
This tip is useful for those who love making rice in the pressure cookers.
You can use a simple Basmati rice to water ratio if you want to make non-sticky rice.
So, what's the correct ratio?
I have shared a detailed guide on this topic, which you can read here.
For now, I'd suggest you go for the 1:1.5 Basmati Rice to Water ratio.
The above ratio will help you make fluffy and non-sticky rice using your pressure cooker.
5. Place The Container On A Stand Support
I know most of you will do this step correctly, but still, I wanted to mention it here.
Also, this tip is only useful for pressure cooker users who use a stand below their rice container.
If you are using some other support for the container, make sure the surface is flat.
When you cook rice under high heat, the container sometimes changes its position inside the pressure cooker.
It can also tilt on one side if you don't place it well.
And when that happens, the water from the container may drop in the cooker.
Eventually, it results in undercooked or sticky rice.
To avoid this mishap, you should always place a firm and flat stand as a support for the container.
6. Cook The Rice On A High Flame 
Correct!
It doesn't matter what type of method you are using for rice preparation.
You have to use a high flame while cooking the rice.
Do you want to know why it's so necessary to use high flame?
The high flame cooks the rice faster, which means all the grains cook evenly.
Trivia: In Hindi, we call this process as Khilna or Phulna.
And such rice grains are called 'Khile hue Chawal'!
Meanwhile, if you cook it on a low flame, the heat reaches slowly to the top level of the rice.
Hence, it cooks unevenly. 
7. Do Not Peek Inside The Cooker During This Process
Yes, it's not a good idea!
Let the pressure cooker steam the rice entirely.
You have to show a little bit of patience here so that rice gets cooked thoroughly. 
If you peek inside the cooker during the process, it will not cook properly.
Why?
Well, when you open the pressure cooker lid, you let the steam release from the system.
And as you know, steam is the most crucial element in cooking the rice.
If you let it release in the air, the pressure cooker will take a long time to rebuild the same steam pressure inside the unit.
Due to this, the rice remains undercooked in the end. 
And it might become sticky if you reheat it again.
So, you should avoid peeking inside the cooker. 
Let it complete its full cooking time.
8. Let It Rest For A While
The next step in the process is resting.
You have to allow the rice to rest for some time before serving or using it in other recipes.
The resting period allows it to cook further in its own steam.
And that's what you require to make rice fluffy and non-sticky.
This step is as significant as rinsing or adding Ghee and Oil to the rice.
So, make sure you don't miss it.
Note – If you feel you have overcooked your Basmati rice, you can take it out on a plate and allow it to cool down under room temperature.
This way, the rice won't cook further, and it will remain non-sticky.
9. Fluff The Rice After 10 Minutes Or So
Once the resting period is over, you can take out the rice on a plate and fluff it using a fork or wooden spoon.
You should perform this task gently.
In case you don't know, the fluffing process allows you to stop the cooking process.
As you perform this step, the steam trapped inside the grains gets released into the air.
And therefore, it cools down faster.
You can also add some Oil during this process if the rice looks sticky.
But it is an optional suggestion.
You should only do it if it's required, as you may have already added it in the initial stage.
Note – The metal spoon might break the grains into pieces. 
So, make sure you handle them with a bit of extra care.
10. Sprinkle Some Water If It Is Undercooked Or Looks Sticky
Finally, if the rice grains appear slightly undercooked, you can sprinkle some water on top of it.
The additional water will help in providing more moisture content to the grains.
Once you sprinkle the water, put the container back in the pressure cooker and let it cook for a few more minutes in the steam.
If the rice looks undercooked, follow the same steps as mentioned above.
Also, you may cook the rice again for a couple of whistles more if necessary.
This way, the rice will cook well and will not have a sticky texture to it.
Well, these are the basic things you can do if you are preparing Basmati rice using the Pressure Cooker method.
And you don't have to do anything else.
Follow these tips, and you will be able to prepare the rice the way you want.
If you want even better results, I think you should take a look at the following method.
This method works quite well with the Basmati variety of long-grain rice.
So, do check it out below.
Alternate Method To Avoid Sticky Basmati Rice
Boiling rice in a separate vessel is another useful method to avoid sticky rice grains.
And more importantly, it allows you to prepare perfect rice each time!
So, how to use this method?
Here are some quick steps to follow:
Firstly, pour enough water into a pot and place it on the high flame.
Let the water come to a boil.
Add salt, ghee/oil, and other spices to the water.
Now, add the soaked rice grains to it.
Allow it to cook on high flame, and don't forget to stir gently.
Once the rice cooks well, take it out using a rice strainer. You may also drain it out in a colander.
Place the rice on a plate and fluff it gently.
Allow it to rest for at least 10 minutes before serving or cooking further for Fried Rice or Dum Biryani.
And that's how you can make non-sticky rice all the time.
I really like this method of cooking Basmati rice, and I use it whenever I want to prepare Biryanis or Pulaos.
It also gives a lighter texture to the rice, which you can't achieve in any other form of pressure cooking technique.
So, do try this method and let me know how it turns out.
I'm sure it will work great!
Things to remember:
It is not a pressure cooker method. You will need to prepare the rice in a separate pot.
It also doesn't work with electric pressure cookers.
Make sure you don't cook the rice entirely while using this method. You have to cook it till it's 90% done. 
Do remember these suggestions while preparing the Basmati rice using the Boiling method.
How To Fix Sticky Basmati Rice
Here are some of the easiest ways to fix the sticky Basmati rice – 
1. Use Ghee Or Oil
It is the best way to fix Basmati rice.
You can drizzle a few teaspoons of Ghee or Oil on top of the steamed rice.
The greasy property of these two ingredients helps in adding an extra coating on each rice grains.
Ultimately, it becomes easy to separate sticky rice grains.
And you can use a fork or wooden spoon to separate the grains from each other.
Note – This tip may not work at all if the rice is too sticky and has lost its texture completely.
Also, if you are going to use Ghee, make sure you check the taste of the rice in the end.
In spicy rice delicacies, it tends to reduce the spiciness of the dish.
2. Remove Excess Water
If the rice looks sticky and mushy, it means you have added too much water into it.
In such a case, the only option you have is to remove the excess water from the rice.
Here's how I remove excess water from steamed rice grains – 
I take out the rice container and place a plate on it.
Then, I flip both of them upside down while holding them together.
In the next step, I continue to have them in this position until the excess water drains out from the grains.
That's all you need to do to remove water from rice.
However, you have to be careful while performing this task, as the rice may drop down on the surface when you flip it.
If you have prepared rice in the pressure cooker pot, you can take it out in a vessel and follow the same process as mentioned above.
3. Place It In The Fridge
The refrigerators keep food fresh for a long time, but they also soak up excess moisture from the compartment.
If your Basmati rice looks slightly mushy, you can make use of the refrigerator at home.
Here's how you can do it – 
Spread the mushy rice on a plate.
Fluff it a bit using a fork or spatula.
Place it inside the refrigerator for around half an hour.
Put the chilled rice in a microwave and heat for a few minutes.
I think it's the easiest method to fix your sticky Basmati rice.
Note – This method will also not work for you if there is too much water in it.
In this situation, you can use rice to prepare Kheer or Porridge.
4. Use Your Oven
The oven is a multipurpose kitchen gadget, and you can use it to fix the rice as well.
Check out the steps below to fix your sticky rice – 
Place the rice on a baking sheet lined with parchment paper.
Put it inside the oven.
Turn on the system and keep a close eye on the heating process.
When you are using the oven for reheating purposes, you should check the rice every few minutes.
Also, you don't have to reheat it at a high temperature.
Otherwise, the rice may get burned and won't be useful for serving.
If you have a traditional pressure cooker at home, you can also use it to reheat the rice.
It will do the same job for you.
The only thing you need to remember is to remove the whistle from the cooker.
And yes, there should be some water at the bottom so that the cooker doesn't get burned.
On that note, I'm going to conclude this guide here.
If you know any other tip or method to fix sticky Basmati rice, do let me know. 
Over To You
Liked this guide on Basmati rice?
I hope it helps you solve the sticky rice issue.
If you have any more doubts or questions regarding this topic, do let me know in the comments section below.
I will try to answer them for you.
And if you find this guide useful, please share it with your friends and family.
You can also subscribe to my weekly newsletter for more such useful updates.