Wondering why tandoori chicken is red?
Whenever you order this dish from a restaurant, it always looks fiery red.
And that's the brightest shade of red you'd probably ever get to see in any food.
So, what's the reason behind it?
Why does this dish have to be so red in color?
I know you must be curious to know more about this dish and its color.
In the following guide, I have shared some useful insights on this topic, so let's check them out.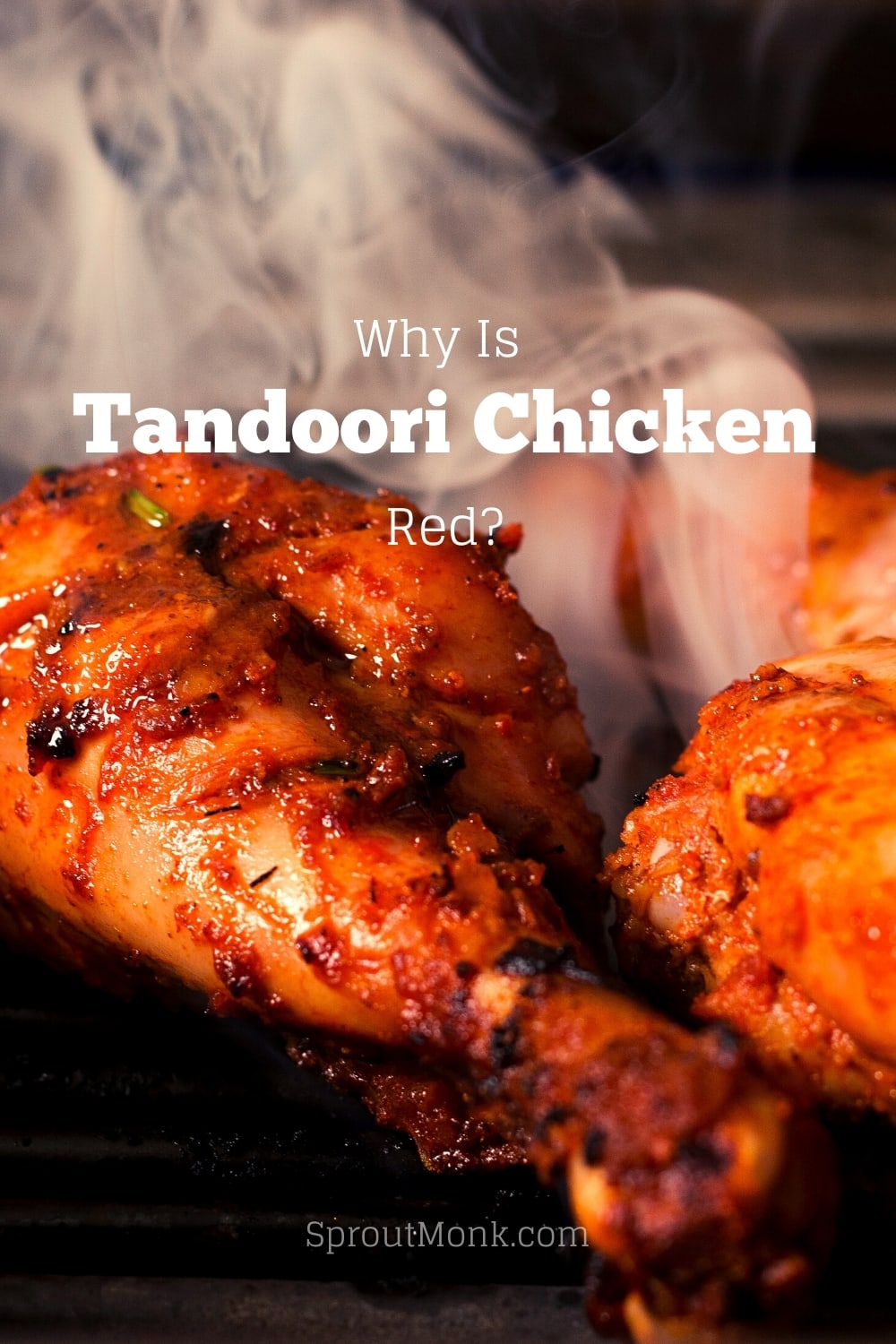 Why Is Tandoori Chicken Red?
The red color in tandoori chicken comes from Kashmiri red chilies.
It's these chilies that really make this dish look so fiery.
In case you don't know, Kashmiri chili is one of the most popular chilies in India.
It is highly used for its color than taste or pungency.
That's right!
These chilies do not lend much sharpness to the dishes, which makes them an excellent choice for most North Indian-style preparations.
The chilies are often used in the powdered form, as the powder blends well with most of the ingredients in Indian food.
As for Tandoori Chicken, there are many other ways through which you can obtain its peculiar red color.
I have shared a few of them in the next section, so you should definitely have a look at them.
4 Ways To Make Tandoori Chicken Red
Here's a list of ways that will help you achieve red color for your tandoori chicken –
1. Kashmiri Red Chili Powder
As mentioned earlier, it's one of the most used ingredients in this type of preparation.
Kashmiri red chili powder gives a quintessential red color to tandoor dishes.
It's also difficult to achieve the same color through other ingredients and cooking techniques.
The other reason why you should use this chili powder is that it doesn't add a spicy taste to the recipe.
It means you can make use of green chilies and a bit of garam masala to add extra pungency and flavor to the dish.
Quick Tip:
If you can't find this chili powder in a nearby store, you can use Kashmiri red chilies.
You just have to soak them in water for a few minutes and grind them into a paste.
Once the paste is ready, use it to apply to the chicken pieces and follow the marination process as usual.
Now, this technique is quite popular in some professional kitchens, as fresh chilies offer an even better color shade to the chicken pieces.
Moreover, you can also use Byadgi chilies as an alternative for Kashmiri red chilies.
2. Food Coloring Agents
Food colors are widely used in the baking world.
And if you don't know, the Tandoor-style cooking is pretty similar to baking.
Tandoors are also known as clay pot ovens.
So, the way you cook in these ovens is not too different from the modern ovens.
Regarding food colors, you can surely use them for making tandoori chicken or any other tandoori dish in your kitchen.
However, it's primarily used in Dhaba-style cooking, as artificial coloring agents are far cheaper and more convenient than chili powder.
These days, you will rarely find top restaurants using such ingredients for serving tandoori dishes to their customers.
Many chefs now opt for Kashmiri red chili paste or powder, which is a better option than the artificial colors.
3. Beetroot Juice
Yes, the secret ingredient!
If you don't have access to Kashmiri red chilies or powder, you can think of using beetroot juice.
It's a beautiful natural ingredient that can give a really dark red color shade to your tandoori food.
But how do you use this ingredient?
Well, you can mix a few tablespoons of this juice while preparing the yogurt marination.
The quantity of juice depends on how much chicken you are going to use for the preparation.
Also, it's quite tricky to use beetroot juice for coloring the dishes.
If you use it heavily, you will have to deal with a completely different shade of color to your chicken.
And that's not just about it.
The beetroot juice will also add a slight bitterness to the dish if used excessively.
Note: You will also have to use red chili powder and turmeric powder along with the beetroot juice in the marination.
If you only use beetroot juice in the recipe, you will probably end up getting a dark pink or maroon color to the chicken.
So, be careful when you are using this ingredient.
4. Different Red Chili Powders
The best thing about tandoori chicken is you can use any chili powder for its preparation.
Although the Kashmiri red chili powder does a fine job adding color to this dish, you can definitely try other red chili powders.
However, when you want to use different chili powder, you should ensure that it's not too spicy.
The only objective of using red chili powder in this recipe is to get the right shade of color.
Besides, you can manage the spicy taste by adding some other ingredients, as mentioned in the guide.
Should Tandoori Chicken Always Be Red?
Ideally, yes, it should be red.
It is a sort of identity of this dish.
Having said that, you can indeed play with the shade you want to have for your preparation.
There is no compulsion that you need to make it too bright.
As long as you retain the essence of the traditional recipe, you can experiment with this dish however you want.
Still, if you do wish to get a perfect red color, always use Kashmiri red chili powder in your recipe.
FAQs
1. Why Is Tandoori Chicken Pink?

Tandoori chicken can turn pink if you use artificial colors or beetroot juice.

Both these elements can add a slight shade of pink color to the dish.

If you have ordered it from some restaurant, it's most likely because of the excessive use of food color.

Note: If the chicken is pink, it's undercooked. 

You may reheat the chicken for a few more minutes.

It will help cook the pieces perfectly.
2. Why Is Indian Food Red?

It would not be appropriate to call Indian food red because there are so many dishes in the country that come in various colors.

But, yes, there are quite a few Indian curries with red color.

This color is a result of cooking red chili powder and turmeric powder in the base mixture.

The combination of these two ingredients lends red or orange color to some of the Indian curries.
3. Is Tandoori Chicken Supposed To Be Spicy?

It depends on your food preference.

Generally, it's not as spicy as some of the well-known Indian curries.

If you look at the recipe of this dish, you won't find any pungent spices in it.

However, the addition of ground spices and homemade red chili powder can make this dish spicy, especially when making it at home.
4. What Do You Eat Tandoori Chicken With?

Tandoori chicken is generally served as a starter or appetizer, so you can enjoy it with mint chutney.

You may also try it with ketchup, though it's not the best combination for this dish.

Other than that, you can try it with paratha or spicy flavored rice as well. 
5. Do Indian Color Food?

No, Indians don't color food.

In fact, you won't find any coloring agents in most households in the country.

Since the traditional homemade Indian food is based on natural ingredients, we only prefer chilies and cooking techniques to achieve the right colors for the dishes.

But there are restaurants and local eateries that make use of additional colors to make some of their dishes more appetizing.

It's a common practice in such professional kitchens, as they need to 'sell' the dish to their customers.
Over To You
Well, I hope the above guide helped in understanding the reasons why tandoori chicken is red.
Meanwhile, if you have any queries related to this topic, feel free to leave them in the comments.
If you enjoyed this guide, do share it with your friends and family.