Is Zucchini a fruit or vegetable?
I know many of you must be having this question in your mind.
So, I thought, why not discuss this topic in today's post.
In the following guide, you will find out whether Zucchini is a fruit or vegetable.
I'll also be sharing more useful insights on this topic below.
So, are you ready?
Let's get started!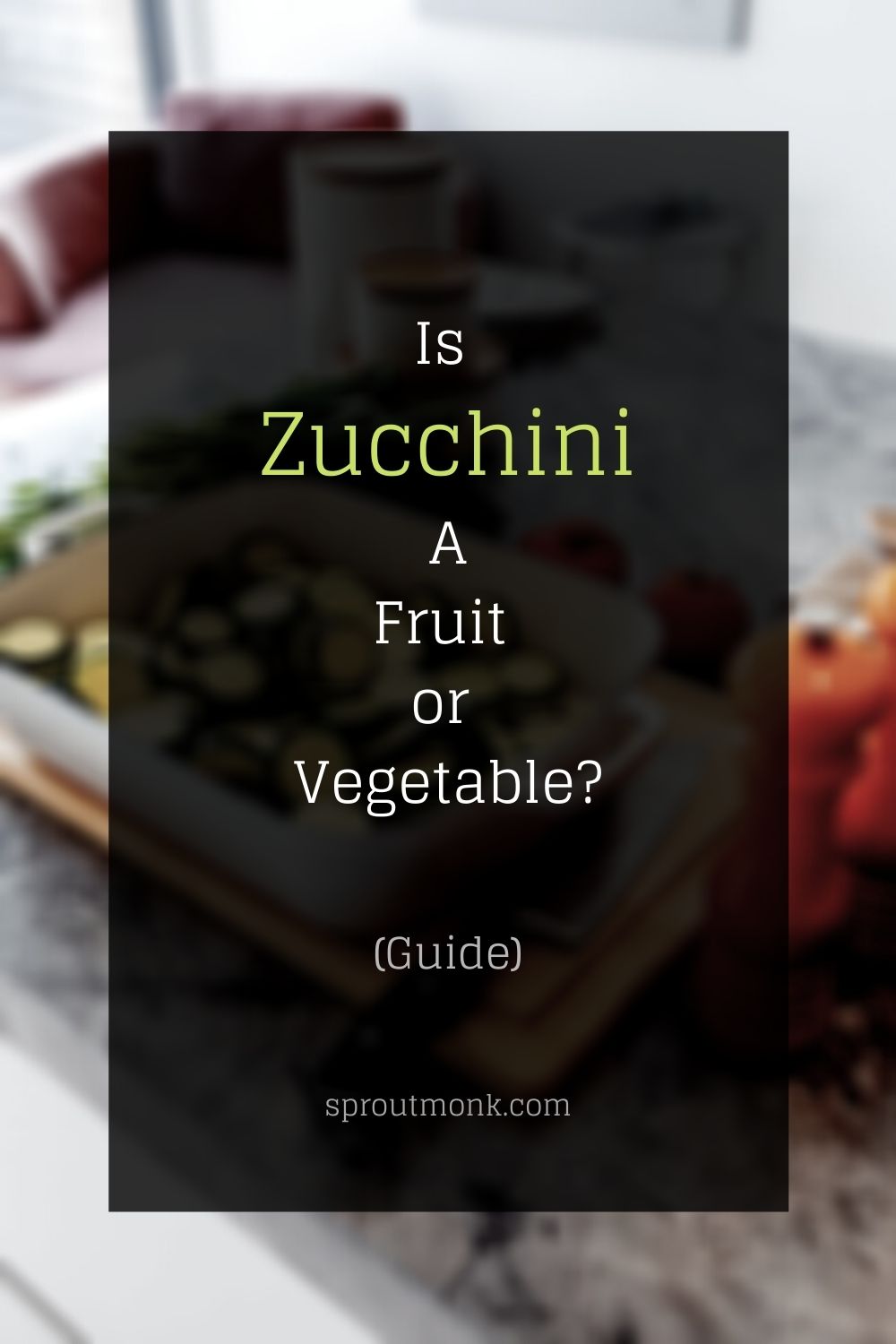 Zucchini – Fruit or Vegetable
In the culinary world, we know Zucchini as a vegetable.
It is often used as the main ingredient for several preparations, including Salads, Cupcakes, Bread, Noodles, etc.
It is one of the most versatile ingredients in the world of food, as you can use it in pretty much any form you want.
But I know the question still remains unanswered!
Is Zucchini A Fruit Or Vegetable?
In scientific terms, Zucchini is a fruit of the plant.
Yes, it is a fruit!
Confused?
Well, don't be!
Let me explain it in a simple language. 
Zucchini is quite similar to Tomato or Cucumber.
Unlike other common veggies, Zucchini grows as a fruit of the plant.
When the female flower gets pollinated on the plant, it transforms into a fruit.
And as the fruit reaches its full size, we pluck it from the plant for our consumption.
Note – Summer squashes get plucked when they are not fully ripened.
I hope it explains everything as far as the above question is concerned.
Now, you may wonder why do we use it as a vegetable if it's a fruit after all.
The question is quite valid!
So, do read the following section to learn more about this question.
Why Do We Use Zucchini As A Vegetable If It's A Fruit?
There are a few reasons why we use it in the vegetable preparations.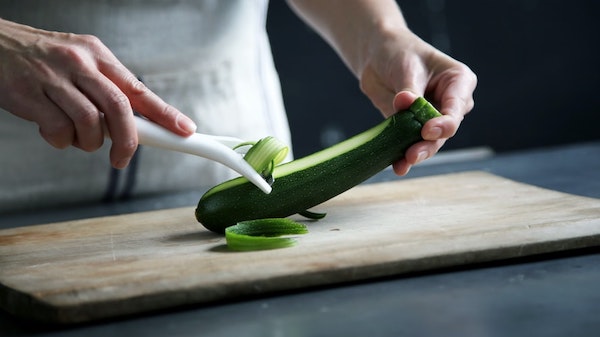 Reason 1 – 
The answer to the above question lies in the taste of this fruit!
We recognize most fruits by their sweet taste.
There may be a few exceptions, but, in general, the fruits do taste sweet.
Since Zucchini doesn't taste sweet, it is commonly used as a vegetable in different preparations.
But that's not just about it!
Check out the following reasons too.
Reason 2 –
Zucchini doesn't have its own taste as such.
And that makes it an excellent ingredient for several dishes.
It can absorb flavors and spices very well.
Potatoes are similar in this case.
Even though it's not a fruit like Zucchini, it absorbs flavors fully.
And similarly, it doesn't have a strong taste to it. 
It blends well with different ingredients.
So, as you can see, it's kind of easy to understand why the chefs prefer Zucchini in various preparations.
Reason 3 – 
Apart from taste and other properties, Zucchini is also a great traveler.
Wait, what?
That's correct!
Unlike other squashes, Zucchini doesn't break into pieces easily. 
Its sturdy exterior allows us to handle it roughly without worrying too much about the damage.
Hence, it becomes easier to transport it from one place to another, especially in the case of distant markets.
As for historical evidence, Zucchini seems to have originated from the Mesoamerican region.
But, as we all know, it traveled all across the world through different trade routes.
Therefore, it seems to be a reliable vegetable when it comes to transportation.
Reason 4 –
It stores well!
You can store Zucchini in the freezer or refrigerator without losing its natural characteristics.
It tastes quite alright even after coming out of the long refrigeration process.
You won't notice much difference in its taste.
And it also works in favor of this vegetable.
So, this is another reason why all of us like Zucchini as a vegetable!
How To Use Zucchini?
There are many ways you can use Zucchini for your delicious preparations.
Here are some of the most common ways to use this vegetable –
1. Salads
Zucchinis compliment really well to the salads.
Its fresh and crunchy texture elevates many salad recipes.
Also, its white-green color adds a refreshing touch to the preparation.
Another thing that goes in favor of this vegetable is its relatively hard texture.
The hard surface allows you to peel it in as many shapes as you want.
You won't find a similar texture in many other vegetables of the same family.
So, if you are interested in making a salad, here's a list of Zucchini salads to try –
Zucchini Noodle Salad
Zucchini Pasta Salad
Spiralized Zucchini Salad
Zucchini Salad with Feta
Quinoa Zucchini Salad
2. Pasta
The best thing about Zucchinis is you can use it in multiple ways.
It can be used in various Italian Pasta preparations.
And you can also create pasta noodles or fettuccine using this vegetable.
You just have to get the mandoline slicer or spiralizer out and prepare the pasta shapes as you like.
So, it's really up to you how you want to make use of this vegetable.
Take a look at some of these delicious Zucchini Pasta ideas – 
Noodle Pasta
Garlic Butter Shrimp Noodles
Garlic Parmesan Noodles
Garlic Chicken with Zucchini Pasta
Lentil Bolognese with Zucchini Pasta
Pesto Zoodles
You can also make these variations with the combination of Italian pasta and Zucchini noodles.
And if you like a creamy texture, it also tastes yummy in Alfredo style.
So, do try it out!
3. Chips
Who doesn't like chips, right?
Zucchinis are absolutely perfect for making chips at home.
Similar to Pasta making, you can just slice them into thin chips using a mandoline slicer or knife.
Note – If you want crispy chips, make sure you chop it into fine slices.
And yes, deep fry them if you want even more crispy and crunchy texture.
4. Sandwiches
All of us love enjoying sandwiches for breakfast and snacks.
And when you talk about sandwiches, you have to mention the Zucchinis!
Sometimes, I feel Zucchinis are meant for sandwiches only.
It brings crunchy texture and refreshing flavors to the sandwiches.
It also absorbs flavors well, which is a rare characteristic among other sandwich vegetables.
As for the combinations, you can try it out with fresh cheese, grilled onions, tomatoes, mushrooms, leafy vegetables, and chicken.
All these ingredients complement Zucchinis nicely.
So, use them as you like.
5. Stir Fry
Stir Fry is another preparation style that can help incorporate this vegetable in your meals.
With this method, you can prepare so many different types of stir-frys using Zucchini.
If you want to get more creative, you can also throw in some more fresh veggies into it.
For eg., 
Tomatoes, Bell Peppers, and Mushrooms taste quite amazing with this squash variety.
You can toss these vegetables in some of your favorite sauces too.
6. Pizza
If you enjoy vegetable pizzas, you can choose Zucchini as one of the toppings from available veggie options.
As I mentioned earlier, it brings nice crunchy texture and refreshing flavors to the dishes.
It also adds to the color of the preparation, as the white-green color complements other natural food colors like Yellow and Red.
7. Frittatas 
Just like Pizzas, you can make use of Zucchinis in Frittata preparation.
The combination of Frittata's creamy texture and Zucchini's soft & crunchy texture makes it one of the most delightful food combinations.
For this preparation, you can either use it in the form of chunky pieces or thin slices.
Both these variations have their own significance while making Frittata.
If you use chunky pieces, you will be able to enjoy its crunch and juicy texture at the same time.
But yes, both the variations are quite good.
You can also add more fresh vegetables or chicken to this preparation.
8. Stuffed Zucchini Boats
Stuffed Zucchini Boats is a cool way to use this vegetable.
These boats look pretty appealing with the delicious stuffings, and you can make them for a house party or barbeque nights as well.
Quick Tip – Prepare the stuffing a few hours before serving these boats.
It will help you reduce some workload at the time of final preparation.
You can also prepare stuffed Zucchini roll in a similar style. 
For this preparation, though, you will need to slice it using a swivel vegetable peeler or mandoline slicer.
9. Baked Zucchini Parmesan 
It's an excellent option for those who want to savor Zucchinis without putting a lot of effort into its preparation.
You can use it as an alternative for the Zucchini boats.
But yes, you will also miss out on the delicious stuffings.
Either way, both the dishes are amazing, and you should definitely try them out.
10. Grilled or Roasted 
Want to make something quick with Zucchinis?
You should try grilling or roasting them.
Both these cooking techniques are useful in extracting the best flavors of this vegetable.
When you grill it on the woodfire oven, the smokey flavor transforms its taste completely.
And when you roast it using the home oven, it tastes quite delightful too.
So, both the variations are a must-try if you want to make something quick for a snack.
11. Fritters
Finally, you can also make fritters with this vegetable!
If you don't like the baked or grilled version, you should try out the classic Zucchini fritters.
There are many ways to make these fritters at home.
But one of my favorite methods is to prepare them like Indian style Onion Pakodas.
With this method, you just have to add the shredded Zucchinis to the gram flour batter.
And then, deep-fry the fritters in hot oil.
Simple, right?
But you can also make them in traditional style using all-purpose flour, parmesan cheese, spring onions, and eggs.
Is Summer Squash And Zucchini The Same Thing?
The answer to this question is no!
They are not the same thing.
Zucchini is a part of the squash family of vegetables.
So, in general terms, Zucchini is a squash, but every squash can't be termed as Zucchini.
I hope it helps in understanding the difference between this vegetable and other squashes.
In the following section, I am going to share answers to some of the most frequently answered questions on this topic.
So, if you have some questions in your mind, go through this section and see if you can find the relevant answers.
FAQs
What type of vegetable is a zucchini?
It is an edible fruit, and it comes from the family of Cucurbitaceae.
It grows as a fruit on the plant, but we often consume it as a vegetable due to its peculiar taste and flavor.
Can I eat Zucchini raw?
Yes, you can eat Zucchini in its raw form. 
Should I peel Zucchini?
It depends on the type of dish you're making at home.
If you're making salads or stir-frys, you can keep the skin on. 
For pasta making, you may remove its skin using a peeler or knife.
In general, if you feel the skin is too hard, you can peel it off completely.
The hard skin won't cook properly in the pan, and it will also ruin the taste of your dish.
What is the best way to eat Zucchini?
The best way to eat Zucchini is to use it in salads.
Salads help in retaining the freshness and juicy texture of this vegetable.
If you cook it in the pan or oven, it tends to lose some of its flavors in the dish.
And obviously, it tastes a lot different than its original raw taste.
However, if you like it in cooked form, you can surely opt for related cooking methods.
Should Zucchini be refrigerated?
Yes, you can refrigerate Zucchini for prolonged shelf life.
But if you wish to consume it right away, there is no need to store it in the refrigerator.
It also remains fresh at room temperature for a week or so.
Alright, that's it for this guide now.
Over To You
I hope you enjoyed this guide on Zucchini.
If you have any more questions regarding this topic, do let me know in the comments below.
And don't forget to share it with your friends and family.
You can also subscribe to my newsletter below for more such guides and updates.