Zunka Vadi (or Jhunka Vadi) is a popular snack in the state of Karnataka and Maharashtra.
It is prepared using Gram Flour, and it goes well with hot Chapati/Phulka and Naan.
You can have this snack for breakfast as well as lunch.
For accompaniments, you may serve Mango Pickle/Chunda, Onions, and fried Green Chilies.
Talking about the recipe, you can make this dish using a couple of different techniques.
Preparing the traditional style Zunka in a pan or kadai.
Steaming the Zunka batter in a steamer or pressure cooker. (Similar to Kothimbir Vadi and Aloo Vadi recipe)
Both these methods are quite unique in their own ways, but I prefer the first method whenever I make Zunka Vadi at home.
When you prepare this mixture in a pan or kadai, it gives an added taste and flavor to the dish.
However, if you compare it with the other method, you won't get the same results.
These steamed Zunka fritters usually turn slightly dark in color after frying them in the pan.
You will also find subtle and subdued flavors in this type of Vadis.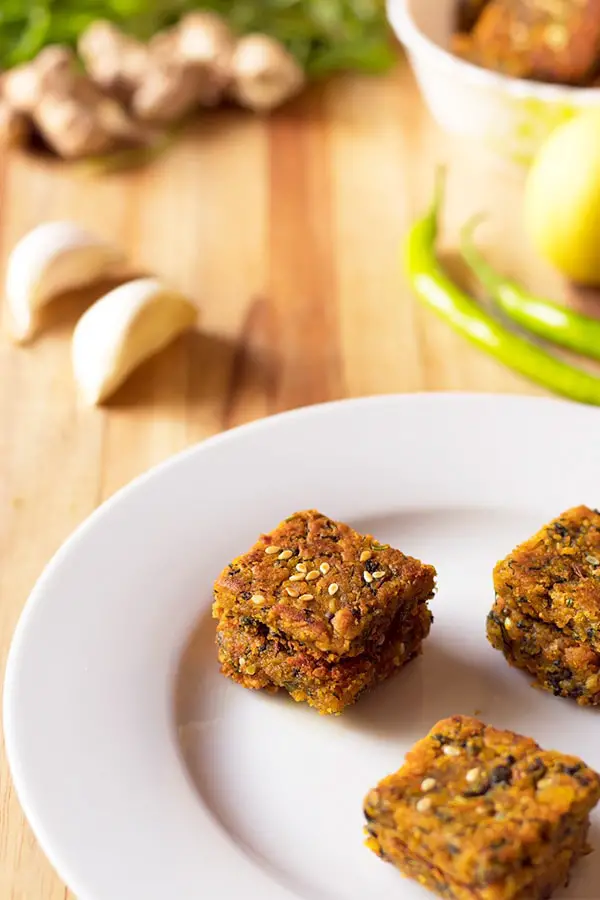 In the following post, I have shared Zunka Vadi recipe using the first method.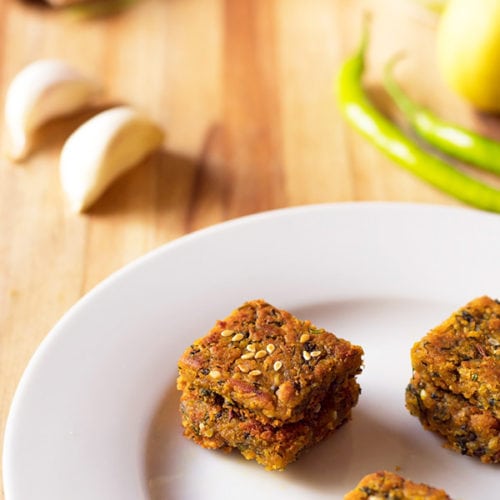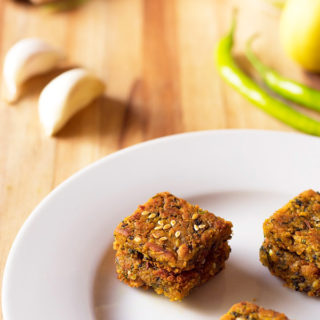 Zunka Vadi Recipe
Zunka Vadi is a crispy and crunchy snack, which can be enjoyed for breakfast and lunch.
Ingredients  
50

gm

Gram Flour (Besan)

1

tbsp

Rice Flour

(optional)

30

gm

Coriander Leaves (Kothimbir/Dhaniya Patta)

finely chopped

2

tsp

Sesame Seeds (Safed Til)

for batter mixture and garnish

1

tbsp

Ginger (Adrak)

finely chopped

1

tbsp

Garlic (Lahsun)

finely chopped

1

tsp

Turmeric Powder (Haldi Powder)

1-1/2

tbsp

Red Chili Powder (Lal Mirch Powder)

2

tsp

Cumin Seeds (Jeera)

2

tsp

Mustard Seeds (Rai Dana)

1/4

tsp

Asafoetida (Hing)

Salt

as per taste

Water

for batter preparation and steaming
Instructions 
For Batter & Zunka Preparation:
Get a bowl and add Besan, Rice Flour, Red Chili Powder, Turmeric Powder, Sesame Seeds, and Salt to it.

Add Water to this mixture and prepare a smooth batter. Keep it aside for sometime.

Heat a pan on medium flame.

Once the pan turns hot enough, add Oil to it.

As the Oil turns hot, add the Asafoetida and Mustard seeds.

Once you hear the crackling sound, add the Cumin Seeds.

Now, add the chopped Ginger and chopped Garlic to it. Sauté them for a minute or two.

Add the chopped Coriander Leaves and stir fry it for 3-4 minutes.

Finally, add the prepared Batter to it and mix everything well. Cook this mixture till it turns thick enough.

Meanwhile, grease a plate or mold with some Oil.

Add the cooked Zunka Vadi mixture to this plate and spread it evenly. Sprinkle some leftover Sesame seeds on top of it. Let it set on room temperature for about an hour or so.

Cut the set mixture into square shapes (Vadis). 
For Shallow Frying:
Heat a nonstick pan on medium flame.

Add some Oil and wait till it turns hot enough.

Shallow fry the Kothimbir Vadis on both the sides.

Once you get the golden brown color, take them out in a plate.

Garnish it with desiccated Coconut and Coriander Leaves. 

Serve the Vadis with Coriander-Mint Chutney or Tomato Ketchup.
Notes
Add a chopped Green Chili in this recipe for more spiciness.
You can deep fry these Vadis for extra crunch.
Tips To Make Zunka Vadi
Do not overuse Gram Flour in this recipe, as it might change the overall taste and texture of the Vadis.
You can also shallow fry these Vadis in Mustards Seeds and Curry Leaves-based Tadka.
Although Rice Flour is an optional ingredient, you can use it to get more crispiness to the dish.
Fry these Vadis on a medium flame. It helps in cooking the mixture from inside.
If you're using chopped Onions while preparing the Zunka, don't store this dish for another day.
How To Store Zunka Vadis
You can store these Vadis in the refrigerator for 2-3 days without any issues.
But I'm sure it won't last that long! You will finish them in one go.
Note – When you want to fry the refrigerated Zunka Vadi, don't fry it directly in Oil.
Wait for a few minutes till it comes down to room temperature.
If you don't follow this step, the Vadis will turn hard and will also soak more Oil during the frying process.
So, have you tried these Vadis at home? Do let me know in the comments section below.