In the following guide, I'm going to share a detailed list of vegetables' names in Sanskrit.
Sanskrit is probably the oldest language in India, and many languages have apparently been evolved from this ancient language.
It includes:
As for vegetables' names, you will find a similar pattern here as well.
Many of these names have been derived from Sanskrit.
For eg.,
Bhindika is a Sanskrit name for Bhindi or Okra.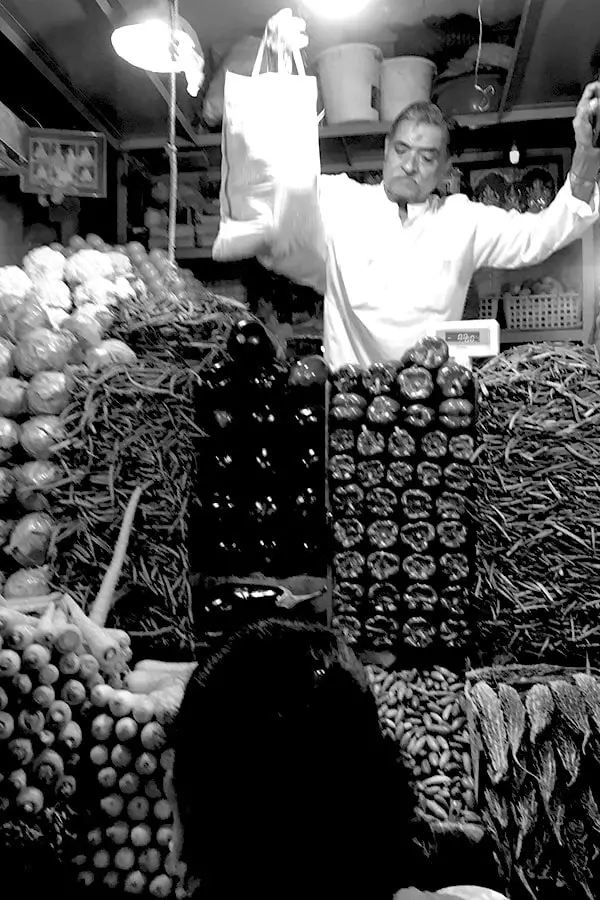 Moving on, let's quickly take a look at the Sanskrit names list below.
Vegetables Names In Sanskrit
| English Names | Sanskrit Names | Hindi Names |
| --- | --- | --- |
| Banana | Kashtila | Kela |
| Beetroot | Paldka | Chukandar |
| Bitter gourd | Karvellah | Karela |
| Bottle Gourd | Alabu, Pindi | Doodhi, Lauki |
| Brinjal | Vruntakam | Baingan |
| Cabbage | Kembukam | Gobhi |
| Carrot | Garjara, Grujjanakam | Gajar |
| Cauliflower | Pushpshakham | Gobhi, Phoolgobhi |
| Chilli | Marich/Marichika | Mirchi |
| Coriander | Dhanyaka | Dhaniya |
| Cucumber | Karkati | Kakdi |
| Dill | Vajrapushpam | Suva/Soa |
| Drumstick | Shaigrav, Shigruh | Sahjan |
| Fenugreek | Methika | Methi |
| Garlic | Lashunam | Lehsun |
| Ginger | Adrakam | Adrak |
| Indian Gooseberry | Amlaki | Amla |
| Jackfruit | Panasam | Kathal |
| Lady finger or Okra | Bhindika | Bhindi |
| Lemon | Nimbukam | Nimbu |
| Mango | Aamram | Aam |
| Moth Bean | Makushtak | Matki |
| Mushroom | Chatrakkam | Kukurmutta/Dingri |
| Mustard | Sarshapah | Sarson |
| Onion | Palanduh | Pyaaj |
| Potato | Aalukah | Aalu |
| Pointed Gourd | Patolah | Parwal |
| Pumpkin | Kushmand | Kaddu |
| Purple Yam | Kandah | Kand |
| Raddish | Moolika | Mooli |
| Ridge Gourd | Koshavati | Turai |
| Snake Gourd | Chichinda | Chichinda |
| Spinach | Palakya | Palak |
| Spiny Gourd | Karkotaka | Kantola |
| Sweet Potato | Varahi, Sukari | Ratalu |
| Tomato | Raktphalam | Tomato |
| Turmeric | Haridra | Haldi |
| Turnip | Rajikaphalam | Shalgam |
| Yam | Suranah | Suran |
Note –
Sanskrit is an ancient language.
Therefore, it'd not be possible to find the names of all the vegetables available in the market today.
For eg.,
Brocolli, Parsley, and Zucchini were never a part of traditional Indian cuisine.
These vegetables arrived in India through modern-day travelers.
Hence, you will not find any mentions of these veggies in Sanskrit or Vedic scripts.
Hindi And English List
Liked the above Sanskrit names list?
Then, you'd also want to check out the list for Hindi and English vegetables names.
It is an extensive list, and I've categorized it into different sub-categories as per the type of vegetables.
For eg.,
Leafy Vegetables, Flower Vegetables, Roots, Tubers, etc.
In this list, I've also tried to include all the Indian vegetables along with their English-Hindi names and uses.
So, do take a look at it.
I'm sure you will learn a lot from it.
Similarities Between Sanskrit And Hindi Words
As mentioned earlier, many of our regional languages have been derived from Sanskrit and Prakrit languages.
Therefore, the influence is obvious!
Most of the modern-day languages have adapted several words from such ancient languages.
And that's why you get to see the similarities between these languages and their words.
Why Don't We Use Sanskrit Vegetables Names Anymore?
It's because Sanskrit is not a popular language!
Well, that's the short answer for you.
For a detailed answer, you will need to understand why it's not a popular language.
Firstly, Sanskrit is difficult to learn and understand.
Secondly, it becomes even more difficult to converse in this classic ancient language.
Lastly, other languages like Prakrit languages and Dravidian languages became more influential and popular in later centuries.
And this trend reversal resulted in decreasing usage of Sanskrit in Indian households as well as official works.
Eventually, we adapted to the new-age languages.
This whole scenario is quite similar to the English language's influence over Indian languages in this century.
In the coming centuries, English will probably become the primary language for communications in India.
And many of our regional languages will lose their importance just like the Sanskrit language did in the past.
Now, I hope you know why we don't use (or rarely use) Sanskrit names in this era.
How To Use Sanskrit Names?
Although we don't use Sanskrit in our everyday life anymore, you can still use these words in fun activities and games.
You can also teach these names to your kids if they're interested in learning new languages.
Overall, it's a beautiful language.
I learned Sanskrit for a couple of years during my school days.
It was an optional subject for me.
But it enriched me in many ways!
It also helped me improve other languages including, Marathi and Hindi.
So, I'd definitely urge you to introduce this language or these vegetables' names to your kids.
Let them learn a thing or two from our glorious past as well.
How Did Indians Prepare Vegetables During Ancient Times?
Well, this one is purely for information purposes.
So, around 4000-5000 years ago, when Sanskrit was a popular language, people did make vegetable curries in their homes.
However, their preparation style was a lot simpler than our advanced cooking techniques.
It is believed that they used to either consume raw veggies or in the form of Rasa, which is now evolved into different curries.
In Sanskrit, Rasa translates to juices.
What's Your Favorite Vegetable Name In Sanskrit?
For me, it's difficult to choose one from the above list.
I like the ones for Chilli and Bhindi, i.e., Marich/Marichika and Bhindika respectively.
Both these names are quite similar to how we pronounce them in Hindi.
So yes, these two are my favorite names from the list.
What's your favorite one?
Drop a comment below and let me know.
Update Notes – Updated in May 2020 with more information.