Chana Dal and Toor Dal are the most popular dals in India.
These dals are so common in India that you'd find them in pretty much everyone's pantry.
But when you are new to Indian cooking, you do get confused between these two dals.
Since both of them are yellow lentils, it becomes difficult to differentiate between them.
So, how do you find the right one for your recipe?
Well, check out the following guide to understand the similarities and differences between these dals.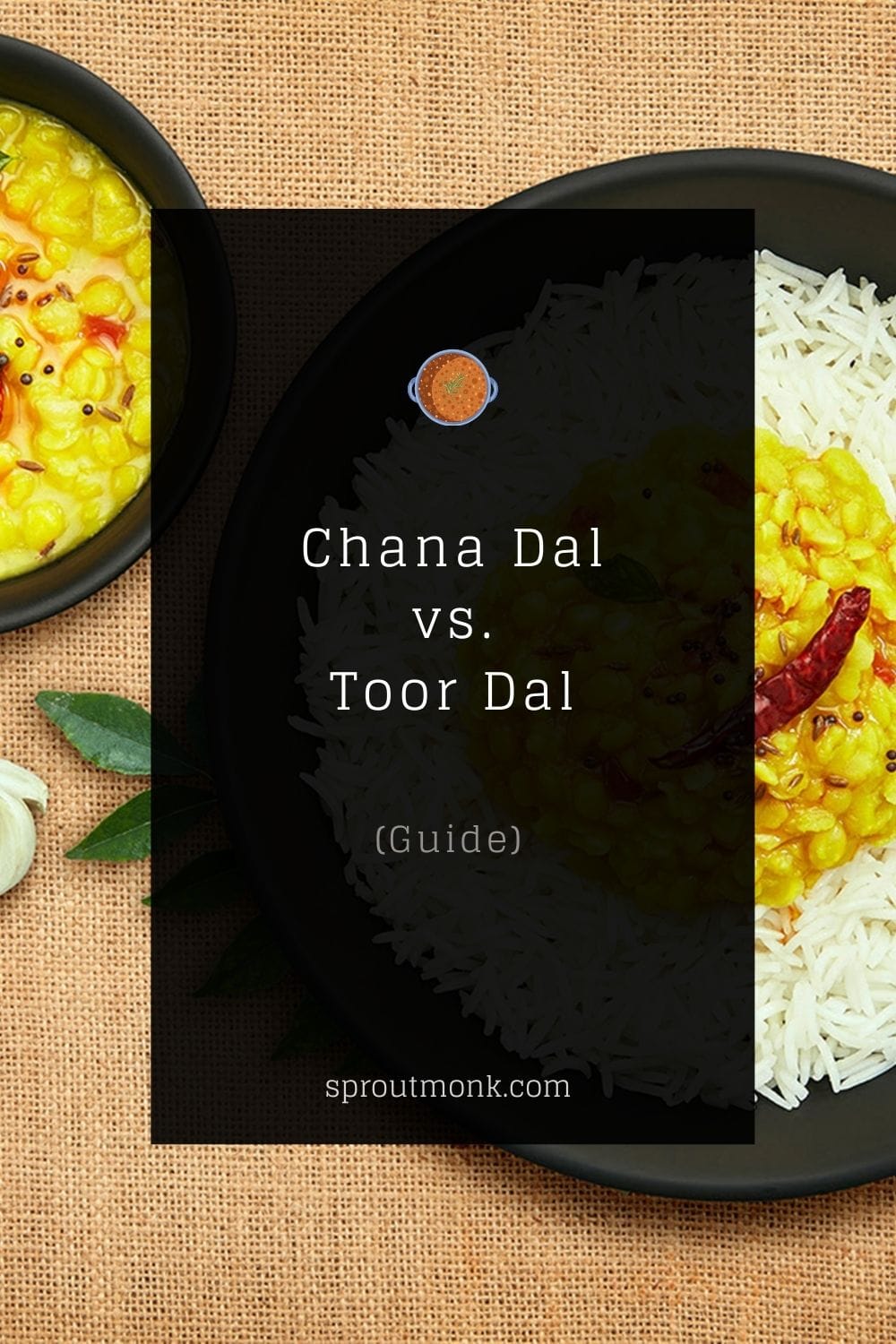 What Is Chana Dal?
Chana Dal is a well-known dal in India, and we refer to it as Black Chickpeas Dal or split Bengal Gram in English.
It is often procured from Black Chana.
When you remove the outer layer for these chickpeas, you get the yellow-colored peas.
These are further divided into halves to get the Chana Dal.
With this dal, you can make various types of Indian dishes including, traditional dals, halwas, barfis, and laddus.
Did You Know?
You can also make Besan out of this dal.
Quick Fact: India is the largest producer of chickpeas in the world.
What Is Toor Dal?
Toor Dal is another popular dal from India.
In English, we refer to it as Pigeon Pea.
It is an Indian-origin dal, and the research shows that it might have been domesticated around 3500 years ago in this part of the world.
It became popular in Africa before reaching Europe and America in the 17th century.
Similar to Chana Dal, Indian is the leader in producing Toor Dal as well.
We have more than 60% of global Toor Dal production in the country.
As for preparations, it is mainly used to make traditional varieties of dal recipes.
You can also mix this dal with other lentils while preparing mix dal or sambar preparations.
Alright, now that you know a bit about these two dals, let's learn more about them in the following comparison sections.
Chana Dal vs. Toor Dal – Similarities
| | Chana Dal | Toor Dal |
| --- | --- | --- |
| Food Type | Lentil | Lentil |
| Color | Yellow | Yellow |
| Shape | Round | Round |
| Taste | Bland | Bland |
| Easy To Cook | Yes | Yes |
| Protein Content | High | High |
| Storage Life | Long; More Than 1 Year | Long; More Than 1 Year |
| Availability | Easily Available | Easily Available |
Let's try and understand the similarities below.
1. Yellow Color
That's one of the common traits between these two dals!
Both dals come in yellow color.
And the color remains the same even after cooking them in the pressure cooker.
2. Round Shape
Chana Dal and Toor Dal have a spherical shape, which is quite easy to identify as well.
The size of these lentils is pretty much the same as well, but Chana Dal has more body to it as compared to Toor Dal.
3. Staple Food
Both these dals are a part of staple food in India.
They are consumed in pretty much every household in India on a regular basis.
4. High Production
As mentioned earlier in the guide, Chana Dal and Toor Dal produced in the country is always in surplus quantity.
And therefore, India is the leading exporter of these dals in the world.
5. Easy To Cook
Well, both these dals are fairly easy to cook.
You just have to put them in a pressure cooker or steamer with an adequate amount of water.
And that should be good enough to cook them thoroughly.
As for pressure cookers, I cook them for about 4 whistles.
It gives a nice and soft consistency.
But it all depends on the pressure cooker or instant pot model you are using at home.
So, do adjust the cooking time as per your pressure cooking tool.
Note: Chana Dal might need more whistles and cooking time due to its relatively larger shape.
Tip: Allow these dals to be in the steam for a few minutes before you take them out of the cooker.
It will help in getting the right consistency for your dal.
6. Availability
Since India is the biggest producer of these dals, both of them are easily available in the country throughout the year.
Apart from that, these dals are a part of the staple food category.
In the next segment, let's learn more about the difference between Chana Dal and Toor Dal.
Chana Dal vs. Toor Dal – Differences
| | Chana Dal | Toor Dal |
| --- | --- | --- |
| English Names | Bengal Gram | Pigeon Pea |
| Size | Bumpy | Flat |
| Origin | N/A | India |
| Cooking Time | More | Less |
| Other Uses | Paratha, Halwa, Laddos | Payasam, Sambar |
| Price | Cheaper than Toor Dal | Costlier than Chana Dal |
1. Size
Even though Chana Dal and Toor Dal are similar in color and shape, they differ in size.
As I suggested above, Chana Dal has a slight bump that contains more mass than most other Indian lentils.
On the other hand, Toor Dal is relatively flat in size. 
2. Cooking Time
Since Chana Dal is more prominent in size, it needs more time to cook.
But if you look at Toor Dal, it cooks faster and breaks down completely to attain a softer texture.
This is also the reason why we don't use Chana Dal in most of our traditional dal preparations.
Dals like Toor Dal, Moong Dal, and Masoor Dal are smaller in size, and they cook really well using the boiling method as well as pressure cooking method.
So, if you have never used these dals before, you must remember these differences as soon as possible.
3. Origin
Toor Dal or Pigeon Pea is an Indian dal, and there is enough evidence available to prove its origin in India.
But the same can't be said for Chana Dal.
Our ancestors did start using this dal around 3500 years ago.
However, its early usage has been found in other parts of the world.
So, there is a possibility that it might have arrived in the country from ancient trade routes.
4. Uses
Yes, both these dals can be used to prepare traditional dal curries and sambars.
But the real difference lies in how often we use them for such preparations.
Chana Dal is a meaty sort of dal, and it doesn't taste great when you prepare it in Dal Tadka or Dal Fry style.
On the contrary, Toor Dal gets softer texture after steaming.
This texture is quite essential in blending the dal well with the base masalas and tadkas (temperings).
So, Toor Dal gets more preference when it comes to homemade dal preparations.
If you like Chana Dal, you can also prepare many things with it including, Laddoos, Puran Poli, Halwa, etc.
5. Price 
High demand always fetches more price!
And the same is the truth for these two dals.
Toor Dal generally sells at nearly double the rate of Chana Dal.
Chana Dal obviously cheaper than Toor Dal, as it lacks a bit of taste and usability.
Alright, so these are some of the similarities and differences between these two Indian dals.
In the following section, I have answered some of the commonly asked questions related to this topic.
Do check them out if you have any similar questions in your mind.
FAQs
1. Is Chana Dal And Toor Dal Same?

No, they are completely different types of dals.

Toor Dal is commonly used in Indian dal preparations, but the same can't be said for Chana Dal.

Chana Dal is mainly used for other delicacies like Puran Poli, Dal Vada, Sabzi preparations, etc.
2. Which Dal Is Best?

In my opinion, Moong Dal is the best dal amongst all types of dals available in the market.

It tastes amazing and cooks faster than most of the dals.

And it also has many benefits as compared to other dals.

So, if you ask me, Moong Dal should be your first choice for Indian dal preparations.

Having said that, you can use any type of dal as you like.

There is no real compulsion on using a particular type of dal for dal preparations.

Since most of them taste pretty bland, it all depends on the spices and method you use to prepare the delicacy.

As for sweets and specific preparations, you will probably need to refer to the recipe of each delicacy.
3. Is Chana Dal Same As Bengal Gram?

Yes, Chana Dal is a Hindi or Indian word for Bengal Gram.

And these are just two different names for the same dal.
4. Is Besan Made From Chana Dal?

Yes, you can make Besan with the help of Chana Dal.

When you remove the outer shell from Black Chana or Kabuli Chana, all you get is the Chana Dal.
And the same can be used to make Besan.

Similarly, you can make Chickpea Flour with the help of Chickpeas. 

Chickpeas are commonly known as Chole in India.

You can use both these flours to prepare various Indian dishes including, Bhajiyas and Pakodes.
5. Is Chana Dal The Same As Yellow Lentils?

Well, the answer is Yes and No.

Here's why –

Since the color of Chana Dal is yellow, it can be called as Yellow Lentil.

But as you know, there are other lentils as well that have a similar color.

Therefore, it'd be a good idea to call it split yellow lentil or simply Bengal Gram.

You'd find it easy to search for this dal in western countries, especially when referring to them with the above names.
Over To You
So, what's your favorite Indian dal?
Is it Chana Dal, Toor Dal, Moong Dal, or something else?
Do let me know in the comments section below.
And yes, do share your feedback and queries as well.
If you enjoyed this comparison guide, please consider sharing it with your friends and family.