Why do cookies turn flat and crispy?
Have you been facing the same issues with your homemade cookies?
Well, you might have got the taste right, but you also need to have a perfect texture and shape for your cookies. 
In today's guide, I'm going to reveal some reasons and mistakes that often lead to such issues while making cookies at home.
So, do check out the following guide.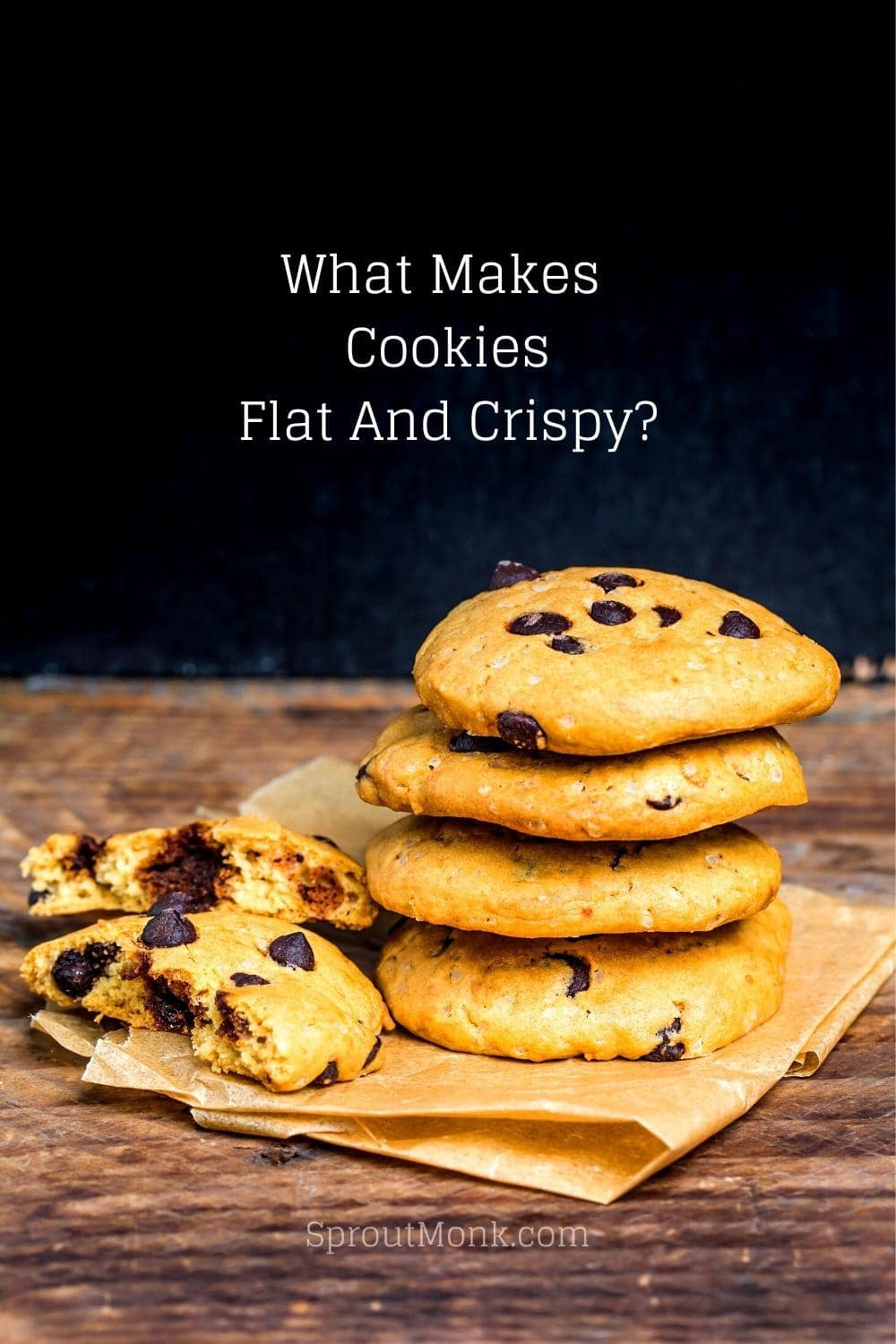 7 Things That Make Cookies Flat And Crispy
As I mentioned earlier, there are a few common reasons why your cookies turn flat and crispy.
Let's have a look at them quickly.
1. You Are Using Melted Refrigerated Butter
It is the most common reason why we get to see flat and crispy cookies.
When you add melted butter to the flour, it mixes quickly with the entire mixture.
Later, when you put the cookies in the oven, the butter begins to melt further along with the flour.
As a result, the cookies lose their shape and size as soon as they come in contact with the hot temperature inside the oven.
So, whenever you want to make cookies at home, you should try to use refrigerated butter.
This should ensure that it won't melt during the baking process.
Note: As I said, it's the most important factor in cookies turning flat and crispy. 
So, do try to get this thing right in the first place.
2. You Do Not Sieve The Flour
I know sieving the flour is a boring task, and it doesn't make much sense if you're an absolute beginner.
I'm sure you must be wondering why we need to sift the flour if it's already sifted and packed well by the manufacturer. 
But it's an important step in this process and needs to be done all the time.
When you sift the flour, it helps remove any lumps in the flour.
More importantly, it also helps in incorporating air into it.
Eventually, this process makes things easier when you're preparing the dough mixture.
In the end, the dough also turns soft.
So, if you want to attain a perfectly soft texture for your cookies, you must follow this process.
3. You Add Too Much Flour To The Mixture
This is another common mistake that leads to the crispy texture of cookies.
Flour is a dry ingredient in this recipe, which means it turns further dry when you bake the cookies in the hot oven.
Therefore, you shouldn't add too much flour to the mix.
Always follow the recipe! 
If you add it with your instinct, you will struggle to make perfect cookies in the end.
Note: If you like crispy cookies, you shouldn't make any changes to the flour proportion.
If needed, you can reduce a bit of flour to avoid a doughy taste in your cookies.
4. You Do Not Refrigerate The Dough
As you might have guessed already, it's all about the temperature when it comes to baking cookies.
If the temperature goes wrong at any stage, you will see its impact on the outcome.
Now, talking about the dough, it should be slightly cold.
You can refrigerate it for up to 30 minutes or so.
This will solidify the molecules present in the dough, which helps keep the cookies in their shape even after baking.
If you don't perform this step, there will always be a probability that the cookies will lose their texture and turn flat once you get them out of the oven.
The refrigeration step can also be useful for those who use melted butter in their recipes.
With this step, you can still manage to fix the butter consistency issue in your dough.
5. Your Oven's Temperature Is Too High
When you preheat the oven for baking, you shouldn't keep it on for too long.
The temperature inside the chamber should be good enough to start the baking process.
If the oven's temperature is high, the cookies will lose their shape quickly and are likely to attain a flattish shape.
To avoid this issue, keep an eye on how long you preheat the device.
Moreover, it generally happens with the cookies we bake after the first few batches.
So, it's always a good idea to wait for some time so that the oven temperature cools down a bit.
Once that's done, you can preheat the oven again as per the requirement.
6. You Are Not Using Fresh Ingredients For The Dough
Whether it's butter or flour, you need to use fresh ingredients. 
These ingredients are crucial in getting the desired results for your cookies.
If you use stale ingredients, you will probably see issues with your cookies.
With such ingredients, the cookies might turn flat or hard or both sometimes. 
Hence, it's quite important to have fresh ingredients for baking your cookies.
7. You Knead The Dough Too Much
Another rookie mistake!
The dough you prepare for the cookies doesn't need a lot of kneading. 
You only need to knead it till it forms a dough.
You can even perform this task with your hands.
There is no real need to knead it with a dough maker or food processor. 
As for the consistency, the dough should have a firm and slightly soft consistency.
It shouldn't be too soft.
If you make a softer dough, it will cause a lot of issues in forming and baking the cookies.
So, do not knead it more than required.
Overall, these are the few reasons why you might struggle making perfectly shaped cookies at home.
Do work on some of these suggestions and see if you can correct the mistakes next time.
In the meantime, I have shared some FAQs related to this topic.
If you have any similar queries in your mind, take a look at the following section.
FAQs
1. Why Do My Cookies Turn Flat And Crispy?

As explained in the guide above, the cookies turn flat because of the butter.

It's the temperature of the butter that plays spoilsport in such tasks.

On the other hand, the crispiness comes from a lack of butter quantity and an inappropriate quantity of flour.

If you go wrong with these things, you will surely face these issues.
2. What Ingredients Makes Cookies Flatten?

The main culprit here is the butter in your recipe.

When you add melted butter to the recipe, the cookies turn flat.

So, make sure you do not use such butter while making cookies or any other baked item in your kitchen.
3. What Makes Cookies Crunchy Or Soft?

It's flour and butter that help make cookies crunchy and soft.

The softness will depend on the creaming and other dough-making processes. 

If you want more crunchy cookies, you should increase the number of dry ingredients in your recipe.
4. How Do I Make My Cookies Crisp?

For crispy texture, you will need to adjust the quantity of flour and eggs/milk used in your recipe.

Once you get the correct quantity of ingredients, you will be able to make crispy cookies at home.

Moreover, the crispy texture also depends on how long you bake your cookies.

For a bit of extra crispiness, you will need to bake them for a few minutes more, but make sure you don't burn them from the bottom.
5. How To Make Cookies Crispy Outside And Soft Inside?

For such cookies, you will have to get the proportions right.

You will have to use the right amount of flour and butter to get those results. 

Apart from that, you should also limit the addition of other ingredients like choco chips, dry fruits, etc.

These ingredients can also make or break the texture of your cookies.

So, use them sparingly.

Along with them, you should also consider storing the dough in the refrigerator for some time.

It will help in getting the right shape and texture to the cookies.
Over To You
Making cookies during the festive season is the best task you can do in your kitchen!
That said, you will also need to do it correctly.
Otherwise, you might end up making some common mistakes discussed in this guide.
Still, if you have got any more questions related to this issue, feel free to leave your comments below.
I'd be glad to help you out in any way possible.
If you enjoyed this guide and found it useful, please share it with your friends and family.