As you know, there are so many misconceptions and myths about ghee storage.
Some say we shouldn't keep it in refrigerators, whereas others advocate in favor of keeping it in the fridge.
So, what's the truth?
Should you be storing it in the refrigerator?
Let's find out more about it in the guide below.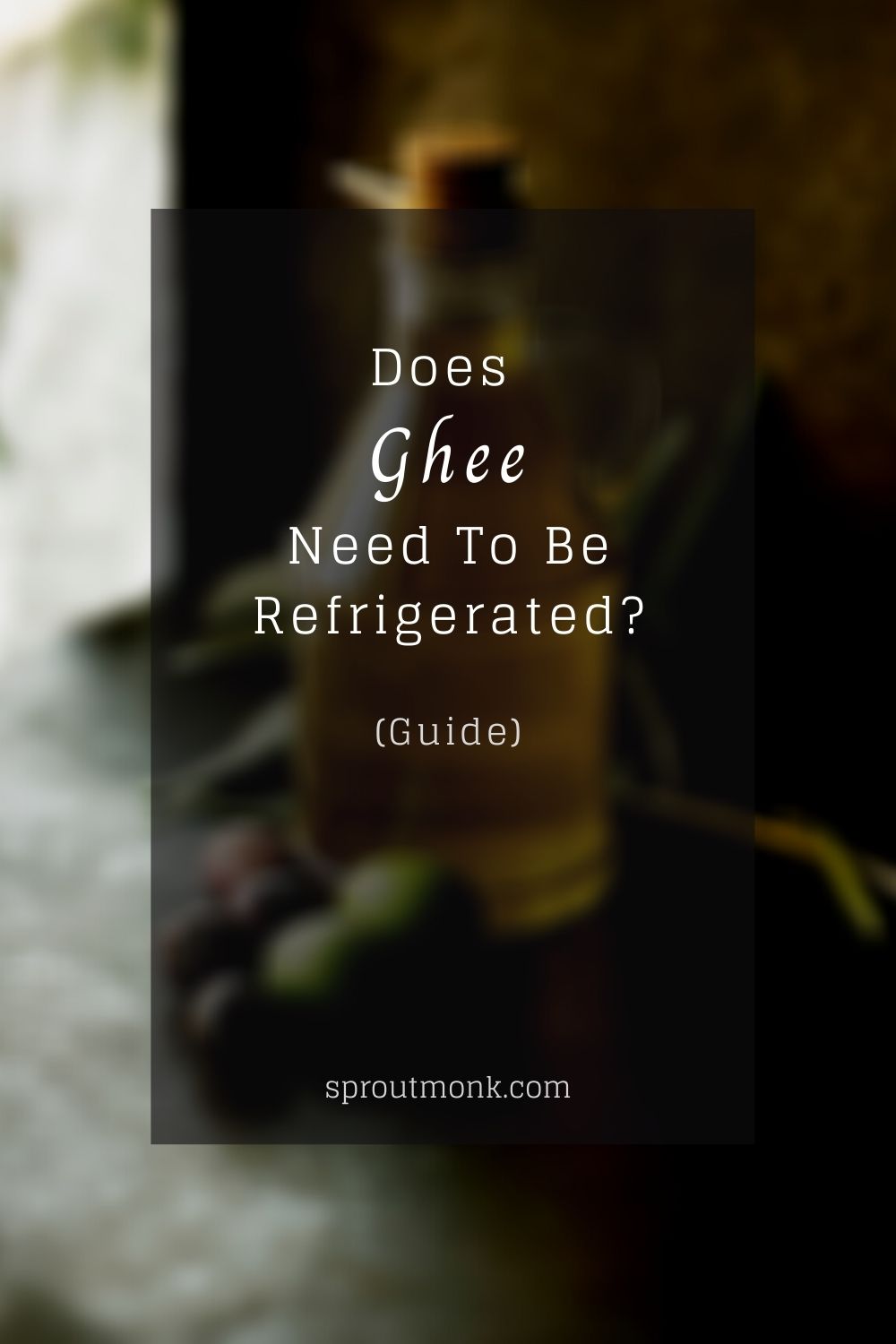 What Is Ghee?
Ghee is nothing but a clarified butter.
It often contains 100% fat, which is obtained by simmering butter.
It is originated in India, though it's now commonly found in many other South Asian and Middle-east countries.
Generally, it comes in yellow-golden color, but you may also find it in different white color shades.
It also has great significance in various Indian cultures.
And Indians mostly prefer Cow Ghee for consumption as well as other cultural activities.
Now, let's address the question!
Does Ghee Need To Be Refrigerated?
No, there is no need to refrigerate Ghee at all.
And that's the short answer for you.
If you want more explanation, read on.
Technically, you can refrigerate or freeze Ghee at home.
And there is no issue with it.
But is it necessary to refrigerate it?
Then, the answer is no!
Ghee remains fresh in a natural environment for up to 3-4 months.
You just need to pack it well.
Store it in a nicely packed jar or container, and it should do the job for you.
However, if you want to increase its shelf life, you can keep the jar in the refrigerator.
In the fridge, it remains fresh for at least 12 months.
My Experience 
So, I want to share my experience with you all.
I have been using Ghee at my home for as long as I remember.
And before that, my mom and grandma have used it since their childhood.
To tell you the truth, we have never kept it in the refrigerator.
Yes, we keep it in the pantry, and it remains alright for months without any issue.
We only keep it in the refrigerator when we've removed excess Ghee from the jar.
We do not put it back in the same jar, as the probability of Ghee turning rancid increases manifolds with such actions.
So, the moral of the story is you don't have to refrigerate your Ghee.
It is meant to last in an outdoor environment.
The only thing that needs to be taken care of is its usage and storage.
You just have to be a bit careful while handling the Ghee.
In the following section, you can learn more about these handling tips.
5 Tips To Avoid Ghee From Turning Bad 
Here's a list of things you should avoid if you want to keep your Ghee fresh for a long time – 
1. Store It In An Airtight Container
That's correct!
If you have prepared it at home, store it in an airtight jar only.
Also, try to store it in a glass jar.
The airtight jar helps in keeping it safe from moisture as well as harmful bacteria.
2. Don't Place The Jar Near Sunlight
You should not keep it near sunlight.
Also, avoid placing it where the sunlight directly reaches your ghee jar.
When the sun rays reach the jar, they generate heat inside the vacuum space.
And this excess heat results in unwanted moisture, which is not a good sign for Ghee.
The excess moisture can easily spoil the clarified butter.
3. Don't Place It Near Heat Or Steam
Like I said in the previous point, the excess moisture can make your Ghee go bad.
So, if you wish to avoid it from happening, make sure you don't place it anywhere near heat or steam.
And if you can't avoid humid weather, you can consider storing it in the refrigerator.
This way, it will remain absolutely fresh for an even longer time.
4. Don't Use A Wet Spoon To Take It Out From The Jar
Yes, the spoon should be completely dry.
Whenever you want to scoop out Ghee from the jar, you should ensure that the spoon is clean and dry.
There shouldn't be any dirt or water on the surface of the spoon.
If you see any such thing on the spoon, clean it with a kitchen towel.
Also, do not use the spoon that is used for other kitchen purposes.
If it comes in contact with foreign particles, it will surely get spoiled quickly.
Ghee is one of those ingredients in the kitchen that do not like the company of other food items.
So, make sure you follow this suggestion while using the spoon.
5. Use It Whenever You Can
Even though it has a relatively long shelf life, you shouldn't wait till it gets spoiled.
So, use it on a regular basis.
After all, it's like any other perishable cooking ingredient.
If you don't use it, it will eventually get spoiled.
And you will have to throw it away, which is something you wouldn't want to do with something as precious as Ghee.
Alright, I hope you follow these suggestions.
Now, let's take a look at the ways to use the refrigerated Ghee at home.
How To Use Refrigerated Ghee?
There is not much difference between using refrigerated Ghee and non-refrigerated Ghee.
The only difference here is consistency.
Sometimes, the refrigerated one transforms into a solid form.
Also, if you have kept it in the freezer, it will surely turn even hard.
So, you need to perform a few additional steps to melt the frozen Ghee.
You can take a look at the traditional stovetop method to perform the melting process.
Steps to follow – 
Place a skillet or tawa on the flame.
Place the Ghee bowl on the skillet and wait till it melts down completely.
Once it's melted, switch off the flame.
Safely remove the bowl from the skillet and allow it to cool down completely.
When it cools down, you may start using it for your preparations.
You can also perform this task in the oven, and it won't take more than a minute to melt Ghee using this method.
If you have some doubts in mind about the whole Ghee refrigeration topic, you can check out the next section.
In this section, I have tried to answer some of the most frequently asked questions.
FAQs
1. How Long Does Ghee Last Unrefrigerated?
It really depends on the manufacturer as well as the type of Ghee you're using at home.

Generally, it can last up to 12 months without any issue!

That's true!

Ghee is one of the rare ingredients that last really long.

But make sure you follow the storage and handling guidelines mentioned on the package.

Otherwise, it may turn rancid within a few weeks, if not days.

As for the refrigeration process, it only helps in increasing the shelf life of such products.

So, if you want to prolong the shelf life of your Ghee, you can keep it in the refrigerator or freezer.

Tip – Do check the expiry or best-before date while purchasing it from the store.
2. Can Ghee Go Rancid?
Yes, it can!

Like any consumable product, Ghee can go rancid.

It does have a long shelf life, but it turns sour and liquidy after a year or so.

Also, if the storage conditions are not suitable, it can turn rancid faster.

And if it comes in contact with moisture or other food particles, you may also see some mold on top of its surface.
3. Does Bulletproof Ghee Need To Be Refrigerated?
For those who don't know, Bulletproof is a well-known Ghee maker in the US.

Having said that, any Ghee can be refrigerated or stored in an open pantry. 

As I mentioned in the above guide, it all depends on how long you wish to preserve it at home.

If you wish to enjoy it regularly, you can keep it outside for at least 3-4 months.

However, if you use it once or twice a month, it'd be wise to keep it in the refrigerator.
4. What Does Bad Ghee Look Like?
When Ghee turns bad, you will see a color change.

Also, you'll be able to smell a strong odor coming out of it, which is a more prominent sign to know whether it's turned bad or not.

Other than that, you can also taste Ghee.

If it tastes different than the usual mild taste, you should consider discarding it entirely.
With that said, I think I should conclude this guide here.
I'm sure the above information will help you solve some of your queries regarding this topic.
Over To You
Well, I hope you got the answer to the question of whether Ghee needs to be refrigerated or not.
If you still have any more questions in your mind, don't hesitate.
Simply leave them in the comments below, and I will try my best to answer them soon.
And if you liked this guide on Ghee, do share it with your friends and family.
Also, do subscribe to my newsletter below.