Today, I'm going to show you how to pack Chapati for travel!
Chapati is a favorite staple food in India.
From breakfast to dinner menus, you will find it in pretty much all food courses.
It is also a travel-friendly flatbread, which you can easily pack and carry in your bag.
But you need to know a few tricks here, which can help you get the right technique to prepare and pack Chapati for travel.
And more importantly, it also works for other Indian flatbreads, including Phulka, Thepla, Paratha, Thalipeeth, etc.
So, let's dive right in.
How To Make Chapati For Travel
Well, it's not rocket science for sure.
However, you can learn a few things that can help your Chapatis remain fresh for long durations.
What Is A Travel-Safe Chapati?
In short, it should have the following characteristics.
When you open the foil or tiffin box:
Your Chapati should be soft. Obviously!
It should be warm. (for 2-3 hours)
It should taste like Chapati.
If you get these 3 points right, you will do fine.
And if you want to go further…
You should be able to break the Chapatis with 3 fingers.
The last point is optional for beginners.
You will learn to make such extra-soft Chapatis with experience.
So, don't think about it at this moment.
Meanwhile, here's how you can make travel-safe Chapatis at home.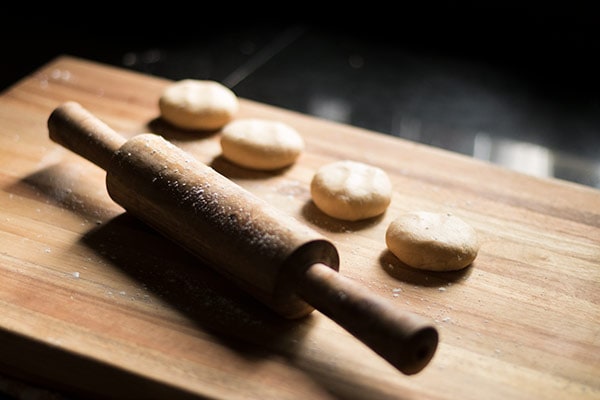 Steps To Follow
Step 1: Get the flour, water, and salt in a large plate or bowl.
Step 2: Knead the dough with your hands (or food processor).
Tip: You will get a softer dough with a food processor or dough maker.
Step 3: Make sure you use an adequate amount of water while kneading the dough.
It helps in making the dough softer.
Step 4: Use some Oil and knead it again for a few minutes.
Step 5: Now, cover it with a cloth or put it in an enclosed container.
Note – You may also smear a few drops of Oil to this dough.
Step 6: Let it rest for at least 15 minutes.
The resting period allows the dough to rise nicely.
This is how it should look after 15 minutes –
And eventually, the Rotis will turn soft when you cook.
How To Roast Chapati?
The roasting technique also makes an impact on the softness of Chapatis.
If you roast it on a very high flame, the Chapati will become tough as it cools down.
And if you use a very low flame, it will remain uncooked and will turn chewy later.
Use the medium-high or high flame to roast the Chapatis.
Here's how I roast a perfect Chapati –
Step 1: Put a Tawa on medium-high flame.
Step 2: Once the Tawa turns hot enough, put the rolled Chapati on it.
Step 3: Wait for a few seconds to form some bubbles on its surface.
Step 4: Flip the Chapati and increase the flame if needed.
Step 5: Cook this side completely. It should take around 20-25 seconds.
Step 6: Now, flip it again and roast the Chapati on this side.
In this step, you can puff up the Roti with the help of a cloth or spatula.
Also, do not press it too hard while roasting.
Step 7: Press and rotate it circularly with a clean cloth.
Tip: Do not flip and roast the Roti several times. If you do so, your Rotis will turn hard.
Alternately, put the Roti directly on the flame and wait for it to puff up automatically.
Here's how: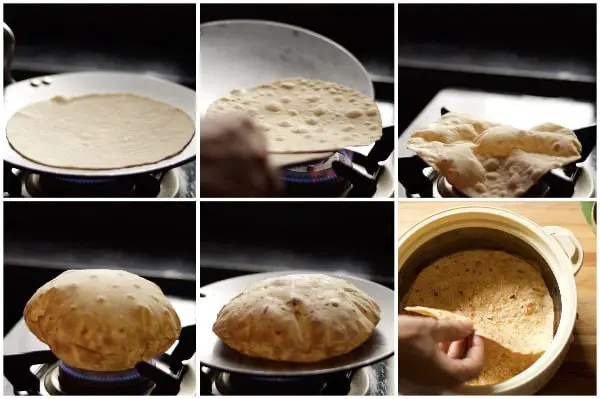 This second technique is often used to prepare Phulkas at home.
Note – If the Roti doesn't inflate, no worries. It will still cook perfectly due to high heat.
Step 8: Finally, remove the Roti in a casserole, and smear some Oil, Ghee or Butter on top of it.
Done. And your Chapati is now ready.
Note – For long journeys, you do not have to cook them thoroughly. Simply prepare half-cooked Rotis.
You can roast them again once you reach the destination.
How To Pack Chapati For Travel
Once you make the Chapatis, it's time to pack them properly.
This is an important step!
So, make sure you follow the guidelines mentioned below.
Things You Need To Pack Your Chapatis
Muslin Cloth/Cotton Cloth/Wrapping Paper/Aluminum Foil
Ghee or Oil
These three things will keep your Chapatis or Phulkas fresh for at least 10 to 12 hours.
Easily!
In fact, we use this same technique to keep our Chapatis soft and fresh at home.
And it works well while carrying them to schools and offices.
Now, let's take a look at the first method to pack Chapati for travel.
Method 1:
Take out the Chapatis from the casserole.
Fold it properly so that it can fit into your lunchbox or any other utensil.
Generally, I use the one-fold or two-fold method to fold the Chapatis.
You can see it below: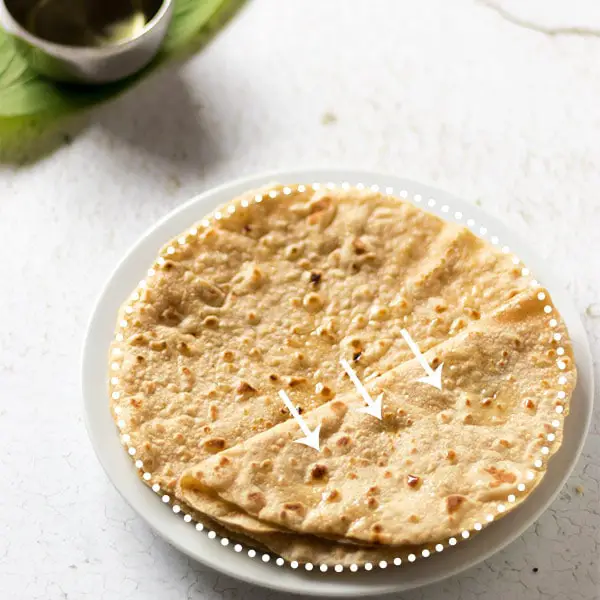 Method 2:
Similarly, you can prepare a Chapati roll using Aluminum foil.
Take a look at the following pictorial guide:
The above packing style is quite useful if you are traveling to a distant place.
It also keeps your Chapatis warm for a longer period.
Chapati Packing Tips
Don't forget to smear some oil to it if you haven't already.
Use a butter paper in between each Chapati if you want to carry it for long journeys.
You can also use an Aluminum foil and prepare wraps by stacking Rotis on top of each other.
If you want to pack Chapatis separately, keep them in a safe place in your bag. Don't put extra weight on them.
Always remember moisture promotes the decomposition process of food. So, wipe the lunchbox with a kitchen paper or cloth before packing the Chapatis.
FAQs
What If I Want To Roast My Chapatis Later?
In this case, you can gently roast them on Tawa.
Don't cook your Chapatis like regular ones.
Important: All these Chapatis should have light bubbles on them.
Once you prepare these slightly uncooked Rotis, pack them properly as explained above.
Later, you can roast them again on a hot Tawa or Griddle.
How To Store Chapati Dough?
You can store the dough in an airtight container.
Then, place it in the refrigerator or freezer.
Similarly, you can roll the Chapatis and put them in a ziplock bag.
It can be stored in the same way.
In my experience, though, the freshly made dough and Chapatis taste better than the refrigerated ones.
However, if you have a busy schedule, you can surely use the refrigerator method.
How To Make Soft Chapati?
It depends on a lot of things.
1. Flour Quality
Always use the best quality wheat grains to prepare the flour.
If you want to use readymade wheat flour, go for the top brands like Aashirwad and Pillsbury.
And make only fresh Chapatis with such flour.
If you refrigerate the dough or use the Chapatis for travel, you may not get the same softness in the end.
For the best results, use the Chakki ka Atta (fresh mill flour).
2. Dough
As explained above, it should be soft.
Not much to say here.
Make it soft.
Knead it thoroughly.
Then, add some oil to the dough.
(You can also add milk to the Atta along with some Water.)
Finally, let it rest for 15 minutes or so.
This will allow the dough to rise slowly.
3. Rolling Technique
Roll it thin!
Yes, roll the Chapatis thin on all edges.
That's the trick.
If you roll it thin, you will have the best chance to make a perfect Chapati at home.
And just like the dough making, it's a necessary step in making soft Chapatis or Phulkas.
4. Dusting Flour (Parthan/Peeth/Sookha Atta)
Use it in less quantity.
It often makes the Chaptis or Phulkas turn hard and chewy.
If you are a beginner, you may use more flour in the beginning.
Once you get the hang of it, start reducing the dusting flour quantity.
5. Flame
Keep it high!
Well, don't keep it high for long though.
You will need to adjust it accordingly.
Keep an eye on your Tawa's temperature.
However, in general, the flame should be high.
It should be high enough to get those quintessential dark brown bubbles on the surface.
So, don't make your Chapatis on low flame.
For Phulkas, you can directly roast the half-done side on a medium or high flame.
Well, that's it for this guide.
I hope you've learned the technique to pack Chapati for travel.
If you have any questions or suggestions, do let me know in the comments section below.
And if you liked this guide, subscribe to my newsletter.
I share many such useful guides and recipes with my subscribers.