Methi Thepla (Methi na Thepla) is a Gujarati flatbread, which can be enjoyed for breakfast, lunch, dinner as well as snacks.
It is often made using Whole Wheat Flour, Gram Flour, Fenugreek Leaves (finely chopped fresh Methi leaves), and some traditional Indian spices.
You can also make it with different combinations of flours like Jowar Flour, Bajra Flour, etc.
This type of flour combination is also useful for making Maharashtrian Thalipeeth.
However, I prefer simple and basic Methi Theplas for my breakfast.
If you want to make a multigrain version, make sure you serve them immediately.
Otherwise, it might turn hard and chewy after some time.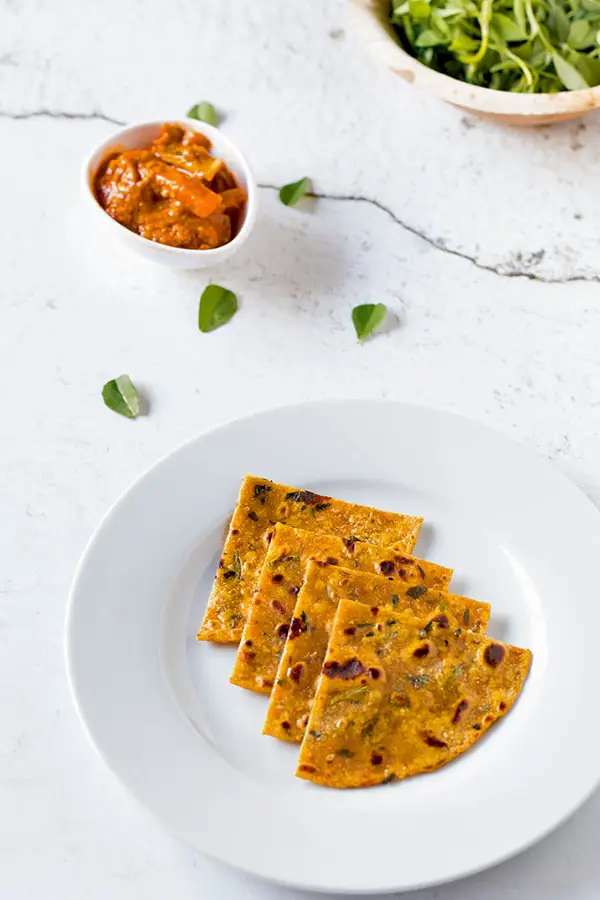 When you make the same Thepla with Whole Wheat Flour, it tends to remain soft for a longer period.
And it won't get too hard even if you reheat after a couple of hours.
Similar to Chapati and Phulkas, it's also a perfect flatbread for the lunchbox.
You can also wrap your Theplas in a foil so that they remain soft and warm for a few hours.
Tips To Make Methi Thepla
Always use fresh Fenugreek leaves, as it brings more flavors to the Theplas.
Do not add too many leaves in your soft dough mixture, as it might add a bitter taste to the recipe.
Don't forget to wash these leaves thoroughly.
If you want to make Theplas for long journeys, make sure you apply extra Oil or Ghee to them. The added layer of Oil protects the flatbreads from bacterias.
If your kids don't like Methi, you can replace it with any of their favorite leafy veggies. It may change the taste slightly, as some of the vegetables will have strong taste and flavors to them.
Prepare slightly undercooked Theplas if you are planning to reheat them later. This technique helps in preserving some moisture and freshness in them.
How To Serve Thepla
Wondering what to have with Methi Thepla?
Here are some suggestions –
Just like Parathas, you can serve it with Mango Pickle and Yogurt.
Traditionally, it is served with Aam ka Chunda, which is nothing but a type of Mango preserve.
And if you like, you can also try your favorite vegetable curries as a side dish for Theplas. It tastes equally good with dry and gravy dishes.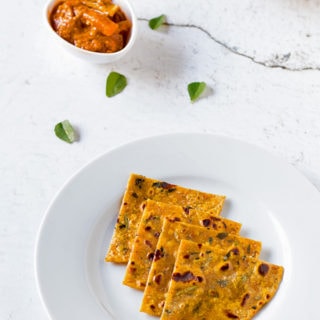 Methi Thepla Recipe
Methi Thepla is a popular Indian flatbread, and it is considered as one of the best dishes for breakfast. 
Ingredients  
100

gm

Whole Wheat Flour (Gehu ka Atta)

3

tbsp

Gram Flour (Besan)

2

tbsp

Yogurt (Dahi)

5-6

gm

Fenugreek Leaves (Methi ke Patte)

roughly chopped

1/2

Green Chili (Hari Mirch)

finely chopped

1/2

inch

Ginger (Adrak)

finely chopped

1

tsp

Caraway Seeds (Jeera)

1

tsp

Sesame Seeds (Safed Til)

2

tsp

Red Chili Powder (Lal Mirch Powder)

1

tsp

Turmeric Powder (Haldi Powder)

Oil

for roasting

Salt

as per taste

Water

for dough preparation
Instructions 
For Dough Preparation
Get a bowl or plate and add the Whole Wheat Flour, Gram Flour, chopped Green Chili, chopped Ginger, Cumin Seeds, Sesame Seeds, Turmeric Powder, Red Chili Powder, chopped Fenugreek Leaves, Yogurt and Salt to it.

Mix these ingredients thoroughly.

Prepare a dough using Water.

Once the dough is formed, apply a couple of teaspoons of Oil to it and let it rest for 15 minutes.
For Thepla Preparation
Make medium-sized balls out of the dough.

Roll the Theplas using rolling pin. 

Turn on the heat and place a Tawa on top of it. Make sure the flame is set to high.

As the Tawa turns hot, roast the rolled Theplas with the help of Oil or Ghee.

Cook the Theplas on both sides and serve them hot with Pickle or Dahi.
Notes
With 100 gm flour mixture, you can easily make 4-5 medium sized Methi Theplas.
Well, that's it for this recipe. I hope you make it at home and enjoy it with your family.
It's one of the easiest flatbread recipes in the world, so do try it out.
I'm sure you will love them.
If you make Methi Theplas regularly, do share your tips in the comments section below. It will help many new cooks to learn from your suggestions.