In the following guide, I'm going to share the exact steps to make your Paratha soft and fluffy.
Sounds interesting?
So, let's get started!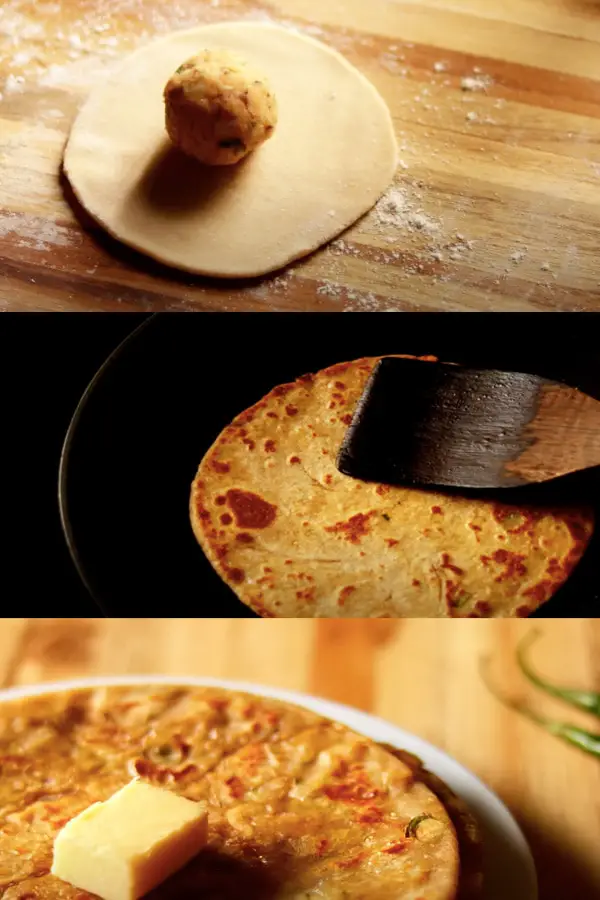 5 Ways To Make Soft & Fluffy Parathas At Home
This guide should help you learn the secrets of making soft and delicate Parathas at home.
But there is one thing you need to understand before using the following tips.
These tips are only useful when you want to make stuffings-based Parathas.
For eg., Aloo Paratha
In Aloo Parathas, we use spicy potato masala in the form of stuffing balls.
And therefore, the masala doesn't get mixed with the flour.
It remains intact inside the dough.
On the other hand, mixture-based Parathas often turn hard after cooking.
For eg., Coconut Paratha or Methi Paratha
In these flatbreads, you have to add grated Coconut pieces, or Methi leaves to the flour.
When you make Parathas with this method, the extra ingredients do play a role in the texture of the outcome.
Hence, these types of Parathas may turn hard even if you knead the dough correctly.
And that's why the restaurants always serve Chutneys or Raitas with such Parathas.
It makes it easier for people to relish these flatbreads with this type of accompaniment.
And oh, you can also enjoy this variety of Parathas with a cup of hot Chai.
It goes really well with Masala Chai!
Now, let's quickly look into the soft Paratha tips.
1. No Maida, Only Atta
As you know, many times, the roadside Dhabas serve Maida-based Parathas.
Although these Parathas do taste good, you'd notice they tend to get chewy and hard later on.
And it happens due to the refined flour (Maida).
But you don't have to use Maida to prepare Parathas at home! 
You can also make these flatbreads with Whole Wheat Flour, i.e., Atta.
In case you don't know, here's the difference between Atta and Maida.
Now, these are some of the key reasons why I recommend Atta over Maida –
It tastes equally good, and even better if you're using it for stuffed Parathas.
It brings the much-needed aroma and flavor to Parathas.
You can store the Atta based Parathas for longer durations, and it won't be hard or chewy.
Of course, there are other reasons too!
But I feel these key reasons are good enough to go for the Wheat flour.
The only thing that makes Maida so prevalent in restaurants and Dhaba cooking is its elasticity.
It helps in preparing stuffed varieties of Paratha.
Otherwise, there are no real benefits of using Maida over Wheat flour while making this flatbread.
So, try to use Wheat flour whenever it's possible.
You can also use the combination of these two flours, but make sure you use more Atta than Maida.
Note – For Laccha Paratha or Malabar Paratha, you can use more Maida flour. 
It helps in getting the right flaky texture to your Parathas.
2. Kneading Method
Kneading is an art!
And it becomes even more relevant when you want to make soft parathas at home.
Yes! 
You should know the trick to knead the dough well.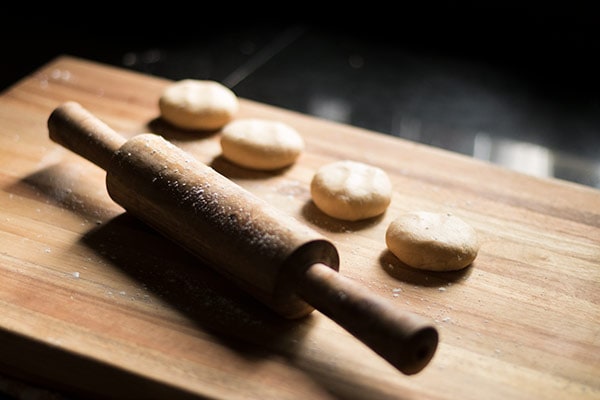 Earlier, I have shared a detailed guide to make soft chapatis at home.
You can follow the same guide to prepare the dough for Parathas.
Read here: 4 Secrets To Make Super Soft Chapatis At Home
And if you are looking for some quick tips, you can check out the following suggestions.
Tips To Make Soft Paratha Dough –
Don't forget to sieve the flour if you're using the readymade Wheat flour.
Use lukewarm water while kneading the dough.
Add some oil to the flour along with salt and water.
When you're going to add water, don't empty your glass at once. It will make things difficult when you mix everything.
Once the dough is ready, apply some oil and cover it with a muslin cloth. It will allow the dough to rise swiftly.
If you're making them in Winter, you will need to keep the dough aside for the longer duration.
So, these are some of the tips I use to make Parathas at home.
You can also use lukewarm Milk while kneading the dough. 
It is a useful ingredient to get the fluffy texture to this flatbread.
3. Roasting Method
Yes, you need to follow a particular roasting method to make the Paratha soft and fluffy!
Here's why:
If you use a low flame, it won't cook the Parathas properly. It will also make them chewy and hard.
If you use a very high flame, the outer layers will cook quickly and will become hard like Papad or Khakra.
Now, who'd want to eat such Parathas, right?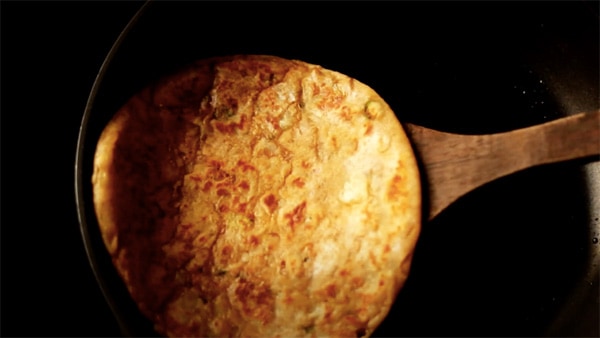 Therefore, it's necessary to cook them using the right flame.
Check out this following roasting method to make soft Parathas.
Steps to follow:
Turn on the flame and place the Tawa on it. Make sure the heat level is high enough.
Wait for it to turn hot.
Add some Ghee or Oil to the Pan and spread it evenly.
Wait for a few seconds to heat the oil.
Once the oil turns hot, place the Paratha on the Tawa.
Flip the Paratha when it's cooked lightly on the first side.
Smear some oil on the top surface and allow it to cook thoroughly. You can also add a few teaspoons of oil on the edges.
Flip the Paratha again.
Now, press it nicely with the help of a spatula or cloth. 
Take it out on a plate or store in the casserole.
So, that's the cooking method you need to follow for the soft Paratha!
Of course, you can adjust the cooking style as per your habits and requirements.
BUT!
Don't forget to keep an eye on the flame.
You need to cook them on the right flame! 
4. Ghee
Ghee is one such ingredient that takes many dishes to the next level.
And when it comes to the Parathas, I highly recommend using Ghee.
It does help in making the Paratha soft and fluffy.
You can also use refined Oil or Butter if Ghee is not available.
But there's a caveat. You won't get the same flavor!
Unlike Oils, Ghee also adds more flavors to Paratha.
It gives much-required richness to these flatbreads, which is difficult to achieve while using Oils or Butter.
Also, don't skip Oil or Ghee from the recipe, as it helps in increasing the shelf life of such flatbreads.
So, as you can see, there are a lot of benefits to using this ingredient in your recipe.
5. Tools Required
Does it require any special tools?
Thankfully, you don't require any such tools to make Parathas at home.
You can make them on any available fry pan.
However, there is one thing you can do if you want to make restaurant-style Parathas at home.
You should use a non-stick pan with a flat base.
The flat surface helps in cooking the Parathas evenly. 
And if you don't have a flat pan, you can cook them on a regular Tawa as well.
However, you will need to use more Ghee or Oil to avoid Parathas from sticking on the surface.
FAQs
Now, I'm sure you'd still have some questions in your mind. 
In the following section, I'm going to answer a few questions related to this topic.
So, I hope you find it useful.
Let's begin!
1. How To Make Soft Layered Paratha?
The trick here is how you knead the dough.
You will have to knead a softer and smoother dough for this type of Parathas.
Once you make a soft dough, it becomes easier to fold the flattened dough into multiple layers.
Eventually, it helps in making soft and thin layered Parathas.
Apart from this, the cooking method and Oil/Ghee coating style are pretty much the same for each Paratha or Roti.
2. How To Keep Parathas Soft For A Long Time?
The answer to this question depends on how long you want to store your Parathas.
So, I'll divide this answer into a couple of sub-sections.
For Tiffin or Lunchbox: 
If you are making these flatbreads for school tiffin or office lunchbox, you can simply wrap them in the Aluminum foil.
And it will do the job for you.
Also, make sure the tiffin box is airtight. 
These tips should help in keeping Parathas soft for long.
For 1-2 Days:
Now, if you are planning to pack the Parathas for long travel journeys, you need to perform some extra steps.
The first thing you need to do is to apply an extra layer of Ghee or Oil.
It helps in forming a protective layer over Paratha's surface.
And therefore, it increases the shelf life of these flatbreads.
As for the packing, you have to pack them nicely in an airtight container.
It will help in keeping the Parathas soft for quite some time.
Note: If you are going to reheat it, don't cook them thoroughly. 
You can safely pack the half-cooked Parathas, though you will need to cook the stuffing entirely with more Oil or Ghee.
Parathas can last for more than 1-2 days, but I'd suggest you make the fresh ones as needed.
You can't compare the aromas and flavors of freshly made Parathas to a stale refrigerated Paratha.
Also, you can't get the same softness to the refrigerated Paratha.
So, do make them fresh whenever it's possible.
Tip: If you like Aloo Parathas for breakfast, you can easily store boiled Potatoes for a week or so in the refrigerator. 
It'll be easier for you to make the stuffing later on.
3. How To Keep Parathas Hot For A Long Time?
The truth is you can't keep them hot for a really long time!
Yes!
No matter what you do, you will have a hard time keeping them hot.
At best, you can keep them warm for a few hours with tightly packed tiffins or heavily insulated lunchboxes.
4. How To Preserve Paratha?
The best thing about this Indian flatbread is its long shelf life.
And that's also the reason why the Parathas are now more popular in western countries.
But how do you preserve them?
Here are the steps:
Cook Paratha till it's half done. No need to cook it thoroughly.
Apply some Oil or Ghee on it immediately.
Once you remove from the Tawa, allow it to cool down. 
When it comes to room temperature, pack it with aluminum foil and refrigerate or freeze as per your need. You may also store it in a ziplock bag.
If you follow these steps, you can easily preserve Parathas for at least 1-2 days.
Some other varieties like Kasuri Methi Paratha and Dry Fruit Paratha can last even longer if preserved well.
Note – Don't preserve Parathas with Onion stuffing.
You should never store Onion based masalas and fillings, as it tends to spoil everything quickly.
Also, do not store non-veg. Parathas. 
Generally, this type of flatbreads don't store well.
Over To You
Well, I hope you enjoyed this guide and FAQs.
If you have more queries or doubts, do let me know in the comments section below.
I'll try to answer those questions for you as and when possible.
And if you liked this guide, do share it with your friends and family.