Do you like tea flavored with chai spices?
Who doesn't, right?
In India, we call it Masala Chai, and we use a unique blend of spices for its preparation.
Generally, you can't make this tea without these spices.
So, in today's guide, I am going to talk a little more about these secret Chai Spices.
You will also find more insightful details on how we use these spices in our preparations.
So, let's begin!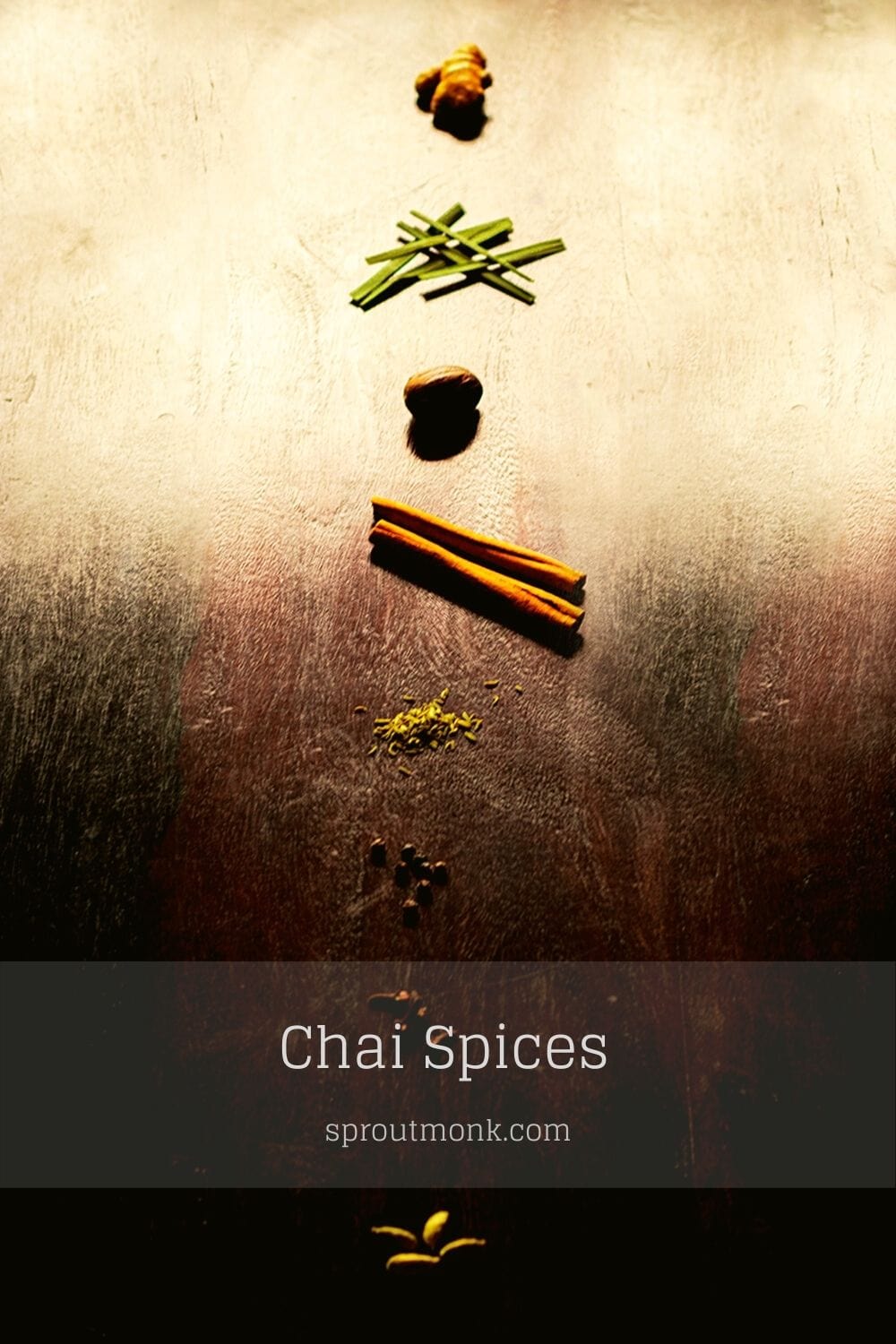 List Of Chai Spices
Dried Ginger
Green Cardamom
Cloves 
Cinnamon
Fennel Seeds
Black Pepper
Nutmeg
Saffron
Lemongrass
Secret revealed!
Now, you know what the Indians use in their spicy blend of Chai Masala.
These are, of course, the essential Chai spices for masala tea.
But if you visit remote places in the country, you will find a couple of more additions in their versions.
Some communities don't even use some of the popular spices mentioned in the above list.
On the other hand, the private manufacturers also make their own blends with different ingredients and proportions.
So, you will always come across various recipes of the Chai Spice mix in India.
Eventually, though, it all depends on how you like your tea.
The good thing about these variations is it allows you to make your own spice mix!
There is no rule on whether you should use or skip certain ingredients from your recipe.
If you want to know how these spices are used, check out the following section.
How To Use Chai Spices For Masala Tea
It is important to know what type of Chai spices to use in your spice mix.
Because:
The last thing you want to do is ruin your cup of tea by adding a sub-standard blend of these Chai spices.
No one likes a bad cup of tea!
You can check out the following section, where I have tried to explain a few things on the two distinct types of spices used for this blend.
Hot Spices and Aromatic Spices
The basic difference between hot spices and aromatic spices is how you use them.
Hot spices mostly offer warmth and taste to the recipes.
On the other hand, the aromatic spices are used to extract aroma and flavor from them.
If you can understand this difference well, you won't go wrong in making any spice mix in your life.
In our tea-making example, we are not too concerned about the taste.
The taste comes from the combination of tea powder and milk.
Here, we only need one additional element, i.e., spice mix to enhance the flavor and aromas of Chai. 
Also, if you look at the above list, you won't notice too many hot spices.
Hence, you should always try to get the right balance of spices in your spice mix.
Proportions
Now, let's take a look at the proportions required for the making of this spice mix.
If you prefer a light cup of tea, you may reduce the quantity of some of the hot spices.

And if you like more warmth while enjoying your tea, you can increase the hot spices.
As for the aromatic spices, it depends on the type of aromas you like in your tea.
Some cafes and restaurants also include vanilla in their version of Chai preparations.
So, as I said above, it comes down to the individual's preferences.
Chai Spices Explained
Now, let's take a look at the individual spices from the above list and see how they contribute to the Chai masala mix.
1. Ginger or Dried Ginger
Ginger is the most essential spice for making a perfect tea spice mix.
It brings spiciness and warmth to the masala.
If you like using fresh ginger while brewing your tea, you should limit the usage of dried ginger in your spice mix.
Otherwise, you may increase the quantity in the recipe.
Also, if you are using fresh ginger, you should prepare this masala at the time of brewing your tea.
If you want to store it for a long time, you should consider using dried ginger only.
Note – Do not skip this spice from your recipe.
2. Cardamom
Cardamom is another essential spice in the making of Chai masala.
And primarily, you can't make a Chai spice mix without Green Cardamom pods.
Cardamoms come under the category of aromatic spices.
It brings a soothing flavor and aroma while preparing tea at home.
So, don't skip this spice as well.
3. Cinnamon
Cinnamon is not as important as the other two spices mentioned above.
However, it still helps in getting the quintessential Indian masala flavor to the spice mix.
Also, you won't need it in large quantities.
Cinnamon can be an overpowering ingredient in the mix. 
So, I'd suggest you use it sparingly.
You can also remove it entirely from your list of spices if you don't like the Cinnamon flavor in your tea.
4. Fennel Seeds
Fennel Seeds play a big role in the preparation of Chai Masala.
It cuts down the sharpness of hot spices, which include Black Pepper, Ginger, and Cloves.
It is also an aromatic spice, which helps in getting the light and soothing flavor to your cup of tea.
Can I skip this spice?
No, do not skip this one! 
Apart from Ginger Powder and Cardamoms, Fennel Seeds is a must-have ingredient for the Chai masala recipe.
5. Black Pepper
As you know, Black Pepper is one of the most popular spices in India.
It is often used to make spicy curries and other such preparations.
Accordingly, Black Pepper should be used as a spice that brings warmth and spicy taste to this spice mixture.
If you don't like too much spiciness, you can add only a couple of peppercorns to the whole mixture.
But always make sure you use at least a few of them in the recipe.
6. Nutmeg
Nutmeg is an aromatic spice.
It imparts a nice fragrance to the spice powder and also helps in lowering the strong flavors of other spices. 
Like Cinnamon, Nutmeg can be an overpowering spice.
So, you shouldn't be using it in large amounts.
Even a half piece of Nutmeg is more than enough, especially if you are preparing the spice mix for home use. 
7. Saffron
Saffron is known to offer beautiful yellow-orange color and pleasing aroma to the sweet dishes and Biryanis.
But it also works great for making different types of tea.
If you are making tea spice mix for home use, make sure you add some Saffron strands to it as well.
It will make your tea more pleasant and balanced.
Of course, it's not as fragrant as some of the other spices mentioned in this guide, but it's still good enough to leave its mark in the aftertaste.
Having said that, Saffron is an optional spice in this spice mix.
Also, many brands don't use this spice in their Chai spice, as it's one of the most expensive spices in the world.
However, if you can get your hands on this spice, do use it in your preparation.
8. Lemongrass
Dry Lemongrass is an excellent ingredient, which can take your spice mix to the next level.
It imparts a slightly citrusy flavor to the tea mix.
And there is no other spice in this Chai spice list that can get such a refreshing flavor to the preparation.
However, it is an optional ingredient. 
If you can't find Lemongrass in any form, there is no need to worry.
You can completely skip it from your preparation.
9. Cloves
Cloves are quite useful in making this spice mix.
It also comes under the category of hot spices.
Therefore, you should use it in a limited amount only.
Apart from the spicy flavor, it also has a unique taste to it.
So, if you don't like this taste in your tea, you can reduce the quantity even further or omit it altogether.
It's up to you.
On the personal note, I do like to include at least a couple of cloves in the spice mix.
Bonus Ingredient: Salt
Salt is not a spice, but it's still essential in the preparation of the Chai Spices mix.
And there is a reason why I suggest using salt in the spice mix.
Salt helps in removing the moisture from other ingredients.
It has remarkable natural properties to absorb water content from the surroundings.
Along with this, it helps in increasing the shelf life of the powder.
It also acts as a catalyst ingredient that can elevate the flavors of earthy spices.
Therefore, it's important to use a pinch of salt in this recipe.
Note – You don't need salt for tasting purposes. So, use it in a very limited amount.
Other common spices included in different versions of Chai Spice Mix
Star Anise
Vanilla
All Spice
White Peppercorn
Coriander Seeds
Mace
How To Store Chai Spice Mix
Like any other spice mix, the Chai Masala will lose its flavor and taste over the period.
In the case of this specific mix, you need to make sure the spices don't come in contact with air or dampness.
Why is it so important?
Unlike curry powder spices, we make this spice mix for its aromas and flavors.
On the other hand, standard curry powders are often meant to enhance the taste of different dishes.
Hence, you don't want to lose the fragrance of your homemade Chai spice mix quickly.
So, it becomes very crucial to store this mix in a proper container.
You can use an air-tight glass container for storage purposes.
It works well in preserving the qualities of each ingredient.
Also, the transparent glass helps in reaching the sunlight inside the container, which eventually reduces the moisture content even further.
7 Things To Remember While Using Chai Spices
If you have never prepared this type of spice mix before, check out these useful tips below.
These tips should help you avoid rookie mistakes.
1. Use fresh spices
The first thing you need to remember is to use fresh spices for this masala mix.
I recommend fresh spices because the flavors and aromas you get with such spices are unparalleled.
You simply can not compare it with anything else in the world.
Fresh spices also help in reducing the bitterness that comes from the aging process.
And that's not just about it.
The freshness also affects the longevity of your spice mix.
If you use stale and old spices, it will impact the shelf life of your Chai spice mix too.
2. Roast your spices
I know it's an obvious thing, but many people don't like to roast their spices before using them.
The roasting process helps in removing a bit of moisture from spices, which results in the improved shelf life of the spice powder.
But be careful while roasting these spices.
You don't want to burn them completely.
If you do, the spice mix will get a bitter taste to it.
And the tea won't be as enjoyable.
So, gently roast these spices on a low flame and take them out on a plate.
Quick Tip – Do not put the roasted spices directly into a grinder. Allow them to cool down at room temperature.
3. Quality over quantity
When it comes to making spice mixes at home, always go for quality!
The quality of spices will determine the final outcome.
If you compromise on it, the Chai spice won't smell and taste good.
And you will definitely not enjoy the process of making this aromatic spice mix at home.
Apart from that, the spices lose their flavors more quickly than you expect.
So, there is no point in making it in large batches.
This is also the reason why many of us prefer making the fresh spice mix every day or so.
4. Store properly
As I explained earlier, the spices will lose their flavors and aromas as soon as they get exposed to air.
You will need to store them properly in an air-tight container.
The sealed container can greatly help in increasing the shelf life of your spice mix.
Also, make sure you don't store them in the refrigerator.
Moisture and dampness in the fridge compartment can greatly reduce the flavors of the ground spices.
5. Grind slowly
It is one of the most common mistakes I've seen people make while preparing powders or chutneys in their grinders.
Well, here's what they do:
They take the spices and put them in the grinder.
Then, they follow the grinding process in one go until the spices turn into a fine powder.
This is the wrong method of using a grinder, especially when you're preparing powdered spices.
What's wrong with this method?
Well, there is not much wrong in the process.
The only thing that makes grinding a tricky part is the grinding technique.
If you grind everything at a time, the grinding jar will heat up quickly.
And it will also start heating up the spices in this process.
With the excess heat, the spices will automatically start releasing their essential oils and aromas.
In the end, all you will get is a remaining flavorless powder, which won't be useful in making authentic Masala Chai at home.
Traditionally, in India, people still prefer to make their chai masalas using a mortar and pestle. 
This method greatly takes away the heating part of this process.
Therefore, the freshness and flavors remain intact in the powdered spices.
6. Go for the coarse consistency
Whether you're using an electric grinder or mortar & pestle, you should aim for the coarse consistency.
Here's why:
The powdered spices tend to lose their characteristics quickly as compared to coarsely grounded spices.
The coarse ones, on the other hand, retain their aromas for a very long period.
Another thing I like about the coarse spices is that they allow you to filter them while serving the tea.
On the contrary, the powdered ones don't dissolve properly in tea.
And you will always find some residue left in the cup even if you use a strainer to filter out the Chai Patti and spices.
So, make sure you don't ground them completely.
7. Do not use this spice mix with flavored tea
Yes, do not mix your homemade spice mix with already flavored tea.
The flavored tea or herbal tea is often meant to consume with plain water or milk.
You shouldn't be using any other spices to such types of tea.
The above spice mix goes well with Assam Tea (CTC).
You can also try some other brands of tea that are not infused with artificial flavors or spices.
If you still want to use some spices, you can add a piece of ginger and a couple of cardamom pods while making such tea.
Generally, the fresh spices (non-grounded) don't overpower other ingredients.
You can also use Saffron in such tea preparations.
It will not alter the taste and flavor of your tea.
Over To You
As you can see above, the spice-making process is not as hard as it sounds.
And you can easily make the Chai Spices mix at home.
However, the most important thing in this preparation is how you use these spices.
You need to find a balance between aromatic spices and hot spices.
So, I hope you enjoyed this guide on Chai spices.
Do you want to know more about these spices? Or have any other questions in mind?
Please leave a comment below, and I will get back to you as soon as possible.
If you liked this guide, do share it with your friends and family.