Khada Masala is an essential element in traditional Indian cooking.
But what does this word mean?
And how do Indians use this masala in different dishes?
Let's find out in the following guide.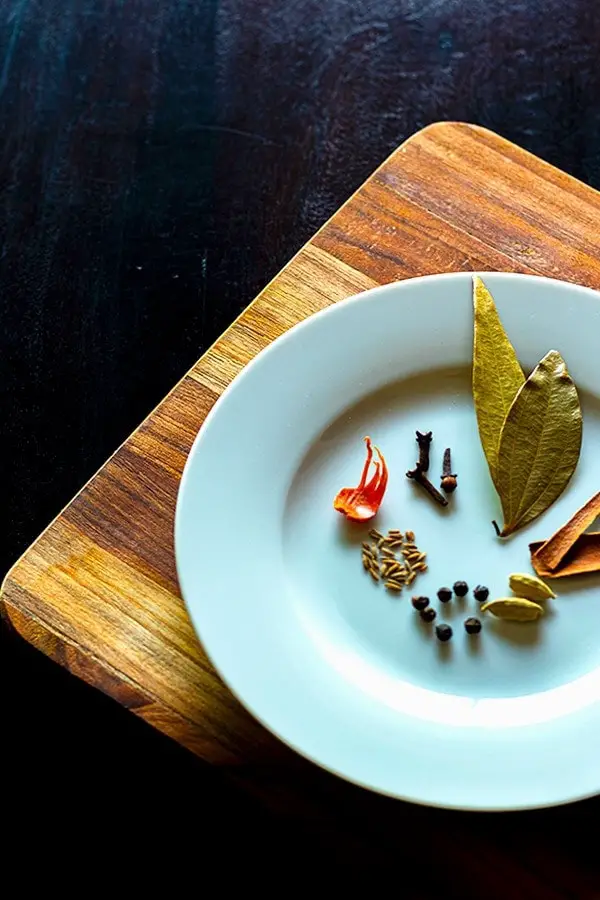 What Is Khada Masala?
In this context, the word Khada roughly translates to 'Whole' in English.
And therefore, Khada Masalas are called Whole Spices in English.
In general, it's nothing but a bunch of whole spices that go into making various Indian dishes.
Did you know?
Many times the chefs use these Khada Masalas as their 'secret ingredient' to bring exquisite flavors to the dishes.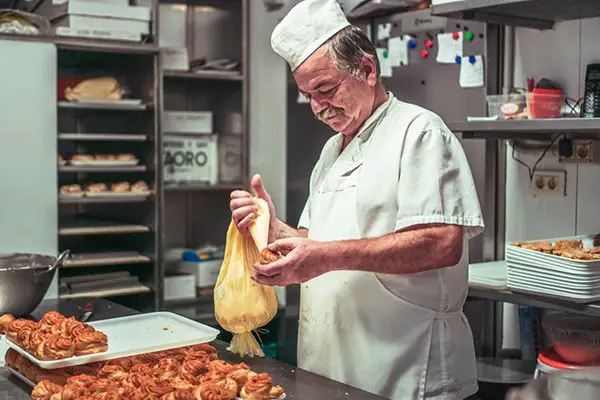 Yes, that's why you'd probably never be able to guess all the elements of the dishes prepared in top restaurants.
And it's also a big reason for their success in this comepetitive field!
Now, in the following section, let's take a look at the list of Khada Masala names in English and Hindi.
Khada Masala List
| English Names | Hindi Names |
| --- | --- |
| Bay Leaf | Tej Patta |
| Black Cardamom | Badi Elaichi |
| Black Pepper | Kali Mirch |
| Caraway Seeds | Shahi Jeera |
| Carom Seeds | Ajwain |
| Cassia | Cassia/Dalchini |
| Charoli Nuts | Chironji/Charoli |
| Cinnamon | Dalchini |
| Coriander Seeds | Dhaniya |
| Cloves | Laung |
| Cubeb | Kabab Chini |
| Cumin | Jeera |
| Dried Ginger | Soonth |
| Dry Coconut | Sukha Kopra |
| Fennel Seeds | Saunf |
| Flax Seeds | Alsi |
| Green Cardamom | Elaichi |
| Fenugreek Seeds | Methi Dana |
| Four Seeds (Watermelon, Pumpkin, Almond and Cantaloupe) | Charmagaz |
| Liquorice Sticks | Jethimadh |
| Mace | Javitri |
| Mesua Ferrea | Nagkesar |
| Mustard Seeds | Rai/Sarson |
| Nigella Seeds | Kalonji |
| Nutmeg | Jaiphal |
| Pine Nuts | Chilgoze |
| Poppy Seeds | Khas-khas |
| Red Chilies | Lal Mirch |
| Rock Salt | Kala Namak/Saindha Namak |
| Saffron | Kesar |
| Sesame Seeds | Til |
| Star Anise | Chakri Phool |
| Stone Flower | Dagad Phool/Patthar Phool |
| White Pepper | Safed Mirch |
Difference Between Khada Masala And Garam Masala
Is there any difference between these two masalas?
The answer is Yes!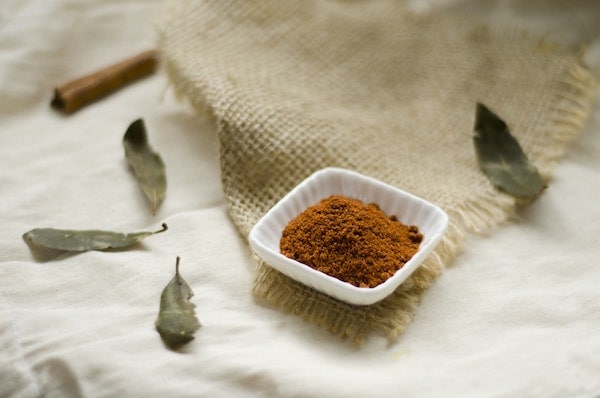 Many factors separate these two types of spices from each other.
Here's how:
1. Names
As the name says, Khada Masala is a generic name for the whole spices, whereas Garam Masala is a unique combination of different spices available in powdered form.
2. Cooking Technique
As for the cooking technique, you will need to either roast or stir-fry the Khada Masalas while preparing the dish.
Both of these techniques help in extracting the distinct aromas and flavors from the whole spices.
Now, when you talk about Garam Masala, it doesn't require all these steps.
You can use it directly while making a curry.
How?
Well, you can add the powdered masala while cooking the base mixture.
Also, if you're preparing something rustic like Baingan Curry or Cauliflower Sabzi, you can sprinkle this masala in the end.
It gives soothing aroma to such dishes.
So, that's the difference between Khada Masala and Garam Masala's cooking techniques.
3. Storage
Khada Masala stores really well, and you can use it even after a few months.
On the other hand, Garam Masala should always be fresh! 
The freshness helps in getting more aromatic flavors to the dishes.
If you store Garam Masala, it tends to lose its aromas and taste after some time.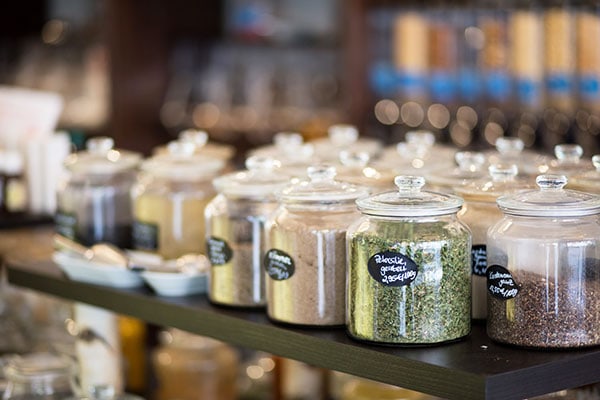 Yes, it doesn't matter what type of container or bottle you're using to store this masala powder.
It always loses its characteristics when you don't use it right away.
Many chefs prepare their powdered Garam Masala just a few days before using them in the kitchen.
Because…
It's all about the freshness!
Once you lose this freshness, it automatically reflects in your prepared dish.
So, make sure you use freshly-powdered Garam Masala for cooking.
Don't store it for months as we do in the case of Khada Masalas.
And that's the difference between the whole spices and powdered spices when it comes to their storage.
4. Pricing
Yes, it is an important differentiating factor between these two types of spices.
Spice is an essential commodity in India, and it plays a huge role in Indian food culture.
You can't imagine Indian food without spices!
Talking about the price, Khada Masalas are relatively cheaper than Garam Masalas or Powdered Masalas.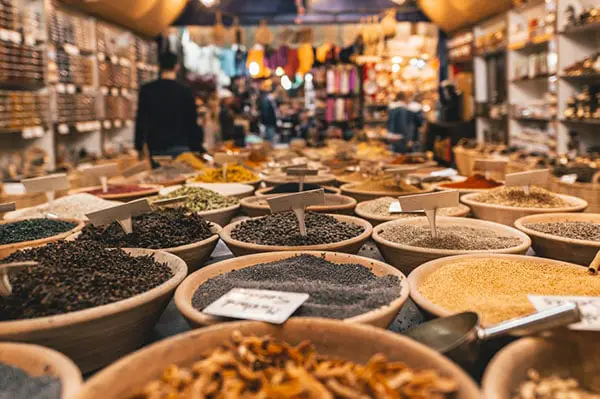 And the reason is simple.
You need additional processing to prepare powdered spices.
It also requires different packaging.
Eventually, it leads to higher costs for these spices.
Well, now you know how the price differentiates these two spices.
If you want to avoid such additional costs, you can use the following tip.
Tip: Grind the Khada Masalas at your home!
For this, all you need is a chutney grinder.
You can also use this type of useful dry masala grinder for this purpose.
Just dry-roast the masalas in the pan, and grind them into a fine powder.
That's all you need to do to prepare Garam Masala at home.
And oh, once you make this masala at home, you'll never go back to the packaged ones. 
Personally, I love making such masalas at home too.
It gives me immense satisfaction to prepare and use homemade masalas.
And you should try it out as well.
Khada Masala Paste
Now, that's something interesting!
A Khada Masala Paste!
This type of paste is often used to make Khada Masala Chicken or Paneer Khada Masala.
Of course, the traditional version requires you to use the whole spices, but you can also use this masala paste for your recipes.
And yes, you need to grind some dry and wet masalas to prepare this secret spice paste.
So, how do you make this paste at home?
Let's find out below in detail.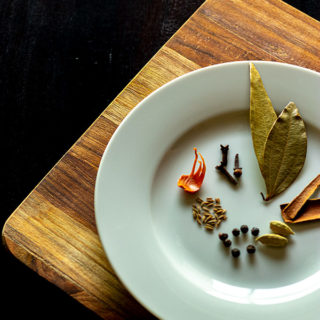 Khada Masala Paste Recipe
Khada Masala paste is a useful spice paste, which is often used to offer smooth consistency and texture to the traditional recipes.
Equipment
Fry Pan

Grinder

Chutney Jar

Spoons as required
Ingredients  
6-8

Cloves

2

Bay Leaf

6-8

Black Pepper

1

Cinnamon

3-4

Green Cardamom

2

Black Cardamom

2

tsp

Coriander Seeds

1

tsp

Cumin Seeds

2

inch

Ginger

5-6

Garlic

4-5

Red Chillies

2-3

Onions

roughly chopped

4

tbsp

Oil
Instructions 
Heat a pan on medium flame.

When it turns hot, add some oil to it.

Once the oil heats up, add the chopped Onions and sauté till light brown.

Take them out in a bowl and keep aside.

In the same pan, add some oil again and roast the whole spices in it for a couple of minutes.

Take the spices out in the same bowl and allow it to cool down.

Now, put everything into a grinder and prepare a fine paste out of it. Use water if needed.
Notes
Don't store this paste for long. Always use fresh paste for your recipes.
You can use this paste for a lot of different curries that require smooth texture, especially when you want to serve such dishes at the restaurants.
If you want to use the spice mix for later use, make sure you don't use Onions while grinding. Also, don't forget to add a pinch of salt to it. It should help in improving the shelf life of this spice mix.
If the paste is too spicy to your taste, use Ghee or Clarified Butter in your dish. It will tone down the pungency of the dish.
You can also use this Khada Masala paste as a marination for Chicken or Paneer. 
And there you go! 
Your Khada Masala paste is now ready to use.
For homemade curries, you don't need to go through all this process. 
You can simply use the whole spices as it is.
And it will also do justice to the dish name, i.e., Khada Masala Chicken.
Note – If you want to use this paste for your curry, make sure you use some whole spices like Cumin Seeds and Bay Leaf for the tempering. 
It will help make your dish look more authentic.
Where To Use
The best thing about this type of masalas is you don't need to use them in large quantities.
So, you might ask where to use these spices?
You can use Khada Masala in pretty much all Indian curries, Dals, and Rice dishes.
BUT,
You need to understand the texture and flavors of each dish.
For ex.,
Pav Bhaji requires a silky smooth texture.
And if you use such spices in it, it'll make the whole experience unpleasant while savoring the dish.
Similarly, Biryanis often require more intense flavors, which can easily be achieved with the Khada Masalas.
And generally, these masalas go well with ground spices like Coriander Powder or Cumin Powder.
So, it's better to use the combination of these spices than relying on just a particular type of masala.
Where To Avoid
As mentioned earlier, you don't need to use the whole spices everywhere.
Sometimes, these spices can also bring a bitter taste to your dishes.
Therefore, use them sparingly.
Now, here's when you should avoid Khada masalas –
You need subtle flavors
The dish requires smooth texture
You can bring similar flavors with powdered spices
You're not sure about a particular spice's characteristics
These are some of the crucial situations when you should ideally opt for powdered spices over Khada Masalas.
Note – In most cases, you will get away with the whole spices like Cumin Seeds, Mustard Seeds, Bay Leaf, etc.
These spices are common in Indian cuisine, so you might not notice their presence in such dishes.
And even if you do, it won't leave an unpleasant experience on your palate for sure.
Moving on, let's check out some of the frequently asked questions.
FAQs
1. How To Use Khada Masala For Biryani?
Biryani is one of those dishes where you need to use Khada Masalas.
But are there any specific masalas for Biryanis?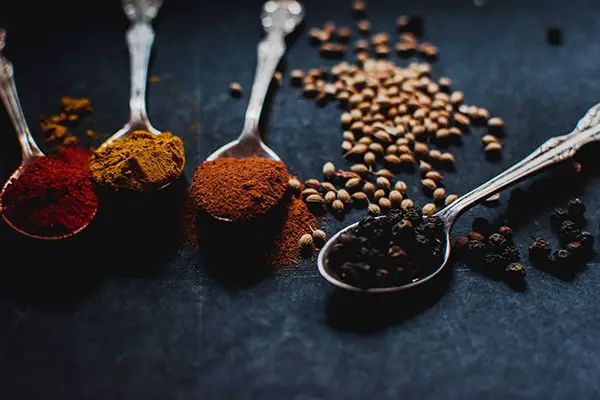 Yes!
Here's the list of Khada Masalas for Biryani –
Bay Leaf
Shahi Jeera 
Black Cardamom
Green Cardamom
Cinnamon Sticks
Cloves
Black Pepper
Mace
Star Anise
You need to have these masalas whenever you want to make Biryanis at home.
All these masalas bring the quintessential flavors and aromas to this dish.
What if I don't have all the whole spices available?
In such cases, you can certainly skip some of the spices like Mace, Star Anise, and Black Cardamom.
You can also replace Black Pepper for Green Chillies, though it doesn't offer the same taste and flavor to the dish.
However, try not to skip the other mentioned spices.
Those spices are an essential part of Biryanis.
2. How To Get More Flavors Out Of These Masalas?
Roast them!
Yes, you will have to roast these masalas for a minute or two before grinding or using them in your preparation.
But don't use high flame!
You just need to roast them lightly.
Similarly, you can roast the spices during the pre-monsoon period. 
It helps in improving the shelf life of these spices.
3. How To Store Khada Masala?
You can store these masalas like any other masalas.
The only thing you need is an airtight container or bottle.
Clean this container thoroughly, and put the masalas into it.
Note: Don't allow moisture to get into the container.
Over To You
Well, I hope you enjoyed this guide on Khada Masala.
If you still have any queries or feedback, do let me know in the comments below.