Being an Indian, I feel we are blessed to have so many types of chillies in India.
Why?
Well, this diversity allows us to relish different regional dishes with their unique flavors, tastes, and aromas.
And the chillies play a very important role in all these three factors.
In the following guide, I've tried to share some of the most popular varieties of chillies available in Indian markets.
So, let's dive right in!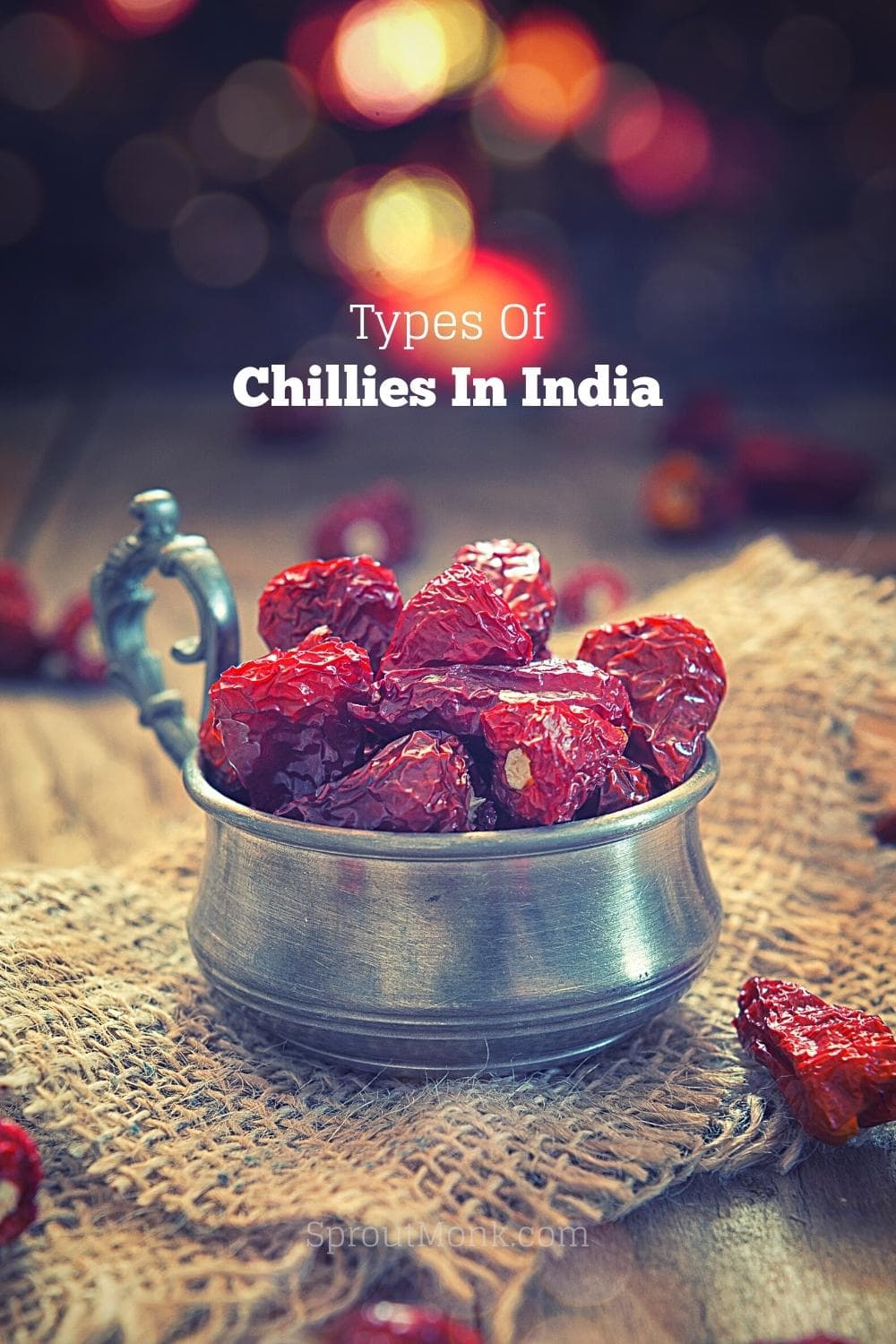 Types Of Chillies In India
Here are some of the well-known varieties of Indian chillies –
1. Kashmiri
Kashmiri Chillies, as the name says, grow in the state of Kashmir and nearby regions.
It is known for its deep red color shade.
And that's why many chefs prefer this variety over any other type of chillies.
Another favorable characteristic of it is it's not too hot to taste.
Or at least it won't burn your mouth if you put a couple of tablespoons in your curry.
It only enhances the color of the dish.
Due to these characteristics, the Kashmiri variety has become a brand in itself.
And you can find its powdered masala in pretty much all Indian grocery shops.
Characteristics:
Color – Red
Taste – Less Spicy
Used In – Kashmiri Dum Aloo, Punjabi Curries, Kashmiri Wazvan
2. Guntur

Guntur variety is another popular variety in India, and it comes from Andhra Pradesh's Guntur district.
The district also has the largest trading place for chillies in India, which is known as Guntur Mirchi Yard.
As for the pungency, these are one of the hottest chillies in the country.
And this reflects in the Andhra cuisine as well.
Many of Andhra's local dishes are made using Guntur varieties of chillies.
Therefore, some of their dishes do taste a lot spicier than many regional dishes in India.
Characteristics:
Color – Red
Taste – Very Spicy
Used In – Natu Kodi Kura, Mamsam Pulusu
3. Jwala

Although most of us are unaware of the name, the Jwala Chillies are quite popular in Indian households.
These chillies can be very pungent to taste.
Therefore, it's necessary to use them sparingly.
This variety is also served as an accompaniment for evening snacks like Samosa, Batata Vada, etc.
Besides, you can also use them in homemade pickles.
Characteristics:
Color – Green/Red
Taste – Spicy
Used In – Various Sabzis and Curries
4. Byadgi
Byadgis come from the state of Karnataka, and it's one of the most popular chillies in India.
It is also an essential part of Udipi Cuisine.
Byadgis offer a great shade of red color to the curries.
However, these are not as spicy as their dark red color.
You can also use them as an alternative for Kashmiri Chillies.
Characteristics:
Color – Deep Red
Taste – Mildly Spicy
Used In – Fish Curries, Chicken Curries
5. Boria
Boria Chillies are known for their shape.
These berry-sized chillies do possess moderate pungency.
And generally, this variety is used as tadka for various Dals and Kadhis.
Characteristics:
Color – Dark Red
Taste – Moderately Spicy
Used In – Various Sabzis and Dals
6. Sankeshwari

Sankeshwari Chillies come from a place called Sankeshwar in Kolhapur, Maharashtra.
It is heavily used in Maharashtrian cuisine, especially in coastal cuisine.
It's also a spicy variety of chilli, which is often blended with different dry masalas to make the traditional garam masala powder.
Characteristics:
Color – Red
Taste – Very Spicy
Used In – Fish Curries, Chicken Curries, Vegetables
7. Naga & Bhut Jolokia

These are the spiciest varieties of chillies in the world.
And both of them are cultivated in India, i.e., the Northeastern States of the country!
These states include Nagaland, Assam, Arunachal Pradesh, and Manipur.
Since it is too hot to taste, you won't find its use in any daily cooking in Indian households.
However, the regional communities do use these peppers to make chutneys, curries, and pickles.
Did you know?
The locals also use these super hot chillies to shoo away wild elephants from their farmlands.
Characteristics:
Color – Fiery Red
Taste – Extremely Spicy
Used In – Bhut Jolokia Pickle
8. Mathania

Sounds like a familiar name?
Mathanias are known for their use in Laal Maas, which is an incredibly popular curry in Rajasthan.
It brings vibrant colors to the dish and makes it appealing to the eyes.
Apart from Rajasthan, this variety is not as popular as some of the above chillies.
Hence, its usage is quite limited to regional dishes only.
Characteristics:
Color – Red
Taste – Very Spicy
Used In – Laal Maas, Ker Sangri
9. Bhavnagri

When you want to talk about this variety, the first thing that comes in your mind is the stuffed chillies.
Yes, this is the one that chefs use for the Bharwan Mirchi.
And the reason is its pungency and size.
Bhavnagari Chillies are not hot peppers.
So, it becomes easier to tolerate the heat!
And their size is big enough to stuff the mixture.
You can also use them for Mirchi ka Salan, which is an accompaniment for the royal Hyderabadi Biryanis.
Characteristics:
Color – Green
Taste – Mildly Spicy or Moderately Spicy
Used In – Bharwan Mirchi, Mirchi Pakoda
10. Kanthari

Kanthari is a Bird's Eye variety of chilli.
You will find them in the state of Kerala, Tamil Nadu, and Meghalaya.
It's a highly pungent variety of chillies.
Hence, it's not known for any significant cooking use.
Characteristics:
Color – Green and Red
Taste – Very Spicy
Used In – Kanthari Mulaku Chammanthi (Chutney), Kanthari Uppilittathu (Pickle), Kerala's Chicken Curry
11. Longi

Whether it's a Bhujia or some other namkeen, you will always find Longi Chillies in most of the Bikaneri snacks.
Yes, this is the type of Mirchi that makes all those snacks taste delicious and tasty.
And the pungency?
Well, it's not extremely pungent, but it's good enough to leave a mark on your palate.
Characteristics:
Color – Red
Taste – Spicy
Used In – Various Veg. and Non-Veg. Curries, Namkeen Snacks
12. Ramnad Mundu

This variety originates from the Ramnad region in Tamil Nadu.
These Mundu chillies, i.e., the round-shaped chillies, possess a distinct flavor and taste to it.
And therefore, you can find it in many local delicacies, including Sambar, Chutneys, etc.
Characteristics:
Color – Dark Red
Taste – Spicy
Used In – Sambar, Chutneys, and Various Curries
13. Dhani

It is also known as Bird's Eye Chillies, and it hails from the Northeastern region of India.
Dhani Chillies are highly pungent to taste, though their size is comparatively smaller than many other Indian Mirchis.
Characteristics:
Color – Red
Taste – Very Spicy
Used In – Pickles
Other Notable Indian Chillies
Apart from the above list of chillies, I think the following chillies also need to be mentioned in this guide.
So, here's a brief introduction to some of the types of Indian chillies.
Nalchetti
Warangal Chappatta
Reshampatti
Titimitti
Tadepalli
Teja
Well, these are some of the most used chillies in India.
You will find many more varieties and sub-varieties if you visit remote villages in the country.
And that's not all!
The farmers have also started experimenting with imported varieties, which includes Banana Peppers, Jalapenos, etc.
So, it won't be a huge surprise if the farmers successfully acclimatize more unknown chilli varieties in the coming decades.
History Of Chillies In India
Did Chillies originate in India?
Sadly, the answer to this question is no!
Chillies are not from India.
Northeastern Mexico is the place where the researchers have found evidence of 6000 years old cultivations.
Later, it spread to North and South America as the civilizations started expanding their settlements and trade routes.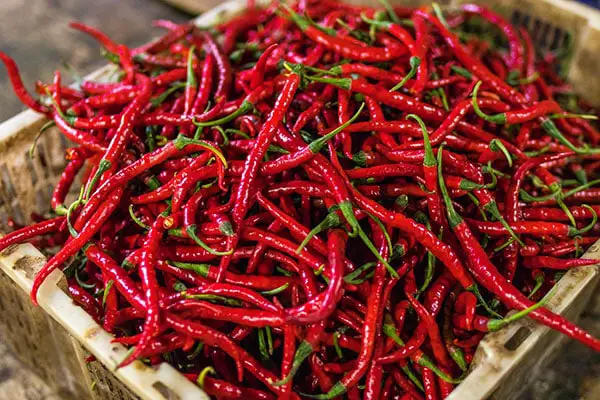 So, how did it become a part of Indian food culture?
It's the Portuguese!
Yes, the Portuguese introduced the chillies to India in the 15th century.
These early traders pushed their trade to India and other Southeast Asian countries.
And that's how it became so popular in the region.
These traders used the well-known spice route to export the chillies in the exchange of Black Pepper and other Indian spices.
Dried Red Chillies vs. Green Chillies
Is there any difference between these two forms of chillies?
For those who don't know the differences, I've shared a comparison table below. I hope you find it useful.
| | Red Chillies | Green Chillies |
| --- | --- | --- |
| Pungency | Depends on the variety; mostly spicy | Spicy to Very Spicy |
| Availability | Throughout the year (due to long shelf life) | Depends on the season |
| Used as | Pastes, Powdered form or as whole | Paste or as whole |
| Used in | Rice, Dal, Curry, Snacks, Appetizers; occasionally for Garnish | Mostly in Dal and Curry preparations |
| Price | High | Low |
As you can see above, the dried chillies are mostly used in powdered spices, whereas the green ones can be used in various pastes or chutneys.
Both of them are also used for tempering, or tadka as we call it in India.
However, when you use it for tadka, the green chillies add more spiciness to the curries.
And on the other hand, the red ones like Boria Chillies are mostly used for their flavors.
So, use them as per your needs.
Note – You can also cut them into pieces, as it brings more spiciness to the dish.
And if you're only looking for the flavor of chillies, you can remove the seeds from them.
The deseeding method helps tone down the spicy taste in curries.
How To Use Chillies In Indian Dishes
There are many ways through which you can make use of chillies in Indian cuisine.
It all depends on the type of dish you're making and the type of chillies you're going to use for the dish.
Here are some of the popular ways to cook chillies:
1. Tempering or Tadka
It's the most common way to use chillies in Indian cooking.
And it's mostly used to flavor the curries and rice preparations.
For tempering, you can use green as well as red chillies.
Tip – If you want a more spicy taste to the dish, cut the chillies in half and put them in the tadka.
It's an effective method to increase the spiciness of any vegetable curry or dal.
2. Pickles
It's an old tradition to pickle the vegetables in India, as people can enjoy these veggies in the off-season.
The pickled ones taste delicious too!
And you can prepare them in the same traditional way.
Like mango pickles, you can make mixed vegetables or chilli pickles at home.
As for the serving, it tastes excellent with any Roti-Sabzi combination.
So, make sure to serve a spoonful of this pickle along with such Indian dishes.
3. Pastes or Chutneys
It is another way of using them in Indian cooking.
Make a paste or chutney using green chillies, and it will elevate the flavors of your meal.
In the same way, you can use the red ones to make red garlic chutney or coconut-based masala for fish curries.
The red garlic chutney is an absolute must for classic dosa recipes.
Also, you can't make a South Indian or Konkani-style fish curry without the lip-smacking red masala.
And oh, you can also use the red chillies to prepare the quintessential Schezwan Chutney or Sauce for the Indo-Chinese dishes.
So again, both types of chillies are essential in making pastes or chutneys.
4. Stuffed or Bharwan Mirchi
This variation goes well as an appetizer for the full-course meals.
For the stuffing, you can use a grated coconut mixture, cheese-paneer mixture, or potato mixture.
These classic stuffings taste amazing with the chillies.
Moreover, you can have this delicacy with phulkas or bhakris as well.
Alternatively, you can also use gram flour batter to fry the elongated large-sized chillies.
This variation is also known as Mirchi Bada (Vada) in Rajasthan.
5. Deep-Fried Dry Chillies
These are quite famous in the Maharashtra region, as you get to savor them as an accompaniment to traditional dishes.
As the name says, the locals deep-fry the dried chillies and serve them as an accompaniment for lunch or dinner.
You can get them in the form of stuffed or plain chillies.
I, personally, like the stuffed chillies with Maharashtra's traditional Varan Bhat.
6. Garnish
Occasionally, you will see people using raw green chillies as a garnish for Biryanis and other such rice preparations.
If you don't like very spicy Biryanis, you can certainly avoid such garnishes.
Similarly, the dry red chilli flakes are also used for Pizzas, French Fries, Parathas, Dosas, and Sandwiches in India.
You can also make these flakes at home using Byadgi or Guntur varieties.
Tip – Roast them lightly on the flame before you grind them into the grinder. It brings out more flavors.
Over To You
So, what's your favorite chilli variety in India?
And how do you use it while cooking dishes at home?
Do let me know in the comments section below.