As we all know, Paneer is a byproduct of milk.
But is it a type of cheese?
Or is it something else altogether?
Well, let's find out more about it in the following guide.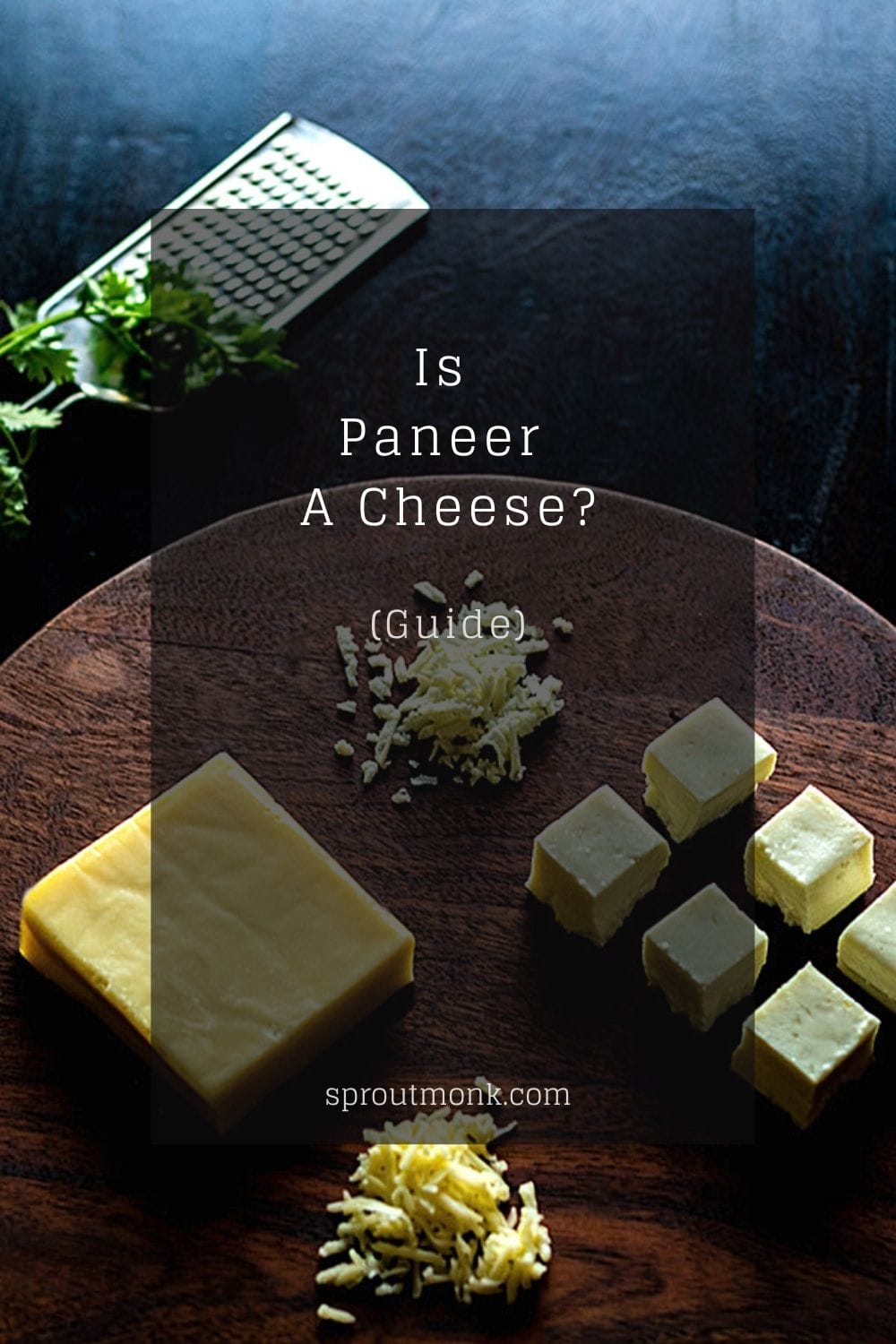 What Is Paneer?
Paneer is a type of cheese that is often made using curdled milk.
Yes, it is cheese!
Even though it doesn't look like a Mozzarella or Cheddar, it is also a variety of cheese.
It is also known as Indian cottage cheese in different parts of the world.
And as you might have guessed it already, it comes from India.
But there are quite a few interesting facts and historical information about this cheese.
So, let's have a look at it below.
History of Paneer in India
Paneer is an Indian cheese, and it has a great history around it.
First reference: 
Some scholars believe it was probably invented in ancient India, but it never became a mainstream food due to some cultural restrictions.
For many centuries, it was considered an inauspicious ingredient.
And therefore, we don't see many references to ancient paneer recipes.
Second reference: 
On the other hand, there is another interesting historical reference to it.
The word Paneer has its roots in Persian, Iranian, and many other Middle Eastern languages.
There are a lot of variations of this word in these languages, and all of them imply one thing, i.e., cheese.
So, there is a possibility that it may have traveled to the Indian subcontinent through ancient trade routes in later centuries.
Third reference:
And finally, there is the Portuguese connection.
Many references suggest they have introduced ( or reintroduced?) this cheese in Indian communities.
It is also believed that Chenna, the Bengali version of Paneer, might have come from Portuguese as well.
And that's how we probably began consuming Paneer-based dishes in the 17th century.
Later, the British also promoted the use of Paneer, as cheesemaking was an essential part of their food culture.
Well, as you can see, it surely has a fascinating history to it!
In the next section, though, let's learn more about how Indians make it in their households.
How Is Paneer Made?
Since Paneer is a cheese, it involves a similar process of heating and curdling the milk.
In homemade versions, you can prepare this cheese by adding some acidic ingredients to the hot milk. 
Here's a quick step by step process for your understanding – 
Heat the milk on medium flame.
Once it comes to a boil, add some lemon juice or vinegar.
Using a muslin cloth, sieve the curdled milk in a bowl.
Hang it somewhere for half an hour or so.
Once the excess water drains out, take it out on a plate and use it as you like.
So, that's the basic procedure of making paneer at home.
For detailed processes, you can have a look at the video below.
Now that you know how it's made, let's find out how it differs from other cheeses.
Difference Between Paneer and Other Varieties Cheese
Here's the list of differences –
1. Texture
As you know, Paneer is a hard cheese, though it's not as firm as some of the aged cheese varieties or processed cheese varieties.
It does have some softness to it, which makes it quite unique in comparison with other cheeses.
2. Taste
Paneer has a mild and subtle taste to it.
It doesn't taste salty like many other cheese varieties in the world.
So, what's the reason?
Well, in most of the cheesemaking process, the cheesemakers perform an additional step.
And that is nothing but the brining step.
This step is essential in reducing the whey content from the coagulated milk solids.
Eventually, it also helps in increasing the storage life of cheese.
But if you look at the Paneer-making process, it doesn't require the brining step.
It's often consumed right away after curdling the milk and shaping it into a mold.
Therefore, it doesn't need additional salt or any such ingredient.
So, naturally, it tastes milder than the most popular cheese varieties.
And unlike other varieties, it doesn't develop a different taste due to its relatively short storage life. 
3. Rennet
In case you're not aware, rennet is a type of enzyme that is beneficial in curdling the milk.
And it is quite common in the production of professional cheesemaking processes.
On the contrary, the Indian cottage cheese doesn't require rennet for its preparation.
Here, all you need is a natural souring ingredient like fresh lemon juice or vinegar.
4. Storage Life
As I mentioned earlier, Paneer is a type of fresh cheese.
And despite its firm texture, it doesn't last really long as compared to other cheeses.
At the max, you can keep it in the refrigerator for a couple of weeks.
And that too in the freezer!
If you keep it in the fridge section for that long, it develops a sour taste.
Hence, it won't be any good for cooking or consumption purpose.
5. Uses
Paneer is mostly used in Indian curries and sweets preparations.
But it can't be used as a garnish for the quintessential cheesy texture.
Since it doesn't melt while cooking, you'd not be able to enjoy it like other cheeses.
Alright, these are some of the common differences between Paneer and soft textured traditional cheeses.
For a more detailed guide, I'd suggest you read this guide on the difference between cheese and paneer.
I'm sure you will get to learn some interesting insights on this topic.
Do you want to know how to use this cheese variety?
Check out the following section, where I have shared some of the traditional Indian ways to use it in various recipes.
How To Use Paneer
In general, there are two distinct ways to use Paneer in different dishes.
The first method is to put it into the savory preparations.
And the second method is to make sweets out of it.
For the savory preparations, you can either cut it into cubes or shred it into tiny pieces.
It really depends on what type of dish you want to make with it.
You can also use it as thin slices, though its use is pretty much limited to vegetable sandwiches and rolls.
Now, here are a few popular suggestions for savory paneer preparations –
Paneer Tikka Masala
Paneer Kadai
Paneer Tawa
Paneer Biryani/Pulao
Matar Paneer 
Paneer Bhurji
Paneer Masala
Shahi Paneer
Paneer Pasanda
Paneer Korma
Did you know?
You can also prepare Pakoras and various snack dishes using this Indian cottage cheese.
Alright, now let's have a look at some of the popular sweet dishes made using Paneer or Chenna.
Chenna Poda
Rasgulla or Rosogulla
Kalakand
Gulab Jamun
Sandesh
Rasmalai
Paneer Barfi
Paneer Malai Ladoo
Paneer Kheer
Kala Jamun
So, these are the well-known varieties of dishes you can make with the help of fresh Paneer.
In the next section, I have shared a few useful tips to store this cheese.
Do check them out below.
How To Store Paneer
Like other cheese varieties, Paneer can be stored for a reasonably long period.
Of course, it doesn't have a great shelf life like processed cheese.
Hence, you shouldn't store it for more than 5-6 days in the fridge.
It can also remain fresh for up to a couple of weeks if you keep it in the freezer.
However, it will lose its flavor and will turn hard in texture over the period.
But how do you store it?
If you have made it at home, you can put it in an airtight container and keep it in the refrigerator or freezer.
The only thing you need to ensure here is to remove as much moisture as possible from Paneer.
You can also keep it hanging for a couple of hours until most of the whey liquid gets released from it.
Note – If you allow the moisture to be in the container, it will have a negative impact on its storage life.
So, if you wish to enjoy this Indian cheese with a soft and delightful texture, you should consume it on the same day.
The refrigeration process generally doesn't help in retaining the same soft texture.
Also, if you rely on the store-bought Paneer packets, you would not be able to relish the same texture or taste.
The freshly made one and the store-bought one are simply incomparable as far as taste and texture are concerned.
And yes, even if the packet says fresh Paneer, it'd still be much harder than the homemade.
Tips To Buy Fresh Paneer
So, here are a couple of quick tips for you, especially if you're buying it from the store.
1. Check The Expiry Date Or Best Before Date.
Although some varieties of cheese develop a more rich flavor over the period, it's not the case with Paneer or fresh cheese.
Therefore, it's important to check the best before date while purchasing it from the store.
2. Get It From A Local Dairy.
It is the best option to acquire fresh cheese from outside!
If you are someone who truly likes their cheese taste, you'd know the difference between the packaged cheese and dairy cheese.
In India, we do have a lot of dairies across the country, which makes it easy to get fresh Paneer whenever we want.
But if you are living outside India, do look out for the local dairies in your city.
And if you find one, you can request them to make fresh cheese or cottage cheese for you.
The taste of this cottage cheese may be a little different due to the difference in milk, but it'd still be better than the packaged ones for sure.
FAQs
Are Paneer And Cheese The Same?

As I explained earlier in the guide, Paneer is a type of cheese.

So, technically, they are the same.

Paneer, however, is a hard cheese, and it tastes a lot different than the traditional Italian or American cheese varieties.
What Animal Makes Paneer Cheese?

Since Paneer is just another type of cheese, the manufacturers always use Cow milk or Buffalo milk as the main ingredient for this process.

You can also make it with goat milk or sheep milk.

But usually, the cow or buffalo milk is a preferred choice for its production process.
Is Paneer Like Mozzarella?

It'd not be appropriate to compare Paneer with Mozzarella.

Mozzarella is almost like soft-cheese, whereas Paneer is a hard cheese.

And that's one of the biggest differences between these two types of cheese.

Apart from that, the cheesemaking processes of both these varieties are entirely different from each other.

You can also read more about it here.

Finally, they also taste different. 

Paneer gives you a cottage cheese-like taste, and Mozzarella is all about the creamy taste.
Can We Use Paneer Instead Of Cheese?

Yes, you can use it instead of cheese.

But it greatly depends on what type of dish you are making at home.

If you are looking for a cheesy texture on Pizza or Sandwich, you won't be able to achieve it with Paneer.

However, you can certainly use it as a topping for Pizza. 

It won't melt like processed cheese, but you will be able to enjoy the bite of having a different type of cheese nonetheless. 
Over To You
Did you enjoy this guide?
I am sure you did! 
But if you still have any doubts or questions, do let me know in the comments section below.
I will try to resolve them for you.
Meanwhile, if you liked this guide, please share it with your friends and family.
I also share such interesting updates through my weekly newsletter.
So, if you are looking for more useful information, do consider subscribing to the newsletter below.