So, what do you do with the leftover Pav Bhaji?
Pav Bhaji is one of those dishes that we often end up making more than the required amount.
But the good thing about this dish is you can store this dish for another day and repurpose it later on.
In today's guide, you will find more about the ways to use leftover Pav Bhaji at home.
Let's dive right in!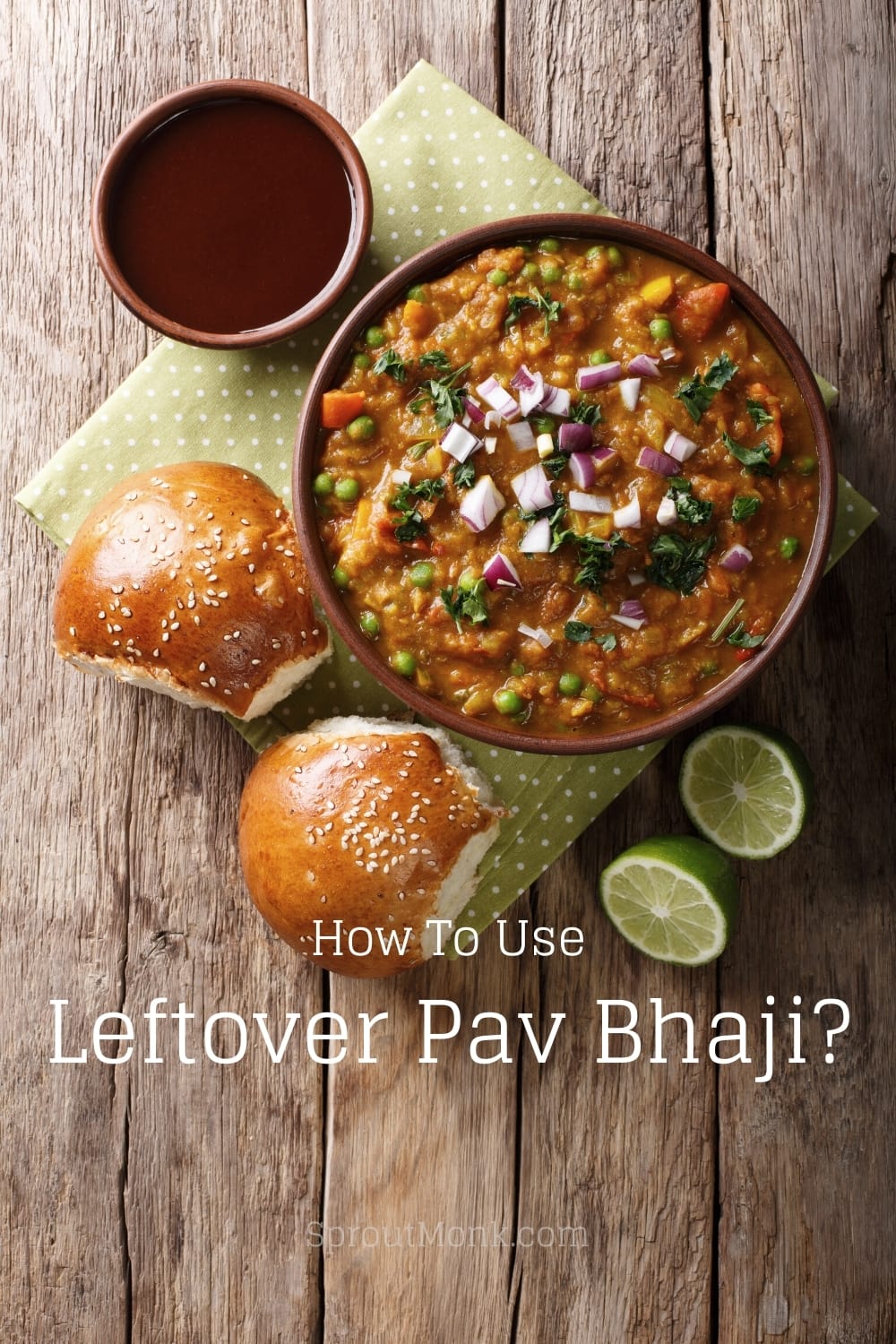 10 Things To Do With Leftover Pav Bhaji
In the following section, I have shared some ideas that will help you use the leftover Bhaji in different ways.
Note: You can also use fresh Pav Bhaji for the suggested ideas. 
It works just fine with those suggestions, though the leftover one will bring more flavor to your preparations.
Alright, let's get started now.
1. Use Leftover Pav Bhaji To Make Tawa Pulao
Tawa Pulao is the best thing you can do with the leftover Pav Bhaji.
It's also one of the most popular dishes in India, and you will always find the Pav Bhaji vendors in Mumbai serving this dish to their customers.
For the preparation, you can use the steamed rice and toss it up in a Kadai with some whole spices like Bay Leaf and Cumin Seeds.
Add a bit of Garam Masala and pour the Bhaji on top of the rice.
Mix it well and serve it hot. 
Of course, you can add more boiled or fried veggies to this preparation, but that's entirely up to you.
You can also grate some cheese on top of the prepared rice, which is another common garnish for a street-style Tawa Pulao.
2. Make Pav Bhaji Paratha With It
Pav Bhaji Paratha is another interesting way to utilize the leftover Bhaji at home.
For this Paratha, you will have to reduce the preparation till it turns a bit dry.
This way, you can use it as a filling for the Paratha, and it won't come out easily from the dough.
Apart from that, you can also mix the leftover Bhaji with some boiled potatoes.
It will give more body to the filling and make it even easier for you to put the mixture in the dough.
3. Use It As A Stuffing For Samosa Or Calzone
Yes, you can use the same stuffing for Samosas or Calzones!
Just mix the Pav Bhaji with some mashed potatoes, and you're good to go!
However, the only thing you need to remember here is that you don't have to use too much Pav Bhaji in the stuffing.
You only need the flavor of this preparation, so use it sparingly.
Also, like stuffed Parathas, if you use it too much, it won't help in forming the crispy layer outside.
And there will always be a possibility that the filling may come out while frying them in oil.
So be careful while using it.
4. Prepare Pav Bhaji Stuffed Chilies 
Chilies taste amazing with Pav Bhaji.
The spice and crunchy texture really go with the delicious taste of this vegetable preparation.
As for the usage, you will need to prepare a similar stuffing as I discussed above.
Put this stuffing in slit chilies and top it up with some grated cheese.
Then, place them on a pan, and shallow fry them until they are done.
For stuffing, you can also use freshly grated coconut instead of boiled potatoes.
If you are using coconut, make sure you mix some gram flour in it. 
It will help bind the stuffing and will also add to the taste.
5. Prepare Pav Bhaji Dosa
This is my favorite!
Pav Bhaji dosa is an easy preparation, and you can surely use the leftover vegetable for it.
And the best part is you don't have to reduce the Bhaji too much.
You can use it directly after spreading the dosa on the pan.
Now, if you want, you can add potato masala mixture to this preparation.
Alternatively, you may add sliced Cabbage, Onion, Capsicum, grated Beetroot to it.
All these veggies will give a nice crunchy texture to the preparation.
6. Make Pav Bhaji Sandwich
Pav Bhaji is a great way to enhance the taste of your regular Masala Sandwich preparation.
If you have leftover Bhaji at home, you can either put it directly on top of the bread slices or mix it with the masala stuffing.
Either way, it will help transform the taste of the sandwich.
If you are only going to use Pav Bhaji, you should definitely add some veggies to it.
You can also add some cheese slices if you want to make it richer or simply grate the cheese before grilling or toasting them.
7. Use Leftover Pav Bhaji To Make Masala Idlis
Why make plain masala Idlis when you have leftover Pav Bhaji at home?
Well, the Bhaji can be a great replacement for the regular masala base we prepare for this preparation.
So, do give it a try!
For crunchy texture, you can add some finely chopped Onions once you are done with the preparation.
Tip: Serve it immediately because the Idlis will soak up the excess juice from Pav Bhaji and will turn soggy in the end.
8. Mix Pav Bhaji In Paneer Preparations
Paneer generally doesn't have its own taste, so it makes sense to use flavorful ingredients to make it more interesting.
In this case, you can use the leftover Bhaji and mix it with some shallow fried Paneer cubes.
If you want to take it even further, you can prepare the tikkas/kebabs out of Paneer cubes and mix them with Pav Bhaji.
The smokey burnt flavor of tikkas will just elevate the overall taste of this preparation.
9. Prepare Pav Bhaji Flavored Kebabs
These kebabs will surely be a huge hit at your house party!
When you prepare the vegetable mixture for kebabs, you can mix a few spoons of Pav Bhaji in it and prepare the kebabs as you like.
The addition of Pav Bhaji will give them a nice touch as far as taste is concerned.
You can also use grated Paneer if you like for this preparation.
It will taste great too!
10. Use It For Making Pav Bhaji Pasta 
How about a Pav Bhaji pasta?
If you are someone who likes masala Pasta preparation, you'd surely like Pav Bhaji flavors in it.
For the preparation, you can replace the regular Onion-Tomato masala with Pav Bhaji.
And there is nothing more to it!
It's quite easy and tastes amazing as well. 
Don't forget the chopped Coriander Leaves, though. 
It will really bring fresh flavors to this preparation.
On that note, I hope you find the above ideas useful.
In the next section, let's check out the FAQs related to this topic.
FAQs
1. What Can We Eat With Bhaji?

You can have various types of flatbreads, breads, steamed rice dishes with Pav Bhaji.
2. Which Pav Bhaji Masala Is Best?

I've tried a few Pav Bhaji masalas over the years, and I found the taste of Everest's masala quite amazing.
It gives the best results, especially if you are making this delicacy at home.
3. What Is Pav Bhaji Masala Made Of?

Pav Bhaji masala is made of different spices, which mainly include Coriander Seeds, Cinnamon, Red Chilies, Dry Ginger, Cloves, Black Cardamom, Cumin Seeds, Black Pepper Seeds, Fennel Seeds, and Amchur Powder.

You can roast these spices on low heat and grind them to prepare the masala.
4. Is Pav Bhaji Masala The Same As Garam Masala?

No, they are quite different.
5. Who Invented Pav Bhaji?

It's difficult to know who invented this amazing delicacy, but it was first made to serve the local mill workers who needed a quick scrumptious meal after tiring working hours.

So, that's how the dishes like Vada Pav and Pav Bhaji became so popular in Mumbai.
Over To You
Pav Bhaji is such a versatile dish that you can use it in whichever form you like.
It blends well with different ingredients.
So, do not throw it away.
Use the above ideas and add your little twist to them.
I'm sure you will enjoy the preparation!
Meanwhile, if you liked this guide, please share it with your friends and family.
Do comment below if you have any more questions or have any feedback in general.