Looking for Indian fruits name in Sanskrit?
You have landed on the right page!
Since the ancient period, fruits are an essential part of our food culture.
And interestingly, its references are present in some of the oldest Sanskrit scripts and literature.
But how did people pronounce the fruits' name in Sanskrit? And how did these fruits arrive in India?
Well, let's find out in the following guide.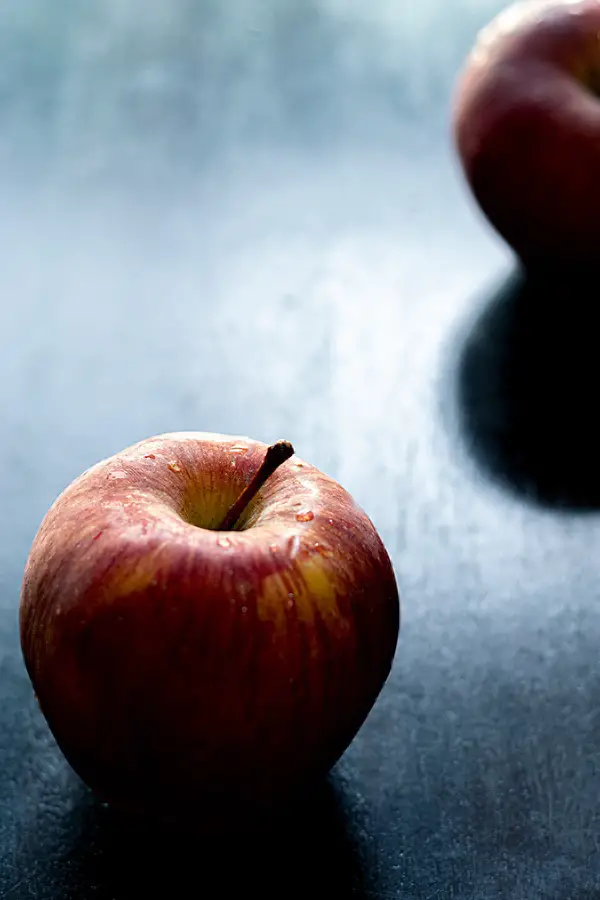 Fruits Name In Sanskrit
In this guide, you will find fruits name in Sanskrit along with their English and Hindi translations.
| English Names | Sanskrit Names | Hindi Names |
| --- | --- | --- |
| Apple | Sevam, Kashmirfalam | Seb |
| Banana | Kashtila | Kela |
| Berry | Badarika | Berry |
| Cashew | Kajutakah | Kaju |
| Cherry | Prabdaram | Cherry |
| Coconut | Narikelah | Nariyal |
| Chinese Apple, Indian Jujube | Badarifalam | Ber |
| Custard Apple | Sitafalam | Sitafal, Shareefa |
| Dates | Khajooram | Khajoor |
| Fig | Anjeeram | Anjeer |
| Jackfruit | Panasam | Kathal |
| Gooseberry | Karmardakah | Karonda |
| Grapes | Draksha, Drakshafalam | Angoor |
| Guava | Amrutam, Perukam | Peru, Amrud |
| Jambul, Jamun | Jambufalam | Jamun |
| Lemon | Nimbukam | Nimbu |
| Lychee | Lycheekah | Lychee |
| Mahua | Madhukah | Mahua |
| Mango | Aamram | Aam |
| Muskmelon | Vruttakarkati | Kharbooja |
| Orange | Narangam | Santra |
| Papaya | Madhukarkati | Papita |
| Pear | Amrutfalam | Naspati |
| Pineapple | Ananasfalam | Ananas |
| Pomegranate | Dantbeejam, Dadimam | Anaar |
| Sapota | Vikootam | Chikoo |
| Strawberry | Trun-badaram | Strawberry |
| Sweet Lime | Matulungam | Mosami, Mosambi |
| Tamarind | Tintidikam | Imli |
| Walnut | Akshotam | Akhrot |
| Watermelon | Kaligafalam | Kalingad, Tarbooj |
Top 10+ Fruits Name List In Sanskrit
Even though the above list is quite useful, you can refer to the following section to know more about some of the popular fruits in the country.
So, let's begin!
1. Apple
Well, Apple is not an Indian tree.
That's true!
In the early 14th century, Firoz Shah Tughlaq, a ruler from the Tughlaq dynasty, introduced Apples to India.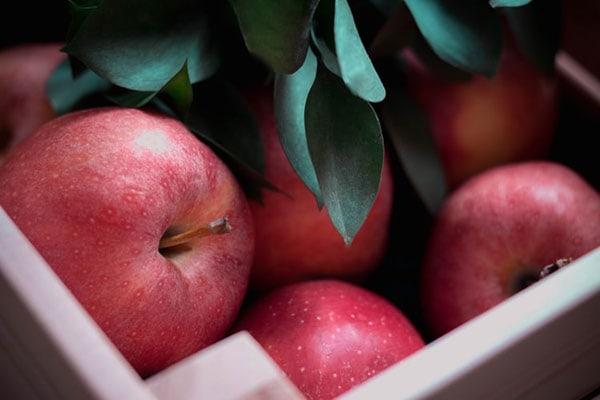 Later, in the 19th and 20th centuries, the British rulers promoted the large scale cultivation of Apple trees in India.
And that's why we don't find its references in ancient Sanskrit scripts.
Apple in Sanskrit
In modern Sanskrit, its name is Sevfalam or Kashmirfalam.
2. Mango
Mango was a part of ancient Indian food culture.
Although its origin is unknown, it became popular when the Buddhist Monks planted the trees in South Asian countries.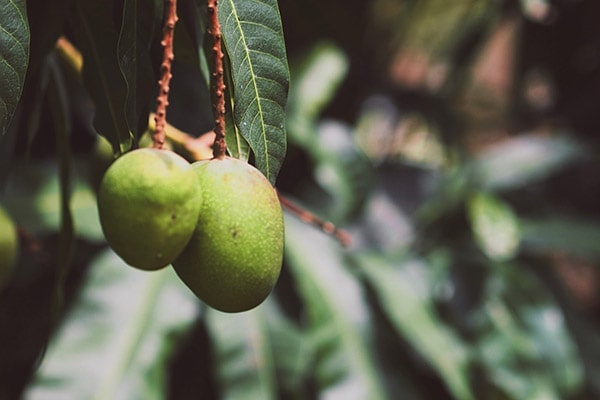 However, the credit for the Alphonso mango variety should go to the Portuguese.
They popularized this variety in the coastal Konkan region.
And now, we know Alphonso (Hapus) as the king of mangoes.
Mango in Sanskrit
As mentioned above, Mango is referred to as Aamram in Sanskrit.
3. Guava
Is it a native tree?
Well, sorry to disappoint you, but Guava is not native to India.
It's an American fruit tree, and it probably originated from the parts of central America.
In India, it arrived in the early 17th century.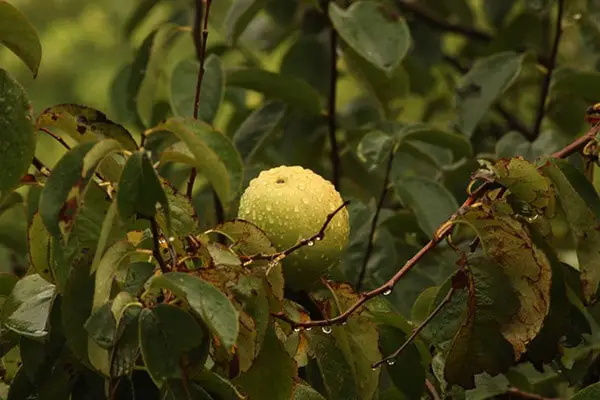 And guess who brought Guavas in the country?
It's the Portuguese, again!
These early traders introduced many things in India, and Guava is one of them.
And today, India is the largest producer of Guava in the world.
Guava in Sanskrit
As far as its Sanskrit name is concerned, we refer to it as Amrutam.
Sometimes, it is also called as Perukam.
4. Cherry
Cherries came to India in the 16th century.
Although the researchers have found its presence in European caves dating 4000-5000 BC, it took quite a long for it to arrive in our country.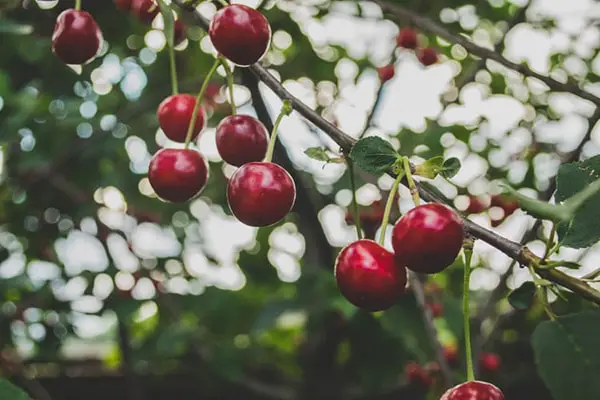 And it was the Mughal Emperor Akbar who brought the sweet cherries to Indian soil.
Since then, the cherry cultivation has now spread to many Northern states in India.
It includes Jammu & Kashmir, Himachal Pradesh, etc.
Cherry in Sanskrit
In Sanskrit, Cherry is called as Prabdaram.
5. Strawberry
Similar to Cherry, Strawberry is also an imported fruit in India.
It was introduced by the British in the 19th century.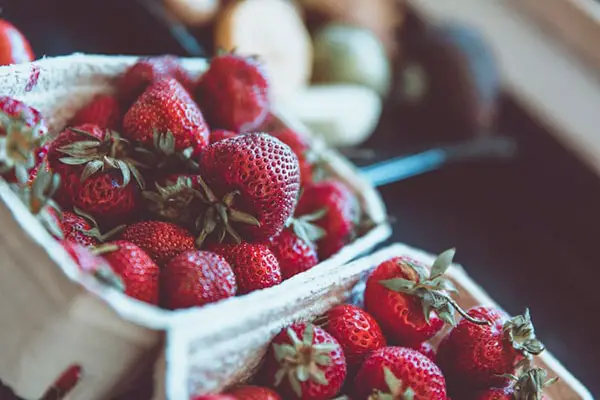 Strawberries grow well in cooler climates.
Therefore, there are only a few states that grow these sweet berries in India.
Strawberry in Sanskrit
Strawberry is called as Trun-badaram in Sanskrit.
6. Watermelon
Watermelon is an ancient fruit.
Yes, it's one of those fruits that dates back to the prehistoric period.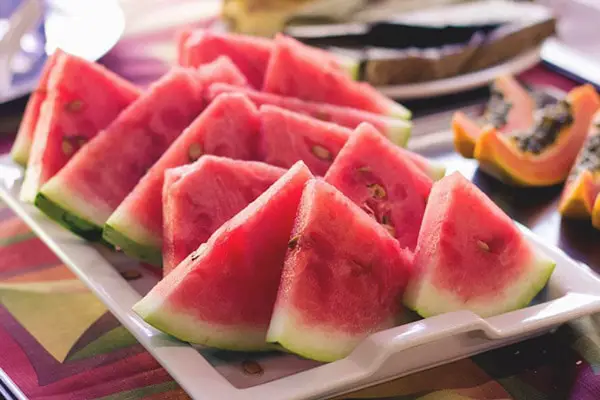 As for its Indian history, we don't know how it came to India.
However, some of the Egyptian tombs reveal the evidence of this fruit being present in that era, i.e., around 5000 BC.
And we all know how the trade used to take place between prehistoric Egyptian and Indian civilizations.
Having said that, we still don't have any conclusive evidence to confirm its source of arrival in our country.
Watermelon in Sanskrit
In Sanskrit, it is called as Kaliga or Kaligafalam.
Sometimes, we also refer to it as Tarabujam in Sanskrit, which is a borrowed name from Arabic languages.
7. Coconut
Coconut is one of the most popular fruits in India.
And it could possibly be one of those rare fruit trees that originated in India.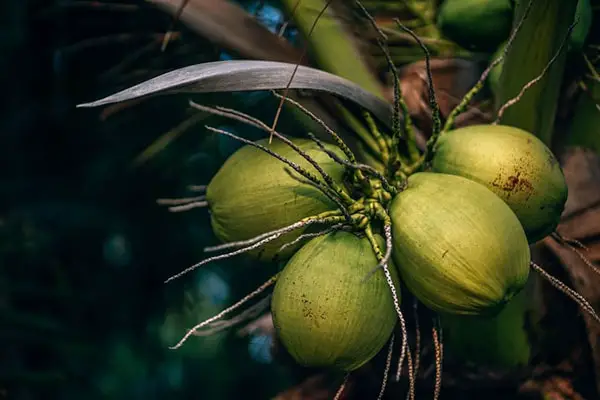 Nariyal is the Hindi name for Coconut, which comes from the fruit's Sanskrit name, i.e., Narikelah.
It is a versatile plant, as we use almost all parts of the tree for various purposes.
Therefore, it is also known as Kalpvriksha in different regional languages.
Coconut in Sanskrit
Coconut is called as Narikelah in the Sanskrit language.
8. Grapes
The grapes cultivation started 6000-8000 years ago, which also led to the wine-making culture in the same era.
When Persian invaders came to India, they also brought Grapes with them.
Later, the British pushed the cultivation of grapes for the local wine production.
Grapes in Sanskrit
Draksha or Drakshafalam is the name for Grapes in Sanskrit.
9. Papaya
Papaya is a native plant to Mexico and Central America.
And it may have arrived in India from the Caribbean Islands.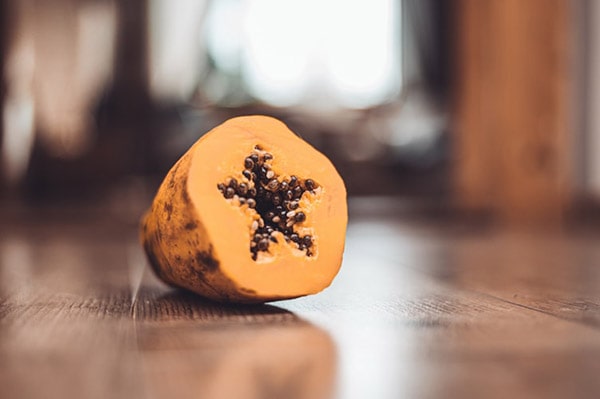 Did you know?
India is the largest producer of Papaya!
We produce more than 45% of world Papaya production.
Papaya in Sanskrit
Papaya is called as Madhukarkati in Sanskrit.
10. Pomegranate
It is a native plant from modern-day Iran to North India.
However, it was probably reintroduced again in India when the previous civilizations started trading through the Silk Road.
The Pomegranate plant is quite popular in Japan and Korea, where they mostly use the plants for Bonsai production.
Pomegranate in Sanskrit
In Sanskrit, we refer to it as Dantbeejam or Dadimam.
11. Pineapple
Pineapple originated in South America, though we don't know how and when the early civilization domesticated this fruit.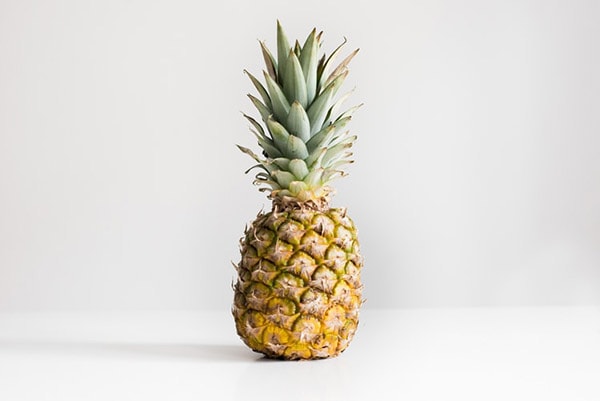 In the 16th century, the Portuguese brought this fruit's seeds to India.
And that's when it became available in this part of the world.
Pineapple in Sanskrit
In modern Sanskrit, we refer to it as Ananasfalam.
So, that's the list of some of the popular fruits names in Sanskrit.
Vegetables Name In Sanskrit
Did you like the above list?
Now, do take a look at the vegetables' name list as well.
Yes, I have also shared an extensive list earlier on this blog.
And you can read it here: 40 Vegetables Name In Sanskrit
Vegetables Name In Hindi and English
Similarly, you can also check out the list of vegetables name in Hindi and English language.
Here's the guide: Indian Vegetables Name List In Hindi And English
I hope you find these guides useful.
And if you liked them, don't forget to share them with your friends and family.
I'm sure they will love it too.
Over To You
Well, that's all for this list of Sanskrit fruits name!
In the above guide, I have included most of the popular fruits available in the market today.
But many of these fruits were not available when Sanskrit was a primary language of communication in India.
Hence, you might notice a lot of modern names and references in this guide.
And that's probably the greatness of Sanskrit language.
It is still accomodating new words, which never existed in its classical form.
So, what do you think about the Sanskrit language?
And what's your favorite fruit's name in Sanskrit?
Do let me know in the comments section below.
Update Notes: Originally published in March 2020; Updated in April 2020 with more information.