Pickling cucumbers is always a fun process during the summer.
But it can be tricky to get the cucumbers just right.
So, what are the best tips for pickling cucumbers?
And can you pickle oversized cucumbers?
Let's address this cucumber pickling quandary once and for all.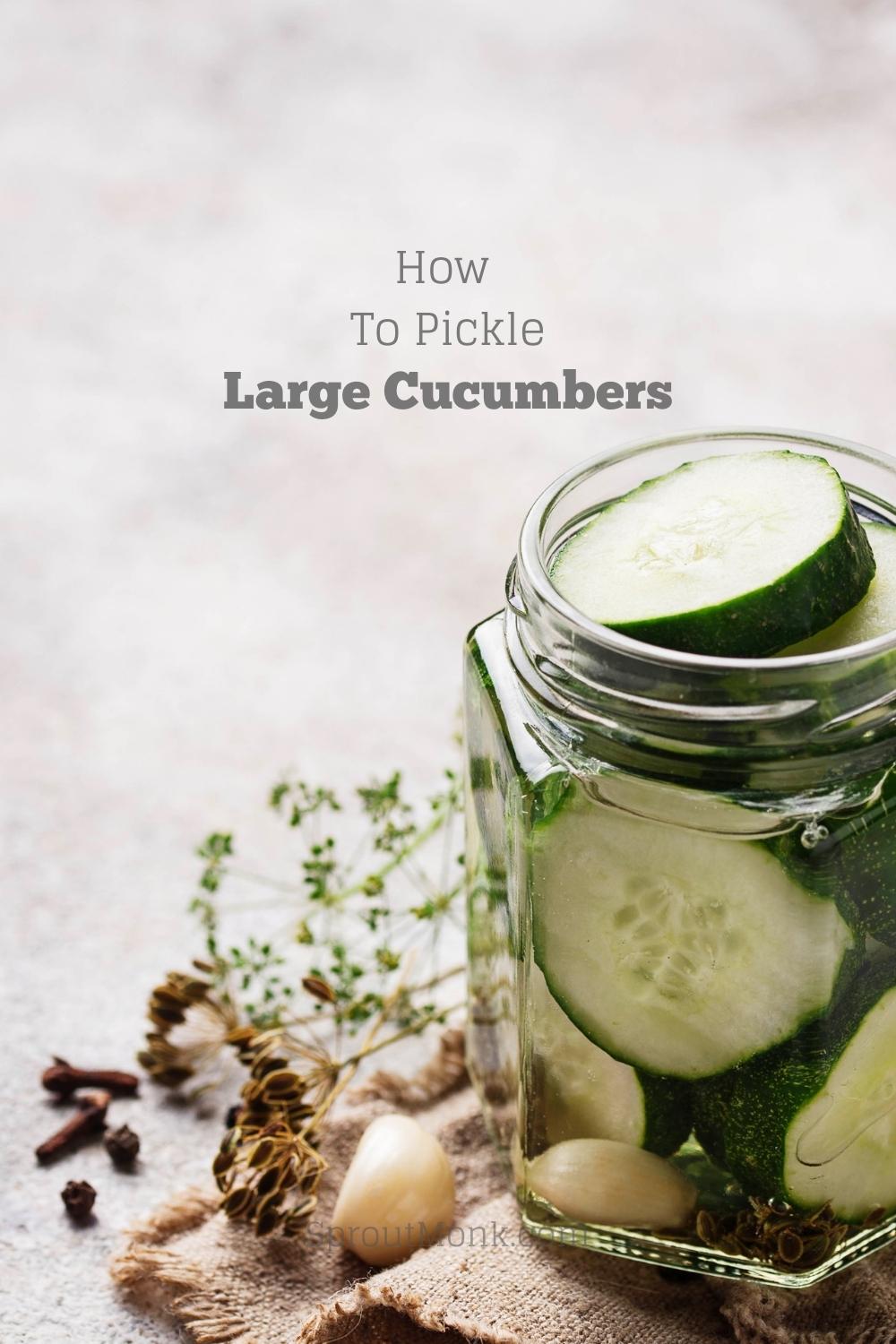 Can You Pickle Large Cucumbers?
Yes, you can definitely pickle large cucumbers.
There is no issue in terms of safety when pickling large cucumbers.
The only potential issue is that the cucumbers may not be as crisp as you would like.
This is because the larger the cucumber, the more water it contains.
And when cucumbers are pickled, they absorb more vinegar or brine solutions, making them a little less crisp.
So, if you're looking for super crisp pickles, you may want to stick to smaller cucumbers.
But if you don't mind a little less crunch, large cucumbers are definitely fair game for pickling.
Also, it's always a good idea to pickle them instead of throwing them away.
Pickling will help them preserve for the long term.
10 Tips For Pickling Large Cucumbers
When performing this task, there are a few things you can do to help ensure they turn out well.
Here are some tips that might help you in this process –
1. Wash The Cucumbers Well
This is an important step regardless of the size of the cucumbers you're pickling.
Cucumbers can often be covered in dirt and other impurities, so giving them a good wash before pickling is important.
You can use a vegetable brush to scrub them clean if needed.
This way, you will not have to worry about the impurities spoiling your pickles.
And it will also help them store for a long period.
So, do wash them well.
2. Scrape Off The Blossoms
The cucumber blossoms contain a significant amount of bitterness.
So, if you're pickling large cucumbers, you should scrape off the blossoms before pickling them.
This will help reduce the bitterness.
Along with that, the ends of cucumbers can also be quite bitter.
And it's best to cut those off as well before pickling.
Otherwise, you will have an awful bitter taste in your pickles.
3. Scrape Off The Skin
Once you've scraped off the blossoms and ends, you should consider scraping off the cucumber skin.
The skin can often make the pickles taste a little bit harsh.
And it can also add an unpleasant color to the pickles.
Generally, the large cucumbers have thick skin, which can affect the taste and texture of the pickles.
So, try to remove it using a vegetable peeler.
Note: You will not have to perform this step with small and fresh cucumbers.
These cucumbers do not interfere with the pickling process.
4. Cut Them Into Pieces
If you want to pickle oversized cucumbers, you should cut them into equal pieces.
This way, they will not absorb too much vinegar or brine solution.
And as a result, they will retain their crispness better.
This is another additional step you will not have to take with smaller cucumbers.
5. Remove The Seeds
Apart from thick skin, the seeds are another issue you might have to deal with while pickling them.
Large cucumbers often have large seeds, and they can make the pickles taste bitter.
So, you should try to remove them.
You can do this by slicing the cucumbers in half and scooping out the seeds with a spoon.
6. Scrape Off The Pulp
Yes, don't just remove the seeds!
You should also scrape off the pulp around the seeds.
The pulp can often contain bitterness that can ruin the taste of your pickles.
It also has more water content, which can make the pickles mushy.
Therefore, you must remove the pulp to retain the crispy texture of your pickles.
Also, rinse the cucumbers again after removing the seeds and pulp.
This will help remove any bitterness that might be left behind.
7. Use The Right Brine Solution
The brine solution is an important part of the pickling process.
And if you want to pickle large cucumbers, you should use the right solution.
These cucumbers may need additional time to pickle.
So, you might need a stronger brine solution.
You can use more vinegar or salt in the solution.
Or you can even add a little bit of sugar to help with the pickling process.
It all depends on your preference.
But do use the right solution so that your pickles taste good.
8. Use Them Quickly
Large cucumbers are known to turn mushy quickly.
So, you should use them as soon as possible after pickling.
Otherwise, they might lose their crispness and taste terrible.
Also, if possible, store them in small batches so you can use them quickly.
9. Store Them Properly
Just like any other pickle, you should also store these pickles properly.
You can store them in an airtight container and keep them in the refrigerator.
Do not store them outside for too long as they will go bad quickly.
You can also freeze them if you want.
But like I mentioned, they might turn soft and lose their crispy texture over time.
10. Do Not Over-pickle Them
This is one of the most important tips for this process.
You should not over-pickle them as they will become too soft.
Usually, it takes about 3-5 weeks for cucumbers to pickle properly.
But it all depends on the type of cucumber and the pickling solution you use.
So, keep an eye on them and pickle them for the right amount of time.
These are some important tips for pickling large cucumbers.
As you can see, most of the process is pretty similar to the regular cucumbers.
The only difference here is you will need to peel the skin, remove the seeds, and scrape off the pulp.
Other than that, the process is pretty much the same.
So, follow these tips, and you'll be able to pickle large cucumbers perfectly.
Now, let's check out the FAQs below.
FAQs
1. What Can I Do With Cucumbers That Are Too Big?

If you have cucumbers that are too big, you can pickle them.

You can also use them to prepare salads or sandwiches.

There are plenty of things you can do with cucumbers, regardless of their size.
2. How Big Should Cucumbers Be For Pickles?

The ideal size for pickling cucumbers is about 4 to 6 inches.

But if you have cucumbers that are bigger than that, you can still pickle them.
3. What To Do With Overripe Cucumbers?

Overripe cucumbers can also be used for pickling.

They may not have the same crispness as regular cucumbers, but they will still taste good.

You can also make relishes or chutneys with overripe cucumbers.
4. How Big Is Too Big For Pickling Cucumbers?

Anything bigger than 6 inches is too big for pickling cucumbers.

Keep this simple rule in mind, and you'll be fine.
5. Can You Use Any Kind Of Cucumbers To Make Pickles?

Yes, you can use any cucumbers to make pickles.

But the best ones for pickling are the small to medium-sized cucumbers.

These cucumbers have fewer seeds and more flesh.

As a result, they pickle better.
Over To You
Now it's time to hear from you.
Do you have any tips for pickling cucumbers?
Or do you have any questions about the process?
Either way, let me know by leaving a comment below.
I'd love to hear from you.
And if you found this guide helpful, please share it with your friends and family.
Happy pickling!