Storing lemons in water can be an effective strategy to preserve them for a long time.
But how do you store them properly?
What's the right way to ensure that they don't go bad in a few days?
If you are wondering about these issues, don't worry.
The following guide will help you learn more about this process in detail.
So, let's get started!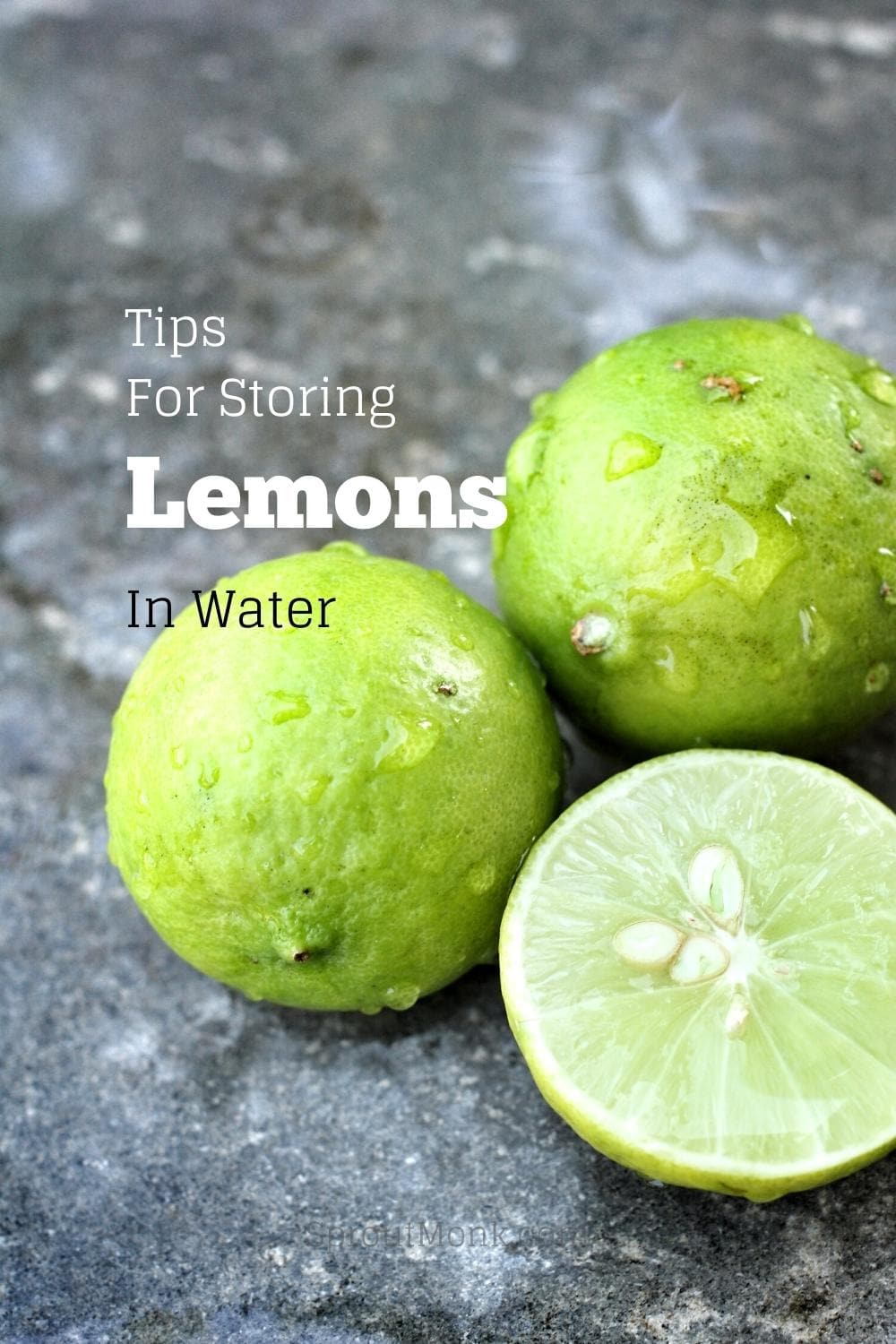 Why Do You Need To Store Lemons In Water?
When you store lemons in water, it helps in preserving them for an extended period.
It works pretty much like the pickling method, where we put oil or vinegar on top of the pickle ingredients.
Water helps create a barrier between lemon's surface and air and slows down the ripening process.
Furthermore, it prevents harmful bacteria or fungus from entering or growing inside the lemons.
This method is quite useful in many ways because you can preserve fresh lemons for the winter or rainy seasons.
During this period, you don't get enough supply of juicy lemons as well as similar fruits and veggies.
Even if you do, you will always get them at a much higher price in the market.
Similarly, if you have a lemon tree in your home garden, you can pluck the semi-ripened lemons and put them in a water bowl to extend their shelf life.
Generally, you can store lemons using this method for 5-6 weeks.
In the next section, let's get to know more about the actual method of storing them in water.
Step By Step Guide For Storing Lemons In Water
The technique of storing lemons using this method is quite simple and easy.
You will need to put the lemons in a bowl of water and keep them in the fridge for a few weeks.
Now, let's check out the detailed step-by-step method for this process below. 
Clean the lemons under tap water and remove any dirt from their surface.
Get a bowl or pot full of clean water.
Place the lemons in the water.
Make sure all of them are fully submerged in water and are not popping out on the surface.
Put the bowl in the fridge and place a lid on top of it.
Done!
That's how you can preserve your lemons in the water.
After a few weeks, you can use these refrigerated lemons once the fresh stock gets over.
Storing Lemons In The Fridge With Water vs. Without Water
I know you must be wondering what's the difference between these two ways of refrigerating lemons.
The fundamental difference here is moisture absorption by the refrigerator.
When you put the lemons directly on the racks of the refrigerator section, the refrigeration process absorbs moisture from the lemons.
Due to this, the lemons turn dry over the period, and you don't get to enjoy their fresh and juicy texture after a few days.
On the other hand, when you store them in the water, the moisture level remains pretty much the same throughout this period.
As a result, you won't see much difference in their texture even if you store them for a couple of weeks or more.
So, that's the reason it's recommended to keep your lemons in the water while storing them in the refrigerator.
Moving on, let's take a look at some of the important things you need to remember for this method to work effectively.
6 Essential Tips For Storing Lemons In Water
Here's a list of things you should remember –
1. Use Clean Water To Store Your Lemons
Yes, it's very important to use clean water for this process.
Clean water ensures that not many harmful bacteria and other such elements are present in this medium.
So, you don't have to worry a lot about the possible issues from this medium.
2. Rinse The Lemons Thoroughly 
Do not put the store-bought lemons directly in the storage bowl.
You will need to rinse them properly to remove dirt from their surface.
If you put them directly in the storage bowl, some of the lemons might begin to rot inside the water.
This often happens because of the harmful bacteria present on the surface of lemons.
Therefore, it's always a good idea to rinse them off as soon as you get them from the store.
3. Make Sure There Are No Holes In Your Lemons
Before selecting the lemons for storage, you need to look at one more thing.
If your lemons have holes on their surface, you should avoid storing them.
In fact, it's better to throw them away, as you might find a bug or two if you try to slice them.
Sometimes, the bugs find their way into the lemons during the pollination phase of the plant.
And once they make this place their new home, you can't do much about it.
So, it's better to pick the ones that do not depict any such characteristics, especially on their surface.
4. Avoid Adding Rotten Lemons To Water
Rotten lemons are of no use, either.
This type of lemons will rot in the water and make others rot if you let them be in the same water for a while.
If you get one or two semi-rotten lemons, you can remove the damaged part and use the rest of it directly.
Do not put such lemons in the fridge because they will only make things worse in a few days.
Note: You can also throw away semi-rotten lemons if you're not too sure about them.
5. Avoid Storing Fully Ripened Lemons
Similar to the above situations, the fully ripened lemons will also rot after some time.
Although the refrigeration process slows down this process, you won't be able to store them for an extended period.
So, it makes sense to use such lemons immediately.
If you still want to store them, you can place them directly in the fridge.
Do not use water for storing these lemons.
Ideally, it would be best to use the lemons with a firm and solid texture for the water-storage method. 
6. Check The Lemons And Change Water After A Week
Since we're not using any preservatives in this method, try to keep an eye on lemons in the bowl.
As I mentioned earlier, if one of them rot, it can affect others.
In such a situation, you can remove the rotten lemon from the pot and replace the water in the bowl.
However, do check other lemons while getting rid of the rotten lemon.
You don't want to have more rotten lemons in the water.
In addition, you will have to replace the water with fresh water each week. 
It will help keep your lemons fresh for a longer period.
Well, these are some of the things that you need to understand and remember while carrying out this task in your kitchen.
Meanwhile, I have shared some FAQs in the next section. 
You can check them out if you have any similar queries around this topic.
FAQs
1. How Long Can Lemon Sit In Water?

It can stay in water for 5-6 weeks, provided you keep it in the refrigerator.

If you store it at room temperature, it can only last for 3-5 days.

This also depends on the stage at which you're going to store your lemon.

If it's completely ripened, it will obviously have less shelf life.
2. How Do You Keep Lemons Fresh In Water?

You don't have to do anything special when storing them in water.

Just use fresh water and cleaned lemons to see some amazing results in the end.

Once you check and confirm these things, you can place the bowl in the refrigerator.
3. How To Store Lemons Without Refrigeration?

You can store them in cool water, though it's not going to extend the shelf life by many days or weeks.

You will be able to store them for 1-2 days extra compared to keeping them without water.

Also, you should avoid storing them along with fruits that produce ethylene naturally. 

This chemical element expedites the ripening process.
4. How Long Can You Keep Lemons In The Fridge?

Without the above-mentioned method, you can store the lemons in the fridge for a couple of weeks, but not more than that.

If you store them in the water, they should remain fresh for 4-6 weeks.
5. How To Store Lemons For A Long Time?

You can make use of the refrigerator to store your lemons for a long period.

You may also put them in the freezer, but it's likely to affect the texture and taste of your lemons.

Apart from refrigeration, there is no other way you can store them for too long.

However, you can preserve them using the pickling methods, but that's an entirely different approach to make them usable in the future.
Over To You
Enjoyed this guide?
I'm sure you got to learn a few useful tips to store the lemons at home.
If you have any more doubts or queries, please let me know in the comments below.
I will try to resolve them for you as soon as possible.
Do share this guide with your friends and family if you like it.