Having spent years in Maharashtra, I am yet to come across an accompaniment or side dish that is as spicy as Thecha.
I think it has to be the spiciest thing you'll ever find in Maharashtrian cuisine.
For those who don't know, Thecha is a traditional Maharashtrian Chutney. It is prepared using Green Chilies, Green Chilies….and Green Chilies!
That's right!
It's basically a Green Chili Chutney.
Apart from Chilies, the Peanuts and Garlic Cloves are the other two important ingredients in this recipe.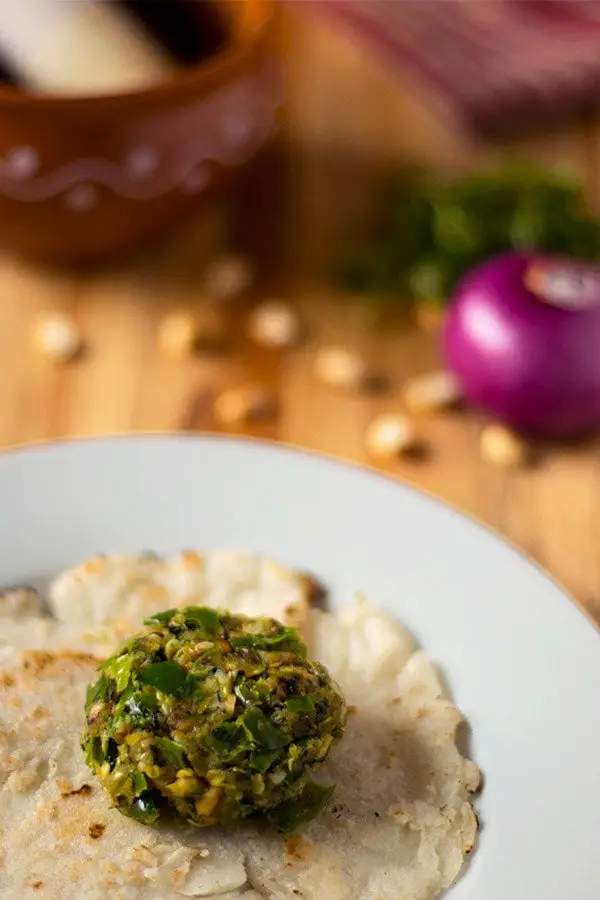 It's also known as Kharda in different parts of Maharashtra.
Traditionally, the locals make this super spicy Chutney in Mortar and Pestle. It gives rustic taste and texture to the Thecha.
In many rural villages, the farmers savor this Chutney along with Bhakri (sometimes, Zunka-Bhakri) and Raw Onion.
And that's all they get for their breakfast and lunch!
Yes, it's quite difficult to live a farmer's life, and things are even worse in some remote villages.
I just hope things will change in the coming years.
Coming back to the recipe, you can make this Thecha as per your taste. If you don't like extra spicy food, remove a few Chilies from the recipe.
You can also add more Peanuts or Cashew Nuts to reduce the pungency of Thecha.
Now, let's take a look at the recipe of Thecha –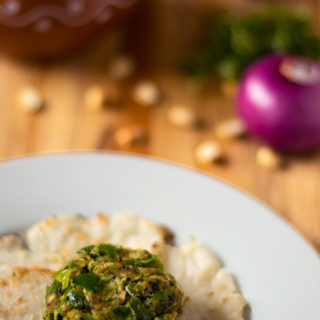 Thecha Recipe
Thecha is a spicy Maharashtrian accompaniment for Bhakri and Roti. It is generally made with Green Chilies, Garlic, and Peanuts. 
Ingredients  
6-8

Green Chilies

chopped into pieces

4-5

Garlic Cloves

roughly chopped

Peanuts

5

gm

Coriander Leaves

finely chopped

Oil

Salt

as per taste
Instructions 
Switch on the flame and heat a pan on medium flame.

Add the raw Peanuts into the pan and roast them nicely.

Remove the Peanuts from flame and cool them for a while. Deskin them once they've cooled down. 

Now, chop the Green Chilies, Garlic, and Coriander Leaves.

Heat Oil in the same Pan again.

Once the Oil is moderately hot, add the roasted Peanuts, Green Chilies, Garlic Cloves, Coriander Leaves, and Salt to it.

Sauté these ingredients on a medium flame for around 2 minutes. 

Let this mixture cool down for a few minutes.

Get a Mortar and Pestle and add the Thecha mixture to it.

Pound it thoroughly and prepare the Thecha.

Serve this Thecha with Zunka and Bhakari.
Notes
If you don't have a Mortar and Pestle at home, you can use the mixer grinder to prepare this spicy Thecha.
Do not grind this mixture for too long. 
Tips To Make Thecha
You may preserve this Chutney for a couple of days in the refrigerator. It also helps in reducing the spicy taste, though do not expect any significant change in the taste.
If you prefer less spicy food, get the light Green colored Chilies instead of regular dark Green Chilies.
There is one more thing you can do! Deseed the Chilies.
You can also enjoy the Bhakri-Thecha with Yogurt to reduce the effect of hot Chilies.
What's the spiciest thing you've ever eaten in life?
Do let me know in the comments section below.