Koshimbir is a Maharashtrian version of Raita and Salad.
If you have never heard or tasted it before, you should attend a Maharashtrian wedding of your friend or colleague.
You will always find this accompaniment in their traditional lunches and dinners.
As mentioned earlier, Koshimbir is served as an accompaniment to main course dishes.
And people often enjoy it with light meals such as vegetarian thalis and homemade Chapati-Sabzi.
However, you can also serve it with spicy Biryanis and Pulaos. It tastes pretty similar to Dahi ka Raita and Cucumber Salad.
What else?
You can also use Koshimbir as a filling for your Vegetable Sandwich. Yup, it tastes amazing!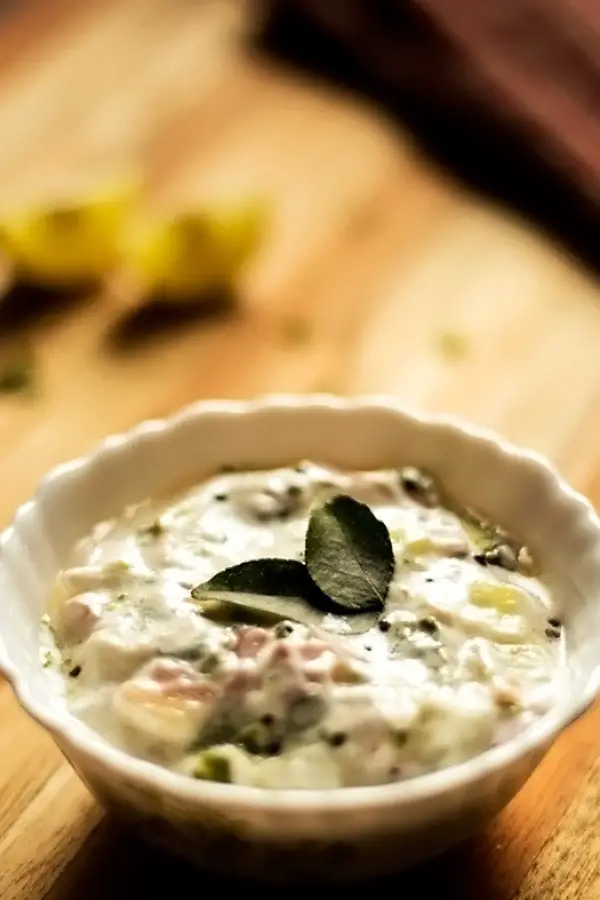 Generally, Koshimbir can be prepared in two ways, that is, with and without Tadka (Tempering).
Even though many prefer it with Tadka, I like it plain and simple. And it goes well with many dishes including tasty snacks like Methi Thepla.
In today's post, though, I am going to share the Tadka version of the Koshimbir recipe.
So, let's get started.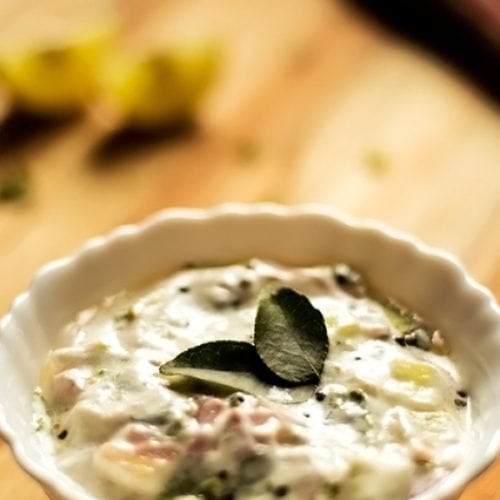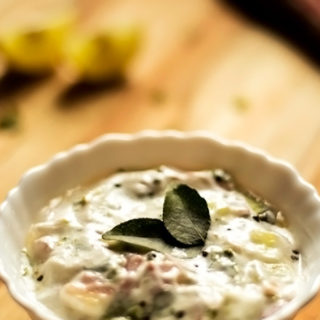 Koshimbir Recipe
Koshimbir is a type of salad, which can be served with your lunch or dinner. You can make this salad at home using Curd, Onion, Tomato, and Cucumber.
Ingredients  
For Salad:
100

gm

Yogurt/Curd

1/2

Cucumber

cleaned and washed, chopped into pieces

1/2

Tomato

cleaned and washed, chopped into pieces

1/4

Onion

finely chopped

Coriander Leaves

finely chopped

Salt

as per tast

1/2

tsp

Sugar
For Tadka:
2

tbsp

Oil

1

tsp

Mustard Seeds

1

Green Chili

roughly chopped

1/4

tsp

Asafoetida

3-4

Curry Leaves
Instructions 
To Prepare Salad:
Get a bowl and add Yogurt, Salt, and Sugar to it.

Whisk it well until you get a smooth consistency.

Now, add the remaining vegetables to the whisked Yogurt.

Mix it well and keep aside for a while.
To Prepare Tadka:
Once the Oil is hot enough, add Mustard Seeds to it. Let them crackle for a few seconds.

Add Asafoetida, Curry Leaves, and Green Chilies to it.

Turn off the flame and let everything crackle for a couple of seconds.
Final Steps:
Pour the Tadka on Salad mixture.

Garnish the prepared Koshimbir with Coriander Leaves.
Variations
Are there any different variations for Koshimbir?
Traditionally, you get Onion, Cucumber, and Tomato as base ingredients in this recipe, but you can surely add different ingredients to it.
Here are some of my favorite variations for this accompaniment –
Pineapple/Pomegranate Koshimbir
In this variation, you can make use of some Pineapple or Pomegranate pieces along with other veggies.
These fresh fruit pieces give an amazing flavor and texture to Koshimbir.
Apart from these two fruits, you can also try fresh Mango pieces or Strawberry pieces. The seasonal fruits can give an interesting to this recipe especially if you are planning to serve it to the guests.
Dry Fruit Koshimbir
Another thing you can try is Dry Fruits!
Use any of your favorite Dry Fruits in this Koshimbir recipe. It'll give a nice crunch to the dish.
Note – Do not overuse Dry Fruits, as it might change the texture and taste of the recipe. Use them sparingly.
You can also use sweetened Cherries with Dry Fruits to give even more royal taste to this simple salad.
Koshimbir Without Curd
That's right!
If you don't like Curd, you can remove it completely from this recipe.
Many times, the restaurants and food joints serve this type of Koshimbir or Salad along with their main course dishes.
This salad doesn't require much time to prepare, as you just have to chop some veggies and mix them with some spices.
Update Notes: Updated in May 2020 with more information.