In the following list, I will share the dry fruit names in Hindi and English. 
That's right!
I have wanted to share this guide on the blog for a long time.
And I love dry fruits a lot, too (who doesn't?), but somehow I couldn't publish the guide.
Anyway, it's better late than never!
So, let's begin!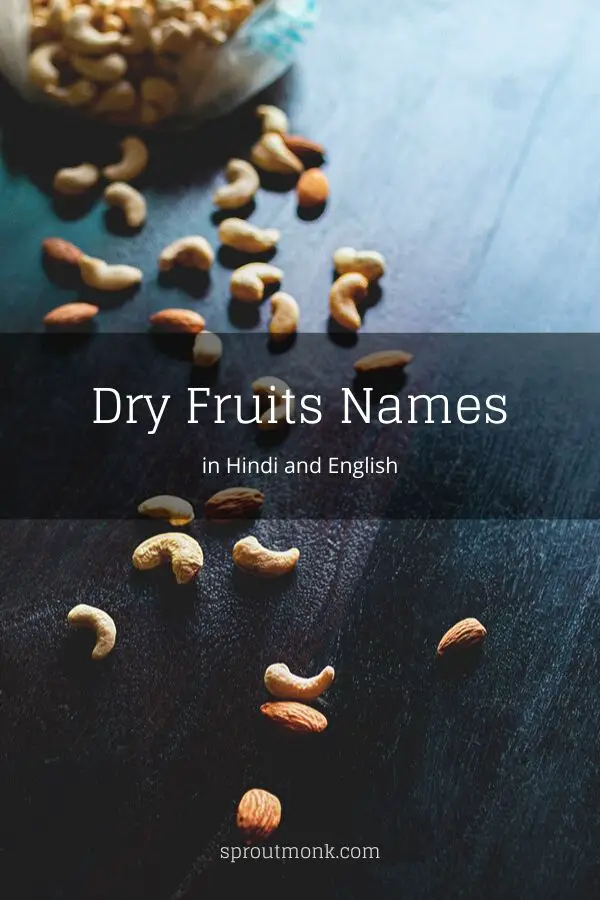 List Of Dry Fruits Names In Hindi And English
| English Names | Hindi Names |
| --- | --- |
| Almond | Badam |
| Apricot | Khubani |
| Beetle Nuts | Supari |
| Cantaloupe Seeds | Kharbooj ke Beej |
| Cashew | Kaju |
| Chestnut | Shahbaloot |
| Cudpahnut | Chironji |
| Dates | Khajur |
| Dry Dates | Sukha Khajur/Kharik/Chuhara |
| Dry Coconuts | Sukha Copra |
| Dry Figs | Anjeer |
| Flax Seeds | Alsi ke Beej |
| Lotus Seeds | Makhana |
| Peanuts | Singdana/Moongphali |
| Pine Nuts | Chilgoze |
| Pistachio | Pista |
| Pumpkin Seeds | Kaddu ke Beej |
| Raisins | Munakka/Sultana/Kishmish |
| Walnut | Akhrot |
| Watermelon Seeds | Tarbooj ke Beej/Magaz |
Enjoyed the list?
Meanwhile, let's look at some of the most used dry fruits in Indian food culture.
10 Most Used Dry Fruits In India
Here's the list of most used dry fruits in the country –
Cashews
Almonds
Pistachios
Dates
Raisins
Dried Figs
Apricots
Betel Nut
Walnut
Dry Coconut
Now, let's learn more about these dry fruits below.
1. Cashews
My favorite!
Cashews are probably the most popular dry fruits in the country today.
The reason they are so popular is because of the taste, texture, and richness these nuts bring to different dishes.
For many Punjabi curries, it's a must-have ingredient!
You can't get the same creamy texture to these curries without the cashew nuts paste. 
These nuts also go well with savory snacks like Chivda and Dry Fruit Farsan.
For sweet dishes, you can either use them as a whole or chopped. 
You can also roast them a little to get more flavor.
Cashew nut powder is another way to use these nuts in several milkshakes and cakes.
2. Almonds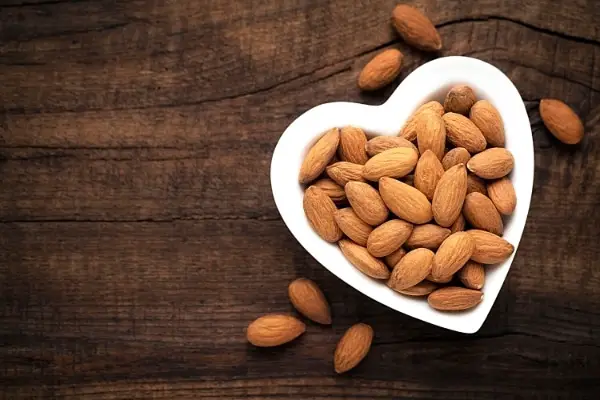 When making Indian curries, Almonds are pretty much an alternative to Cashew nuts.
You can use both these ingredients alternatively, as the taste and richness of both pastes remain nearly the same.
And you won't notice a big difference in the final preparation of the dish.
Tip: For the curries, you must prepare a paste out of blanched Almonds.
Similarly, Almonds can be a useful garnishing ingredient for many sweet dishes.
You can also add slivered Almonds to Pulaos and Biryanis. 
And similar to cashew powder, you can prepare Almond powder for various milkshakes, including Badam Milk.
3. Pistachios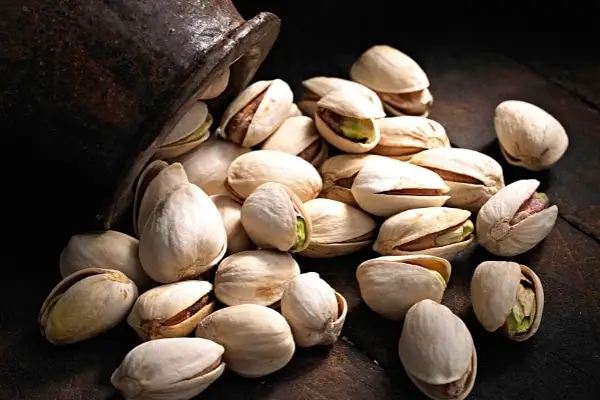 It is one of those dry fruits that we only use for garnishing purposes in Indian cooking.
And that's because of the taste of Pistachios.
If you make a paste out of these nuts, you will notice a bitter taste. 
Therefore, it's not a suitable ingredient to make curry pastes.
You may use the paste to make Lucknowi-style Biryanis, but I'd still prefer an Almond or Cashew paste for such preparations.
So, how to use Pistachios in Indian food?
Well, you can make a dry powder of the roasted nuts and use it to make Pistachio flavored milkshakes and similar refreshing drinks.
And as I mentioned earlier, you can use the slivered Pistachios to garnish sweet preparations like Kheer, Payasam, and Mithais.
You can also use the chopped Pistachios in dry fruit-based dishes such as Cakes, Muffins, Halwas, etc.
4. Dates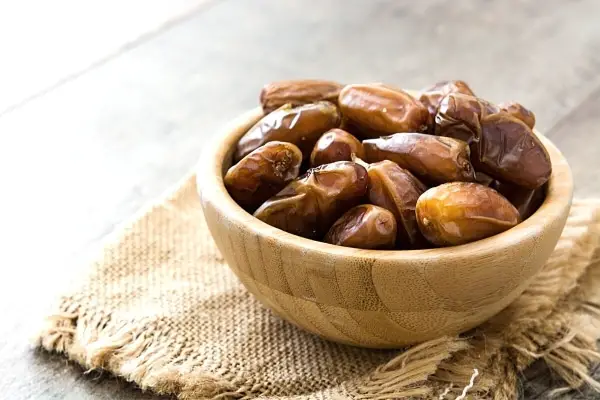 Unlike most other dry fruits in this list, we use Dates primarily for their sweet taste rather than richness or texture.
 Its unique taste makes it an excellent choice for several dishes in India.
E.g.,
You can use it to make Sheer Kurma at home.
It adds a great taste to this traditional sweet preparation.
Apart from that, you can also use Dates to prepare Halwas, Laddus, and Khajur Barfis.
5. Raisins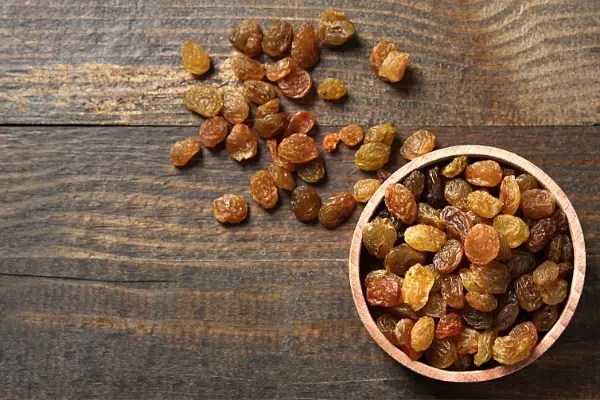 Ah, the raisins! 
In Hindi, we refer to them as Munakka.
Raisins are known for their sweet and tangy tastes.
And therefore, we can use it in savory and sweet dishes. 
In India, we mostly prefer golden raisins instead of black raisins in various dishes.
The golden raisins bring subtle color and taste to such dishes.
On the other hand, black raisins only add the taste to sweet delicacies. 
Also, their black-purple color doesn't help make a dish more delicious.
So, whenever you want to make something with raisins, you should choose golden raisins.
Talking about the dishes, you can use this dry fruit in many Indian recipes.
It includes:
Payasam
Mithais
Biryanis and Pulaos
Chutneys
Baked Dishes
6. Dried Figs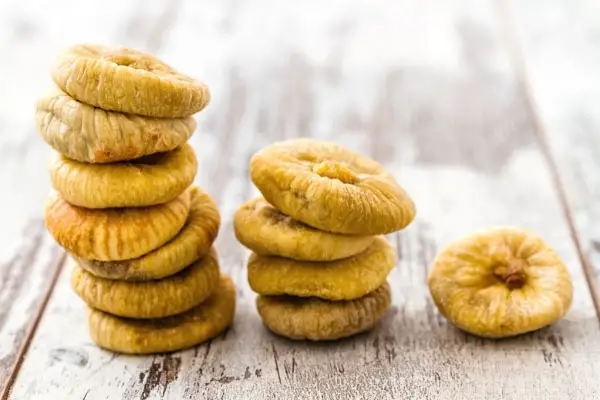 Dried Figs are also known as Anjeer in Hindi.
And these dry fruits are immensely popular all over India.
Unlike Cashews and Almonds, dried figs are sweet to taste.
Therefore, you can only use them in sweet dishes like Anjeer Barfi, Sheera, Halwa, Mithais, etc.
This type of dry fruit is not suitable for curries or pulaos.
7. Apricot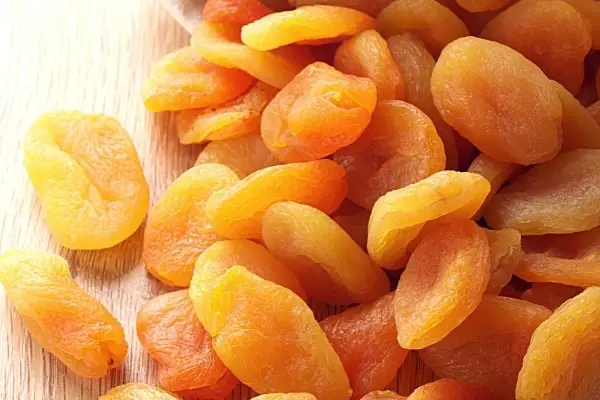 Khubani ka Meetha is a very famous dish in Hyderabad, India.
And for those who don't know, Khubani is an Urdu term for Apricot.
You can prepare this delicacy using soaked Apricots.
Apart from this Hyderabadi delicacy, you can also use it to make different types of Halwas.
The soaked Apricots also taste great in Kheer.
For savory dishes, you can make Apricot Chicken curry, Biryanis, and Chutney with this dry fruit.
8. Betel Nut
Betel Nut or Supari is another well-known dry fruit in India.
However, we don't use this nut to prepare any dishes in the kitchen.
Its bitter taste and color make it a non-appealing ingredient for curries or rice preparations.
We mostly use Betel Nuts for auspicious occasions.
9. Walnut
Walnut or Akhrot is also hot-favorite dry fruit in India.
It is grown in the Northern regions of India, which includes Jammu & Kashmir, Himachal Pradesh, Arunachal Pradesh, and Uttar Pradesh.
As the popularity of cakes and similar baked products has increased, people have started consuming this nut more in recent decades. 
Using these nuts, you can also make Walnut Barfis, Walnut Sheera, and Walnut Chutney.
However, as I mentioned earlier, it is mostly known for its use in cakes.
10. Dry Coconut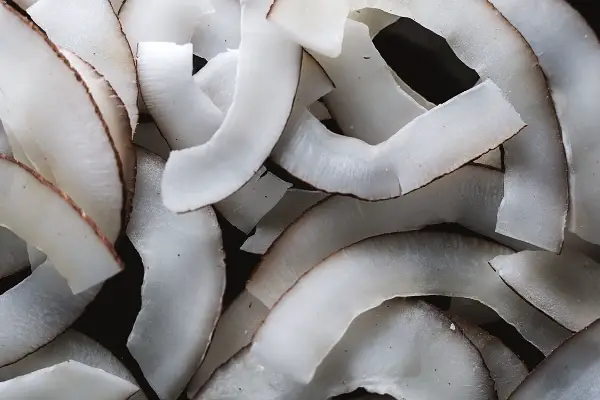 It's pretty debatable whether to add Coconut to this list of dry fruits names or not.
But it does have a massive influence over the coastal region cuisine in India.
Many of their recipes are solely based on fresh and dried coconuts.
As for the dry Coconut, you can use it to make various traditional curries.
You can also use it to prepare rice delicacies, though it's predominantly used to make vegetarian and non-vegetarian curries.
It can also be used to prepare some local sweet dishes.
Now, let's quickly look at the history of dry fruits in India.
History Of Dry Fruits In India
Although it's hard to know when we started using dry fruits in India, we can surely answer the 'how' part of this puzzle.
E.g.,
Cashews are native to Central America.
And this dry fruit arrived in India during the 16th century.
The Portuguese introduced Cashews to Goa and other coastal regions of India.
Later, its plantations spread all across Southeast Asian countries.
Similarly, other dry fruits like Dates, Raisins, and Almonds came from different European and Arabic countries to India.
In the ancient period, the silk route was also an integral part of the trade between the Indian subcontinent and European countries.
Hence, we may have begun receiving dry fruits and other goods in exchange for Indian spices.
FAQs
1. Which country is famous for dry fruits?
It's difficult to name one country, but most countries in the Middle East are known for their top-quality dry fruits.
2. Which is the most expensive dry fruit?
Pine Nuts, Almonds, Walnuts, Cashews

All these dry fruits are relatively expensive in India.
Vegetables And Fruits Names
If you are keen to learn more about Indian vegetables and fruits names, do check out the following lists I shared on the blog earlier.