Basmati Rice is sometimes referred to as Long Grain rice.
But what's the difference between standard long grain rice and the popular Basmati rice?
Well, that's what we are going to find out in today's guide.
In the following guide, I have shared some insights on this topic, which might help in understanding the comparison between these types of rice.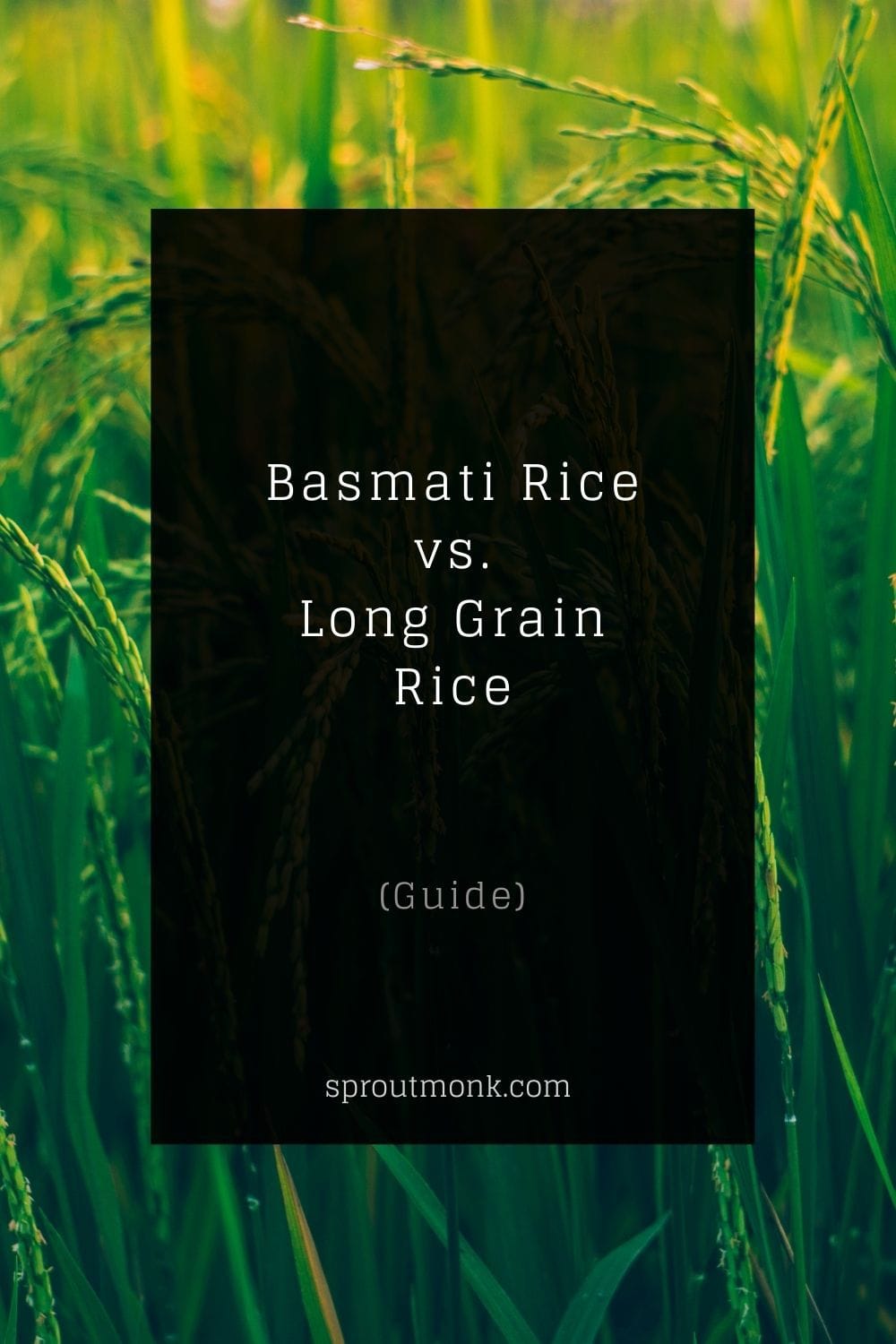 Basmati Rice vs. Long Grain Rice
So, here are some of the differences and comparison factors that help in differentiating Basmati rice and other long-grain rice varieties –
1. Color
When you cook a good quality Basmati rice, it turns white and looks really appetizing.
On the other hand, you will not see the same characteristics with different types of long-grain rice.
Sometimes, the rice may turn white, but it will be sticky.
Or it might not even turn white as you'd like it to be.
When you have a sub-standard quality of long grain rice, you will probably have to rinse it more times.
The starch present on the rice grains makes them sticky and pale in color.
So, that's one of the differences between Basmati rice and long-grain rice.
2. Aroma
Aroma is one of the most distinctive factors while comparing these types of rice.
Basmati rice has a uniquely pleasant aroma.
When you cook this rice at home, its aroma will spread all across rooms.
More importantly, it will make you hungry.
This is the reason why Basmati rice is preferred over any other varieties of rice in the world.
Whether you are making a Hyderabadi Biryani or Sufiyani pulao, it's a must-have ingredient for these delicacies.
Without Basmati rice's aroma, you can't even think of making these dishes in your kitchen.
As for other varieties of long-grain, you may or may not get aroma out of them.
Jasmine rice is often considered one of the alternatives for aromatic Basmati rice.
But the aroma you get from Basmati grains is a lot different from Jasmine rice.
3. Taste
Just like aroma, the taste is another unique factor that makes all the difference in this comparison.
Basmati rice has a delicate taste, whereas most long-grain rice tastes absolutely bland.
You will have to add some spices and flavoring ingredients to make such rice varieties tasty.
Without these additions, you won't get the same flavor and taste of having a rich traditional delicacy.
The other thing about the taste and aroma is your fingers will always smell nice after having a Basmati rice biryani or some other dish.
Of course, if you eat with spoons and forks, you will miss out on these little good things about food.
This is especially true for Basmati rice dishes.
So, if you want to do a test of real Basmati rice vs. long-grain rice, you should definitely consider having your rice dish with your hands and fingers.
4. Change In Size After Cooking
It's a peculiar characteristic of an Indian-origin Basmati rice.
When you cook Basmati rice, it changes its size and becomes 2x-3x in size.
Some premium quality Basmati rice may also increase in size even more after cooking.
And that's the beauty of this rice variety!
You won't see similar characteristics in some of the varieties.
5. Texture
Basmati rice never loses its texture unless you overcook the rice in your pressure cooker.
The grains stay the same throughout the cooking process, and they do not break down easily.
This is why it makes for such an essential ingredient for making traditional rice dishes.
But if you look at other long-grain rice varieties, you may or may not get the same texture.
Some of them might just break into tiny pieces, as the cooking time for each rice grain is different.
If you cook them for a similar period, you will not get the desired result.
6. Usage
Basmati rice can be used for a variety of dishes, including Pulaos, Biryanis, Jeera Rice, Tadka Rice, Masala Rice, etc.
You can even use it as plain rice along with some Indian curry and salad.
As for other long-grain rice varieties, you should use them for making Pulaos, Jeera Rice, Matar Rice, Fried Rice, etc.
These non-traditional dishes can do well with pretty much any type of rice.
But the same is not the case with Biryanis and Mughlai rice dishes.
These delicacies require Basmati rice.
The taste and aroma this rice brings to such preparations are what you look forward to while rejoicing these dishes.
Therefore, whenever you wish to make traditional dishes, do consider using well-known Basmati rice only.
7. Price
Price is another factor that makes this comparison more interesting!
Since Basmati rice is pretty much the king of all rice types, it fetches more value in the market.
With its unbeatable features and characteristics, this rice variety stands well ahead of its competition.
The other varieties will always be available at a lower price tag.
There is another reason for such a difference in prices, though.
It's the geo-specific production!
The top quality of Basmati rice comes from Northern India, and its production is limited to a few states only.
This is quite similar to the Alphonso mangoes or Parmesan cheese, as both can only be produced in a specific region.
The regional specialties always fetch higher prices due to the limited supply of quality products.
So, that's why it's rare to find good quality Basmati rice at lower prices.
If you did, it's likely to be a different variety of long-grain rice.
Now, let's take a look at the FAQs below.
FAQs
1. Is Basmati Rice The Same As Long Grain Rice?

Yes, Basmati rice can be called long-grain rice.

But if you are talking about any other specific local variety of long-grain rice, it wouldn't be fair to compare it with Basmati.

Basmati has a distinct aroma and taste, which you would probably not find in any regional variety.

So, whenever you think of buying such rice from your local grocery shop, make sure you read the description carefully.

There is a possibility that you might get a sub-standard variety of long-grain rice in the name of Basmati rice.
2. Can You Substitute Long Grain Rice For Basmati?

Technically, you can substitute any rice for Basmati.

However, if you are someone who loves food and is passionate about cooking, you shouldn't think of finding a substitute for your Basmati rice.

It's not worth it!

The taste and flavor that this rice brings are simply incomparable with any other type of rice.

In fact, you'd regret getting some other type of rice as an alternative to Basmati.

Having said that, if you don't have a choice and still want to make Pulao or Biryani, you can go for any long-grain rice.
3. Why Is Basmati Rice So Expensive?

Basmati rice is expensive because of its taste and flavor.

Also, it is only produced in a specific region of India, which is a significant factor when it comes to setting the price of the produce.
4. What Rice Is Closest To Basmati?

There aren't many rice varieties that come close to Basmati.

In India, the farmers do produce some hybrid varieties of Basmati rice.

But in the end, most of these varieties are marketed as Basmati only.

As for alternatives, you can try out Jasmine rice.

It is known for its fragrance, and it tastes alright as well.
5. Is Jasmine Rice Similar To Basmati?

No, Jasmine rice is different from Basmati.

Jasmine rice is generally grown in Thailand and other parts of Southeast Asia, whereas Basmati Rice is primarily grown in Indian and other neighboring countries.

Jasmine rice also tastes a bit different than traditional Basmati rice.

However, both rice varieties can be used for Indian preparations.
Over To You
I hope you enjoyed this comparison of Basmati rice vs. Long-grain rice.
Have any questions?
Don't hesitate to ask them in the comments below.
If you found this guide helpful, please consider sharing it with your friends and family.