Ever thought of making dal without a pressure cooker?
The pressure cooker is probably the greatest kitchen invention of our times.
It makes the whole cooking job so easier that you don't have to rely on any tools in the kitchen.
But what if you don't have access to a cooker or your cooker is not working efficiently?
Well, in that case, you should know how to cook food without this tool.
In today's guide, I'm going to share a few useful tips that can help you cook different dals without using the pressure cooker.
So, let's get started!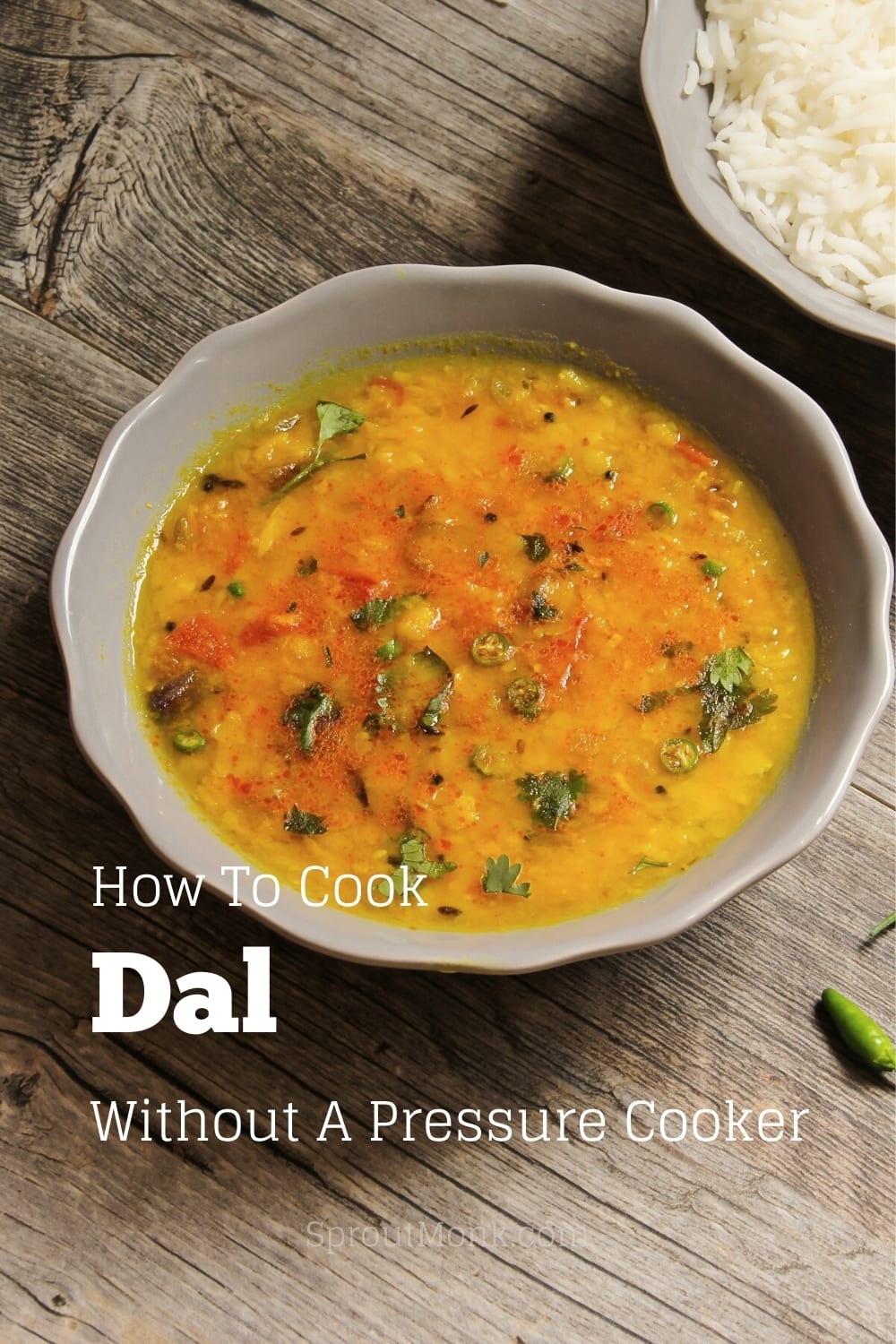 How To Cook Dal Without A Pressure Cooker
If you have never tried making dal without a cooker, you can use the following step-by-step guide.
It should help understand the process of cooking dal the traditional way.
Here are the steps to follow – 
Heat the pot on a medium flame.
Add some oil or ghee to it.
Once the oil heats up, pour the soaked dal into it.
Mix it well and make sure each lentil is covered with a layer of oil.
Let it cook for a couple of minutes and keep stirring as and when required.
Now, put some hot water into it and simmer on the same heat for 20-25 minutes. 
Cover it with the lid. 
Don't forget to stir in between so that it doesn't stick to the bottom. Also, add more water if required.
After 25 minutes or so, remove the lid and check for consistency. 
Use the cooked dal for different preparations.
That's it for this process!
You can also cook smaller lentils along with the tadka, but do not add salt until they are completely cooked. 
Now, I hope you won't find any difficulties cooking your dal in a pot or vessel.
In the following section, I have shared more tips on how you can cook your dals without having to use a pressure cooker.
So, let's take a quick look at them too.
7 Tips To Cook Dal Without A Pressure Cooker
As you know, it's not too difficult to cook dal without a pressure cooker.
But it's the techniques and methods that will help get you the right results in this process.
Here's a list of suggestions you can try to cook dal to perfection – 
1. Soak Your Dal Well
This is the first thing you should do whenever you want to make dal with the traditional method.
When you soak the lentils, they absorb the moisture and break down the internal compound structure.
The whole water absorption-retention process helps in cooking the dal faster.
So, you must soak it for at least an hour or more.
Do not cook your dal by skipping this step.
2. Use A Flat Base Vessel To Cook Your Dal
The flat base vessels help cook food evenly.
In the case of dals, they need more time to cook and break down completely.
So, do not use a Kadai or something similar to prepare your dal.
You will need more time to cook the lentils using this type of utensil.
Try to find a pot or a vessel with a slightly concave base. 
It should help get the desired results.
3. Use A Copper Vessel Or Thin Pot For Dal Preparation
It is another way of expediting the cooking process for your dals.
Using a copper vessel or thin pot won't take much time to cook your dals.
These utensils provide consistent heat throughout the cooking period.
However, the flip side of making dal in such a pot is it will be hot sooner than your anticipation.
So, you will have to keep everything ready before beginning this process, especially if you want to cook your dal along with the tempering.
4. Cook It On A Moderate And Consistent Flame
You need to adjust the flame and cook your dal on a moderate and consistent flame.
It's an essential step because the cooking process depends significantly on heat.
If you cook your dal at an inconsistent flame, it will need more time to cook.
And sometimes, you may even end up making undercooked dal despite cooking for the same duration.
Also, the dal that cooks at a consistent flame always tastes better than the one cooked at the high or uneven flame.
This is the one major difference you'd get to see if you go wrong with the cooking technique.
5. Do Not Add Salt While Cooking
Salt is the last thing you want to add while boiling or cooking your dal. 
It's known for absorbing water from the surrounding.
So, even if it brings taste to the preparation, you should never use it at this stage of cooking.
Try to cook your dal without the addition of salt.
Let it lose its hard texture in the pot.
Once you get the desired texture and consistency, you can add salt to it.
Note: If you have cooked your dal already, you can add salt to the tadka. 
There is no issue with this type of preparation, though.
6. Don't Forget To Cover It With A Lid
Yes, cover it with the lid.
Depending on the medium you're using for cooking, it will help you save some gas or electricity.
And that's not just about it!
It also helps create enough pressure inside the pot, which results in the breakdown process of the lentils.
So, it's quite necessary to have some sort of lid on top of the cooking pot.
Furthermore, you should continue to stir your dal after 10-15 minutes of interval.
If you let it cook under the lid for an entire period, there is a possibility that the mixture will spill over, and you will have to clean the mess later.
Hence, keep an eye on the flame and boiling dal.
Do not let it reach the top of the pot.
7. Use Baking Soda If It's Not Softening
There is a reason why most of us have shifted to pressure cookers instead of the traditional pot cooking method for making dals at home. 
Of course, it does save time and effort to cook your dals.
But more importantly, it pretty much guarantees the perfectly cooked dal each time.
So, how do you resolve this issue while cooking it in the pot?
Well, you can use baking soda to fix the softening issue.
I have written a detailed guide on this topic.
If you want to know more about it, you can check it out here.
That said, I would not suggest you use this ingredient more often while preparing dal at home.
It should be used sparingly and only when you face problems with some hard-textured lentils.
Otherwise, there is no need to use it for regular cooking.
On that note, these are the things that you need to follow while making dals using the traditional method.
Important: Do use enough water while cooking dal in this style. 
Without sufficient water, it may take longer to cook your dal.
In the next section, let's check out the FAQs related to this topic.
FAQs 
1. How Long Does It Take To Cook Dal Without Pressure Cooker?

It can take up to 20-30 minutes to cook dal without a pressure cooker.

However, there are many factors involved in this method of cooking.

If the outside temperature is low, you will obviously need more cooking time.

Similarly, if the size of the lentil is bigger than the regular dals, you will need to adjust the cooking time accordingly.
2. Can You Make Toor Dal Without Pressure?

Yes, you can make toor dal without a pressure cooker or any such method. 

You can simply cook it in a cooking vessel for around half an hour, and it should be good to be used for further preparation.
3. How Can I Make Dal Faster Without A Cooker?

There are a couple of things you can do to cook dal without a cooker. 

First thing, do not add salt to it. 

You should cook it without any salt as explained in the guide.

Next, put the lid on. 

Let it simmer in the steam generated inside the pot.

And yes, do soak the dal for more than an hour. 

It will make a huge difference to the outcome of your preparation.
4. Should I Soak Lentils Before Cooking?

Yes, you should always soak them before cooking.

Never cook your dal without soaking them initially.

If you do, you will have a tough time cooking these lentils.
5. Which Dal Cooks Fastest?

In general, moong dal cooks faster than most dals because of its small size and shape.

But other dals like masoor dal and toor dal also cook well at the same temperature and time, especially when you cook them in the pressure cooker. 

The overall cooking also depends on the quality of dals.
Over To You
Well, these are the few tips you can use to cook your dal without a pressure cooker or instant pot.
In case you are struggling with any step during this process or have any other related queries, do let me know in the comments.
If you liked this guide, share it with your friends and family.