Do you want to know whether Green Squash and Zucchini are the same things?
Many people get confused when they hear these two names for the first time.
So, are they related to each other? 
Let's try to find out more about this topic in the following guide.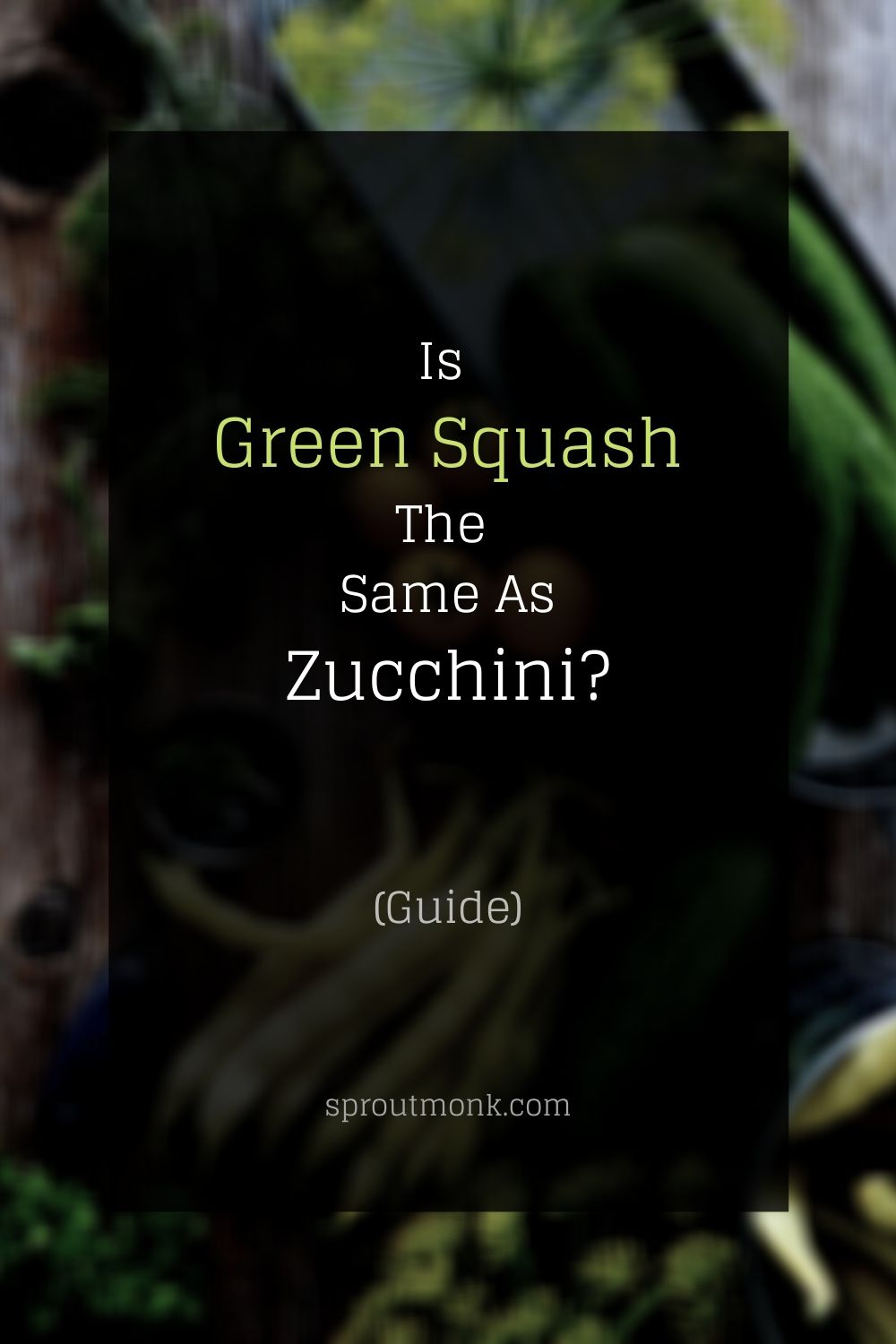 Everything You Need To Know About Green Squash And Zucchini
Yes, Zucchini is a green squash.
It is also known as Courgette and Marrow in different parts of the world.
Zucchini is also a summer squash, which is harvested during the summer season.
But it'd not be appropriate to say green squash is the same thing as Zucchini.
Green Squash can be used as a generic term for many squash vegetables from this family.
You can use it to refer summer and winter squashes with green colors.
For eg.,
Pattypans, Cousa Squash, and Eight Ball varieties are often available in diverse shades of green color.
And we know them as Green Squashes only.
It pretty much depends on how you use this term to describe these vegetables.
Hence, if someone asks you whether Green Squashes are the same as Zucchinis, you can answer them with the following explanation.
It is a type of Green Squash, but there are many other varieties of squashes that come in green color.
In summary, Zucchini is a green squash, but not all squashes are green.
Is Yellow Squash The Same As Zucchini?
Again, yes and no!
It depends on the type of squashes you consider for this comparison.
If you are talking about golden yellow colored Zucchinis, the answer is yes.
It is a different variety of Zucchini, which is also a part of summer squashes.
So, generally, you can call it a Zucchini only.
However, if someone categorically mentions Yellow Squash, the answer is no.
Yellow squash is different from Zucchinis or Golden Yellow Zucchinis.
It comes in two categories, i.e., Crookneck and Straight neck.
These names are based on their peculiar shapes.
In case you're curious to know, the crookneck squashes literally have crooked necks like birds. 
The only similarity between Yellow Squash and Zucchinis is they both are summer squashes.
And finally, the term Yellow Squash can also be used to indicate common yellow-colored squashes.
For eg.,
Yellow Zucchinis, Yellow Squash (Variety), Yellow Pattypans, etc. come under the same category.
Therefore, similar to Green Squash and Zucchini comparison, it all depends on the context of your comparison.
Squash vs. Zucchini
Even though I have tried to explain why the yellow squashes are not the same as zucchinis, I think you need to understand the fundamental differences.
These distinguishing factors will help in learning more about this topic in detail.
So, here's how other squashes differ from Zucchinis – 
1. Type
Zucchini is just another type of squash.
These days there are many types of squashes available in the market.
Here's a list of some of the popular squashes in the US – 
Zucchini
Yellow Squash
Pattypan
Zephyr
Pumpkin
Cousa
Eight Ball
Interesting Fact: 
Zucchini is more of an Italian vegetable. 
It may have its roots in North America, but it traveled to Italy before coming back again in America.
Coming back to the topic, Zucchini hails from the Cucurbitaceae family of vegetables.
Many other squashes also fall under the same category.
Another Interesting Point: 
All the vegetables from this group are edible fruits.
That's correct!
Some of them grow on vines, whereas others are harvested from bush-sized plants.
2. Color
Color is another prominent differentiating factor among squashes.
Squashes come in a variety of shades, and it ranges from dark oranges to light greens.
So, it becomes a little easy to understand each squash variety.
As for Zucchinis, we get them in two colors, i.e., Dark Green and Golden Yellow.
Both varieties have a white fleshy texture inside them, which adds more value to the looks and taste of various dishes.
The golden yellow variety, however, creates a kind of confusion in the identification process.
And as discussed above, many people get confused when they see this variety along with yellow squashes.
In such a case, you can rely on the shape of the vegetable.
I'll talk more about it in the next section.
3. Shapes and Sizes
Squashes can also be identified and classified by their shapes and sizes.
Each squash variety has its unique shape, which makes the job easier for differentiation and identification.
Generally, Zucchinis have a straight tube-like shape.
Pattypan squashes have a saucer-like shape, which is quite useful in presenting it as a centerpiece in certain dishes.
Other squashes like Pumpkins possess a round spherical shape.
If you look at the yellow squashes, they also have their distinct elongated pear-like shape.
So, as I said above, almost every squash has a unique shape and size, and it makes the whole identification process a lot easier.
4. Seasons
I'm not sure if you know it already, but squashes do come in different seasons.
There are two distinct seasons for squashes, i.e., Summer and Winter.
The summer season lasts for 3-4 months, but the winter squashes are available for an extended period.
In fact, you can have the winter ones in almost all three seasons except summer.
And that's a huge factor if you talk about Zucchinis and other squashes.
In the following section, I have shared some answers to the commonly asked questions by readers.
If you have any doubts or queries in mind, do take a look at this section.
It might help in finding answers to some of the related questions.
FAQs
Do Zucchini And Squash Taste The Same?
No, they taste different!
The taste of each squash depends on its variety.
If you compare squashes like Pumpkins and Gourds with Zucchinis, you will notice a stark difference in their taste.
The taste also changes with the seasonal harvest.
Most winter squashes taste mildly sweet because the farmers harvest them when they are fully ripened.
But it is not the case with Zucchinis, as they get harvested when they are tender and raw.
Hence, you will always notice a difference in taste in each squash variety.
Does Yellow Zucchini Taste The Same As Green Zucchini?
Yes, it does taste pretty much the same!
Since yellow or golden zucchini is a hybrid version of the green one, you won't be able to distinguish their tastes.
Also, when you cook the vegetable in curries or stir-frys, it tends to lose its characteristics even further.
And the same things happen with Zucchinis and other such squashes.
They release their flavors quickly due to high water content in them.
The only difference, however, is the color of their skins. 
So, if you peel them off entirely, it'd become even harder to identify the taste of these veggies.
Can I Use Summer Squash Instead Of Zucchini?
If you don't like Zucchini, you can surely replace it with yellow summer squash.
Of course, you won't get the same green color for your preparation, but the taste will remain nearly the same.
So, if you are considering summer squash as a replacement for Zucchini, you can go ahead with it. 
It won't affect the taste as much.
Can Zucchini Be Eaten Uncooked?
Yes, you can savor it raw.
You will also find many salads that require this vegetable in its raw form.
So, there is no need to cook it unless it's mentioned in the recipe.
But yes, make sure you wash it thoroughly under tap water.
It will help in removing some of the dust and dirt from its surface.
Over To You
Now, I hope you realized the difference between Green Squash and Zucchini.
Of course, the names are a little confusing!
But once you get the hang of it, you will not have to look for more explanation on this topic.
If you have more questions in your mind, don't hesitate to ask me.
You can leave a comment below, and I'll get back to you soon.
If you liked this short guide, please share it with your friends and family.
And yes, do consider subscribing to the newsletter for more such guides and updates.