Are there any different types of Yellow Squash?
You bet, there are!
Like Green Squashes, you will come across many varieties of Yellow Squashes in the market.
So, I have shared some of the most popular types of yellow-colored squashes in the following guide.
Do check them out!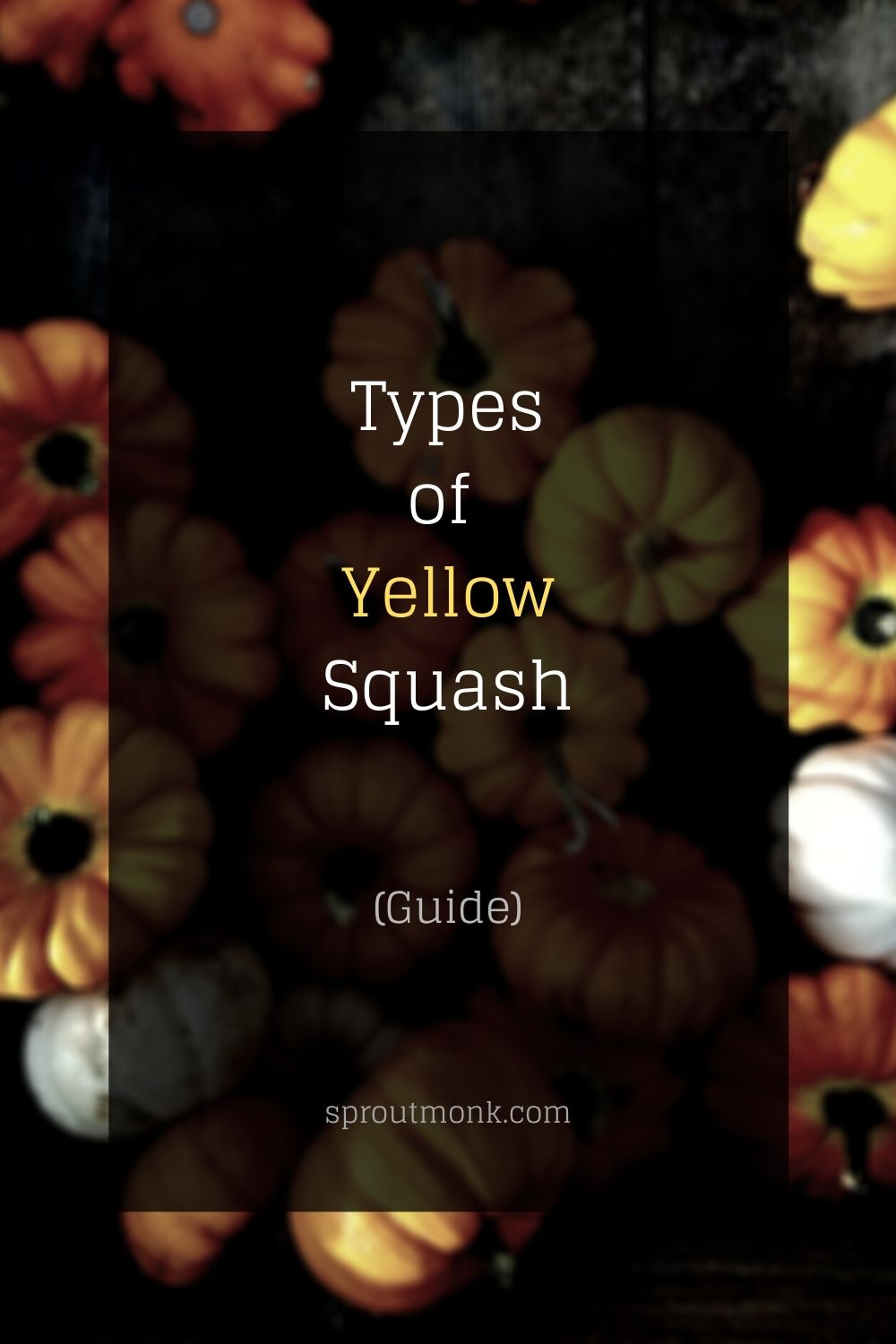 Types of Yellow Squash
In this list, you will find all the yellow squashes from the summer as well as winter season.
So, I hope you find it useful.
1. Zucchini
Yes, the yellow variety falls under the category of yellow squashes.
Generally, there are two types of zucchinis available in the market, i.e., Green and Yellow.
The yellow one is a hybrid variety of the traditional summer season zucchinis.
Did you know?
Zucchinis have their roots in the North American region, but they traveled to Italy through different trade routes.
Even though its ancestors originated in the Mesoamerican region, it is an Italian vegetable.
It came back to America again when the immigrants brought this vegetable with them in recent centuries.
Zucchini is also an Italian word for this squash family vegetable.
How To Use – 
Stir-Frys
Salads
Grilled
Roasted
Noodles
Pasta
Stuffed Preparations
2. Eight Ball 
Eight Ball is a hybrid variety of Zucchini.
Well, that's a fact!
Eight Ball variety is derived from the traditional Zucchinis.
Sometimes, we refer to it as Round Zucchini or Papaya Pear due to its shape.
We mostly use this squash variety for the preparation of stuffed dishes.
It has the same mild taste as the Zucchinis.
As for the color, it also comes in yellow color.
Eight Ball is a summer squash variety.
How To Use – 
3. Yellow Squash
For those who don't know, Yellow Squash is actually a different type of squash.
We often refer to is as the straight-neck squash.
It has an elongated pear-like shape.
It is also a summer squash variety, and it takes about a couple of months to grow this vegetable plant from the seeds.
Regarding the taste, it tastes quite similar to zucchinis with a little bit of sweetness to it.
Note – Yellow Squash and Yellow Zucchini are quite different from each other. 
How To Use –
Squash Casserole
Stir Frys
Roasted
Stuffed
Grilled
Baked
As you can see, its uses are similar to Zucchinis.
Hence, you can use it as an alternative if you don't find the yellow or green one in the store.
4. Crookneck Yellow Squash
It is another variety of common Yellow Squashes, i.e., straight neck squashes.
As for the name, it comes from its peculiar shape that actually looks likes a crooked neck or bird's neck.
Crookneck squashes can be used in a similar style as we use zucchinis or yellow squashes.
They also look more presentable when served with stuffings.
So, let's quickly take a look at some of the common ways to use this squash variety.
How To Use – 
Soups
Roasted
Grilled
Stuffed
Fritters or Chips
Squash Casserole
Stir Frys
5. Pattypans
Yes, Pattyapans are also available in yellow color!
They often come in three distinct colors, i.e., White, Green, and Yellow.
In case you don't know, Pattypan is also a summer squash variety.
And unlike other squashes, you can easily recognize them due to their unique shape.
They look like saucers from Sci-Fi movies.
Due to this shape, we mostly use this squash variety for stuffed preparations.
But you can also use them in various other styles of cooking, which are listed below.
How To Use – 
Stuffed
Boiled
Roasted
Baked
Pickled
6. Zephyr Squash
Zephyr Squash is not a typical yellow squash.
In fact, it comes in a combination of yellow and green colors.
You can identify this squash due to the combination of these two colors.
As for the variety, it is a cross between Yellow Acorn Squash, Delicata, and Crookneck Squash.
It is also a summer squash variety.
How To Use – 
Roasted
Grilled
Salads
Stir Frys
Baked
Soups
7. Pumpkin
If Zucchini is the king of summer squashes, I think it'd be fair to call Pumpkin as the king of winter squashes.
It is one of the most loved winter squashes in the US, and it also has significance in different cultures.
It comes in deep yellow and orange colors, though the orange variety is more famous than other types.
Pumpkins can also be cooked in numerous ways.
You can either bake and roast them in the oven or prepare soups and stir-frys using its meaty flesh.
Regarding the taste, it always tastes mildly sweet.
How To Use –
Salad
Roasted
Grilled
Stir Fry
Fritters and Chips
Soups
Baked
Stuffed
Pumpkin is a versatile squash, as you can use its leaves as well as seeds for cooking purposes.
Yes, the leaves are edible too!
8. Spaghetti Squash
Spaghetti Squash is one of the most popular winter squashes in the US.
It comes in three shades of color, which includes Cream, Yellow, and Orange.
Its name is derived from the Spaghetti pasta noodles.
When you cook this squash, its flesh turns into the strands that can be used as noodles.
It is an amazing alternative for traditional noodles.
In case you are wondering, it takes about 30 to 45 minutes to cook this squash in the oven.
Since its texture changes after cooking, you can only use it in a limited way.
Check out the following top 3 ways to cook this squash vegetable.
How To Use – 
Similar to Pumpkin and Delicata Squash, the seeds of this squash are edible.
Alternatively, you can also roast them for more flavor.
9. Acorn Squash
Acorn Squash is a winter squash variety.
It also has a long growing period as compared to other summer squashes.
It comes in three colors – White, Green, and Yellow/Orange.
And the green one is often favored to prepare several delicacies at home, as the color combination of green rind and yellow flesh looks more appetizing while serving the dish.
Its taste also depends on the color of the flesh. 
For eg., 
If the flesh looks orange, it may have a sweeter taste than the one with a yellowish tone.
Based on this characteristic, you may need to make changes in your preparation style.
Now, let's take a look at some of the ways to use this yellow winter squash.
How To Use – 
Stuffed
Baked
Roasted
Grilled
10. Delicata Squash
Delicata Squash is a winter season variety of squash.
And as the name says, it has a delicate rind.
These rinds are also a great identification feature for this squash.
Sometimes, we also refer to it as Peanut Squash, Sweet Potato Squash, or Bohemian Squash.
Delicata Squash is generally available in two colors, i.e., Cream and Pale Yellow.
Some of the varieties may also have a greenish tinge to their skins.
When it comes to cooking, you can use it to make several popular dishes like Maple Roasted Delicata Squash.
How To Use – 
Baked
Stuffed
Grilled
Roasted
You can also roast the seeds of this squash variety.
And that's it for this quick guide!
Do read the FAQ section to find out the answers to some of the most common questions about the yellow squashes.
FAQs
Are yellow squash and zucchini the same?
No, they are not the same.
Although they belong to the same Cucurbita Pepo family, they are different squash varieties.
Yellow squash is commonly known as straightneck squash in the US.
It also has another variety, which is known as crookneck squash.
How do I know what kind of squash I have?
The easiest way to find more about the squash is to ask the seller.
He or she will be able to tell more about the particular variety.
If you have got it from a local store, you may take a look at the label information.
Some sellers also stick a QR code label to their vegetables.
You can scan this code on your smartphone to find more information on it.
Ultimately, you can search on the internet to know more about your squash variety.
How can you tell if a yellow squash has gone bad?
The first sign is the smell.
If you get an unpleasant smell from your squash, it is a good indication that it has gone bad.
Apart from this, sometimes, the squashes turn mushy when they are overripe.
You may also see some liquid coming out of its rind.
And that's another indication as well.
There is another way to spot whether the squash has gone bad, i.e., change in color.
The outer skin might turn darker in color and may form wrinkles on it.
When you see such characteristics, it's time to throw that squash away.
How long does yellow squash last in the fridge?
If you are specifically talking about the summer squash variety, then it doesn't last really long.
You can keep it in the refrigerator for around 3-5 days.
If you keep it in the fridge for more days, it starts to lose its flavors quickly.
What is the best way to store yellow squash?
Like any other vegetable, you can increase the shelf life of your yellow squash by storing it in the refrigerator.
Make sure you wrap it properly using a plastic bag.
You can also poke a few holes in the bag for some ventilation.
Store this wrapped squash in the vegetable compartment of your fridge.
This way, it can remain fresh for up to 3-5 days, depending on the freshness of the squash.
You may follow the same preservation method for other squash varieties as well.
Over To You
Well, I hope you enjoyed this little guide on the different types of yellow squash available in the market.
If you are interested in knowing more about the Zucchini squash, do check out this guide.
In this guide, I have tried to address some of the commonly asked questions by the readers.
Meanwhile, if you have any questions related to yellow squashes, do let me know in the comments section below.
I'd be glad to answer them for you.
And if you liked this guide, please share it with your friends and family.
Also, do subscribe to my weekly newsletter below. 
I share useful updates on food and productivity.