Are there any Gujarati snacks for Diwali?
Do Gujaratis make any special snacks for this festival?
Yes, they do make some interesting snacks during this period!
In today's guide, let's learn more about them and find what really goes into making them at home.
Let's get started.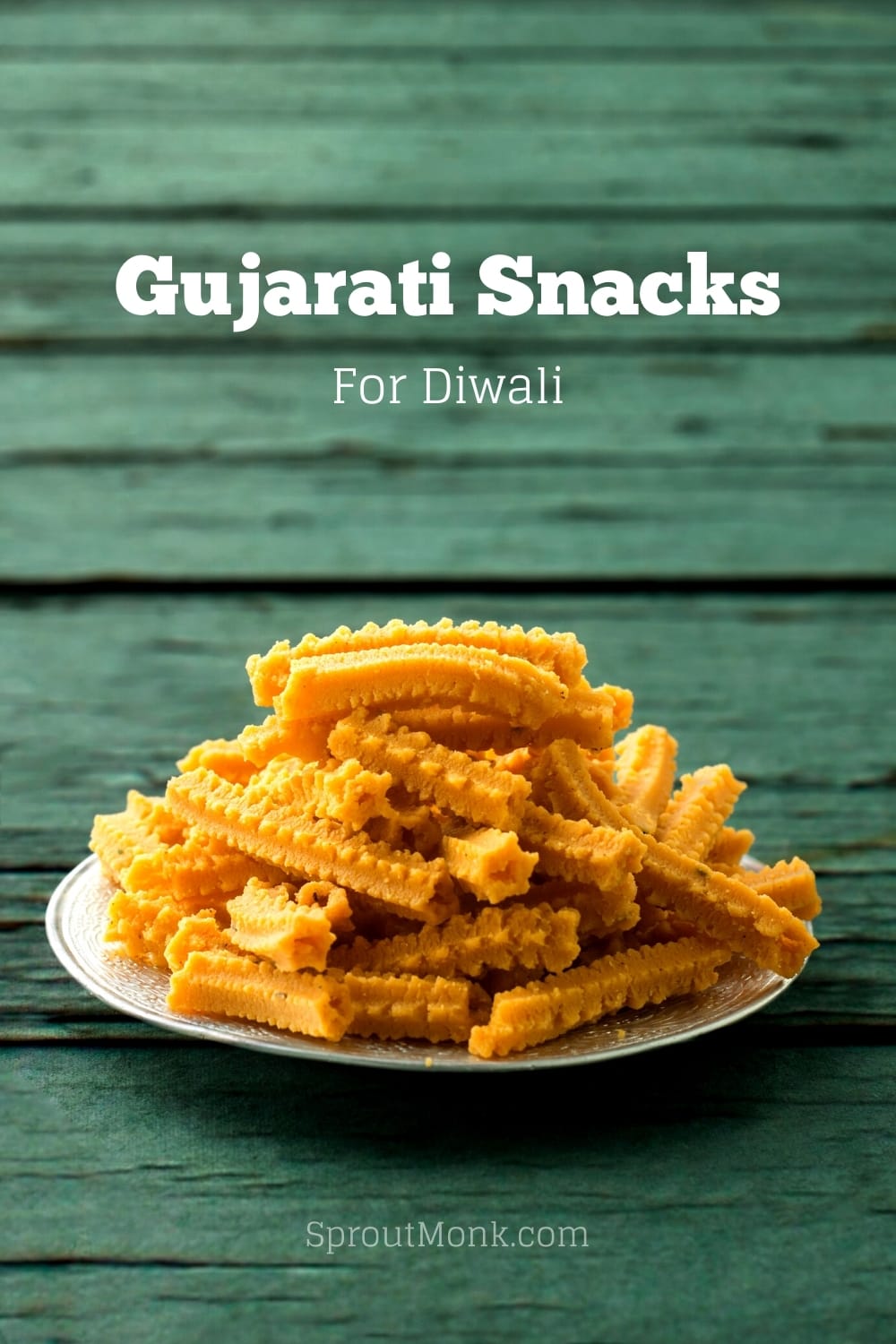 Gujarati Snacks For Diwali Festival
Since Gujarat is a neighboring state of Maharashtra and Rajasthan, you will see quite a few similar dishes being prepared in Gujarati households during this festive period.
So, let's quickly check out the list of Gujarati snacks you can make for this Diwali festival.
1. Shakarpara
Let's start with the sweet!
Shakarpara is an interesting snack, and it tastes a lot different than most sweet dishes prepared in India.
These diamond-shaped sweets are mostly prepared during the period of Diwali.
For the preparation, you only need Maida (Refined Flour) and Powdered Sugar.
These are the two key ingredients to make this dish. 
You can, of course, add some Salt and Cardamom Powder to enhance the flavor, but it's completely optional.
Along with them, you can also add another flavoring ingredient, i.e., Vanilla essence, to this preparation.
It gives an amazing taste to this snack.
So, do try it out if you can get your hands on Vanilla essence or Vanilla pods.
2. Namakpara (Nimki)
Namakpara is just another version of Shakarpara, and it tastes savory, as indicated in its name.
It is generally made using the same technique.
The only difference is the addition of Salt and Cumin Seeds to it.
Of course, you can also add Carom Seeds and Red Chili powder as per your taste.
Namakparas are also cut into diamond shapes and then fried using the deep-frying technique to get a crispy and crunchy texture.
This snack can be served as a tea-time snack as well.
You can make this snack in large quantities and store it in an airtight container for a couple of months if not more.
Quick Tip: Let them cool down completely before you store them in a jar or container. 
If you put them directly into these storage containers, they will release steam and turn soft after some time.
3. Farsi Puri
Farsi Puri is pretty similar to Sev Puri. 
It is a typical Gujarati snack and is mostly prepared for Diwali.
Its base ingredient is Maida, i.e., Refined Flour, which gives it a crispy texture.
Farsi Puri can be stored for a longer duration, and you can enjoy it as a tea-time snack.
4. Chevdo (Chivda)
Chevdo or Chivda is another must-have snack dish for Diwali in Gujarati households.
It comes under the category of Farsan, which is popular in this part of India.
Chevdo can be prepared in many ways, but the one that is served during the festival of lights is made using Poha or Flattened Rice.
Poha Chivda is a light snack, and it doesn't take long to prepare this dish at home.
Similarly, you can make Cornflakes Chivda, as its recipe is pretty similar to the regular Chivda recipe.
Chevdo can be stored for a month or two in an airtight container, but it's always a good idea to finish it as soon as possible.
Since we use flattened rice in this recipe, it can easily absorb moisture from its surroundings and lose its crunchy texture over the period.
When you taste this Chevdo, it will be chewy rather than crunchy.
So, it's always good to make it in small batches if you're not going to finish a large quantity in a few weeks.
5. Chakri (Chakli)
Chakri or Chakli is a quintessential snack for Diwali in Gujarati households.
It is made using Rice flour or a combination of different flours.
It is also a deep-fried snack, which means you can store it for a long without any issues.
The only thing you need to ensure is that it doesn't come in contact with air.
Otherwise, it will turn hard, and you won't enjoy the experience of having a perfect chakli.
Apart from this, if you want to make crunchy Chaklis, you will need to keep an eye on the oil temperature.
It shouldn't be too hot.
If you use very hot oil to fry them, they will cook faster from the outside and remain soft inside.
Similar to this, you shouldn't fry them at low flame.
The oil temperature should be moderately high so that the chaklis can cook evenly and get the desired color.
Keep these things in mind whenever you're making this snack for Diwali.
6. Besan Ladoo
Gujarat and Besan have a long-standing relationship!
From Khaman to Theplas, you will always get to see Besan being used in some form or the other in Gujarati food.
Therefore, you will also find Besan-based dishes as part of Diwali snacks.
Besan Ladoo is one such popular sweet that is often made during this festival.
These ladoos taste delicious and are easy to make at home too.
The roasted gram flour and dry fruits are the two essential ingredients of this recipe, giving it a peculiar taste different from other Besan-based dishes.
You can also store these ladoos for up to a month or so but don't store them for longer than this period.
Over time, the ladoos will turn dry and taste a little off.
7. Sev
Sev is another must-have snack for Diwali.
It is also an easy-to-make snack, and you can prepare it at the same time when you are making Chaklis.
Since both these snacks require the same flour mix, you can make two snacks simultaneously and save some time in the end.
You can make them with other flours as well, as there are quite a few interesting ways of making this snack in India.
8. Gujiya
As you know, Gujarati food is influenced by Rajasthani food culture as well.
So, you also get to see some of the snacks and sweets from this region in Gujarati food.
Gujiyas are one of those dishes that come from Rajasthan and are now part of Gujarati food.
For those who don't know, Gujiyas is a version of Maharashtrian Karanji.
In both these sweet dishes, you will need to prepare the coconut-based stuffing.
The outer layer of Gujiyas needs to be prepared with Maida, which adds to the crispiness of this dish.
Gujiyas can store well if you prepare the stuffing correctly.
There shouldn't be a lot of moisture in your stuffing if you wish to enjoy it even after Diwali.
9. Chorafali
Chorafali is a typical Gujarati snack, which is made out of gram flour and urad dal flour.
It is specially prepared for this festive season, and it goes well with some of the other snacks mentioned in this list.
Chorafali doesn't store well, as it can easily break into pieces due to its delicate texture.
Moreover, it tastes so amazing that it won't last for too long anyway.
On that note, let's quickly take a look at the FAQs below.
FAQs
1. What Do Gujaratis Eat On Diwali?
Gujaratis enjoy pretty much all the above-listed snacks and sweet dishes on Diwali.

And then, there is always going to be Khaman-Dhokla, Gathiya, Patra, Khandvi, etc., to go with the other dishes.
2. What Is Traditional Food For Diwali?
There is no such particular food for Diwali.

The food that is served during Diwali varies from one community to another.

So, you will always come across various dishes for this festival in each household.

That said, Ladoos, Gujiyas, and Shakarparas are very common for Diwali dishes.
3. What Are Diwali Snacks Made Of?
Diwali snacks are generally made of Maida, i.e., refined flour, and Besan, i.e., gram flour.

These are the two most used ingredients for making snacks during this festival.

However, other snacks like Chakri or Chakli need to be made with different types of flour. 

So, you will see some variation in ingredients for snacks that are slightly different and unique in their own way.
4. What Do People Eat For Breakfast During Diwali?
Generally, we prefer eating snacks and sweet dishes prepared specifically for Diwali breakfast.

If needed, you can also include 1-2 of your favorite dishes for breakfast.
5. Is Gujarati Food Spicy?
In general, Gujarati food is not spicy. 

Most of the popular Gujarati dishes have a mild and sweetish taste, but quite a few communities prefer spicy food for their meals.

So, the taste of food depends on each community that resides in this part of the world.