Does Butter Chicken taste spicy?
If you have never tasted this dish before, this question might come to your mind.
And that's a pretty valid question, too, especially when the dish looks quite vibrant in color and is related to North Indian style cooking.
So, what's the real taste of this dish?
Let's understand more about its taste and characteristics in this guide today.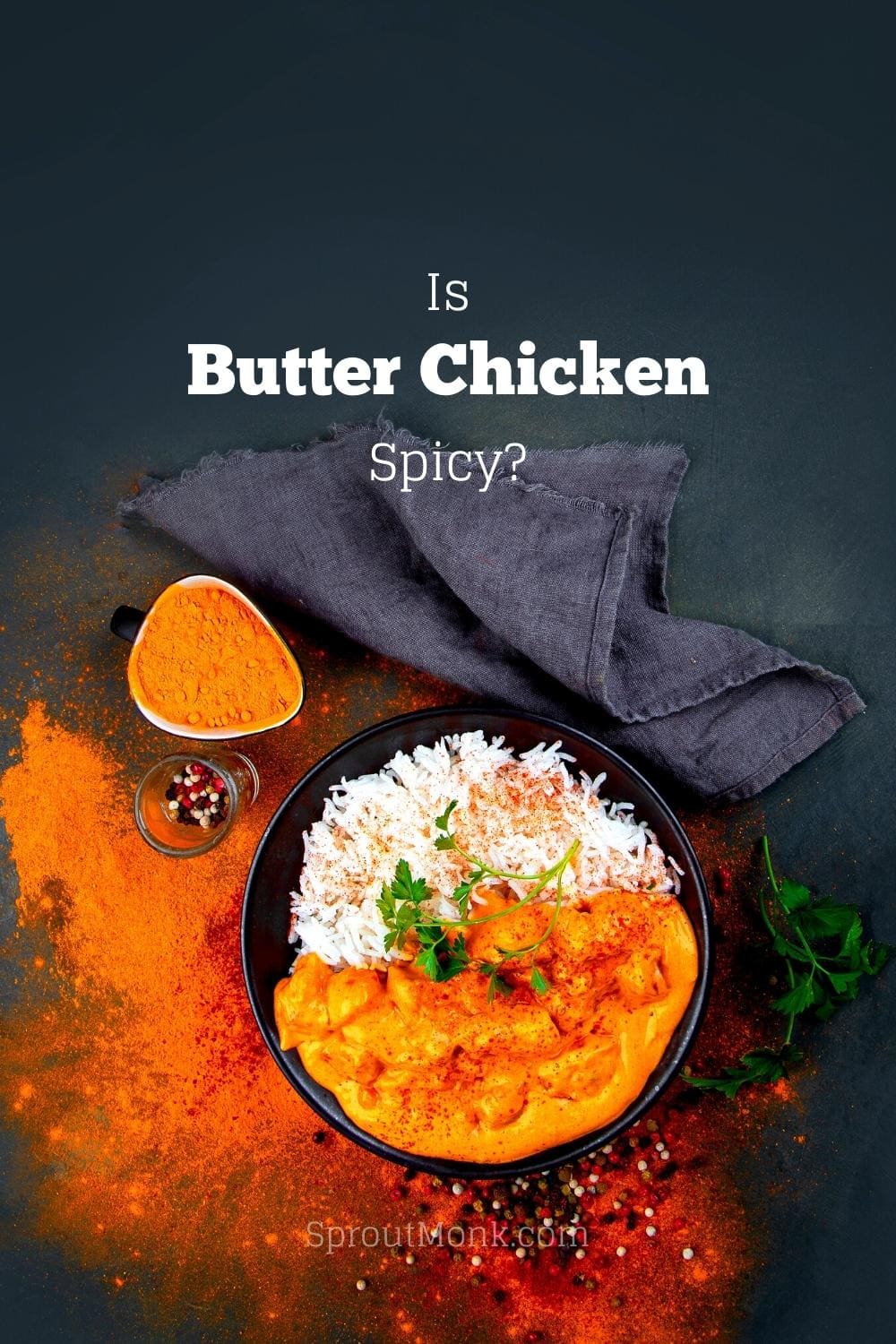 Is Butter Chicken Spicy?
Butter Chicken is a mildly spicy dish. 
It also tastes slightly sweetish.
The sweetness comes from dairy ingredients and honey/sugar.
These are the core ingredients of this recipe, and you can't make traditional Butter Chicken without these ingredients.
As for the taste, it may vary depending on the chefs and restaurants.
Since this dish is so popular, you will often find many variations of this delicacy.
Therefore, the taste won't be the same in each restaurant.
Some chefs prefer making it a little bit spicy by adding more green chilies.
And this is a typical variation made in India.
But the same is not true for the variations made outside India.
Western chefs generally avoid adding green chilies or use a few of them while making this recipe in their kitchens.
This is because the mild taste suits the palate of their guests.
Still, Butter Chicken is not a spicy dish even if you compare it with some of the non-veg. curries made in India or Asia.
So, you can surely enjoy this dish without any issues.
Quick Tip: If you have never tried it before, do try it with some hot Naan.
And if you prefer the mild taste, you can always request the chef to make it as per your liking.
How To Make Butter Chicken Less Spicy
Since this delicacy has so many variations, you will surely come across restaurants that serve a spicy version of this dish.
If you plan to make it at home, you will also find many recipes on the internet that can turn out spicier than you'd imagine.
That's why you should know how to balance the spice levels while preparing this recipe.
So, let's look at some of the ways through which you can manage the spices in your recipe.
1. Ghee
Ghee or clarified butter is an effective ingredient to balance the spices in such dishes.
It works magically and instantly!
If you feel the curry is a little spicy, just add a spoonful of ghee and mix it well.
This should do the trick. 
In case you feel the curry is still hot, you can add more ghee to it.
Note: The same can be done while preparing the dish. 
You can also add some ghee along with butter to adjust the taste and enhance the richness too.
2. Kashmiri Red Chili Powder
This red chili powder is known for its color and is not too spicy.
The only thing you need to adjust here is the quantity of red chili powder.
If you use it in excess quantity, the dish will turn bright red or fiery red.
So, use it sparingly if you're concerned about the color. 
Other than that, you can definitely replace your traditional red chili powder with Kashmiri red chili powder for this recipe.
This is another great method to reduce the spice effect in your Butter Chicken preparation.
3. Fresh Cream
Many people skip fresh cream because of its unavailability or some other reasons.
But it can greatly help offset the spicy effect in such preparations.
If you can't find fresh cream in your nearby grocery stores, you can also prepare homemade cream by boiling the milk.
It may not get you the perfect richness or texture, but it's a good replacement and will work effectively for your spicy curry.
4. Do Not Serve It Too Hot
When you serve curry dishes right off the flame, it enhances the effect of spices in such dishes.
So, you should wait for some time before serving the curry.
This way, the flavors will get absorbed into the chicken pieces, and the curry won't taste too spicy either.
Now, this may not work great if you've already used too many spices or chilies in your preparation.
It only works for the curry that is slightly overspiced.
On the whole, these are the few things you can do to reduce the spicy taste in your Butter Chicken gravy.
In the following section, I have shared some answers to the commonly asked questions related to this guide.
Do take a look at it if you have any similar questions in your mind.
FAQs
1. Is Butter Chicken Sweet Or Spicy?

As shared above, Butter Chicken is slightly sweetish and mildly spicy.

The curry has a combination of both these tastes, but none of it is overpowering.
2. Is Butter Chicken Hotter Than Korma?

No, Korma dishes are generally hotter than Butter Chicken.

But it also depends on the chefs at the restaurants.

Some chefs prefer to add more green chilies to Butter Chicken, which elevates its spice level significantly.
3. What Does Butter Chicken Taste Like?

Butter Chicken tastes like any other Punjabi or North Indian curry.

However, it gets its peculiar taste from milk-based ingredients like butter, fresh cream, khoya, dahi, etc.
4. How Is Butter Chicken Different Than Tikka Masala?

The basic difference between Butter Chicken and Tikka Masala is its taste and color.

Butter Chicken tastes a lot milder than Tikka Masala.

It also has a light yellow-orange color as compared to the bright red color of Tikka Masala gravy.
5. Why Is Butter Chicken So Good?

Butter Chicken tastes good because of the rich ingredients like cashew paste, butter, and fresh cream.

Also, the succulent pieces of chicken add to the overall flavor of this delicacy.

In general, it's a mildly flavored dish, which complements well with other ingredients too.
Over To You
Butter Chicken is not a spicy dish at all, and that's one of the reasons why it became so popular in western countries.
But if you like, you can make this dish spicier by using more spices and chilies.
Well, I hope you learned something useful from this guide.
If you still have any queries or doubts, do let me know in the comments below.
Please share this guide with your friends and family if you enjoyed it.