Tikka Masala and Butter Chicken are considered among the most popular dishes in the world.
But are they similar?
What's the difference between them?
Well, that's what we are going to find out in today's comparison guide.
In the following guide, you will get to know the similarities and differences between Tikka Masala and Butter Chicken.
So, let's get started.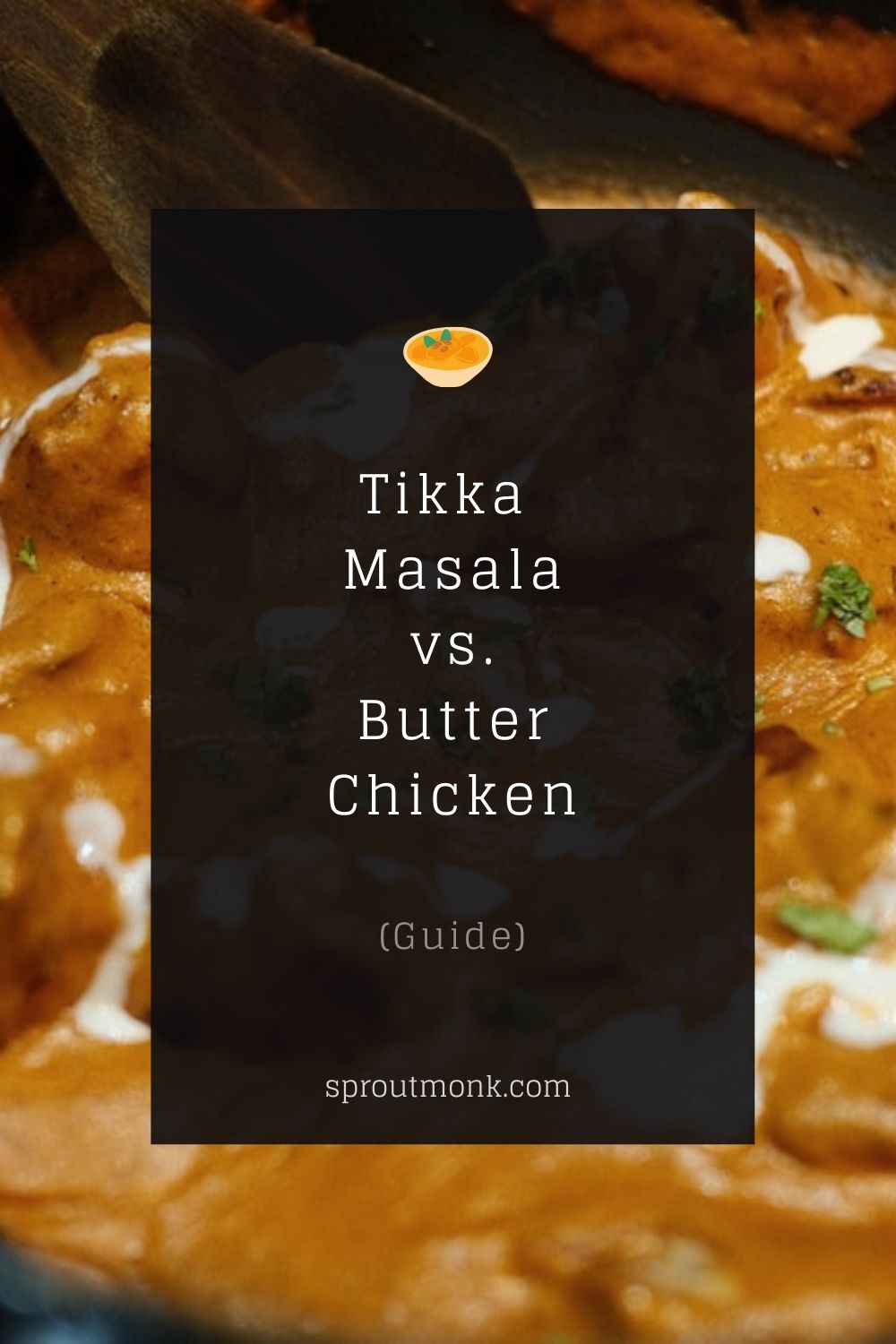 What Is The Difference Between Tikka Masala And Butter Chicken?
The real difference between Tikka Masala and Butter Chicken is the taste of these dishes.
Tikka Masala is a spicy delicacy, whereas Butter Chicken often has a slightly sweet and creamy taste to it.
And that's how you can identify these two dishes.
Of course, there are other differences too, but we will learn more about them in the following comparison guide.
What Is Tikka Masala?
Tikka Masala is commonly know as Chicken Tikka Masala or Murg Tikka Masala.
It is generally made using Tandoori Chicken Tikka pieces, Onion-Tomato gravy, Spices, and Cream.
That's the basic combination of ingredients used in this recipe.
Since we're not really sure about its origin, there is no standardization in what needs to be included in the recipe.
You will always come across a version of Tikka Masala instead of an authentic recipe.
The only common thing about these recipes is the use of Tandoori Chicken Tikka.
But nowadays, that's also being made in Pans and Kadais.
So, it does seem like there is no traditional or authentic way to make this recipe.
And that's the sad part of the evolution of food and food habits.
If you want to know why there is so much confusion about this recipe, read the next section on the origin of Chicken Tikka Masala.
History Of Tikka Masala
The origin of this dish is the most talked about topic in the culinary world.
Some believe it's an Indian dish, which became more popular in Europe and other western countries.
The other version of the story states that it was actually invented in the UK by a chef from Bangladesh.
And then, there is one more version that points the origin to Scotland.
So, as you can see, there are so many stories around this popular dish.
As for me, I believe the dish has its roots in the Indian subcontinent.
The ingredients and name of the dish also suggest that it might have some connection to the Indian style of curries.
Anyhow, the dish has a cult status in the food world, and that's what really matters in the end.
For those who don't know, Chicken Tikka Masala is also one of the most popular curries in Britain.
What Is Butter Chicken?
Butter Chicken is an Indian delicacy made using Chicken, Onion-Tomato purée, Cashew or Almond Paste, Cream, and Garam Masala powder.
These are the essential ingredients that go into making this delicious curry.
But yes, you can also add more ingredients to make it even more 'shahi,' as we call it in India.
As for the serving, you can serve it with any Indian flatbread, especially Punjabi flatbreads that include Naan, Kulcha, Tandoor Roti, etc.
If you don't like to savor it with flatbreads, you can try it out with plain steamed rice or jeera rice.
It also goes well with masala rice or tadka rice.
These days many chefs also use Butter Chicken as a stuffing mixture for various bakery items as well as stuffed parathas.
Quick Tip: You can use the leftover Butter Chicken to prepare Biryani the next day. 
It tastes absolutely amazing!
Just make sure you taste the leftover curry before adding the rice layers to it.
Alright, now, let's have a look at the history of this delicacy.
History Of Butter Chicken
As we all know, Butter Chicken is an Indian dish.
It was originated in an Indian restaurant called Moti Mahal in Delhi.
The dish was first prepared in the year 1947 at the time of the independence movement in the country.
Later, it became popular in other parts of the country.
It is believed that the dish was not prepared with the intention of creating something new in the kitchen.
Apparently, the restaurant chef put the leftover chicken in a rich and buttery tomato sauce.
Unexpectedly, it turned out great!
And that's how the Butter Chicken was born in this Delhi restaurant.
In today's world, though, you will get to see several variations of this chicken recipe.
Moving on, let's take a look at the next section, where I'm going to share the similarity factors between these two dishes.
Tikka Masala vs. Butter Chicken: Similarities
| | Tikka Masala | Butter Chicken |
| --- | --- | --- |
| Roots | Indian Subcontinent | Indian Subcontinent |
| Common Ingredient | Chicken | Chicken |
| Onion-Tomato base | Required | Required |
| Garam Masala | Required | Required |
| Cashew Paste | Required | Required |
| Cooking Time | 40-45 mins | 40-45 mins |
| Accompaniments | Flatbread, Rice, Salads | Flatbread, Rice, Salads |
| Served For | Lunch and Dinner | Lunch and Dinner |
| Can Be Made At Home | Yes | Yes |
| Popularity | High | High |
So, these are some of the similarities between Tikka Masala and Butter Chicken.
If you want to know more about it, read on.
Below you will find few more details on the distinctive points. 
1. Chicken
It's an obvious point!
You need to use chicken for both these recipes.
You can make use of other meats, vegetables, or paneer in the base gravy, but chicken takes it to another level.
It absorbs flavors nicely as compared to other types of meats.
So, if you are thinking of making these dishes at home, do consider using chicken only.
For vegetarians, you can use Paneer or Tofu to prepare these delicacies.
I'd have suggested vegetables, but it doesn't do justice to the makhani gravy.
2. Purée And Powdered Spices
For both these dishes, you require a smooth gravy.
Therefore, the Onions, Tomatoes, and other ingredients need to be transformed into a fine purée. 
The same thing applies to the spices.
There shouldn't be any whole spices while serving these delicacies.
And to avoid these spices, you may use them in the powdered form.
If you still want to use some whole spices, you can remove them before serving the dish.
So, it's another common aspect of these silky rich curries.
3. Preparation Method
The preparation method of these dishes is quite similar to each other.
And therefore, you will notice similar tasting gravies of Tikka Masala and Butter Chicken in many restaurants worldwide.
As for the cooking method, there are essentially two steps involved in the making of these two preparations.
The first step is to prepare the chicken separately.
The second step is to use it in the base masala gravy.
In the first step, you can cook the chicken using the Tandoor or home oven.
You can also pan-fry or grill the chicken for these recipes.
For the final step, you have to prepare a thick gravy of Onions, Tomatoes, and Indian spices.
And that's pretty much the standard process of making Tikka Masala and Butter Chicken in the kitchen.
Note: Many chefs like to cook the chicken in the base gravy for their Butter Chicken preparation.
4. Cooking Time
Since both the dishes require a similar cooking method, their cooking time is similar too.
The only thing that may play a role in the cooking time is the way you cook chicken for these dishes.
If you cook chicken in different styles, you might experience a bit of difference in the cooking process.
But if you prefer Tandoori-style chicken for these recipes, you can expect a nearly similar cooking time.
So, that's another common thing about these two delicacies.
For those who don't know, it takes about 25-30 minutes to cook the chicken.
Therefore, the overall cooking time for these dishes should not be more than 35-40 minutes.
In the case of the restaurant cooking, you can literally prepare these dishes in 10 minutes or so with the help of pre-cooked chicken and base masala.
5. Accompaniments
Let's talk about the accompaniments now!
As you know, Tikka Masala and Butter Chicken are quite like most of the North-Indian curries.
So, the accompaniments you serve with them are naturally the same in the case of these two chicken curries.
But what can we serve with them?
Firstly, you should serve them with Naan, Kulcha, or Roti. 
In fact, the piping hot Tandoori Rotis taste absolutely delightful with these two dishes.
Apart from the flatbreads, you can also serve some plain rice or Tadka rice with them. 
As for the other accompaniments, you may think of serving as simple as Mango Pickle and Raw Onions.
That's all you need for such dishes.
But if you still want something more exotic, you can try Onion salad or Vegetable salad and some Dahi raita.
Both Onions and Yogurt are good palate cleansers. 
You may also serve a couple of Gulabjamuns with it.
I know it's not a traditional accompaniment for these dishes. 
But I've seen people relishing this combination in family gatherings and parties.
Meanwhile, do not go overboard with these accompaniments. 
You can serve a couple of them from the above suggestions, and it should do the job.
In the next section, we will look into the differences between these iconic dishes.
So, here we go!
Tikka Masala vs. Butter Chicken: Differences
| | Tikka Masala | Butter Chicken |
| --- | --- | --- |
| Color | Fiery Red | Orange-Red, Yellow-Orange |
| Origin | Disputed; UK, India, Scotland | India |
| Taste | Spicy and Distinctive | Mild and Sweetish |
| Chicken Used | Bone-in or Boneless | Mostly Boneless |
| Honey or Sugar Requirement | Not Required | Required for sweetness |
| Tandoor Cooking | Required | Depends on preparation style |
Even though both of them seem quite similar, there are quite a few differences between them.
So, here's a detailed explanation of some of their most differentiating factors.
I am sure the following information will help you understand these two dishes even better.
So, let's not waste more time and start understanding each point thoroughly.
1. Color
Color is an interesting distinguishing factor between these two chicken curries.
If you compare Butter Chicken with Tikka Masala, the Butter Chicken almost always come in light red or yellow-orange shades of color.
And that's because of the no. of milk products included in this recipe.
On the other hand, Chicken Tikka Masala should have a dark red-orange color to it.
It should look fiery hot to the eyes.
But again, I could be wrong here because I have seen so many variations of Butter Chicken with fiery red color gravies.
However, in general, Butter Chicken should have a slightly yellowish-orange tone compared to Tikka Masala.
So, that's an easy way to identify these two dishes.
2. Boneless vs. Bone-in Chicken
Many times Butter Chicken is prepared with the chicken breast for a more juicy texture.
Tikka Masala can be prepared with any other part of chicken as long as it's boneless.
Some of the restaurants also serve Tikka Masala as well as Butter Chicken using the bone-in chicken, as it brings more flavor to the curry.
But ideally, Tikka Masala should be made with soft and succulent Tikkas only.
If you are making these curries at home, you can choose any type of meat for your preparation.
In the end, all you need to get right is the taste and flavor of the recipe.
So, you can go ahead and experiment with these dishes as you like.
3. Chicken Tikka And Shredded Chicken
If you can't differentiate these two dishes with the help of color or presentation, the next thing you can look at is the way chicken is used in these recipes.
That's correct!
As you know, Chicken Tikka Masala is prepared using Chicken Tikkas cooked in the clay pot oven or Tandoor.
Butter Chicken, however, is made using shredded chicken pieces.
In case you're wondering, the shredding process helps infuse the flavors of curries into the bland chicken pieces.
The same process is not essential in the making of Chicken Tikka Masala.
Well, this is the most noticeable difference between these two dishes, especially when they're prepared in top Indian restaurants.
But you might also come across many different Butter Chicken variations where the shredded chicken is not required.
With those variations, you can cook the nugget-sized chicken pieces in the gravy.
On a personal note, though, I'd suggest you follow the shredding process for this recipe.
It will completely transform the taste and texture of your recipe.
4. Taste
Since both are a type of curry, there is no better way to differentiate them than the taste test.
Well, just for the hint, you can imagine the spiciness by only looking at the colors of these dishes.
As discussed earlier, Tikka Masala comes in a fiery red hot color.
So, it's quite apparent the dish is spicier than Butter Chicken.
Butter Chicken is made using several milk-based products like Cream, Butter/Ghee (Clarified Butter), etc.
Also, the richness of cashew paste helps tone down the effects of robust spices and green chilies used in this curry.
Sometimes, the chefs also add a bit of Khoya to such preparations, which also reduces the spiciness of the Butter Chicken gravy.
Overall, the taste is a good differentiator in this comparison of Chicken Tikka Masala and Butter Chicken.
5. Sweetness
Now, you may wonder why I am talking about sweetness while comparing these spicy dishes.
Well, the sweetness is an important factor in making the Butter Chicken tasty and delicious.
It's almost like a hallmark of the Butter Chicken preparation!
The professional chefs do use a pinch of sugar or some honey to balance the taste of this delicacy.
In general, the sweetness in this dish helps you reduce the effect of the sour and spicy tastes of tomatoes and spices, respectively.
But what about the Tikka Masala?
It should not have a sweet taste to it at all.
It's an inspired version of North Indian dishes.
Therefore, it should always taste spicy.
On that note, I hope you enjoyed reading the similarities and differences between these dishes.
If you have any more questions, check out the following FAQs section.
In this section, you will get to read the answers to some of the commonly asked questions on the topic of Butter Chicken and Tikka Masala.
So, do check it out.
FAQs
1. Is Tikka Masala The Same As Butter Chicken?

As explained in the guide above, they are two different dishes that have roots in the Indian subcontinent. 
2. What Is The Difference Between Chicken Masala And Chicken Tikka Masala?

The most noticeable difference between simple Chicken Masala and Tikka Masala is the preparation method.

Chicken Masala can be prepared in many different styles.

For e.g., 

You can prepare it using finely chopped Onions and Tomatoes.

Or you can prepare it using the purée with some Indian spices in it.

Also, for homemade preparations, you don't have to use the Cashew or Almond paste in it. 

You can also skip the cream from it.

However, Tikka Masala needs to be prepared in a specific style for more taste and flavor.

You also need to bake the Tikkas in the Tandoor (Clay Oven), which is not the case with Chicken Masala.

Tikka Masala almost looks like a fiery dish due to its red color.

On the contrary, Chicken Masala often gets a somewhat red-brown color due to the stir-fry process.

So, these are some of the main differences between Chicken Masala and Tikka Masala.

On a final note, it'd be fair to say that Tikka Masala is more of a shahi version of Chicken Masala.

3. Is Butter Chicken Really An Indian Dish?

Yes, Butter Chicken is an Indian dish!

In 1947, it was apparently developed by the founders of Moti Mahal restaurant in India.

Sometimes, it is also called as Murg Makhani.

However, similar to Tikka Masala, you might notice differences in various Butter Chicken and Murg Makhani recipes.
4. Why Is Butter Chicken So Good?

Butter Chicken tastes good because we use many milk-based products like Butter, Fresh Cream, Mawa, etc. in this preparation.

Also, there is an addition of Cashew paste as well.

So, all these rich ingredients make it one of the most delicious curries in the world.
5. Which Is Better Tikka Masala Or Butter Chicken?

Well, it really depends on how you like your chicken curries.

If you like more rustic, spicy, and flavorful curry, you can think of trying out Tikka Masala.

But if you want something subtle yet delicious, you can consider having Butter Chicken with Indian flatbreads or rice.

Note: The preparation style of these dishes differ a lot with each chef and restaurant. 

So, you may come across a mildly spiced and almost Butter Chicken-like taste for the Tikka Masala preparation in different places, especially outside India.
Over To You
I really enjoyed sharing this comparison between Tikka Masala and Butter Chicken.
Personally, I like Tikka Masala more than Butter Chicken, but both the dishes are quite excellent in their own ways.
And not to forget, their sauces have now become the base mixtures of almost every Punjabi or North Indian curry in the world.
It includes vegetarian curries as well!
On that delicious note, let's conclude this guide here.
I hope you liked this guide as much as I did while writing it.
If you have questions or feedback, let me know in the comments section below.
Also, do consider sharing this guide with your friends and family.
And if you are interested in more such guides and updates, please subscribe to my newsletter below.
I share some useful thoughts and insights on food and productivity every week.