Do you want to know how to prepare a smart Kirana List?
Well, if the answer is yes, do read the following guide.
In this guide, you will find detailed information on the Indian Kirana list, or as we commonly know it – the monthly grocery list or the general store items list!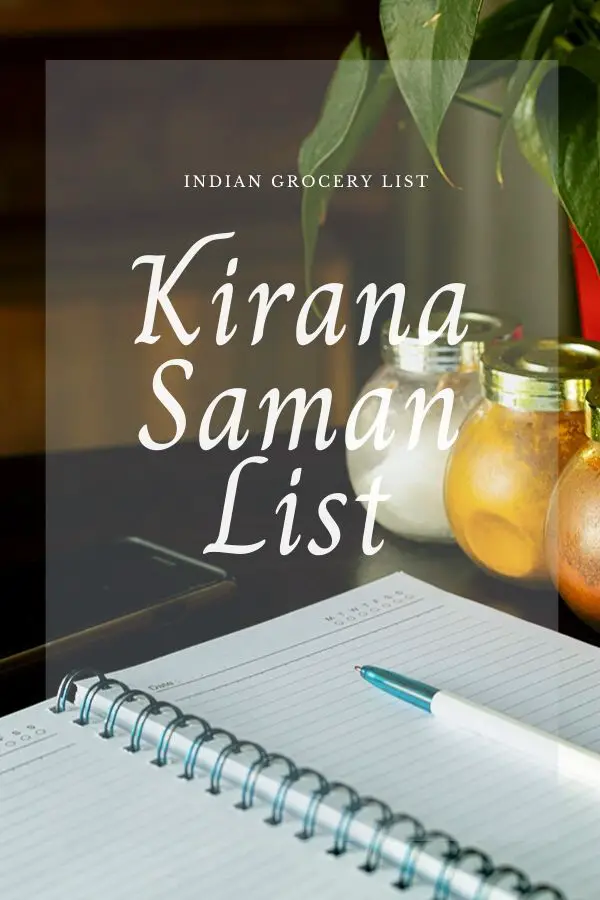 What Is A Kirana List?
Kirana List is a basic version of the new-age grocery items checklists, where you simply mention the items you need for the next week or month.
And it only requires a pen and paper. 
Meanwhile, I know some of you may not be aware of the word Kirana.
Kirana is a Hindi word, which translates to the grocery in English.
And it is still being used in almost all parts of the country where Hindi is a prominent language.
On a personal note, my mom also prepares a monthly Kirana saman list, which is nothing but a simple list of essentials and other items.
And she still prefers a classic notebook over digital apps on her mobile phone!
Sometimes, I do find it funny, but her traditional way of making a monthly grocery item list is as effective as any other note-making or checklist app on mobile devices.
For those who don't know, here's how the traditional grocery list works in real life –
Step 1: You prepare a saman list at home.
Step 2: When you visit the store, you hand it over to the shopkeeper.
This way, it becomes easier for the store owner to fetch all items at once from his racks and shelves.
Ultimately, it saves a lot of time for you!
It also works great in shopping malls, as you can stick to the list and avoid getting a lot of non-essential items from them.
10 Things You Must Include In Your Indian Kirana List
Even though I have shared a detailed guide below, I feel you shouldn't miss out on the following items.
These items should always be a part of your list, as it helps in keeping things on track at home.
So, go through this list once and check if you've missed any items from your monthly Kirana list.
Rice
Dal
Flours (Wheat Flour, Rice Flour, etc.)
Oil
Sugar/Jaggery
Salt
Spices (Khada Masalas & Powdered Masalas)
Vegetables (Onions & Potatoes)
Tea/Coffee
Snacks
I wanted to add two more items to the above list, i.e., Milk and Eggs.
But you can get them daily and weekly, as per your need.
So, I just skipped these two essentials here.
Well, if you can get all these essential foods every month, you should do alright generally, and even in trying times. 
Now, let's quickly look at the detailed general store items list.
Kirana Saman List
The following list is divided into four segments for a better reading experience.
I hope you find these segments helpful.
Essential Goods
The following list is for the essential goods, which you may require every month.
Rice – 5 kg
Moong Dal – 2 kg
Toor Dal – 2 kg
Masoor Dal – 2 kg
Chana Dal – 1 kg
Urad Dal – 1/2 kg
Oil – 5 ltr
Salt – 1 kg
Turmeric Powder – 200 gm
Red Chili Powder – 250 gm
Other Spices – As Needed 
Chawli/Lobia – 1/2 kg
Green Peas – 1/2 kg
Kidney Beans – 1/2 kg
Moth Beans – 250 gm
Moong (Whole) – 500 gm
Masoor (Whole) – 500 gm
Chickpeas – 500 gm
Whole Wheat Flour – 5 kg
Besan – 1 kg
Maida – 1 kg
Jowar Flour – 1-2 kg
Rice Flour – 1 kg
Nachni Flour – 1 kg
Bajra Flour – 1 kg
Sooji/Rava – 1 kg
Poha – 1-2 kg
Peanuts – 1/2 kg
Puffed Rice (Murmura) – 250 gm
Sugar – 2-3 kg
Tea/Coffee  – 250 gm – 500 gm
Fresh Produce
This list is for fresh produce.
You can avoid it entirely if you get your vegetables and fruits from local markets.
Onion – 5 kg
Potato – 2-3 kg
Vegetables – As needed
Fruits – As needed
Milk – As needed
Toiletries & Cleaning Agents
The following one is for the toiletries and cleaning agents required for each household.
Bathing Soaps – 5-6
Shampoo – As needed
Conditioner – As needed
Hair Oil – As needed
Toothpaste – 1
Shaving Cream – 1
Detergent Soap – 2-3
Detergent Powder – 2 kg
Dish Wash Soap – 3-4
Dish Wash Liquid – 500 ml
Floor Cleaner – 1 ltr
Toilet Cleaner – 1 ltr
Toilet Roll – As needed
Sanitizer – 250 ml
Kitchen Towels/Tissue Papers – As needed
Miscellaneous
Here, you can add all other items and goods not present in the above three lists.
Snacks – As needed
Dry Fruits – As needed
Dahi – 500 gm
Cheese – As needed
Ice Cream – As needed
Paneer – 250 gm
Papad – 1 pkt
Chocolates – As needed
Honey – 1 bottle
Ready To Make Products – As needed
Pooja Items – As needed
Garbage Bags – As needed
And that's what you need to get in a month from your general grocery store.
Of course, you may not require all the items listed above, but it will give you an idea of what you should include in such general store item lists.
Later, you can make some changes to it as per your requirements.
Notes & Guidelines:
The list provided above is suitable for a family of four people. 
If you have more people at home, you may need to adjust it accordingly.
Similarly, if your food habits are different, you will also need to make the changes to the above list.
Use this Kirana saman list only as a reference point for your monthly grocery list.
And oh, I have also shared a downloadable PDF checklist below. 
So, do check it out as well.
Download Indian Grocery Items List PDF File
In this section, you will get to download the main grocery list in PDF format.
And you can refer to this list whenever you want.
You can also print this PDF file on your computer for future use.
The checklist in this file will allow you to strike off the non-essentials and already bought items.
I have also left some space for notes in this PDF file. 
So, I hope you find it useful.
Download Link –
You can download the Kirana List PDF file here.
Meanwhile, if you are a bachelor, I'd suggest the following list for you.
It's slightly different from the list I've shared above, as you may not require all items that a family needs each month.
Also, if you don't know how to cook, you can include more ready-to-make products in your saman list.
Now, here's the basic grocery list for all bachelors in India –
For Bachelors 
The following list is for the bachelors!
Rice – 2 kg
Dals – 2-3 kg
Oil – 2-3 ltr
Spices – As needed
Vegetables – As needed
Fruits – As needed
Milk – As needed
Ketchup – 1 bottle
Maggi – 5-6 pkts
Bread – 1 pkt
Papad – 1-2 pkt
Poha – 1 kg
Rava/Sooji – 1 kg
Eggs – 1-2 dz
Paneer – 250 gm
Snacks – As needed
Ready To Make Products – As needed
Toiletries & Cleaning Agents – As needed
Pooja Items – As needed
If you are someone who loves cooking, you can refer to the above list or make some modifications to the following list.
Note – If you are looking for easy-to-make snacks, try Kanda Poha or Masala Peanuts. 
It's better to make such snacks at home than ordering ready-mixes like Maggi Noodles and Instant Poha/Upma.
So, keep a note of it while preparing your Kirana saman list.
If you liked the above lists, I'm sure you will love the following section as well.
It's about planning and preparing your grocery list for each month.
So, let's dive right in.
How To Create Your Monthly List
Well, I don't like making complicated lists.
I prefer relatively simple and easy reference notes for any shopping list.
And if you are someone who loves this approach, I'm sure you will enjoy the following process.
Here's how I create my list each month:
1. Get The Essentials
It has to be your first list segment!
I give the highest preference to these items on my grocery list.
And it would help if you did the same.
It's crucial to fill the cart first with something you need to run the kitchen smoothly. 
So here, I'd suggest you go for items like pulses, atta, rice, oil, spices, etc.
You can also include vegetables and fruits in this list.
But these are perishable goods, so make sure you order them accordingly.
You can always refill them when there is a fresh stock supply each week or so.
Note – If you like to prepare a more detailed list, you can break this segment down into different small sub-segments.
For e.g.,
You can create a sub-segment for Pulses, where you can include various types of dals.
2. Don't Forget To Add Toiletries and Cleaning Agents
In this segment, you can fill up all the non-food items.
And it includes soaps, shampoos, cleaning agents, scrubs, etc.
With these two lists, you should have secured pretty much everything required to run your home for a month or so.
3. Keep The Last Section For Miscellaneous Items
Now that all essential things are covered in the above two lists, you can include the remaining non-essentials in this list.
In this section, I try to include all other items under the low priority group.
You can include your weekly/monthly treats, snacks, ice creams, and ready mixes in this segment.
And you're done!
That's how I like to create my minimal grocery list for the month.
Go through the following tips section if you need more tips to get organized in Kirana list creation.
It will help you learn a few things about planning and managing your list.
7 Tips To Prepare Kirana List
When you say you need to plan something, it often means you need to be more efficient in your work.
And the same principle applies while planning this type of list.
If you plan your Kirana list efficiently, it will save a lot of difficulties in the end.
And you can also avoid wastage in the form of food and other essentials.
So, here are some of the best tips to plan your grocery list each month –
1. Plan In Advance
That's right!
Planning always helps in accomplishing complex tasks.
However, it is not a difficult task, but it can consume a lot of time.
If you don't know what to stock up for your kitchen, you might end up thinking and spending hours on what to order for your next month's grocery.
Tip: If you want to plan your grocery, keep a note of the required items as and when possible.
And you can refer to this note whenever you make the final Kirana Saman list.
2. Know Your Budget
Yes, it's essential!
You need to know how much you want to spend each month on the grocery.
It allows you to understand the difference between the things you need and what you want.
So, make your grocery list accordingly.
3. Put It On The Paper
I know there are a lot of grocery and list-making apps available these days.
But I feel it's better to make a list on the paper.
You shouldn't be complicating this simple task with unnecessary checklists, bullets, etc.
If you still want to use your phone, I'd suggest any default note-taking app on the device.
It does a great job!
And you can easily share this list with the shop owner through Whatsapp or SMS.
4. Take A Photo
The only downside of using a paper sheet is you might lose it somewhere.
It has happened to me several times.
So now, I take a photo of the list on my mobile phone once I finish this task.
And I highly recommend you do the same!
It will keep you sane even if you lose the paper sheet.
5. Track Your Grocery Purchases
Just like planning, the tracking habit also helps in preparing a smart grocery list each time.
When you track purchases for each month, it becomes easier to plan your following list.
Apart from expenses, you also get to know your purchase trends for each month when you track religiously.
And you can tweak some purchases next time if you feel you're spending more on non-essential items.
I have been tracking my grocery purchase for a long time now, and it has helped me understand and manage the overall expenses for each month.
6. How To Get Discount 
Ah, the discounts!
Who doesn't love them, right?
So, here are some of the tips to get discounts on your grocery shopping –
Place your order during the first week of each month.
Stock up on non-perishable items during Summer and Winter season.
Set a reminder for Holidays or mark them on your calendar. And place your online order on these days.
Make your purchases using Credit or Debit cards.
Well, these are the proven ways to get good discounts on your shopping.
However, if you are buying from a local shop, you may not find similar deals and discounts there.
You will probably need to go to the shopping malls or grocery malls to find some good deals on your purchases.
7. Have Fun & Treat Yourself
After all, it won't put a hole in your pocket if you spend a little extra on the things you like.
Your list shouldn't just include the essentials and all other things you absolutely need each month.
So, have fun with your list-making experience, and do keep a budget to treat yourself.
With this extra budget, you can order anything you want.
For e.g., 
I order Ice Creams, Chocolates, Cakes, Gourmet Breads, Spreads, Snacks, etc., whenever I make a list of other essentials.
Similarly, you can order your favorite non-essential foods to treat your taste buds. 
Over To You
How do you prepare your Kirana Saman List?
Do you like a minimal format, or do you categorize everything in small segments?
Share your thoughts in the comments section.
I'd love to know how you make your monthly grocery list each month.
If you feel something is missing in the guide or PDF files, please mention it in your comment below.
I'll update it duly. 
And oh, don't forget to share this guide with your friends and family.