Tamarind Chutney, also known as Imli ki Khatti Meethi Chutney, is one of the most loved Chutneys amongst chaat lovers in India.
It is the quintessential Chutney for many of our Indian snacks, which includes Samosas, Vada Pavs, Bhel Puri, Aloo Tikkis, Chaats, etc.
As the name suggests, the Tamarind Chutney is made using Tamarind and Jaggery. These are the two important ingredients of this sweet and tangy accompaniment.
If you are making this Chutney for kids, you can also add some Dates (Khajur) into it.
It gives an interesting texture and taste to the Imli ki Chutney.
Generally, the snacks shops do not use Dates in this recipe. You will only find Tamarind and Sugar based Chutney with their Samosas and Chaats.
When I make this Chutney at home, I prefer adding Jaggery instead of Sugar. I feel Jaggery is a better alternative to processed Sugar.
In the following post, I have shared the Jaggery based recipe. If you like, you can replace it with Sugar as well.
Alright now, let's get started with the recipe.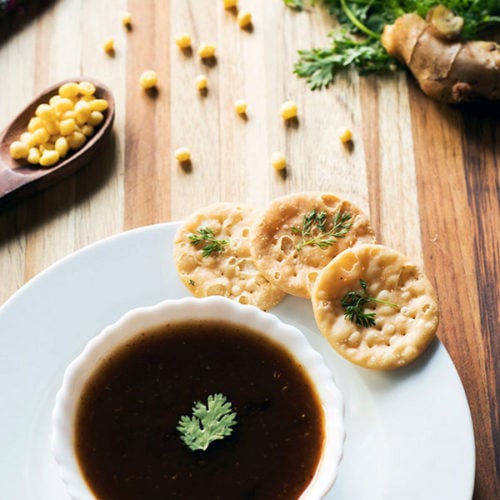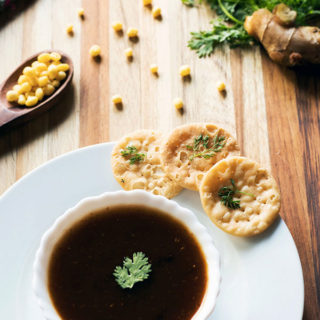 Tamarind Chutney Recipe
Tamarind Chutney is a traditional Indian Chutney, which is served along with tasty snacks. 
Ingredients  
50

gm

Tamarind (Imli)

soaked into Water

100

gm

Jaggery (Gurh)

2

tsp

Cumin Seeds (Jeera)

1

tsp

Coriander Seeds (Dhaniya)

2

tsp

Dry Ginger Powder (Soonth Powder)

1

tsp

Red Chili Powder (Lal Mirch Powder)

1/4

tsp

Asafoetida (Hing)

Water

Salt
Instructions 
Heat a pan on medium flame and dry roast the Cumin Seeds and Coriander Seeds.

Grind them into a powder and keep aside.

Soak Tamarind in Water for an hour or so.

Sieve the soaked Tamarind and extract all the pulp in a bowl.

Heat the same pan again and pour the Tamarind water into it.

Now, add the roasted Cumin and Coriander Seeds Powder, Dry Ginger Powder, Red Chili Powder, Asafoetida, Jaggery, and Salt to it.

Mix it well and let it simmer till the Jaggery dissolves into Tamarind water completely.

Once you get the desired consistency and color, switch off the flame and take the Chutney out in a bowl.

Let it cool down a bit before serving with your favorite snacks.
Notes
If it turns little sour, add some refined sugar to fix the taste as per your liking.
You can also use readymade Tamarind paste to prepare this Chutney.
If you want to use Dates in it, you may follow 1:1:1 ratio for Tamarind, Dates, and Jaggery.
How to store Tamarind Chutney
You can store this Chutney for one month in the refrigerator. If you want to preserve it for a long duration, make sure to use less water during the preparation.
When you want to use this Chutney for your homemade chaats, take out a scoop or two and mix it with Water.
And your Chutney will be ready to use!
Just like Pickles and Jams, you should preserve the Chutney in tightly sealed jars.
How to use leftover Tamarind Chutney
Don't waste your food!
That's one of the things I've learned from Indian food culture.
And I really like the fact that many households still follow this practice religiously.
So, how do you use excess Tamarind Chutney?
Since it has a sweet and tangy taste to it, you can use this Chutney for many main course dishes.
Here are some suggestions –
Note – If you have made a very sweet Tamarind Chutney, do not use it for the following recipes. It might change the complete taste of your dish.
Spicy Fried Rice:
If you want to give a traditional touch to the Fried Rice recipe, you can experiment with this Chutney. Use it in moderate quantity though.
Fish Curries:
Fish curries taste amazing with Tamarind and Kokum extract. You may try Tamarind Chutney in such curries.
Chicken & Mutton Curries:
Yes, you can!
If you are making Goan or Konkani style delicacies, you should definitely consider this Chutney for a tangy and sweet taste.
Aloo Vadi/Patra:
For Aloo Vadis, replace the Tamarind and Jaggery with this Imli Chutney in the batter mixture.
And that's all you need to do to make the tasty and mouthwatering Aloo Vadis.
Kachori:
You may also use the leftover Imli ki Chutney while making the Kachori mixture.
It will take your Kachoris to the next level for sure!
So, do try out these ideas and let me know how they turn out in the comments section below.