India, as a country, is blessed with so many varieties of chillies.
And it reflects in our food culture as well.
But when it comes to Indian food, there are two types of chillies that are commonly used all over the country.
These are nothing but the Byadgi Chillies and Kashmiri Chillies.
So, is there a difference between these two chillies?
Well, let's learn more about them in the following Byadgi Chilli vs. Kashmiri Chilli guide.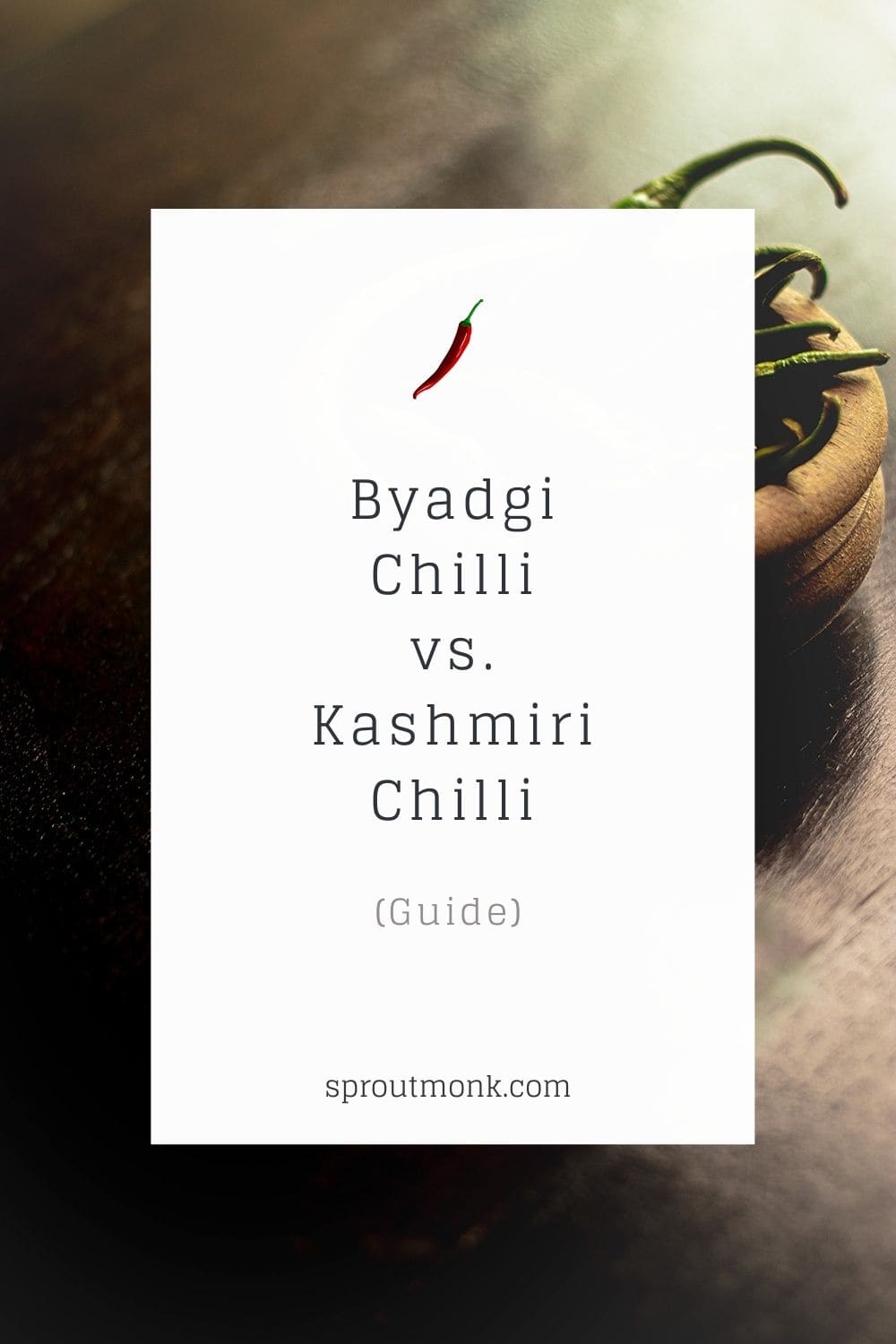 What Is Byadgi Chilli?
Byadgi chilli comes from Karnataka, India.
And as with most of the chilli varieties, its name is also derived from the origin place, i.e., Byadgi town in Karnataka.
Sometimes, it is also referred to as Bedgi chillies in India's local markets.
It is one of the most popular chillies in Southern-style cooking, and you will get to see it being used in many of the delicious coastal curries.
As for the taste, it's not as hot as compared to some of the other regional chillies in India.
Still, it does leave its mark on the palate if you use it in large quantities.
The Byadgi chilli has a deep red color, which is quite unique and distinctive in comparison with other varieties.
Also, it comes in a curly and wrinkled outer cover, which helps in its identification.
Did you know?
Byadgi Chillies are also used in the production of nail paints and other cosmetic products.
What Is Kashmiri Chilli?
As the name says, Kashmiri Chilli comes from the state of Kashmir in India.
The variety is known for its peculiar red color.
Unlike Byadgis, the Kashmiri chillies are mostly used in the powdered form.
It is one of India's most popular chillies, which is used in various North Indian style preparations.
It tastes milder than most of the other varieties available in the country.
As for the appearance, it doesn't have too many wrinkles or curls on it.
Its skin does look smoother than Byadgis, though.
Kashmiri Chilli is also one of the highly exported chillies in India.
And India ranks no. 1 as far as the export ratio of these chillies is concerned.
Byadgi Chilli vs. Kashmiri Chilli: Similarities
Here's a detailed look at some of these similarities – 
| Chillies | Byadgi Chilli | Kashmiri Chilli |
| --- | --- | --- |
| Food Type | Vegetable | Vegetable |
| Color | Red | Red |
| Smell | Not Too Strong | Not Too Strong |
| Pungency | Mild | Mild |
| Storage Life | Long; More Than 1 Year | Long; More Than 1 Year |
| Availability | Easily Available | Easily Available |
| Price (per 100 gms) | ₹ ₹ | ₹ ₹ |
Color
Since both are dried red chilli varieties, they lend a bright color to different preparations.
It's one of the common aspects of these two chillies.
Hence, sometimes, you can use these chillies and their powders as alternatives to each other in Indian curries.
Pungency
Another common factor between them is the pungency!
As you know, both these varieties are relatively milder than most other species of chillies.
They are clearly not as hot as different green and red peppers.
It is also the reason why we use these chillies for different preparations.
Their mild taste makes it easy to use them for color than the taste itself.
Price
Due to the abundance in production, both the chillies are available at similar rates.
There is not much difference in their prices.
As of writing this guide, here are the rates for these two chillies at D'mart's online store –
Byadgi Chilli – 56 per 100 gms
Kashmiri Chilli – Rs. 58 per 100 gms
Note – These are pre-discount rates.
The rates may also differ significantly in some places, depending on the location, availability, and market supply.
And if you are buying them in western countries, you'd probably see even more differences in their prices.
Availability
Since India is a leading chilli producer country in the world, we don't get to see any shortage of supply for both these varieties.
Also, another factor that goes in their favor is the shelf life.
The dried chillies last really long compared to fresh green chillies, which helps store them in large storage houses.
Apart from that, they grow well in India's hot and humid weather.
Therefore, the production is not a big issue either.
Overall, as you can see, they are easily available throughout the year in almost all major markets and online stores in the country.
Byadgi Chilli vs. Kashmiri Chilli: Differences
| Chillies | Byadgi Chilli | Kashmiri Chilli |
| --- | --- | --- |
| Cultivation | Karnataka, India | Kashmir, India |
| Mostly Used For | Coastal Curries | North Indian Curries |
| Used As | Whole or Powdered Form | Mostly Powdered Form |
| Popularity | Limited to some parts of the country | Highly popular in the world |
| Taste | Earthy; distinct taste | Not too distinct |
Cultivation
As I mentioned earlier, these chillies are native to India.
But they grow in different parts of the country.
Byadgis are highly produced in the state of Karnataka, whereas Kashmiri chillies are cultivated in Kashmir and other nearby regions.
Interesting Fact: 
Even though these chillies are specifically produced in one state, their processing and value addition takes place in different states.
Usage
Well, we use both the chillies in Indian foods.
But the way we use them in various dishes differ a lot.
For e.g.,
Byadgi Chillies lend a nice flavor and color to the mostly coastal curries.
Similarly, Kashmiri Red chillies are irreplaceable in the preparation of North-Indian style curries and rice dishes.
However, as you know, sometimes these chillies can be used interchangeably.
So, what are these dishes where you can replace them with each other?
Well, you can certainly do that for the coastal curry preparations, where the color of the gravy is more important than anything else.
As for the taste and flavor, it all depends on the freshness of the fish, chicken, and different spices.
Regarding the North Indian style preparations, I'd not suggest you to use Byadgi chillies as an alternative.
These chillies do have an earthy taste to them, which can translate into your preparations.
However, if you don't have any choice but to use these chillies, you can use them with Kashmiri or other varieties of chillies.
It should help in balancing the flavor of your Tikka Masala or Kadai curries.
Chilli Powder
As I mentioned earlier, we generally don't use Byadgi chillies in the powdered form.
You can use it in homemade masalas, but it generally goes directly into the making of pastes and chutneys.
On the other hand, Kashmiri chilli powder is one of the most common chilli powder in Indian cuisine.
In fact, these chillies are basically known for their red colored powder.
Having said that, some of the curry preparations do require its paste to get darker shades of red color.
Quick Tip: Whenever you use these chillies for pastes, make sure you soak them in cold water for some time.
This simple step helps in extracting more color out of the chillies.
Similarly, when you put them in the grinder, make sure you add a couple of ice cubes into the mixture.
It will prevent the heat generated during the grinding process, and your masala paste will get a nice bright red color.
Tips To Store Byadgi and Kashmiri Chillies
Since we are talking about these dried chillies today, I think the following tips will be useful in storing these chillies at home.
So, let's look at them below.
1. Let them dry in the sun for a couple of days.
If you have brought chillies during the monsoon season, there may be some moisture present in them.
And if you store such chillies directly, you can expect to see some fungus growth on them in a couple of weeks.
To avoid such things, you should dry them in the sun for at least 5-6 hours.
You need to repeat this process for a couple of days, as it helps in removing most of the moisture from the chillies.
Note – If the weather is cloudy, you can also microwave them for a few seconds. 
Similarly, you can also toast them gently on the pan.
Remember – The chillies do release Capsaicin when they're toasted in a microwave or pan.
So, toast them in small batches if possible.
Otherwise, the sun-drying method works the best!
2. Store them in an airtight jar or ziplock bag.
Like I said, if there's moisture in the chillies, they can easily attract fungus growth.
So, you need to avoid them from the air.
Keep them in an airtight jar or a ziplock bag that can prevent air exposure to a certain level.
If you are using a jar, you can also place a piece of paper or cloth in between while closing the lid.
It will ensure more protection to the chillies.
Well, if you follow these two steps, you can easily make them last for at least a few months.
And these steps are pretty much standard for all types of dried chillies.
So, you can use them accordingly.
Also, whenever you buy them for home use, make sure you go for the small packets only.
Generally, the 100-200 gm packet of dried chillies can easily last for a couple of months, if not more.
In the next section, I have shared a few commonly asked questions and their answers.
Do check them out below.
FAQs
1. Are Byadgi Chillies and Kashmiri Chillies Same?

No, they are two different varieties of chillies.

The only common thing between them is the place of origin.

Both these chillies are native to India and are often used in various Indian delicacies.
2. Is Kashmiri Chilli Same as Deggi?

Yes, Kashmiri chillies can be called as Deggi chillies.

However, you need to know that there is no such variety called Deggi chillies or Deggi mirch.

The term Deggi or Degi comes from the pot cooking method of food preparation.

In Hindi and some other local languages, Degh or Deg is a term for large copper-based cooking pots.

These pots are basically used for making different Curries, Kormas, Pulaos, and Biryanis.

And the chillies (and chilli powders) we use for such preparations are called Deggi chillies.

So, that's how it got its name.

Many retail manufacturers offer a blend of different regional chillies under the name of Deggi.

Still, it's nothing but a general red chilli powder that can be used for daily cooking.

Therefore, technically, any local variety that goes into the making of traditional pot cooking can be termed as Deggi mirch.

And you can also use its powder as an alternative to Kashmiri Red Chilli powder.
3. Are Byadgi Chillies Spicy?

Well, not really!

If you are someone who likes spicy Indian food, you may not notice extra heat in these chillies.

But if you've never tasted them before, you will indeed find them spicy.

However, in comparison with other local chilli varieties, they are considerably mild.

And if you are looking to cook some curries with them, you can use them without much issue.

Quick Tip: Add a spoonful of ghee in your curry if you find these chillies too hot.
4. What Can I Use Instead of Kashmiri Chilli Powder?

As I already discussed in the above guide, you may use Byadgi chillies as an alternative to Kashmiri Chilli powder.

But for that, you will either need to prepare a paste or powder separately.

Note: Byadgis have their own taste, which may not be suitable for certain curries.

In such cases, you should use a combination of different chillies for the masala.

Alternatively, you can also use paprika powder or any other less pungent chilli powder available to you.
Over To You
So, what's your favorite Indian red chilli?
I like Kashmiri Red chilli more because it lends a beautiful red color shade to various preparations.
But yes, I also use Byadgis for making dosa chutney and fish curries. 
Meanwhile, it's quite fascinating to see so many differences between these two types of chillies.
And I hope you found them useful too.
If you have any queries or doubts related to this topic, do let me know in the comments below.
Also, please do share this comparison guide with your friends and family.
Finally, if you want to receive more such insightful updates, you can subscribe to my weekly newsletter below.