Are you looking for the detailed information on how Rava is made in India?
In today's guide, I am going to share some insightful details on the production of Rava in India.
If you're someone who loves eating Upma or Sheera, you will surely enjoy reading the following guide.
So, let's dive right in!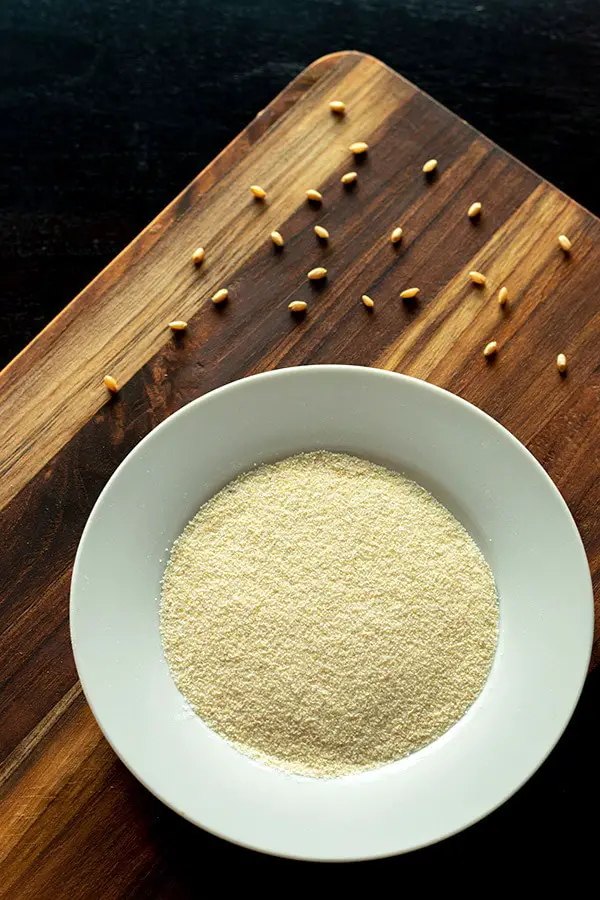 What Is Rava?
Rava is called Sooji in Hindi and Semolina in English.
Now, if you want to understand how the manufacturers make it in factories, you need to know what it actually is.
Rava is nothing but a byproduct of Wheat grains.
Generally, it is made using Durum Wheat.
You can read more about this variety on the Wikipedia page.
TL;DR: 
Durum Wheat is a different variety of Wheat than common Wheat.

It's a hard Wheat variety, which is useful in making Semolina.

As for the production, it only represents 5-7% of total Wheat production.
Now, I hope you got the basic idea about this unique ingredient in Indian food culture.
Moving on, let's quickly take a look at the production process of Rava below.
How Is Rava Made
As mentioned earlier, Rava is made up of wheat grains.
And the grains consist of Bran, Endosperm, and Germ.
Hence, it needs to go through a lot of different processes to produce package-ready Semolina in the end.
So, what are these processes?
In general, we need to follow three steps in its making process.
Cleaning The Grains
Crushing (Milling)
Reduction (Filtering)
In case you don't know, here's how the domestic flour mill looks like.
And it works for grinding Rava as well!
Here's the step by step working procedure –
Firstly, the batch of clean wheat grains moves to the filtering system. This process allows the system to remove any dust particles, husk, and tiny stones from the grains.
Once the filters remove unwanted particles, the grains go through the tempering stage. The tempering process helps in toughening the bran coating, which eventually makes it easy to separate the Bran.
In the next step, the Bran separates from the Endosperm with the help of water.
Once the Bran separates, the milling process continues to perform its tasks. Here, the Endosperm crushes down further using the break rolls set up in the system. 
As this process repeats several times, the Germ separates from the grain. And Endosperm turns into flour, intermediate particles (middlings), and coarse particles.
The large Semolina particles (Endosperm) get further crushed into tiny particles.
Later, the manufacturers select the desired filters to separate these tiny particles (Semolina) from flour.
As per the production requirement, the mills produce different types of Rava, i.e., Jaada/Mota Rava (Coarse-grain) or Barik Rava (Fine-grain).
And that's how Rava is made using wheat grains.
The milling process, however, continues till all particles turn into flour.
As you can see above, its making process is very similar to how Maida is made in India.
There is not much difference in both these processes, as both ingredients are byproducts of wheat grains.
Note – Each flour milling machine comes with its own set of features.
So, the working process might differ a bit in different models.
However, the core functions remain the same in all production factories.
How To Make It At Home
Yes, you can make Rava at home as well!
And you don't need to have any professional tool for its preparation.
For the preparation, all you need is a grinder and clean wheat grains.
If you want to make Sooji at home, you can follow the steps below.
Steps To Follow:
Get the wheat grains in a bowl and transfer them to the grinder jar in a small quantity.
Grind the grains into a coarse flour consistency.
Take the first batch out on a plate and follow the process again for the remaining grains.
Get a bowl and place a fine sieve on top of it.
Now, start sieving the coarse flour. The coarse pieces will remain in the mesh.
Transfer these pieces to a new plate or bowl.
Done!
The coarse flour is Sooji!
If you feel the flour has large pieces of wheat, you will need to grind them again in the grinder.
You can use these pieces as Dalia if you don't wish to repeat the process.
The fine flour from the bowl is useful to make Chapatis, Puris, etc. 
So, do not throw it away. 
You can mix it with your chakki fresh atta too.
Types Of Rava
There are quite a few different varieties of Rava available in India.
And you can make some interesting dishes with each of these varieties.
In the following section, I have shared some of the commonly used Semolina varieties in the country.
1. Sooji Rava
It is the most common type of Semolina in India.
It is also known as Bombay Rava in some Southern states of India.
Sooji Rava is made using Durum Wheat.
And as mentioned earlier, it is further classified into Fine-grain and Coarse-grain.
With this variety, you can make Upma, Kesari Bhat, Cake, Idli, and Dosa.
In the coastal regions, it is also used as a coating ingredient for the fish fry preparations.
2. Lapsi Rava
Lapsi Rava is nothing but the large particles of broken wheat.
And it is often produced during the initial stages of the milling process.
Usually, you can make broken Wheat Upma, Lapsi, Porridge, etc. with the help of Lapsi Rava.
Did you know?
Broken Wheat is also known as Dalia in Hindi.
3. Bansi Rava
Bansi Rava is a byproduct of a different variety of wheat.
It appears slightly brown in color as compared to Sooji.
As far as texture is concerned, it looks pretty similar to coarse Semolina.
It is quite popular in South Indian households.
You can prepare Karnataka style Uppitu (Upma), Rava Dosa, and Rava Idli using this Rava.
Sometimes, the locals also refer to it as Chiroti Rava.
4. Rice Rava
As the name says, it is made using rice grains.
And you can also make it at home.
Here are the quick preparation steps:
Rinse the grains thoroughly.
Soak them in water for at least 2 hours.
Later, spread them evenly over a dry cloth or plate.
Allow them to dry out completely under the sunlight for 2-3 hours.
Once the moisture evaporates, you can grind these grains into a coarse flour.
Sieve the flour and store it in a dry place.
You can use the fine flour to make Idli, Dosa, Bhakri, etc.
And you can also prepare Kheer, Upma, and Kudumulu using Rice Rava.
Difference Between Rava and Sooji
Is there any difference between these two ingredients?
The answer is no!
There is no real difference between them.
As mentioned earlier in this guide, Sooji or Suji is just another Hindi name for Semolina.
In some places, though, the people also refer to it as coarse Semolina or Jaada Rava.
So, don't get confused when you hear two names, i.e., Rava and Sooji for the same ingredient.
Also Read: Difference Between Atta and Maida
Alright now, let's check out some of the frequently asked questions in the following section.
FAQs
Is Rava made from Maida?
No, Rava is not made from Maida. However, it is also a byproduct of Wheat.
Is Rava made from Rice?
In general, Rava is made from Wheat. 
But you can also make a different type of Rava from Rice.
Is Sooji made of Maida?
No, Sooji is not made of Maida.
What is Lapsi Rava made of?
Lapsi Rava is made of coarse Wheat grains.
Over To You
Well, for a long time, I didn't know how they make Semolina in the factories.
And when I was a kid, I always used to wonder how this 'different' ingredient comes to our home kitchen.
Later, as I grew up, I realized it's a byproduct of the wheat milling process.
But did you know Rava is made using wheat grains?
If you did, do let me know how you discovered the secret of Rava making process.
Share your thoughts in the comments below.