Does your Dal taste bitter?
Dal is one of those dishes that can have a slightly off-taste if you don't follow the preparation method properly.
So, how do you resolve this issue?
And what are the possible ways to avoid this problem?
Let's understand more about it in the following guide.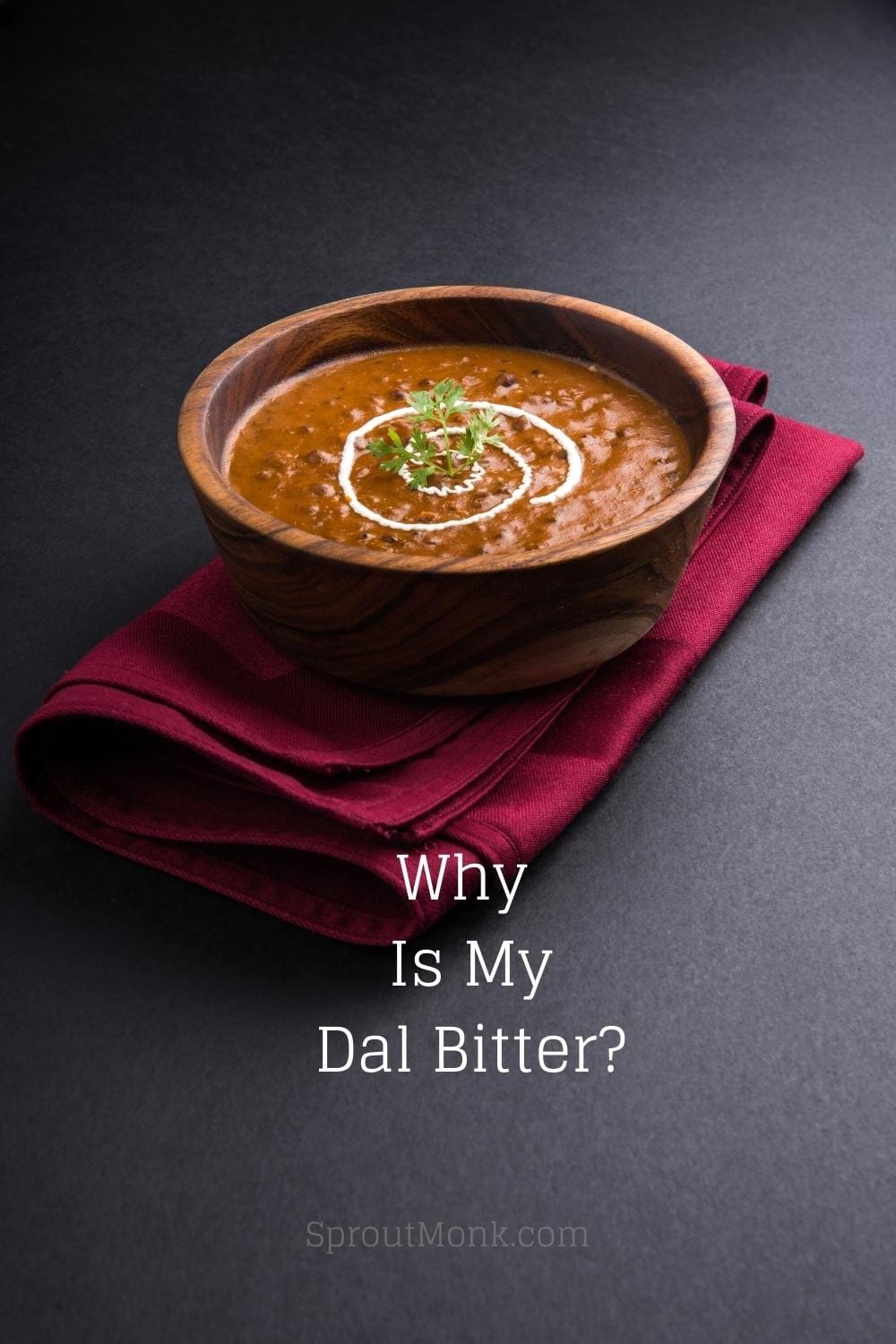 Why Is My Dal Bitter? – 10 Reasons Explained
Now, here are the few reasons why your dal tastes bitter –
1. You Are Not Rinsing The Dal Properly
Dal contains a lot of starch.
If you don't rinse it properly before cooking, this starch will make your dal taste sticky and bitter.
In case you don't know, here's how you should rinse your dal –
Pour dal in a bowl of water.
Pick up the dal with your hands and swirl it around in the bowl.
Do this a few times until the water becomes murky.
Then, drain the water and repeat the process two or three more times.
This will get rid of most of the starch.
Later, you can soak it for a few minutes and use it as you like.
This is the most effective way to get rid of starch and bitterness from your dal.
So, you should definitely try it out.
2. You Have Used Old Dal
If you're using old dal to prepare your dish, it might be one of the reasons why your dal is bitter.
Old dal doesn't taste as good as fresh dal.
So, try to use fresh dal for your dal preparations as much as possible.
3. You Use Too Much Coriander In Your Dal Preparation
Adding too many coriander seeds or coriander leaves to your dal can make the dish bitter.
Coriander has a strong flavor that can easily overpower the other flavors in the dish.
If you're finding that your dal is bitter, try using less coriander the next time you make it.
You may be surprised at how much of a difference it makes.
Also, it's always a good idea to use fresh coriander leaves in such a preparation.
4. You Have Added Hing In Excess Quantity
Hing, also known as Asafoetida, is often used during the dal preparation, as it adds a unique flavor and aroma.
However, if you use too much hing in your preparation, it can make the dish taste bitter.
It also adds to a sharp smell to your dal.
So, it's better to use it in less quantity.
5. You Have Burnt Your Dal
Do you cook your dal at high flame?
If yes, it can easily get burnt from the bottom and add a slight bitterness.
Therefore, you should cook your dal at a low or medium flame to avoid this bitterness.
And this rule applies to all types of dals.
The slow cooking method does help a lot in getting the most flavors out of the lentils.
6. You Have Added Brinjals To Your Dal
Brinjals are known to have a little off-taste.
So, if you've added brinjals to your dal, it might be the reason why the dish is tasting bitter.
It's best to avoid adding brinjals to dal or at least use them in less quantity.
You can also soak them in salted water for some time to reduce this taste.
7. You Have Overcooked Your Tadka
Dal is incomplete without tadka (tempering).
It's one thing that really brings a nice flavor to this type of preparation.
But if you fry mustard seeds, curry leaves, and chilies for too long, they will turn bitter and lend the same taste to your dal.
This applies to both the type of tadkas, i.e., at the beginning and after the cooking.
So, try to cook your tadka for just the right amount of time.
8. You Have Used Methi Seeds In Your Tadka
Methi seeds are naturally bitter.
So, if you've used them in excess quantity in your tadka, it can make your dal taste bitter.
Try avoiding their use or reduce the quantity to see if it makes a difference.
Moreover, Methi seeds do not add much flavor to the dal preparation.
Hence, it won't make much difference if you avoid using them altogether.
9. You Are Adding Turmeric In Excess Quantity
Turmeric is a spice that has a quite different taste.
If you're adding it in excess quantity to your dal, it can make the dish taste bitter.
So, just add a pinch of it to your dal, and that should be enough for a small quantity of preparation.
Also, you should not use raw or fresh turmeric in this type of preparation.
10. You're Using Mixed Dal
Dals like Panchratna dal or Panchmel dal require you to use a different combination of lentils.
Generally, this type of preparation does taste slightly earthy and bitter.
But you can definitely use spices and other ingredients to balance the flavor.
Overall, there are many other reasons why your dal might be tasting bitter.
But these are some of the most common ones.
Once you identify the reason, it'll be easier for you to take steps to fix the problem.
And, in no time, you'll have delicious, non-bitter dal on your plate!
In the next section, let's learn a few tips that can help you fix your bitter dal.
How To Reduce Bitter Taste In Your Dal
Once the dal turns bitter, there's not much you can do to salvage it.
But there are a few things you can do to reduce the bitterness in your dal –
1. Add Some Jaggery To Your Dal
Jaggery is a type of sweetener that has a unique flavor.
It can help balance the flavors in your dal and reduce the bitterness.
Try adding a spoonful of jaggery to your dal next time your dal turns bitter, and check the taste.
You may also increase the quantity as per your taste.
Note: Jaggery will make your dal sweetish, so you need to adjust the taste with some sour ingredients like tamarind paste and tomatoes.
2. Add More Cooked Dal To Your Dal
Adding more cooked dal to your preparation can help to mask the bitter taste.
If you have some leftover cooked dal, add it to the bitter dal and see if it helps.
Else, you can also cook more dal separately and add it to the bitter dal.
Again, this is not the most effective thing to do.
But if you don't have another option, you can surely consider this suggestion.
3. Add Caramelized Onions (Birista)
Caramelized onions have a sweet taste, which can help offset the unpleasant taste in your preparation.
That said, it's not always possible to add caramelized onions to your dal.
But if you have some on hand, give it a try and see how it works for you.
Note: Do not fry the onions too much, as they can add more bitterness to the preparation.
Also, it's not the best option to try if the dal is too bitter.
In that case, you can try the jaggery method and prepare it in Sambar-style preparation.
On that note, let's check out the FAQs below.
FAQs
1. Why Does Urad Dal Taste Bitter?

Urad dal is a type of lentil with a high level of natural bitter elements.

These bitter elements are removed through a special process, but sometimes small traces of them remain in the dal.

This is why urad dal often tastes bitter.

There are ways to reduce the bitterness, however.

One way is to soak the urad dal in water overnight.

This will help to reduce the bitterness.

Another way is to add a little bit of sugar or jaggery to the dal while cooking it.
2. How To Know If Dal Is Spoilt?

The dal may be spoilt if it has a sour smell, is slimy, or has black spots on it.

If the dal has any of these characteristics, do not eat it.

It is best to throw it away to avoid any further issues.

Generally, dal turns bad when you store it outside at room temperature.

So, it is important to store it in a cool, dry place.

You can also refrigerate it.

If you are not going to use the dal for a few days, freeze it.

This will help to extend the shelf life of the dal.
3. How To Fix Bitterness In Food?

There are a few ways to fix bitterness in food, but it totally depends on the type of food and the level of bitterness.

The food must be thrown away if the bitterness is due to spoilage.

You can't do much about it.

For anything else, you can use sugar, honey, lemon juice, or vinegar to help neutralize the bitterness.

You can also add other strong flavors like ginger, garlic, or onion to help mask the bitterness.

Bitterness is usually caused by either over-cooking/frying or using old ingredients.

So, make sure to check your food before cooking it, and use fresh ingredients whenever possible.

Doing this will help reduce or eliminate the bitterness in your food.
4. Can You Overcook Lentils?

Yes, you can overcook lentils.

Lentils are a type of legume that has a high level of starch.

When they are overcooked, the starch breaks down, and the lentils become mushy.

This can make them quite unpalatable.

To avoid overcooking lentils, make sure to follow the cooking instructions carefully.

Do not cook them for too long, or they will turn into mush.
5. How Do You Reduce The Hing Taste In Dal?

You can add some lemon juice or fried onions to offset the taste of hing in your dal.
Over To You
These are some of the ways you can reduce the bitterness in your dal.
Importantly, remember to adjust the ingredients according to your taste.
And, if all else fails, you can always add some jaggery to balance out the flavors.
Do you have any other tips on how to reduce the bitterness in dal?
Feel free to share them in the comments below!
If you have any queries, post them in the comments as well, and I will get back to you.
Please share this guide with your friends and family if you found it helpful.
Thanks for reading!