Ginger Garlic paste is one of the most popular ingredients in Indian cuisine.
Many of our dishes seem incomplete when you don't use this paste for the preparations.
So, what really makes this paste so special?
When should you be using this paste while cooking?
I know you might have many such queries in your mind.
Let's understand more about this paste in the following guide.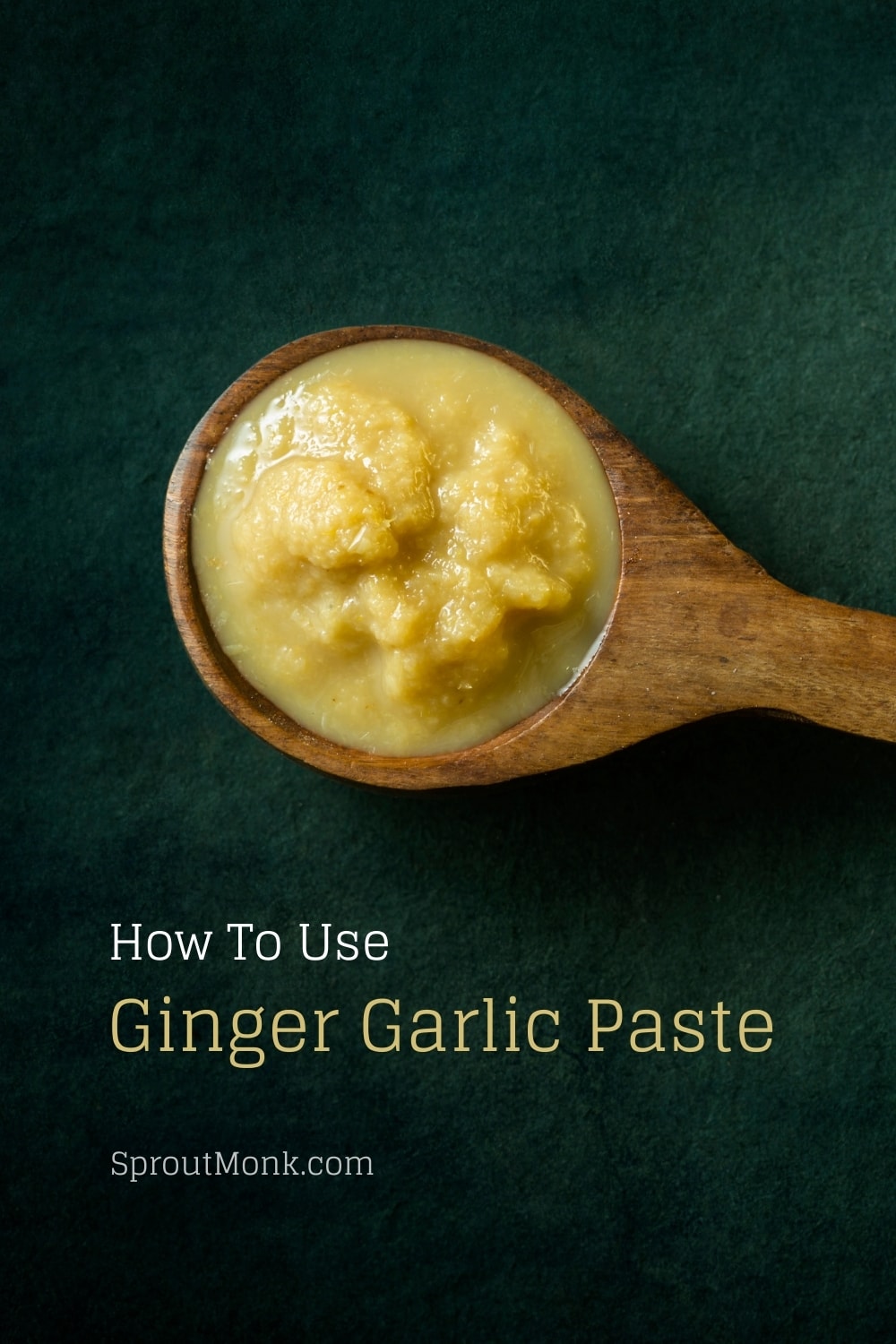 Why Do We Need Ginger Garlic Paste For Cooking?
Even though Ginger Garlic paste seems like a basic paste, it does two things to your preparations.
Firstly, it brings an earthy and spicy taste to the dishes.
This generally happens due to the addition of Ginger and Garlic.
Both these ingredients have their own unique earthy taste, which can truly overpower some of the other flavors in your preparation.
This characteristic becomes quite important because you will always have some ingredients that may not have an appetizing taste.
In such cases, the Ginger Garlic paste can really make a huge difference in balancing the overall taste of preparations.
The second characteristic is the aroma!
The combination of Ginger and Garlic produces a nice and strong aroma, which helps in offsetting unpleasant aromas from other food items.
For e.g.,
When you make Cauliflower Sabzi at home, it produces a sharp smell that is almost unbearable.
Well, if you want to reduce such smell to a certain extent, you can surely make use of freshly prepared Ginger Garlic paste.
This is also true for fish curries and meat curries, as raw meat can bring a similar smell to your preparations.
Having said that, it's perfectly alright if you don't use this paste while cooking.
It's not an essential ingredient like your main ingredients for the recipe.
You can use many other substitutes to compensate for the taste and flavor of this ingredient.
Still, there are more benefits of using this paste than not using it at all.
Now, it may seem like a tedious task to prepare this paste each time, but it will be worth it.
This simple paste can do wonders to the overall taste of your homemade delicacies.
In the next section, let's find out when to add Ginger Garlic paste while cooking different dishes.
7 Ways To Use Ginger Garlic Paste While Cooking
Here are a few interesting ways through which you can make use of this amazing paste –
1. Use It In Your Marination
It is the basic way to add Ginger Garlic paste to your cooking.
Marination is a simple technique where you try to infuse additional flavors in raw vegetables or meats.
When you use Ginger Garlic paste at the time of marination, it helps in two ways.
It eliminates the foul smell and adds a distinctive flavor to the preparation.
However, this type of marination is mostly useful for making non-vegetarian dishes.
You won't see much of a difference in your vegetable preparations.
As for Paneer recipes, it does add more flavors to the cubes.
So, you can definitely use it while marinating the Paneer pieces for making Tikkas or Punjabi curries.
Quick Tip: Add some green chilies and coriander leaves to this paste if you use it for the marination.
It will bring a great combination of spicy taste and freshness to your preparation.
2. Use It In Your Other Pastes
Yes, you can also use it while making some other pastes.
For e.g.,
If you are making Malvani curry, you will need to prepare a base mixture of coconut and some spices.
While grinding all the ingredients, you can add a spoonful of Ginger Garlic paste.
This is another way of using this paste in your preparation, though you can also use fresh Ginger and Garlic for making such pastes.
3. Use It After Frying The Whole Spices 
Many people prefer adding Ginger Garlic paste as soon as they are done frying the whole spices like Cumin Seeds, Bay Leaf, etc.
This type of usage is often useful for making Dals and Sambars, as you won't have too many ingredients to add after frying the basic spices in the oil. 
I personally don't use this method, as it often burns the paste quickly.
If you really want to get the maximum flavors out of this paste, you should probably think of the next option.
4. Use It After The Onions & Tomatoes Turn Mushy
This is how I like to use Ginger Garlic paste in my preparations.
I don't like to add this paste after frying the whole spices.
I add it when the Onions and Tomatoes have turned translucent.
Of course, if tomatoes are not required for any particular recipe, I simply use this paste once the Onions get a slight golden brown color.
Both these methods work great because you can get the most out of your Ginger Garlic paste.
Basically, it doesn't allow the paste to burn in the oil.
More importantly, you also get the time to integrate the flavors of this paste into the base masala.
So, it's really a win-win situation!
Also, these methods are pretty effective when you are making spicy rice dishes as well as curries.
You can use it whenever you have base ingredients like Onions and Tomatoes in your preparation.
5. Use It In Your Tadka (Tempering)
Did you forget to add your freshly made Ginger Garlic paste to your Dal?
No worries!
You can always use the Tadka. 
For those who don't know, Tadka is just an Indian way of tempering some of the delicious dals in the country.
In fact, many people like to use this method for their Dal preparations instead of preparing a base of spices, onions, etc., in the beginning.
You will also find this technique in most of the South Indian curry preparations.
But when to add Ginger Garlic paste while making Tadkas?
Well, it's easy!
You can simply add the paste when the spices, chilies, and curry leaves start to splutter.
If you don't use all these ingredients in your Tadka, you can add the paste after adding the essential spices.
Important: You will need to fry the paste for a couple of minutes before adding it to your Dal.
Otherwise, the raw smell of Ginger and Garlic will ruin the whole taste of your preparation.
The other thing you need to remember is to be careful while adding the paste to hot oil.
If you are not too comfortable, you can switch off the flame and add the paste to your tempering pan.
6. Use It In Your Stuffing Mixtures
Whether you are making Samosas or Bread Pakoras, you can't forget the stuffing mixtures.
These mixtures are the main component of such preparations, and the only way you can enhance the flavor and taste of them is by using spices and Ginger Garlic paste.
Both these key elements play a huge role in accentuating the taste profile of these delicacies.
So, make sure you use this paste while preparing the stuffings for your deep-fried dishes.
You can even use it in some of your Pakora batters, as it will enhance the taste of the fritters.
However, if you have already used this paste in the stuffing, you can avoid it from adding to the batter mixture.
7. Use It In Your Chutneys
Finally, you can also use this paste while making chutneys.
If you don't have access to fresh Ginger and Garlic, you can surely use the paste as an alternative.
In general, though, you should use freshly chopped Ginger and Garlic for such chutneys, as it gives a different taste to such preparations.
But if you don't have any other option, you may go ahead and use the paste accordingly.
Overall, these are some of the basic ways to use Ginger Garlic paste in Indian cooking.
Alternatively, you can also use Ginger and Garlic in the crushed form or along with other spices and ingredients.
Alright, now, let's check out the FAQs relative to this topic below.
FAQs
1. How Do You Cook With Garlic Paste?

You can cook the garlic paste in the oil along with some base ingredients.

Once the raw smell goes off, you can add other additional ingredients required for the recipe.
2. Can I Add Ginger Garlic Paste At The End?

No, you shouldn't be adding Ginger Garlic paste at the end.

This paste has a raw smell, which can only go away when you cook at the right time.

When you add such paste in the end, the pungent smell stays in the preparation for a long.

Eventually, it will have an impact on the taste and flavor of your dish.

So, try to avoid adding this paste at the end of your preparation process.
3. Is Garlic Paste And Puree The Same?

The only difference between the Garlic paste and puree is the consistency.

The puree will have a smooth consistency, which can be useful for a specific preparation style like searing.

On the other hand, the paste can be used to cook along with some other ingredients in the recipe.

Moreover, you can use them alternatively if you don't have any other options.
4. What Is The Perfect Ginger Garlic Paste Ratio?

There is no perfect ratio for making this paste.

You can adjust these ingredients according to the taste requirement of your preparation.

The dishes like Biryanis and Pulaos require more robust flavors so that you can add more Ginger to the paste.

Similarly, the fish curries and fish fry preparations have an intense smell, which can be subdued with the use of more Garlic in the paste.
5. Can You Fry Ginger Garlic Paste?

Yes, you can fry Ginger Garlic paste, especially if you are making Tadkas for your Dals or Chivdas.

Other than that, there is no real use in frying this paste.
Over To You
So, when do you add Ginger Garlic paste while cooking?
Do you use it any other way?
Please let me know in the comments section.
If you have any questions or doubts, you can ask them in the comments as well.
Meanwhile, if you enjoyed this simple guide, share it with your friends and family.