Increasing spice in biryani after cooking is challenging and must be done precisely. Else, the dish may either turn bland and too spicy.
You can spice up this rice delicacy in a few ways, which include adding powdered spices and green chilies. Both these ingredients are effective in elevating the spice level of your biryani.
The following guide will help you learn more about them in detail.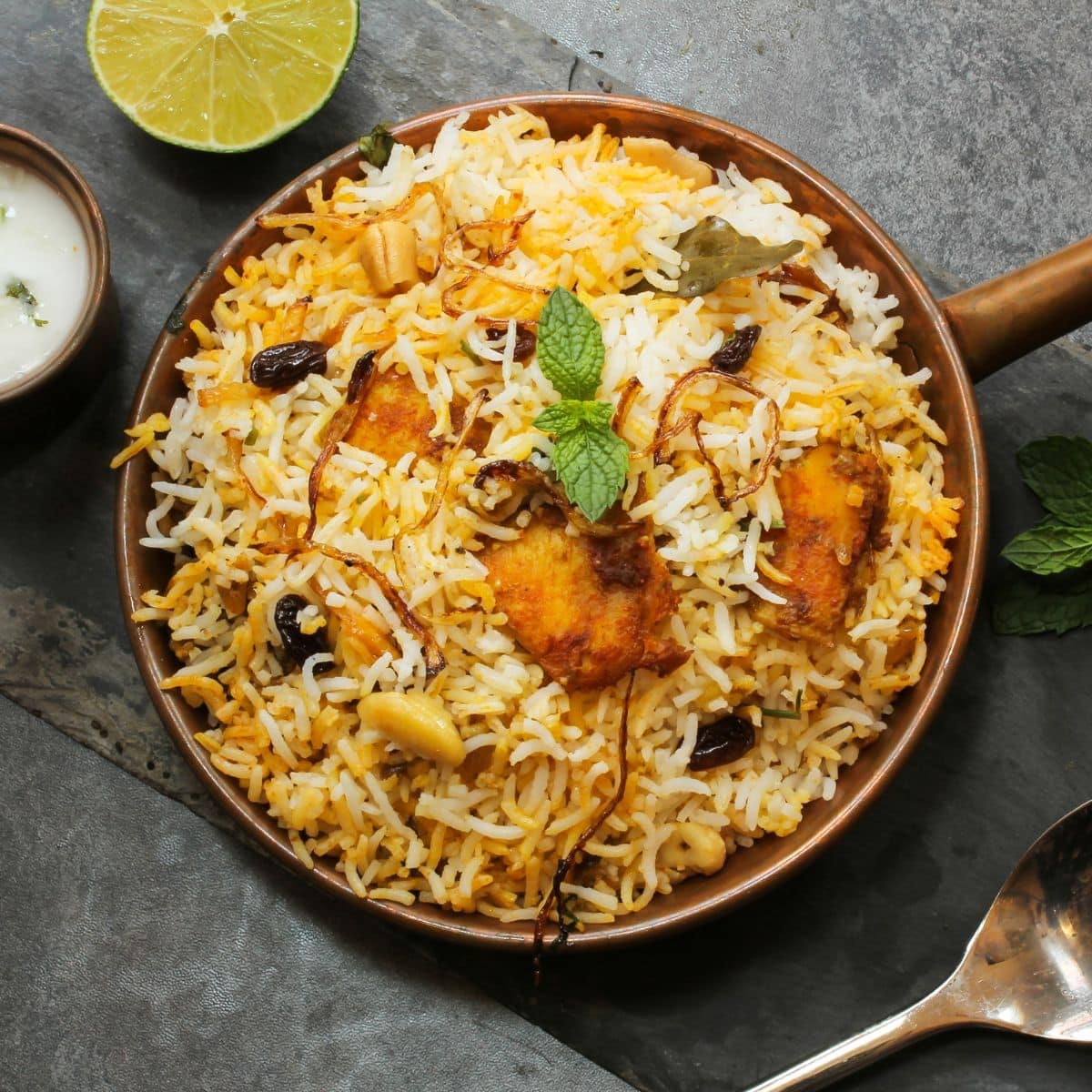 6 Ways To Increase Spice In Biryani After Cooking
Here's how you can enhance the spice levels in your biryani – 
1. Use Slit Green Chilies
Green chilies are often used in biryanis, which help get the extra punch to this dish. 
If your biryani has turned less spicy, slit 4-5 green chilies and place them on the top layer of rice. You can even chop them finely for a more robust flavor. 
Then, drizzle some ghee and dum-cook for another 10 minutes. Once you're done cooking, don't open the lid directly. Allow the biryani to cool down for at least 15 minutes.
Use dark green chilies for this purpose, as they offer more pungency than light ones. 
Note: This method is not too effective if the biryani is completely cooked. You might overcook the rice or burn the bottom layer by cooking it again. So, be careful when putting it on dum for 10 minutes.
2. Sprinkle Biryani Masala
Biryani masala powder can be a good option to up the spice levels in the preparation.
Spread a spoonful of spice powder on top of the rice and put the biryani handi on flame for 5 minutes. It will help cook the masala and increase the heat in your dish appropriately. 
You can even prepare a homemade garam masala with black pepper. It will also work for a flavorless biryani. 
3. Fry Green Chilies Separately
Frying green chilies is a useful technique to elevate the spice in your biryani. It is also a better option than using raw green chilies. 
When you put the raw chilies in the end, they may not cook well and release less flavor to your biryani. To avoid this issue, fry the chilies in hot oil and put them in the biryani. 
Also, put some fried oil on the biryani, which will have a decent chili flavor. You can store it separately if you don't want to use it for biryani. It can be used to prepare other spicy Indian curries.
Besides, you can fry the chilies using shallow-fry method too. There is no need to deep fry them for this purpose. 
Important: Green chilies splutter a lot when frying. So, you should cut them in the middle or split them in half to reduce the spluttering during this process.
4. Use Chili Flavored Oil
As mentioned above, chili-flavored oil also holds adequate heat to flavor the biryani.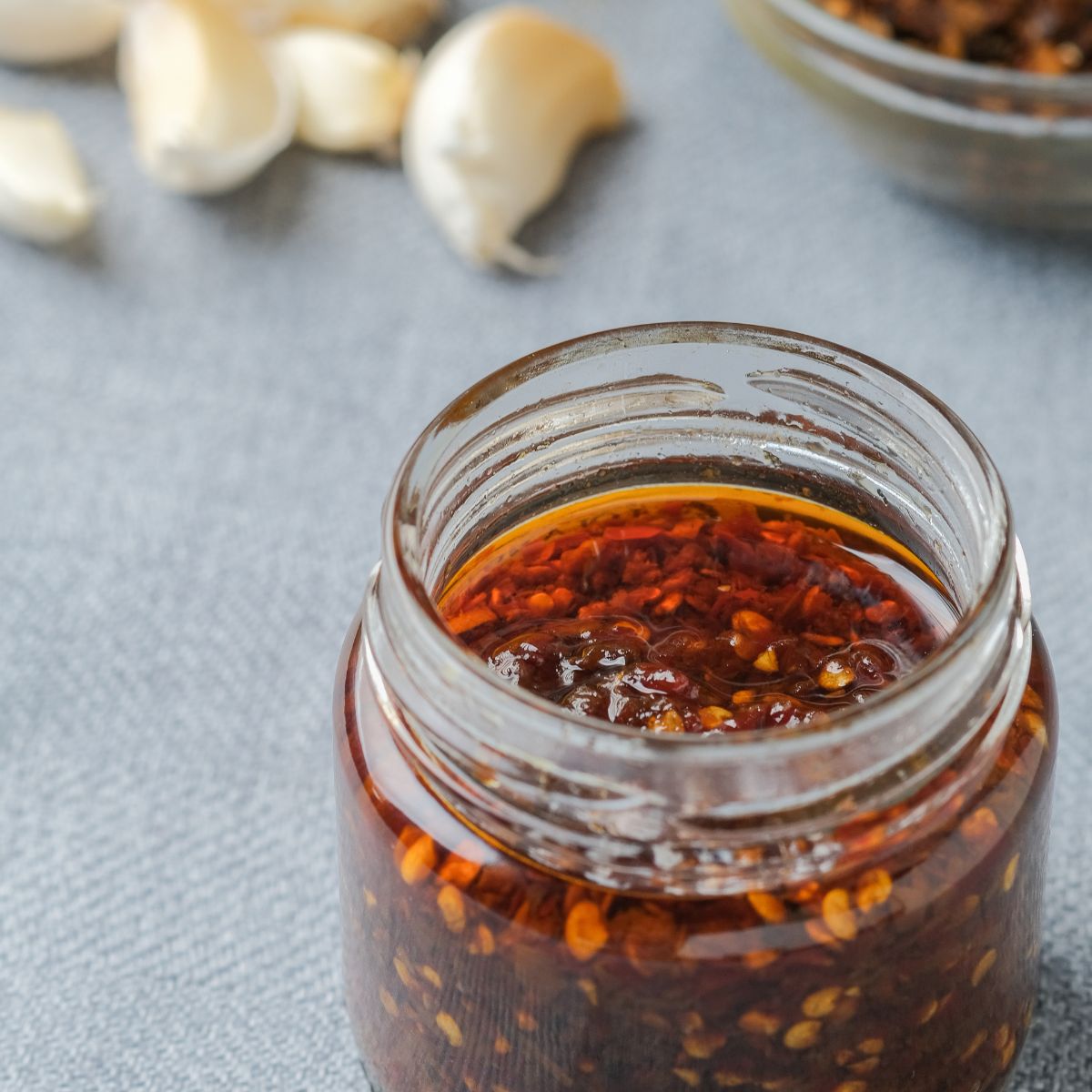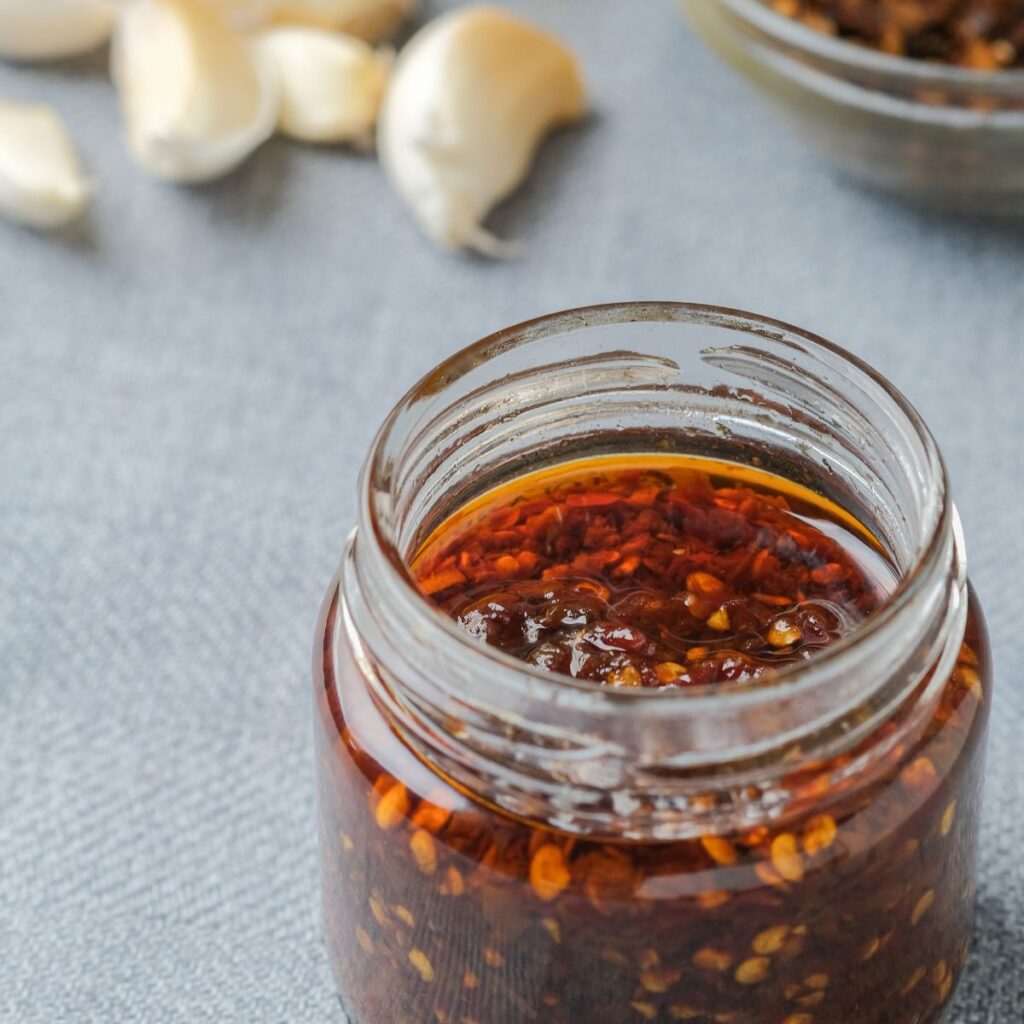 If you already have this oil in the pantry, you can make your biryani spicy at the last stage. Simply drizzle a couple of tablespoons of this flavored oil on your biryani, which should do the trick.
For a more spicy flavor, heat the oil for a minute or two and add red chili flakes. Normally, we don't use red chili flakes in biryani dishes, but you can make an exception if the biryani tastes too bland.
5. Prepare Flavored Oil Using Spices
You can also prepare a different flavored oil using spices. You will have to use whole or powdered spices for this method.
When using the whole spices, stir-fry black pepper, black cardamom, cloves, and cinnamon. Fry them for 1-2 minutes on medium flame. Once they release an aroma, pour the spice mixture on the biryani. 
Do not burn the spices. They will lend a bitter taste and brown/black color to your biryani.
If you want to use powdered spices, the process is pretty identical. Heat up the oil and add the powdered masala. Fry the masala for a few seconds and put it straight into the biryani handi.
You need to be swift when frying powdered spices, as they will quickly burn in hot oil. To avoid this problem, switch off the flame if the oil is too hot. Once the oil temperature is moderate, add the spice powder and stir-fry it for 30 seconds. 
For this method, use biryani masala, red chili powder, or a combination of both. But do not burn the spices. 
Important: When you add flavored oil to biryani, it will change the color of the top layer of rice grains. So, use a spoon and drizzle the oil accordingly.
6. Prepare Onion-Tomato Masala
Onion-tomato masala can be used to increase the spice in your biryani. It is typically used as a base for most biryani dishes, so prepare the exact masala in a separate pan and utilize it in biryani. 
While assembling, do not add the masala to the rice grains. Remove the foremost layer of rice on a plate and keep it aside. Then, put the onion-tomato masala on the intermediate layer of rice. 
Once done, cover the masala with the remaining rice. Thereafter, dum-cook the biryani for 5 minutes. It is a time-consuming method, but it works excellent for tasteless biryanis. You can even add cashew nuts and other ingredients to the onion-tomato masala. 
Other Effective Ways To Spice Up Biryani After Cooking
A biryani often needs a raita or salad as an accompaniment. So, if you're in a hurry, prepare a spicy side dish and serve it with bland biryani. This is another way of salvaging a lightly-flavored dish.
Here are some of the useful options for you – 
1. Spicy Raita
If you like raita with your biryani, make it spicy by adding chopped green chilies or red chili powder. It will go well with the biryani, and you don't have to put in the extra effort.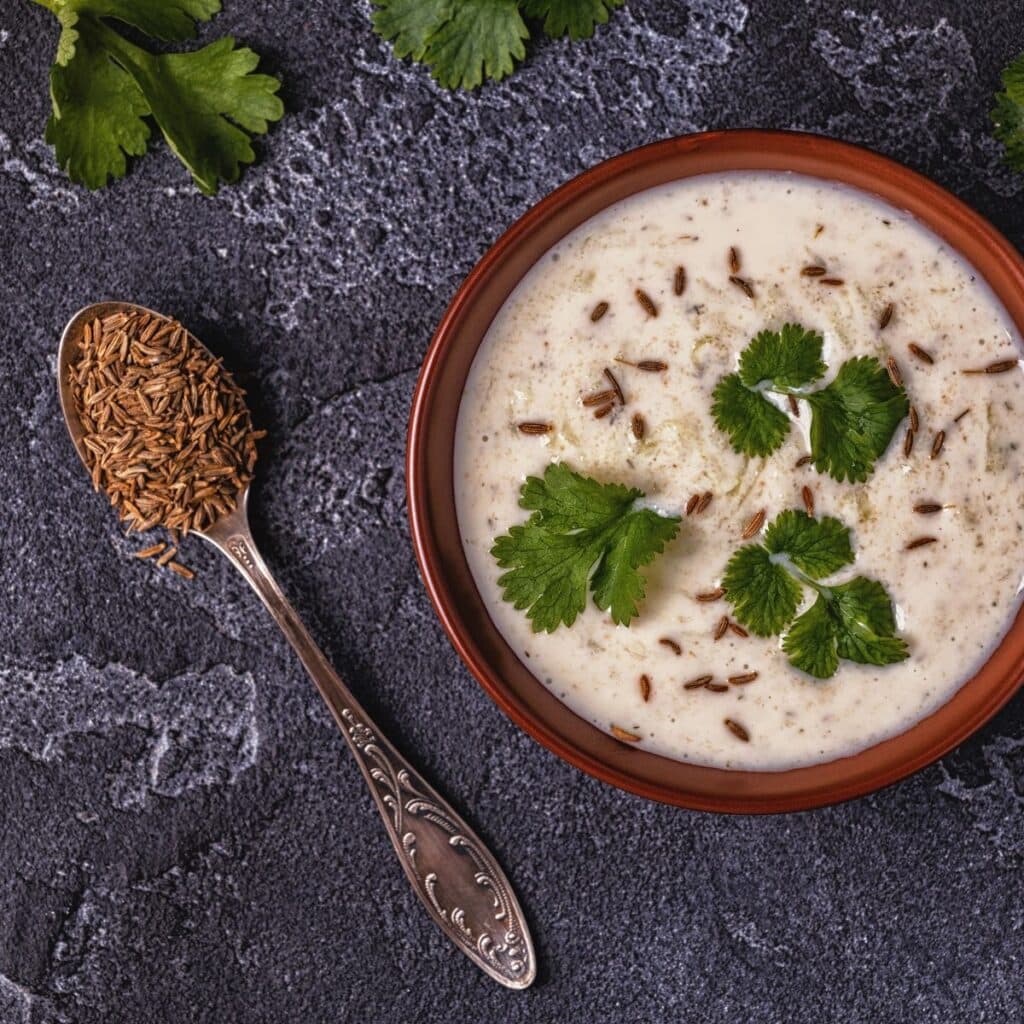 2. Spicy Salad
Salads taste great with a touch of spice to them. Therefore, use the same combination and serve one of your favorite salads as an accompaniment to the biryani. 
Add black pepper powder, chili flakes, or chopped green chilies to make the salad spicy. These ingredients aid in elevating the spice levels in various delicacies and complement the salad well.
Alternatively, you can use spicy mayo dip as a dressing for the salad. It is another worthwhile alternative to raise the spice in the salad.
3. Chili Pickle
Pickle is a common accompaniment for biryanis, especially veg. biryanis and pulao dishes. 
So, you can serve a chili pickle or any other spicy pickle of your choice to compensate for the taste of bland biryani. For a non-veg biryani, you may try a goan prawn pickle. Achari chicken is another side you can make to counter the taste of such a biryani.
How To Fix Bland Biryani
If the biryani is cooked, you can't do much to fix the taste. Still, there are certain spices and ingredients that might be efficacious in offsetting the flavor.
Here's a list of such ingredients – 
| Ingredients | How To Use |
| --- | --- |
| Cashew Nuts | Fry them gently till light golden color; spread them on the biryani. |
| Saffron Milk | Dissolve saffron strands in warm milk; sprinkle the milk on rice. |
| Biryani Masala Powder | Sprinkle a good amount of masala on the rice and drizzle some ghee as well. |
| Garam Masala Powder | Optional ingredient for biryani masala; should be used in a similar fashion. |
| Raisins | Shallow fry them for a couple of minutes and use as a garnish for the biryani. |
| Fresh Herbs | Chop coriander and mint leaves. Use them as garnish. |
| Spicy Potatoes | Deep fry them and add salt, red chili powder, garam masala powder, turmeric powder. Toss gently and put them on the biryani. |
| Spicy Paneer Chunks | Use them similar to potatoes but don't deep fry them. |
Some of the above ingredients need additional cooking time. So, you will need to take it into consideration. If you want to serve biryani instantly, you should rely only on fresh herbs and powdered spices. 
However, avoid fixing the biryani at the end. Ideally, you should taste the base masala curry before placing the layers of rice. You can easily improve the taste at this stage and add supplementary ingredients if needed.
Tip: Smoke the biryani using the dhungar method. The smokey flavor will make your bland biryani more appetizing. Of course, don't forget to sprinkle garam masala or biryani masala on the rice.
FAQs
1. How Can I Add Flavor To Cooked Biryani?
You can use cardamom powder, rose water, saffron milk, kevda water, or powdered biryani masala to add flavor to your cooked biryani. Moreover, fresh herbs like mint and coriander leaves are wonderful refreshing ingredients to infuse more flavor into your biryani.
2. How To Prevent Biryani From Burning?
Use a heavy bottom vessel or handi to prepare the biryani. It will help avert biryani from charring at the bottom. Similarly, placing a griddle between the handi and flame will also lessen the effects of direct heat on the biryani.

You should also keep the base masala mixture a little moist so that it doesn't turn dry when you assemble the biryani and put it on the flame.
3. How To Decrease Spice In Biryani After Cooking?
Drizzle ghee on the rice grains and cover the biryani for a few more minutes. It will lower the spice to a great extent. 

If the biryani is half-cooked, add semi-boiled potato pieces to it. Potatoes also absorb the excess spices and considerably reduce the heat in the dishes.
4. How To Reduce Salt In Biryani After Cooking?
You can reduce salt by adding more ingredients like cooked rice, onion-tomato masala, potatoes, veggies, etc.
5. Can You Add Spices To Curry After Cooking?
Yes, you can add spices to the curry after cooking. Once you add the spices, cook the curry for about 2-3 minutes. 

Do not use whole spices, though. They don't add much flavor to the cooked curry.