Biryani is one of those delicacies that taste amazing when it's less spicy.
I know some of you like your Biryanis really hot and spicy.
But I feel it should have the right balance of flavors and spice in it.
So, how do you make a less spicy Biryani?
Let's find out in the guide below.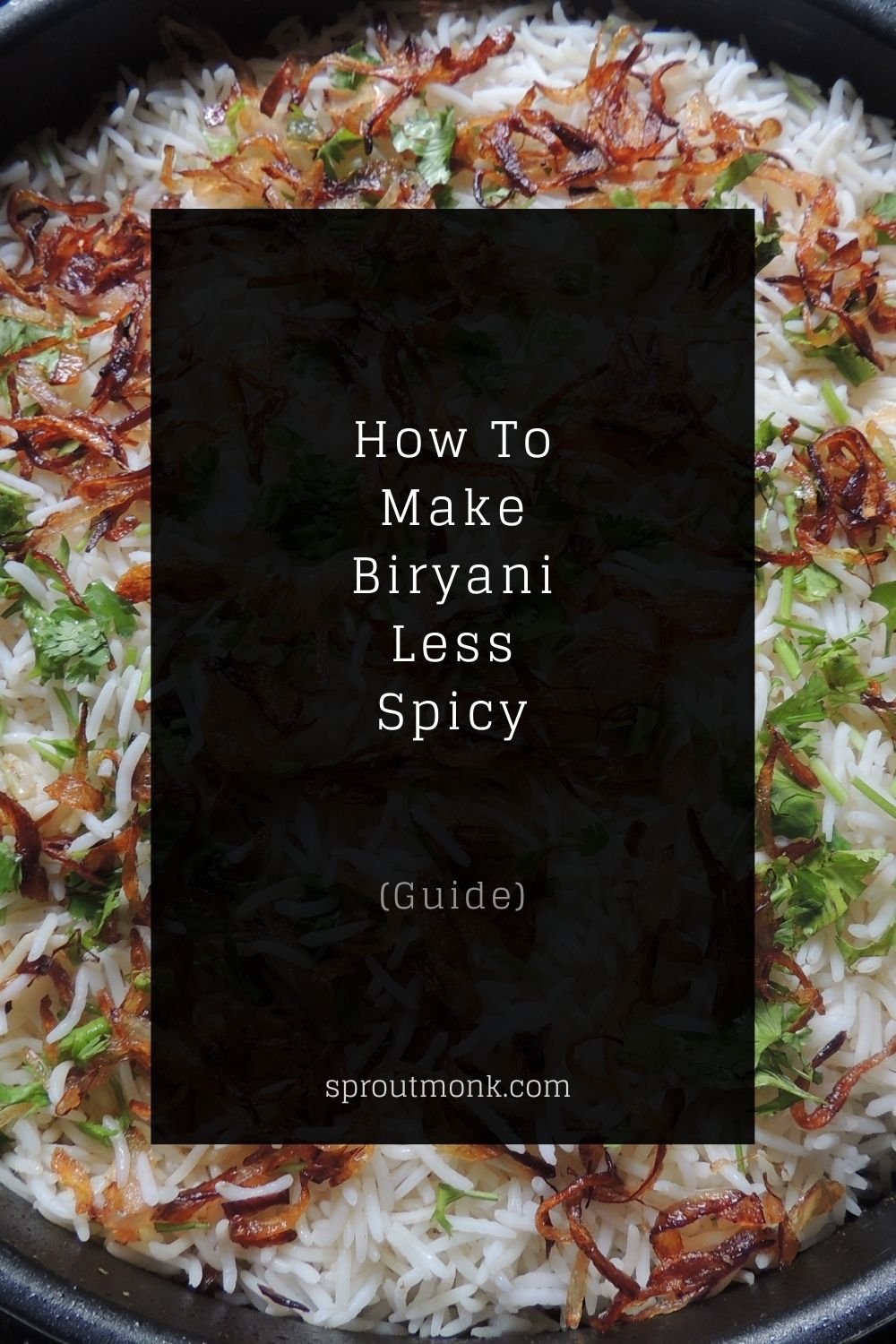 How To Make Biryani Less Spicy
Here's the list of tips and suggestions you can try to adjust the spice level of your Biryani preparation –
1. Add Fewer Spices To The Base Masala
As you know, the spice mix is the main component of this delicacy.
When you add spices to this recipe, it really brings a whole new dimension to it.
Having said that, there is the other side to the story as well.
If you use too many spices in this preparation, it's going to get super spicy in the end.
So, do not add a lot of spices in hoping that they will make your Biryani tasty or flavorful.
It's all about the balance here!
Just add them as per the requirement of the recipe.
2. Avoid Green Chillies
Green chilies are another important ingredient in many traditional Biryani recipes.
Without them, the Biryani doesn't get its right amount of spicy punch to it.
However, if you are averse to spicy taste, it's better to remove them completely from the recipe.
Or you can add a couple of them after cooking the masala mixture.
This simple technique will make your Biryani a little less spicy.
Also, if you plan to use them anyway, do not slit them in half. 
One more tip, you should always use chilies that are light green in color.
The dark ones often add too much heat to the preparations.
3. Use Kashmiri Red Chilli Powder Instead Of Homemade Masala
In India, we have a tradition of making our own homemade red chili masalas.
For those who don't know, this is nothing but a combination of dry red chilies and whole spices.
Since we use these ingredients together in this masala mixture, it tastes spicier than the standard chili powders available on the market.
Hence, if you want to cut down on the spice level in your Biryani, you should consider using Kashmiri red chili powder instead of traditional masalas.
Of course, if you feel the spice levels are not right, you can add some slit green chilies to it.
It should help in balancing the overall taste.
4. Use Ghee 
Ghee is the magical ingredient for making Biryani less spicy!
It is one of those ingredients that really help in toning down the spicy taste in almost all preparations.
And it works so effectively that you don't have to use any other ingredient or technique to fix your preparation.
So, if your Biryani or base masala has turned too spicy, you must add a couple of tablespoons of Ghee on top of it.
Once you have added Ghee, mix the masala well and cook for a couple of minutes.
Later, you can check the taste again and add more if needed.
Alternately, you can add Ghee on top of the rice as well.
5. Use Potatoes
Generally, the above suggestions will help in fixing the spicy taste in your Biryani.
And you will not have to use anything else later.
But in some cases, you will have no other option than to look for some other solutions.
That's when the potatoes come into the picture!
Potatoes work great for reducing the spicy taste in your preparations.
Since it's a starchy ingredient, it absorbs all the flavors without lending much of its taste to the main dish.
And that's why it plays such an important role in fixing the taste of Biryanis.
So, how do you use them in a spicy Biryani?
Well, if you have already cooked the base masala with meat or vegetables, you can boil the potatoes separately.
Peel them off and cut them into small pieces as per your liking.
Put these pieces into the base masala mixture and mix it well.
Cook everything for a few minutes and put the Biryani on dum.
If you have made Pulao-style Biryani, it will make things a bit difficult to fix the taste.
In such cases, you should use the fried potatoes to balance the overall taste and flavor of your preparation.
Still, the potatoes will not get enough time to absorb the flavor, as both potatoes and biryanis are already cooked.
Note: If you don't like potatoes in your Biryani, you can consider some of the other options shared in the guide below.
6. Add Full-Fat Cream To Your Base Masala
Don't like potatoes in your Biryani?
No problem!
You can use full-fat cream to tone down the heat in Biryani preparation.
When you add this additional ingredient to the base masala, it works beautifully well against some of the overpowering spices.
And not to forget, it also brings richness to the base masala.
So, there are additional benefits to using this ingredient in your preparation.
As for authentic Biryani, you will probably not see this ingredient in the list of traditional Biryani recipes.
It's more of a modern addition, which is often found in restaurant or Dhaba style Biryanis in India.
Note: When you add full-fat cream, check the taste of your base masala before adding rice to it.
You will need to adjust some of the flavors using other ingredients.
7. Use Fresh Yogurt 
Since most of the Biryani recipes require yogurt, it's not an additional ingredient.
You can just scoop out the fresh yogurt from the container and add it to the preparation.
When you add extra yogurt to the Biryani masala, you will have to cook it again for a few minutes until it disintegrates entirely.
It works pretty similar to full-fat cream and helps in decreasing the spicy taste of Biryani.
Important: You do need to remember that yogurt can add a slightly sour taste to your preparations.
So, you must check the taste of your base masala before adding fresh yogurt again.
If it's not too sour, you can go ahead with this addition!
8. Squeeze Some Lime Juice Over The Base Masala
To tell you the truth, lemon juice doesn't work as effectively as some of the other ingredients and techniques mentioned in this guide.
It is only effective when the spice levels in your Biryani are not too high.
Lemon juice can surely negate the taste of spices, but you won't be able to remove it entirely.
For that, you will have to use additional Ghee or Potatoes in your preparation.
Also, there is no point in using vinegar here!
It has a distinct taste to it, which doesn't go well with the Biryanis.
9. Cook Your Biryani Rice Separately
When we talk about the Biryanis, we often think of cooking rice and base masala separately.
But that's not true for all Biryanis in India!
Many southern-style Biryanis require you to cook rice and masala together.
It may or may not be an authentic way to prepare a Biryani, but it does have huge popularity in this part of the world.
However, if you want to adjust the spice levels in your preparation, you should cook the rice separately.
When you add rice in the latter stages, the grains automatically absorb the flavors well.
And in the end, the Biryani comes out as expected.
It won't taste spicy at all.
Furthermore, you can also mix fully cooked rice in your Biryani.
It will also help in balancing the spicy taste.
10. Add Sugar and Saffron Milk
Similar to lemon juice, both these ingredients are only useful when the spiciness is moderate in your Biryani.
If you have added too many spices, these two ingredients won't be very useful.
As for the addition, you will have to use them at the time of garnishing the Biryani.
Important: Sugar is a tricky ingredient to use here. 
So, use it in moderation only.
11. Remove Whole Spices From The Biryani
Yes, try to get rid of some of the whole spices from your Biryani.
These spices generally add a more spicy taste to preparations like these.
So, if possible, you should remove cloves, black pepper, black cardamom, mace, cinnamon, and bay leaf from the Biryani.
It's not the best method, but it does work great to a certain extent.
12. Add More Goodness To Make Your Biryani Less Spicy
Still looking for more ways to reduce spice in your Biryani?
Try coconut milk and butter!
Coconut milk can be used at the time of preparing Biryani masala, whereas butter can be used at any stage of cooking.
Coconut milk works great in Fish and Prawns Biryanis.
It may not be an excellent choice for other meat preparations.
So, use it accordingly.
13. Use Slow Cooking Process
The slow cooking process helps in reducing the intensity of some of the spices.
It also proves to be useful for the dishes with chilies in them.
And if you want to use green chilies in your Biryani preparation, you can think of using the same slow cooking process.
This is also the reason why the Biryanis prepared in large containers (Handi) over a woodfire oven taste a lot better than other preparations.
The slow cooking process does help in rounding off all the flavors.
Note: This method won't fix the problem if the Biryani masala is already too spicy.
It only helps when the spice level is just a little bit higher than your usual preference.
14. Serve Your Biryani When It's Not Too Hot
When you serve your dishes right after cooking on the flame, they taste more intense than in relatively cold form.
The heat produced by cooking as well as the spices increase the spice level by manifold.
And that's why you should avoid serving your Biryani or any other spicy delicacy too hot.
The other benefit of using this method is it allows the rice grains to soak up even more flavors.
Therefore, the flavor profile of the whole dish goes a notch higher than your regular preparation.
Hence, you should wait for a little more time so that everything just comes together by the time you serve the dish.
Quick Tip: If you still find your Biryani spicy, you can put some more Ghee on top of the rice.
Now, let's look at the FAQs below.
FAQs
1. How To Increase Spice In Biryani After Cooking?

You can add some garam masala and slit green chilies to increase the Biryani spice after cooking.

However, it needs to be put on dum for at least 5-6 minutes so that these additional ingredients release their spice flavors in the dish.
2. How Do You Fix Tasteless Biryani?

Most likely, you will have to add some salt to your Biryani if it is tasteless.

But if you are missing some flavor, you can smoke it using the traditional Dhungar method.

It will add a nice rustic flavor to your preparation.

Apart from that, you can also add some more Biryani masala if needed.
3. Which Oil Is Best For Biryani?

You can make your Biryani in any oil, as it's not the taste or flavor deciding factor in this preparation.

If you want to enhance the overall flavor, you should prepare it in Ghee.

Otherwise, any refined oil can be a good choice for making Biryanis at home.

Quick Tip: Use the oil in which you've fried the sliced onions (Birista). 
4. How Can I Make Biryani More Tasty?

You can use some rich ingredients like Ghee, Yogurt, Fresh Cream, Fried Nuts, and Fried Onions to make your Biryani tastier.

Other than that, the freshness of spices and herbs also plays a role in elevating the taste profile of this delicacy.
5. What Gives Biryani Flavor?

There are many ingredients that add to the flavor of Biryanis, and it depends on the type of Biryani you're making at home.

Here are a few ingredients that help in enhancing the overall flavor –

Coriander Leaves, Mint Leaves, Fried Onions, Basmati Rice, Ghee, Whole Spices, etc.

Note: The cooking technique can also make or break your Biryani!
Over To You
Now, that's a long post!
But I do hope some of these tips help in solving the spicy Biryani problem for you.
If you really found this guide useful, please share it with your friends and family.
And as always, do leave your feedback and questions in the comments below.